Shottr Review: Overview, Pricing, Features & More
Looking for free and versatile software for taking screenshots? Shottr could be just what you need. It has a compact size of just 1.6MB in dmg format, taking up minimal space on your computer. At the same time, it offers a variety of features for capturing screens and editing images. Read more in this review for additional information about Shottr's capabilities.

GUIDE LIST
Part 1. What is Shottr?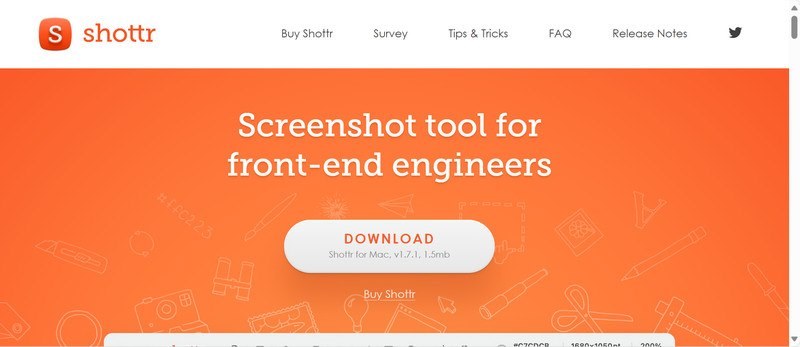 Shottr is professional software designed for capturing screenshots on Mac systems. It is compact and operates quickly, making it an ideal option for Mac users who value high high-pixel quality. Additionally, it provides several features, including zooming and pinning. In consideration of users' convenience and needs, Shottr is continuously developing new features. Instructions and future feature updates are available on the Shottr website.
Shottr also prioritizes user privacy and information security. Before taking screenshots, the Mac app requests several permissions and stores all screenshots solely on your device. Personal information will not be shared with third parties unless required by law. If you have any concerns, do not hesitate to contact Shottr.cc.
Note: Shottr is currently unavailable on Windows. If you are a Windows user, you can have a look at the alternative section.
Pros :
Small in size, taking only 17ms to grab a screenshot.
No cost for capturing scrolling screenshots.
Tips and tricks on the official website.
Purchase Plan
| | Free | Basic Tier | Friends Club |
| --- | --- | --- | --- |
| Price | 0 (30-day free trial) | $8.00 | $25.00 |
| Privilege | | Full Shottr potential | Full Shottr potential and access to experimental features |
Note: One license only covers one user and up to five computers.
Part 2. What can Shottr Do for Screenshots?
Shottr offers a range of effective screenshot capturing features. These include the ability to zoom in, pixelate, and capture scrolling screens such as long web pages or conversations. We have selected three of Shottr's impressive capabilities to highlight: object erasing, screenshot pinning, and text recognition.
Object Erasing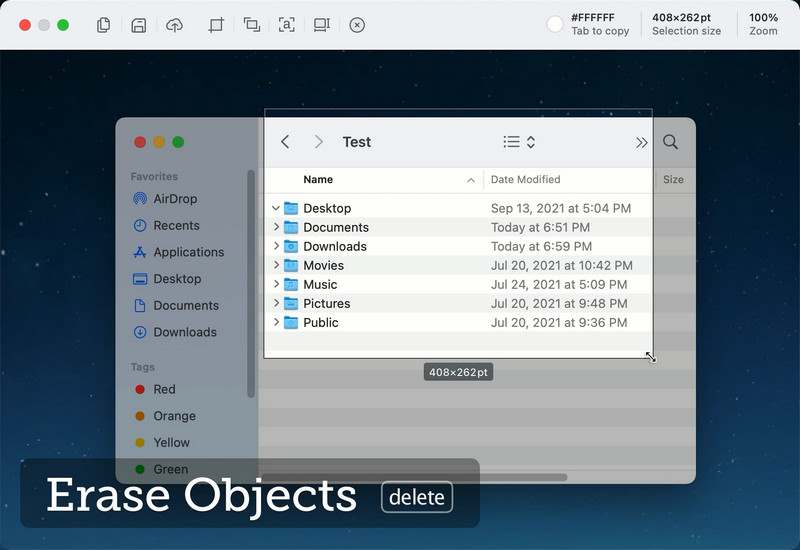 Want to remove unnecessary information from your PPT capture? Need to hide sensitive details on screenshots? Shottr has a feature called object erase that will meet your needs. After capturing a screenshot, you can erase the part you want by dragging a box. This saves time since you can edit the image within the same software. Furthermore, it ensures your privacy by preventing you from revealing any personal information.
Screenshot Pinning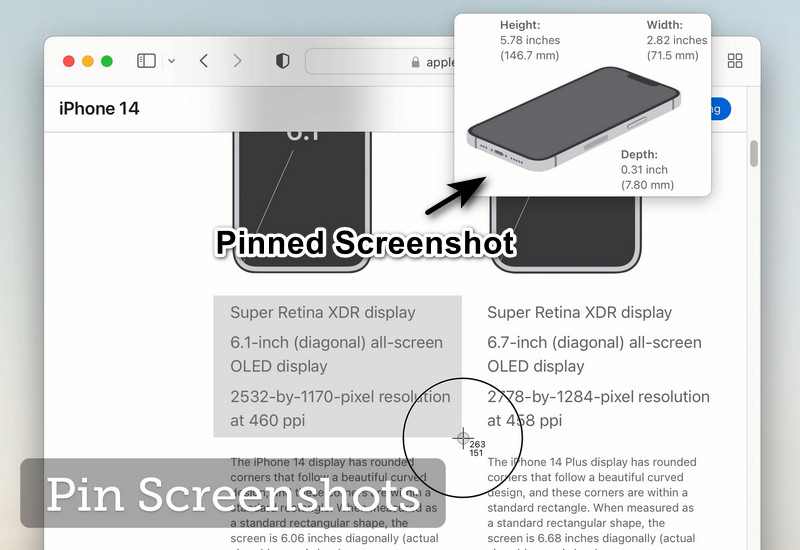 Pin images as floating borderless windows that remain on top of all other applications. This is a useful tool for storing screenshots or to keep references close at hand. For instance, suppose you receive feedback during an online meeting; in that case, you can rapidly capture the requirements and pin the image to your screen. Consequently, you can modify the image according to the pinned screenshot and simultaneously continue the conference. Screenshot pinning helps users emphasize significant and instantaneous information.
Text Recognition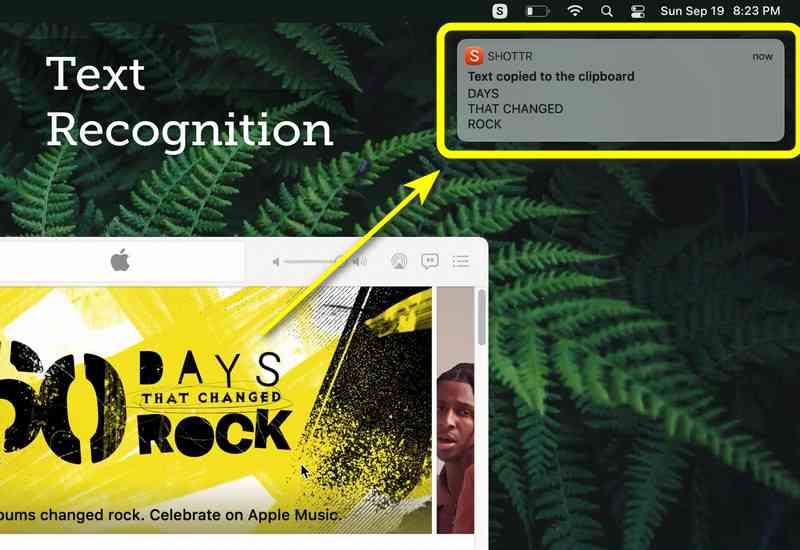 In addition to the above functions for taking screenshots, Shottr also has a feature for parsing the text in the image. Simply pre-set the hotkeys and select the desired area to extract the text. The copied words can then be pasted into any chat box of your choice. For instance, when quoting an article paragraph in an essay, simply take a screenshot with Shottr and the paragraph is ready to be pasted. This function is particularly beneficial for individuals who frequently engage in online reading. Note that the OCR feature is also capable of scanning QR codes.
Part 3. Alternative to Shottr: ArkThinker Screen Recorder
As introduced above, Shottr has a lot of features for taking screenshots. However, all these features are only free for a 30-day trial. And it is not available for Windows users. Here, we present an excellent alternative to Shottr, ArkThinker Screen Recorder.

ArkThinker Screen Recorder is a professional screen capturing and recording software. It's easy to use when taking screenshots. Just click the Capture button and select the screen, scrolling window, or pop-up menu you want to capture. All capture features are free to all registered users. After capturing, ArkThinker Screen Recorder allows you to edit your screenshots. You can add text or stickers to the image to note down your ideas or add more information. At the same time, you can alter the metadata, including name, album, year, and so on. This will help you sort your images more quickly and easily for later use.
Despite your desktop, you can also connect your mobile devices to your computer. This feature allows you to capture your iPhone and Android phone screens and save the images to the local files. Taking a screenshot will not disrupt your computer activity. You can also use this feature to enlarge your iPhone or Android screen on your PC for better viewing.
If you are interested in these features, click the button below to download ArkThinker Screen Recorder.
Part 4. FAQs about Shottr
Shottr vs Cleanshot: Which software is better?
These two programs have some shared features as well as differences. You can choose the screenshot software that best suits your needs.
Both Shottr and Cleanshot are screen capture software for the Mac. They share many basic features, such as scrolling capture, text recognition, annotation, and so on. Shottr is small in size and runs quickly as it focuses more on the user experience. It also offers some professional features for developers, such as a screen ruler to measure horizontal and vertical size. Cleanshot, on the other hand, focuses on convenience. For example, it offers Cleanshot Cloud for users to upload their screenshots and sort them into albums.
What is the shortcut key for Shottr?
Open Preferences, and you will see the Hotkeys tab where you can change the hotkeys to quickly access the captured areas.
How do you take a screenshot on Mac?
Press and hold these three keys together: Shift, Command, and 3. The screenshot will automatically be saved to your desktop.
Conclusion
All in all, Shottr can help you take and edit screenshots with its various features. There are many features not included in this review, and you can explore them yourself on the Shottr website. Besides, you can also try ArkThinker Screen Recorder, which has similar features to Shottr and is available for free on various systems.
What do you think of this post? Click to rate this post.
Excellent
Rating: 4.9 / 5 (based on 326 votes)