TinyTake Review and Its Best Screen Recorder Alternative
TinyTake is a popular screen capture and video recording software with many commonly used features. It caters to many users, including professionals, educators, content creators, and individuals seeking efficient and user-friendly screen recording and editing solutions. In this TinyTake review, we will delve into its key features, download process, and pricing and weigh its pros and cons.

Part 1. What Is TinyTake, Details, Download, Features, Pros, and Cons
TinyTake is a popular screen-capturing tool that lets users capture and annotate screenshots, record videos, and share them effortlessly. This part will explain its main features, downloads, pros, cons, and other related information.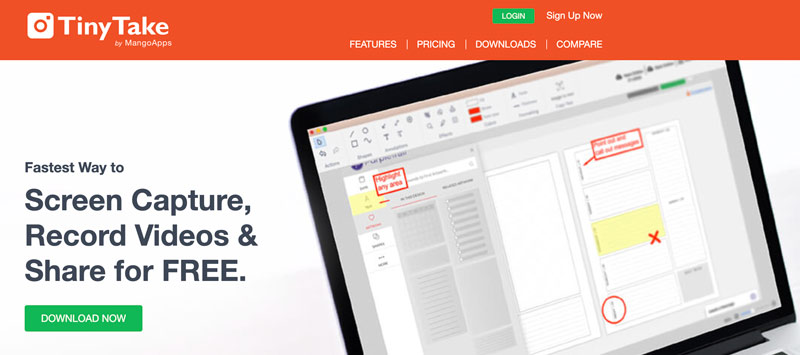 TinyTake Main Functions
TinyTake empowers users to capture screenshots effortlessly. It offers a variety of capture options, allowing users to capture a selected region, the entire screen, active windows, or specific application windows. Moreover, it supports capturing images from a webcam, making it versatile for various use cases.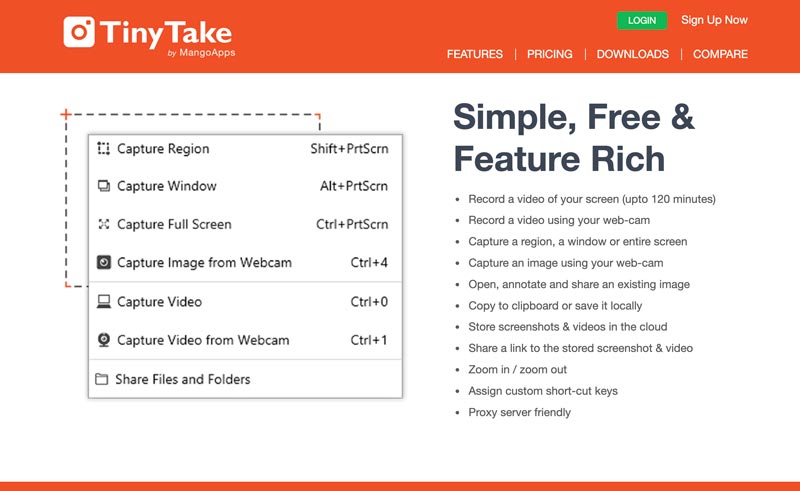 TinyTake goes beyond simple screen capturing and enables users to record high-quality videos from their screens. That makes it an ideal tool for creating software tutorials, walkthroughs, and game recordings.
One of TinyTake's standout features is its robust annotation and editing capabilities. Users can enhance their screenshots and videos by adding text, shapes, arrows, and other annotations. Additionally, TinyTake allows for easy cropping, trimming, and merging of videos, ensuring a seamless editing experience.
TinyTake simplifies the process of storing and sharing captured content. The software seamlessly integrates with its cloud-based storage, enabling users to store their media files securely. Moreover, TinyTake offers collaboration features, allowing users to share captures with others via links or email, making it convenient for team collaborations and feedback sessions.
TinyTake Download
Downloading and setting up TinyTake is straightforward. The software is available for both Windows and Mac platforms. You can visit the official TinyTake website to find a clear and intuitive download interface. The installation process is user-friendly and takes only a few minutes. Once installed, you can start capturing and editing your computer screens without hassle.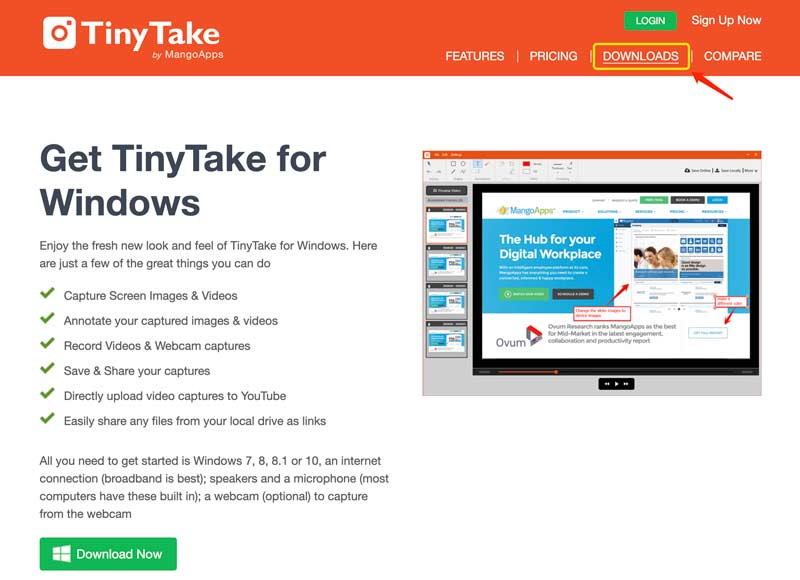 TinyTake Pricing
TinyTake offers free and paid plans, ensuring flexibility for users based on their needs. The free plan includes basic features, limited storage, and a 5-minute video recording. For users requiring advanced features, such as extended video recording times and additional cloud storage, TinyTake offers paid plans on a subscription basis. The reasonable pricing structure makes it accessible for personal and professional users.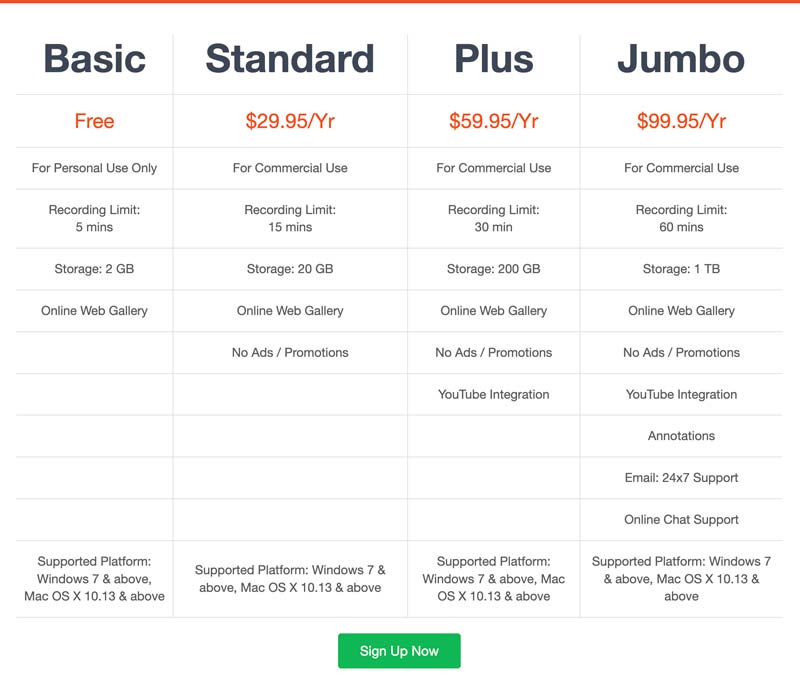 Pros and Cons of TinyTake
TinyTake boasts an intuitive interface, making it easy for users to access and use its key features without prior experience. The annotation tools, along with video editing capabilities, provide users with a rich set of editing options to enhance their captures to perfection. The seamless integration with the cloud simplifies the storage and sharing process, allowing for efficient collaboration with colleagues and clients.
While the TinyTake free plan is a great starting point, it does have limitations in terms of storage capacity and video recording time, which may be restrictive for heavy users. Currently, TinyTake is unavailable as a mobile app, limiting its accessibility for users who prefer working on their smartphones and tablets.
Part 2. Best Screen Recorder Alternative to TinyTake
While TinyTake has gained popularity as a reliable screen recording solution, there are other exceptional alternatives available that offer unique features and functionalities. Here, we recommend the best TinyTake alternative, ArkThinker Screen Recorder, to record screens and take screenshots on your Mac or Windows 11/10/8/7 PC.
This TinyTake alternative lets you record any activities on your computers and mobile phones. Pick your preferred tool to start the screen or audio recording.

Like the TinyTake software, ArkThinker Screen Recorder enables you to freely adjust the screen recording region and audio recording source. You can directly capture your computer audio from the system sound.

After all these settings, click REC to capture your computer screen. You can draw on the recording file, input texts, add images, and more during the recording. Moreover, all basic editing functions are offered to edit the recorded video.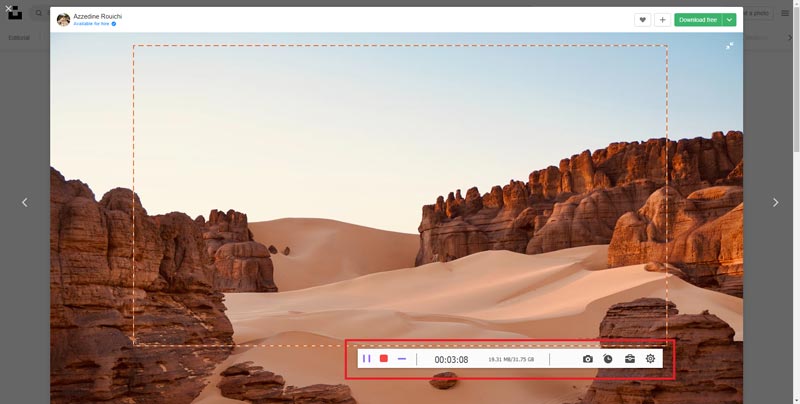 Besides the introduced Screen Recorder, you can also try using OBS Studio, ShareX, Snagit, Camtasia, or ScreenFlow. Give these alternatives a try, and elevate your screen recording and annotation experience to the next level.
Part 3. FAQs of TinyTake
Question 1. Is TinyTake safe to use on my Mac?
TinyTake is generally considered safe to use on your Mac. However, as a precaution, it is always recommended to download software from trusted sources. Additionally, it's a good practice to research the software and check related reviews from others before downloading and installing it.
Question 2. Is there a TinyTake Chrome extension?
Yes, there is a TinyTake Chrome extension available. You can find it in the Chrome Web Store by searching for TinyTake.
Question 3. Where to download TinyTake for Mac?
You can download TinyTake for Mac from the official website. Just visit its website and navigate to the Download section. From there, you'll find the option to download TinyTake for Mac.
Conclusion
Whether it's for personal use, educational purposes, or professional needs, TinyTake provides an excellent platform for capturing, annotating, and sharing content with ease. This post gives you a detailed TinyTake review. Its intuitive interface, robust annotation and editing features, and seamless cloud integration make it a strong contender in the field. While the free plan has feature limits, you may want a TinyTake alternative like ArkThinker Screen Recorder.
What do you think of this post? Click to rate this post.
Excellent
Rating: 4.9 / 5 (based on 324 votes)