Gyazo Review: Hiring an Image Ninja for Your Screenshots
Although the demand for screen recording has increased in recent years, it is difficult to find software that is not only easy to use but also comprehensive to meet all your requirements. If you share this confusion, you are in luck. Gyazo simplifies and speeds up screen recording and screenshots for all users. In this review, we will have a look at Gyazo's pricing, key features, and alternatives. We will also demonstrate how to use Gyazo Chrome Extension in your browser.

GUIDE LIST
Part 1. What is Gyazo?
Gyazo is a piece of software that simplifies the exchange of screen recordings and screenshots. It is designed to speed up the communication and feedback process. With Gyazo, you can readily record, edit, and share your desktop. Once installed, the three separate programs - Gyazo, Gyazo Video, and Gyazo Replay - allow you to capture images, videos, and gameplay, respectively. Therefore, you can use it for work, leisure, or personal tasks. If interested in these features, you can conveniently download Gyazo on your computer, browser, or mobile device.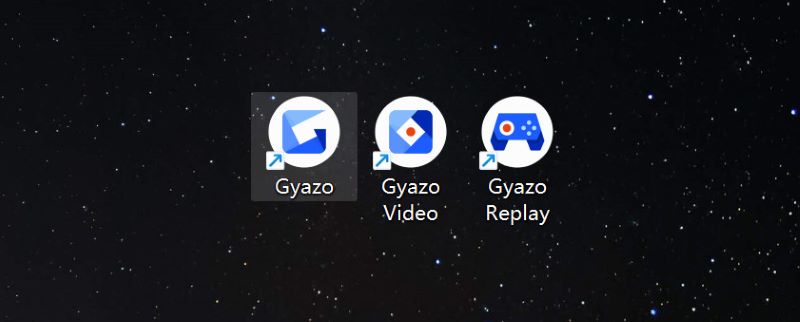 Gyazo vs. Gyazo Pro vs. Gyazo Teams
| | Gyazo | Gyazo Pro | Gyazo Teams |
| --- | --- | --- | --- |
| Price | $0 | $5.99/month | $50/month |
| | | 30-day free trial | Up to 5 people |
| Accessible captures | 10 | unlimited | unlimited |
| Customized collections | 4 | unlimited | unlimited |
| Video duration maximum/sec | 7 | 60 | 60 |
| Replay duration maximum/sec | 7 | 30 | 30 |
Part 2. Gyazo Features You Should Be Using
Gyazo Shortcut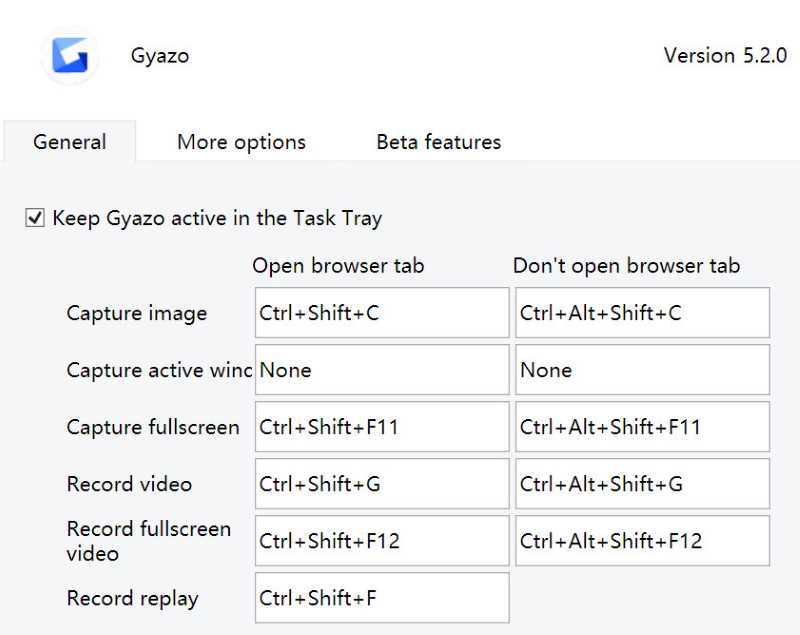 Like other screen recording software, Gyazo enables users to automatically choose the recorded area. The impressive aspect is that all operations are completed through shortcuts. You can adjust the shortcuts in the General section on the Settings interface. As shown in the pictures above, you can capture or record a picture, an active window, or a full screen. You do not have to navigate multiple buttons; simply use customized shortcuts. This is a great feature for people who are good with the keyboard. If you are not familiar with hotkeys, don't worry; Gyazo's default hotkeys can be learned quickly by using them.

Gyazo Edit& Share
With Gyazo, you can edit and share your screenshots and videos right after you finish capturing. Let's use screenshot editing as an example.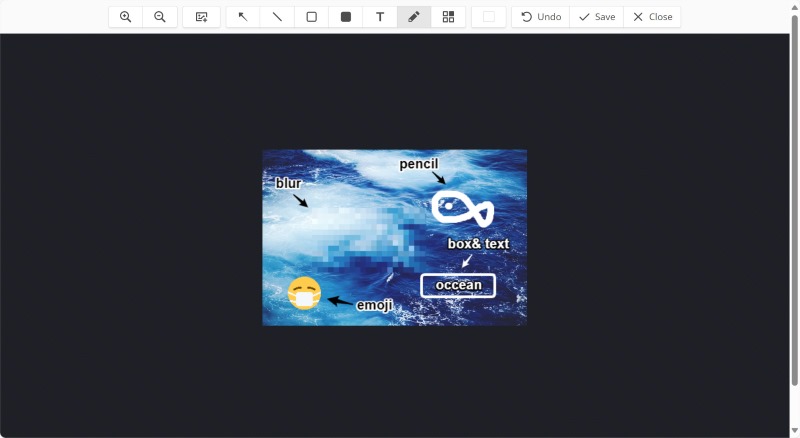 Once you have captured a screenshot with Gyazo, a web page will automatically open and guide you through the following steps. You can add arrows, boxes, text, and stickers by clicking the buttons in the top toolbar. This allows you to make a note of some important ideas or comments. You can also blur part of the image to remove unimportant information or to protect your privacy. We have tried some editing features on the image shown so you can see the effect.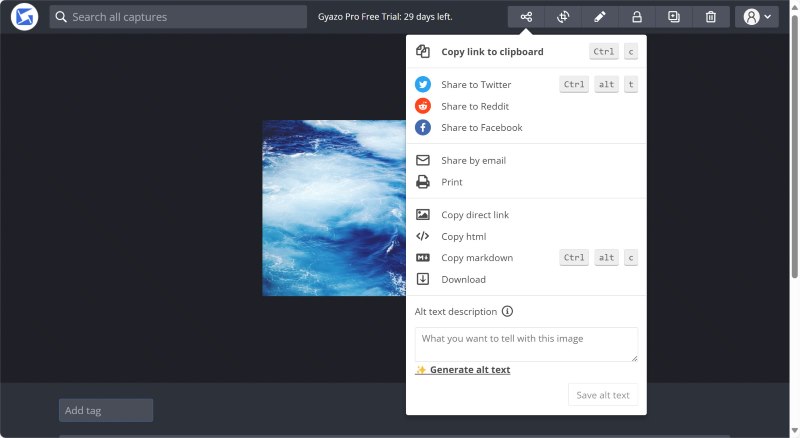 After editing the screenshot, you can save and return to the previous page. Click Share to see how you want to share it with colleagues or friends. You can share using popular social media such as Twitter and Facebook. Meanwhile, you can copy a link or HTML to the clipboard and paste it into any chat box.
Gyazo Image Metadata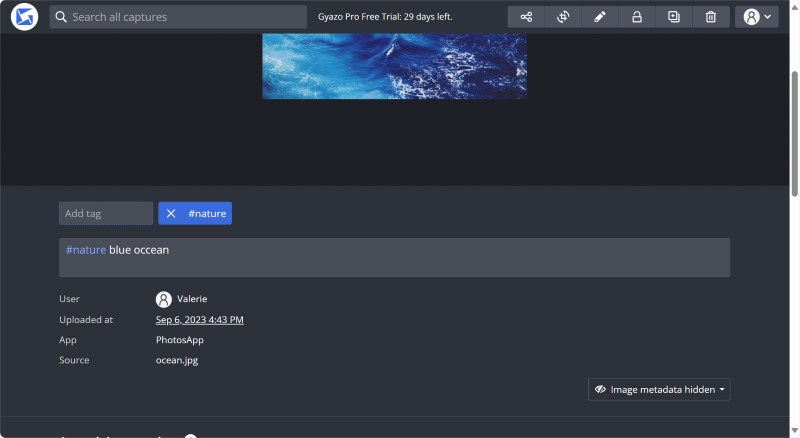 One of Gyazo's most powerful features is Image Metadata, which allows users to efficiently label and sort images and videos. You can see the image description by scrolling down the editing page. Gyazo allows users to add tags and descriptions and change the source name all at once. In this way, if you are working with a large number of images or videos, you can use the tag to find the ones you are looking for. It saves time and keeps your albums clean and tidy.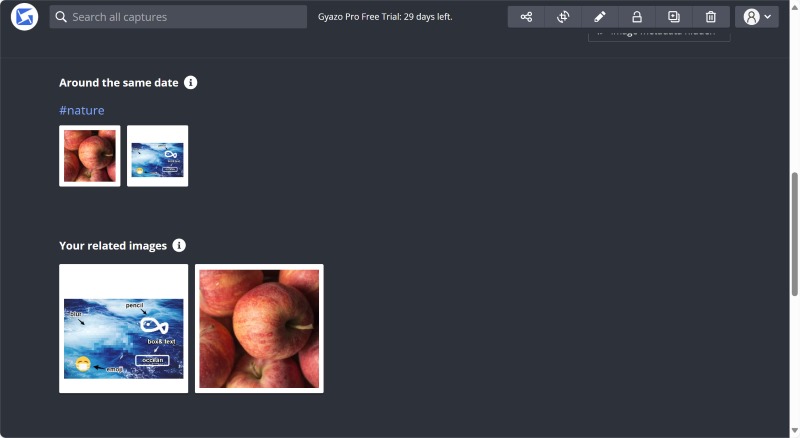 What's more, the system automatically recommends images or videos that are related to the one you're editing. It identifies them by the date they were taken or the tag you added. This will certainly speed up your work. For example, if you want to make a video about a particular trip, Gyazo will automatically show you all the photos and videos taken in that place. Spending a little time tagging your photos and videos will make your work easier later.
Gyazo Collection
Instead of tagging and metadata, Gyazo offers its users Collection to store their works in a clean and organized way.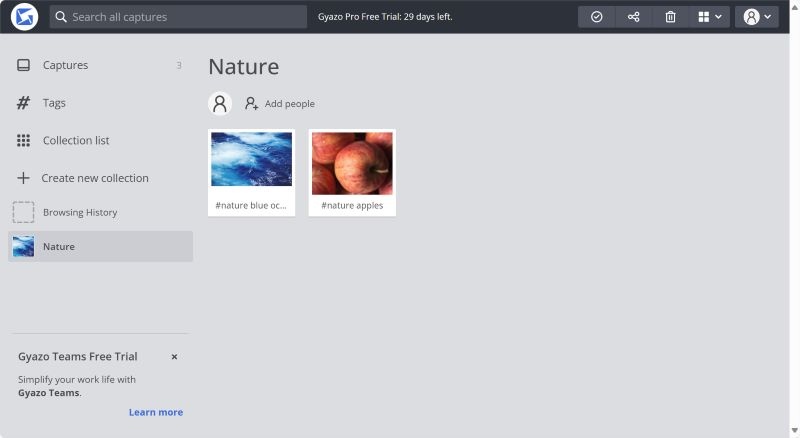 You can select images or videos from Captures and add them to a collection. If you have purchased Gyazo Pro or Gyazo Teams, you can have an unlimited number of customized collections. You may create a new collection at any time and review it in the Collection List. This allows you to sort an image into different tags and collections. For example, an image of an apple can be tagged nature and placed in the fruit collection. With Gyazo, you don't have to copy and paste images into folders on your repeatedly.
Part 3. How to Use Gyazo Chrome Extension?
Step 1
Go to the Chrome Web Store and download the Gyazo Chrome Extension.
Step 2
In Chrome Extensions, click Gyazo. Then click More Actions to the right of Pin. Select Capture and choose the area you want to capture screenshots of.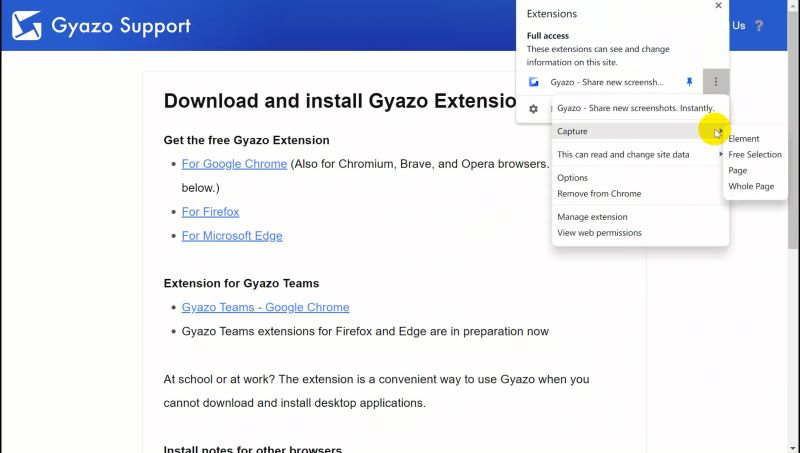 Part 4. Alternative to Gyazo: ArkThinker Screen Recorder
Although Gyazo's main features are user-friendly, it falls short in terms of user experience. While users can easily capture and organize screenshots and videos, Gyazo does not meet users' other basic needs at work, like scheduling and capturing iPhone& Android screens. ArkThinker Screen Recorder is the solution to bridge this gap.

ArkThinker Screen Recorder is a superb tool for capturing high-quality videos and audio. It offers a variety of options, including screen capture and audio recording. Users can seamlessly live-stream to social media platforms with this software. In addition to its recording functions, ArkThinker Screen Recorder provides a more fluid user experience. Impressively, it enables scheduled recording or live streaming before meetings or gameplay. This is suitable for both office workers and game streamers alike. For instance, if you have a vital meeting tomorrow at 9 a.m., you can set the start time and duration to suit you. Even if you miss the online meeting, you can review important information and notifications anytime.
Furthermore, ArkThinker Screen Recorder offers many other features like screenshot editing and recorded video trimming. Right after recording, you can immediately edit your work instead of opening a separate software. While editing a film, you can cut out the unwanted parts and re-arrange the video. Meanwhile, you can stitch together video and audio recordings or those stored on your local files. It is convenient to have an all-in-one recording and editing software.
Part 5. FAQs about Gyazo
Is Gyazo safe to use?
Yes. Gyazo is dedicated to safeguarding your privacy and the security of your personal information. The software employs top-level security measures to store your data in the Google Cloud.
How to make a GIF with Gyazo?
You can use Gyazo Video to record the desired video and then choose to copy or download it as a GIF. If you encounter any problems, feel free to seek advice on the Gyazo website.
Are there any apps like Gyazo?
Yes. As we have introduced in the review, ArkThinker Screen Recorder is a good substitute for Gyazo. It not only enables you to capture or record but also live stream on social platforms.
Conclusion
All things considered, Gyazo is an excellent option if you require software to make your work more efficient. This review highlights several features that allow you to capture and edit your images and videos, such as Shortcut and Image Metadata. If you want to be more organized at work and schedule your recordings, you could consider trying ArkThinker Screen Recorder. Regardless of your choice, you won't regret it.
What do you think of this post? Click to rate this post.
Excellent
Rating: 4.9 / 5 (based on 207 votes)