Exploring Screenpresso: A Detailed Review
Have you ever been in a situation where you had to take a picture of what's on your computer screen? Think about when you're in an online meeting with colleagues or friends, and something important is shown on your computer screen, and you need a quick way to save it. Or imagine you're browsing the internet and you come across an interesting article that you want to save for later. These are the times when Screenpresso can help you. This review of Screenpresso will explore its features, pros and cons, and things you should be aware of regarding it.

GUIDE LIST
Part 1. Quick Look at Screenpresso
Screenpresso is an easy-to-use screen capture tool. It captures what's on your computer screen, including screenshots and high-definition videos, which can be useful for creating training materials, collaborating on design projects, and various other purposes. It also comes with a built-in image editor, the ability to create user guides, and options for sharing your captures.
Screenpresso download is available through its official website. They offer two versions: the latest version for personal use, and the enterprise deployment version for business use.
1. Requirements
◆ Only for Windows
◆ .NET 4.8 is required
◆ Administrator privileges required for company use
2. Pros & Cons of Screenpresso
Pros :
Simple and quick screen capture with high quality.
Efficient and powerful image editing.
Convenient storage and sharing.
Cons :
Not available for MacOS, iOS, and Android.
Screen recordings in MP4 format only.
Limited features in the free version.
3. Pricing
Version
Pricing
Details
Free
0
Automatic updates
Pro
$29.99
Per user;
One-time purchase with a volume discount.
Enterprise
$2,190.0
Unlimited users;
One-time purchase.
Part 2. How to Use Screenpresso
This part discusses its main features, including capturing screenshots and high-quality videos, image editing, a Chrome extension for capturing web pages and managing images, as well as other features, like OCR for text recognition and document generation. After reading this section, you will have a more comprehensive understanding of the key features of Screenpresso.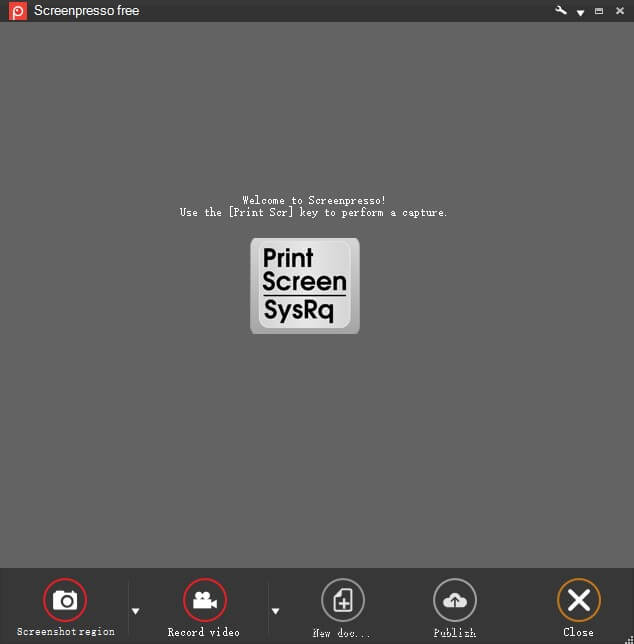 1. Capture screenshot
To make a screenshot, you need to open the software, and then press Print Screen on your keyboard. Your cursor becomes a crosshair, marking the area in red as you move. You can pick exactly what to capture - a part of a window, the whole window, or everything on the screen - all with the same shortcut. Just click and drag for precise selections. If the content is too long for the screen, it stitches it together for you. Your cursor and context are captured, too.

2. Record your screen in videos
Screenpresso records your screen, producing MP4 video files for easy sharing. You can record in MP4 format to maintain small file sizes, capture both audio and webcam content, export individual frames or images, trim the video, and make adjustments such as muting, altering the video speed, or changing the format. However, audio recording is not available in the free version, which can be inconvenient.

3. Robust image editing
Screenpresso has a built-in image editor that lets you add things like arrows, highlight areas, speech bubbles, shapes, text boxes, and more to your screen captures.
To use it, just double-click an image in Screenpresso or click the Edit button. You can also do things like add shadows and round corners, make reflections, add torn edges, and add decorative borders. There's even a Step Tool that helps you highlight a series of steps by clicking, and it automatically numbers them for you.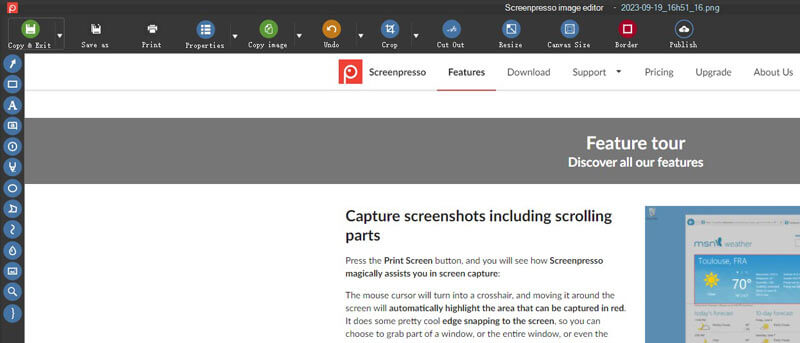 4. Screenpresso chrome extension
When you want to create long web images, the Screenpresso Chrome extension is recommended. It allows you to capture long web pages with just one click and opens the captured images in your Screenpresso desktop application.

5. Additional features
With Screenpresso, you can capture images with text and it can read the text for you. You can also take pictures and videos from your Android device when it's connected to your computer. Plus, it can capture and understand QR codes.
Moreover, it can make PDFs, Microsoft Word files, or web pages from pictures and notes. This is handy for creating user guides, training materials, or quick reviews in no time.
Part 3. Screenpresso Alternative - ArkThinker Screen Recorder
If you use a Mac computer and need screen capture functionality for specific tasks or are seeking an all-in-one screen recording solution, we highly recommend ArkThinker Screen Recorder. It's worth noting that ArkThinker Screen Recorder has a Mac version and offers features that Screenpresso does not provide.

With ArkThinker Screen Recorder, you can easily make a screen capture, scrolling window capture, and popup menu capture, catering to various scenarios and diverse needs.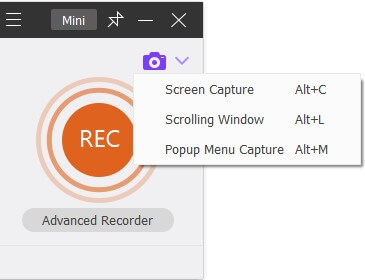 You can edit the image right after you select the area that you want to capture. You are allowed to add text and make marks with the pencil tool, rectangles, callouts, or blurs.

In addition, as a professional screen recorder, it can capture system sound, microphone input, and webcam at the same time, which makes it convenient if you need to do a presentation, tutorial, game video, and so on. Besides, it supports a variety of video and image formats for output, such as MP4, WMV, MOV, F4V, MPEG-TS, WebM, and GIF, as well as numerous audio formats including MP3, M4A, WMA, FLAC, WAV, and more.
Part 4. FAQs of Screenpresso
Is Screenpresso safe?
Yes, Screenpresso is safe and trustworthy to download.
How to stop Screenpresso recording?
To stop recording, you can either press the [Print Screen] key or right-click on Screenpresso's icon and select "Stop" from the menu.
Note: If you choose "Exit video mode" instead, the recording will stop, and the video will be lost.
Is Screenpresso free or paid?
There are both free and paid versions.
Conclusion
This article has discussed the primary features of Screenpresso, as well as its pros and cons. It also introduces a versatile alternative, ArkThinker Screen Recorder. You can choose the product according to your needs. We hope this article has been helpful to you.
What do you think of this post? Click to rate this post.
Excellent
Rating: 4.9 / 5 (based on 279 votes)