How to Adjust Twitter Video Length and Upload Long Videos Properly
"I just uploaded a video on Twitter but failed, does Twitter limit video length?" Today, most social networks allow users to post multimedia content including videos. However, to reduce the pressure on the servers, each social platforms have limitations on video length and file size. Some of them compress your videos while uploading. This article focuses on Twitter video length limits and helps you to post videos on this traditional social network properly.

GUIDE LIST
Part 1: What Is Twitter Video Length
Similar to other social networks, Twitter has its own rules on video posts. Users must follow the recommended size, length, frame rate, and more to share their video clips. Currently, users are allowed to upload a video up to 140 seconds or 2 minutes and 20 seconds.
Plus, the video file size must be less than 512MB.
The video resolution should be between 32 x 32 and 1920 x 1200 or 1200 x 1920.
The maximum frame rate is 60 frames per second.
The supported formats include MP4 and MOV.
However, the ideal video length for Twitter is 20 to 45 seconds with 24 FPS. They get the best video engagement.
Part 2: Common Ways to Upload Long Videos on Twitter
Although long videos are less likely to be watched through the end, you may have to upload a long video to Twitter sometimes. Generally speaking, there are two ways to get the job done, using an ad account or posting a video link.
Way 1: How to Upload Long Video on Twitter with Ad Account
If the maximum Twitter video length is not enough for you, try the Ad account. It lets you upload a video of up to 10 minutes. The maximum file size is 1GB. Bear in mind that Twitter only supports 16:9 and 1:1 aspect ratios for ads.
Step 1
Open the Twitter website in your browser, and sign into your account. Click the Profile icon and choose Twitter Ads from the dropdown menu. Or access https://ads.twitter.com/ directly.

Step 2
Click Add new payment method. For the first time, you need to enter your credit card details. Don't worry. You do not need to pay for uploading a long video on Twitter.
Step 3
Once done, you will be presented with more options at the top of the ads account. Click and expand the Creatives menu, and choose Videos.
Step 4
On the Twitter Video Player Terms, agree to them and click on Proceed. Then upload the video longer than Twitter video max length.
Way 2: How to Upload Long Video on Twitter with a Link
Another way to upload a video longer than Twitter maximum video length is to use a third-party tool. It allows you to host a long video and post a link to your Twitter account directly. Twishort, for example, lets you write a long tweet attaching a large video.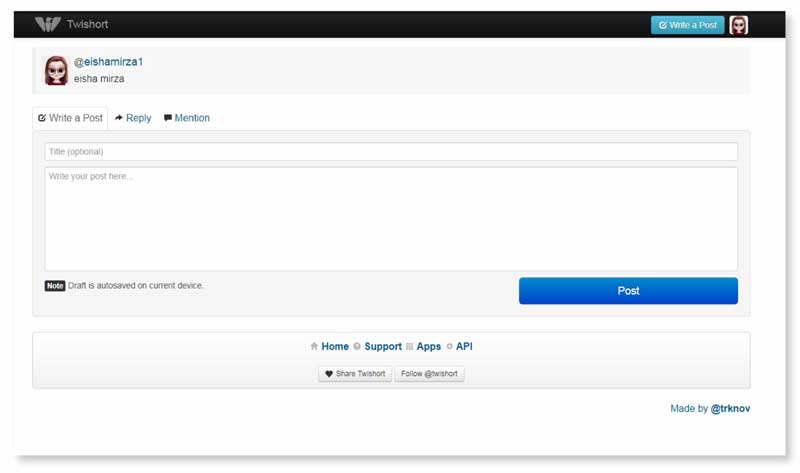 Step 1
Visit the website in a browser. It provides an app for iOS and an extension for Google Chrome.
Step 2
Click the Sign in with Twitter button and enter your Twitter account. Then authorize the app.
Step 3
Next, create a new tweet and upload the long video. Click the Post button.
Part 3: Ultimate Way to Upload Long Video on Twitter
If the common methods are not available to you, trimming a long video for Twitter is another good idea. According to our research, videos between 20 to 45 seconds have the highest engagement. ArkThinker Video Converter Ultimate is helpful now. It enables you to cut a long video into clips for posting on Twitter.
ArkThinker Video Converter Ultimate
Split a video into clips or trim a long video easily.
Enhance video quality using AI technology.
Convert videos to MP4 or MOV.
Preview videos with the built-in media player.
How to Trim a Long Video for Twitter
Step 1
Add a long video
Run the best video cutter for Twitter after you install it on your PC. There is another version for Mac. Switch to the Toolbox window from the top ribbon, and choose the Video Trimmer tool. Click the Add icon to open the long video or drag and drop the video into the interface to load it directly.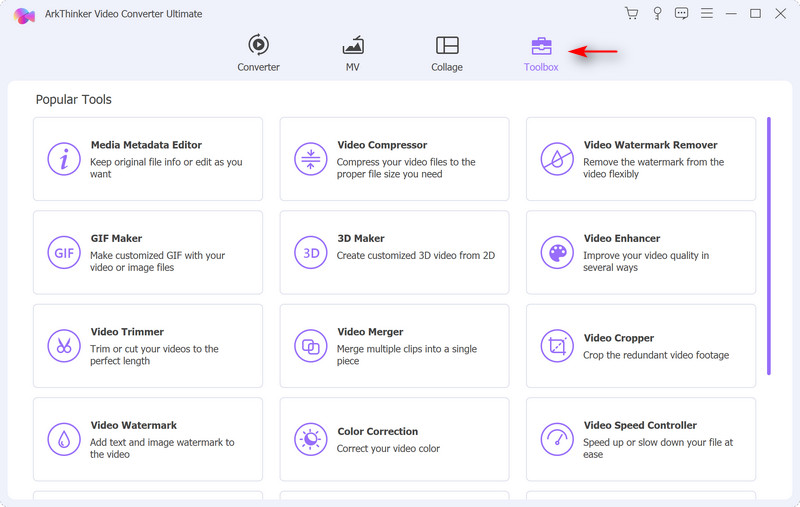 Step 2
Cut the video for Twitter
Play the video, and click the Set Start button when it reaches the desired starting point. Then hit the Set End button at the new end. Press the Add Segment button to add the clip to the list.
Or you can split the long video into clips with the Split button above the timeline.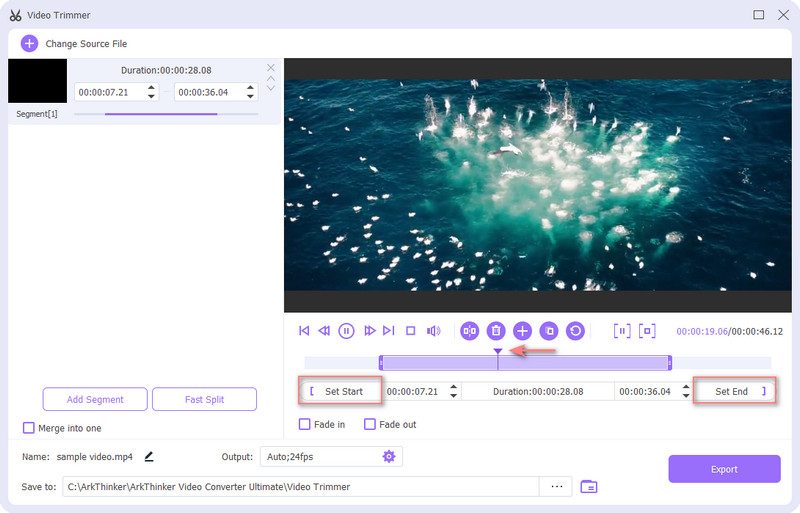 Step 3
Export video clips
At last, set the filename, output format, and location at the bottom. Click the Export button to save the output. Then upload the trimmed video to Twitter.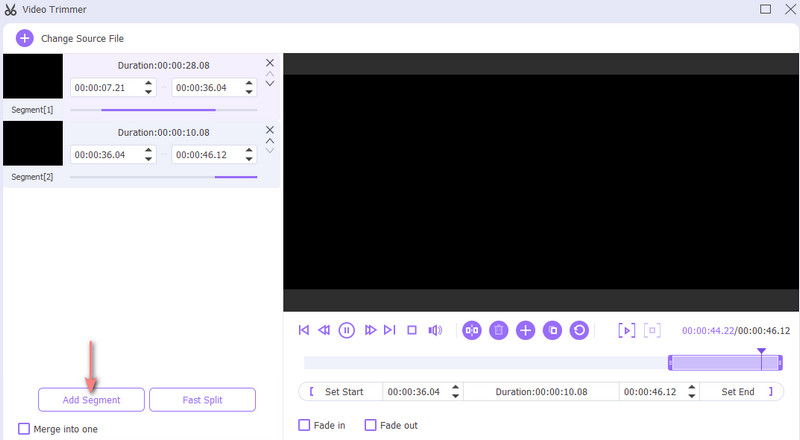 Part 4: FAQs about Twitter Video Length
What is the character limit for a tweet in 2023?
Currently, Twitter allows users to write a total of 280 characters or Unicode glyphs in a tweet. Before, tweets were capped at only 140 characters. However, some third-party tools allow you to post long tweets.
What is the longest Twitter video?
Twitter imposes a limit of 140 seconds up to 512MB. To upload a video longer than the limit, you can host your video to a server and post the link in your tweet.
Can I post a video for 2 minutes on Twitter?
Yes. The maximum video length on Twitter is 2 minutes and 20 seconds. Therefore, you can upload a 2-minute video to Twitter directly.
Conclusion
This article has talked about the maximum Twitter video length. Briefly speaking, you can upload a video shorter than 140 seconds normally. With an ad account, you can post a video of no more than 10 minutes. A part of third-party tools enables you to upload a longer video too. The alternative solution is to cut the long video using ArkThinker Video Converter Ultimate. More questions about this topic? Please feel free to write them down below this post.
What do you think of this post? Click to rate this post.
Excellent
Rating: 4.9 / 5 (based on 241 votes)