Full Review for the 6 Best Free Online Video Cutting Applications
There are lots of reasons why you might need to trim a video or split it into segments. You may want to send it through emails, for example, but the whole file is too large. There are unwanted frames or parts in the video that you have to remove. Plus, most social media platforms have file size limitations when uploading a video post. Anyway, this post identifies and reviews the top 6 best online video cutters.

Part 1: Top 6 Online Video Cutters
Top 1: ArkThinker Free Video Cutter Online
ArkThinker Free Video Cutter Online is a video editor that comes with an online video trimmer tool. It allows you to quickly shorten your video footage without paying a dime, and then save segments to your account. You can also use it trim an audio file.
Pros :
Cut videos without downloading.
Compatible with a wide range of devices.
Resize the video while cutting.
Offer basic custom options.
Free to use without any limitations.
Cons :
It requires an account to expand the max file size.
How to Cut a Video Online for Free
Step 1
Add video
Run the best online video cutter in your browser. It does not require you to install any software. Click the Add File to Start button on the home page, and upload the video that you want to trim.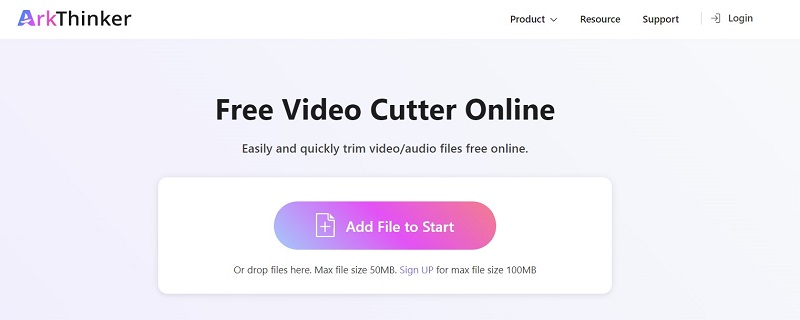 Step 2
Cut video
Then the footage will be put on the timeline after uploading. Now, you can reset the beginning and end points with the left and right sliders, or trim the video by entering the beginning and end in the box accurately. Decide to Save selected part or Delete selected part. At last, click the Trim Video button to confirm the changes. Finally, hit the Save button to download the video clip.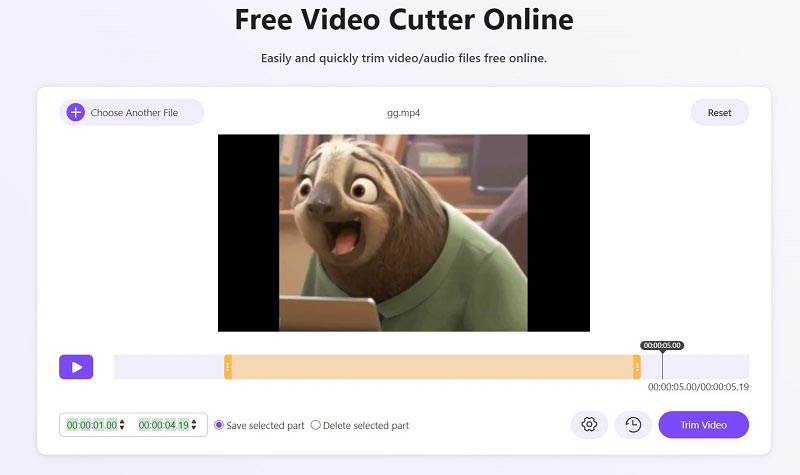 Top 2: Clideo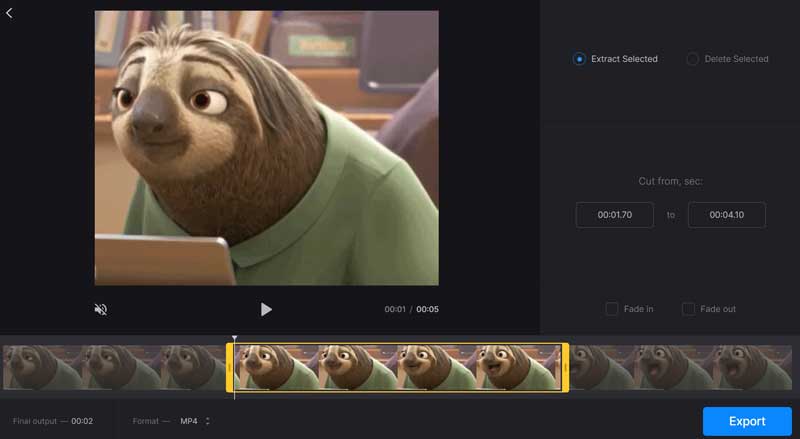 Clideo is an all-in-one video cutter online for PCs, Mac computers, and mobile devices. It allows you to extract a clip from the video or remove any part online. The cut-from-second feature can do the job accurately.
Pros :
Trim a video online.
Offer fade-in and fade-out effects.
Support popular video formats.
Import online video through URL.
Cons :
It adds a watermark to your video.
It takes a while to upload a video.
Top 3: Veed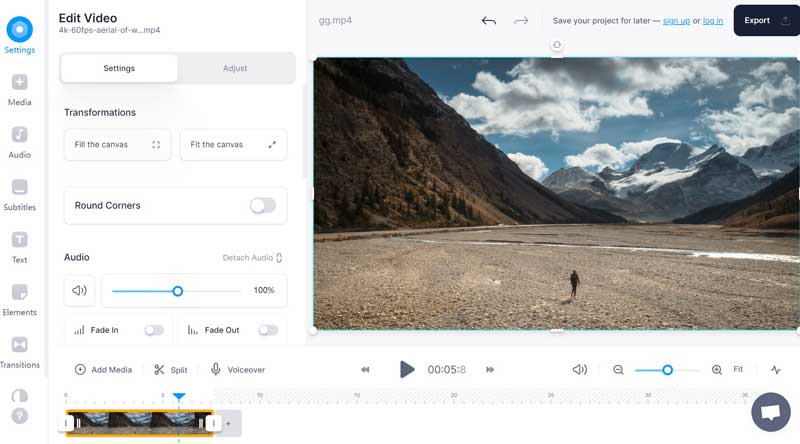 Veed is a video file splitter online. Once you upload a video, the app will put it on the timeline. Then you can split it into several clips or remove wanted footage. Plus, it includes a lot of bonus features.
Pros :
Trim or split a video online.
Offer bonus tools.
Edit video on the timeline.
Keep the video quality.
Cons :
To edit a video, you must have an account.
It is not free.
Top 4: Online Video Cutter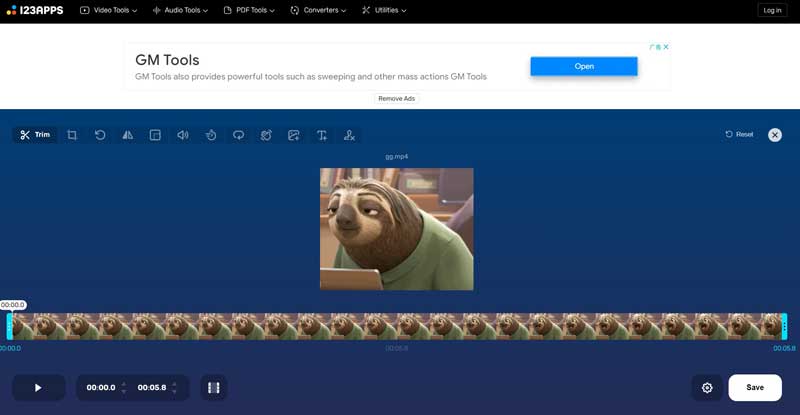 As its name indicated, Online Video Cutter is a fast video trimmer online. You can upload a video from your computer, Google Drive, Dropbox, or URL, and then cut unwanted frames online for free.
Pros :
Support multiple input sources.
Trim a video online quickly.
Re-encode the video format.
Offer more video editing tools.
Cons :
It only supports MP4, MKV, and MOV.
There are ads on the page.
Top 5: Video Cutter JS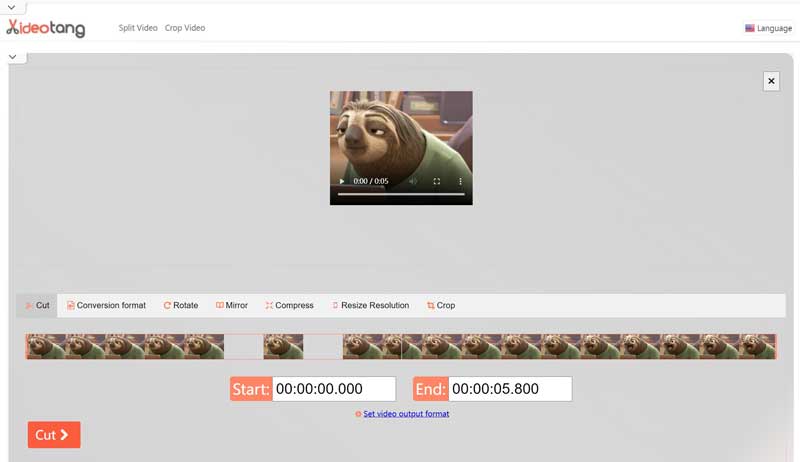 Video Cutter JS is a large size video cutter online. It does not have any payment option or file size limit, partly because it relies on HTML5 and JS technology to cut videos in browsers. Of course, it takes time to upload a long video.
Pros :
Cut video online without installing.
Completely free to use.
Won't add a watermark to videos
Convert video output format.
Cons :
It requires the latest version of browsers.
The video formats supported are limited.
Top 6: AConvert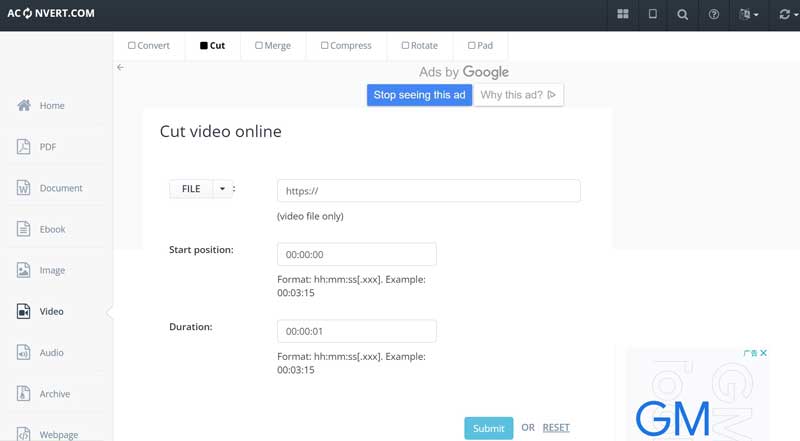 AConvert is the last but not least best video cutter online. It is totally free to use and does not include any option for payment. You just need to watch ads on the page to exchange the features.
Pros :
Cut videos for free.
Support both local and online videos.
No extra options.
Easy to use.
Cons :
You cannot preview the output.
It lacks bonus tools.
Recommend: Best Alternative to Online Video Cutter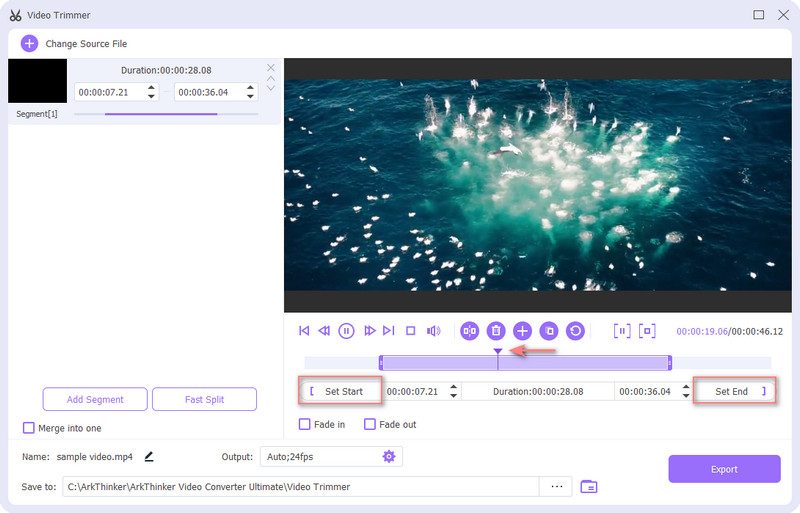 Apparently, online video cutters are just a simple way to shorten your video footage. They all have downsides, such as supporting limited video formats, requiring a good network, adding a watermark to your video, and more. More importantly, it is not safe to upload your private videos online. ArkThinker Video Converter Ultimate, on the other hand, is a stable video cutter on desktops.
Part 2: FAQs about Best Online Video Cutter
How do I cut a video URL?
Copy the video URL that you want to shorten, visit a URL shortener service online, and paste the video address into the service. Then you will get a clear video URL easily.
Can I cut an MP4 online for free?
Most online MP4 cutters are not really free. Some of them add a watermark to the result and you have to pay for the removal. Others ask you to sign up with your personal information.
Can VLC cut video?
VLC does not include a feature called trim video or similar, but you can do the job by recording the desired segment with the Advanced Controls bar.
Conclusion
This post has reviewed the top 6 best online video cutters. They all can trim a video and remove unwanted frames online without installing any software. You can follow our review to pick an appropriate tool, such as ArkThinker Free Video Cutter Online. If you do not like online apps, ArkThinker Video Converter Ultimate is a nice solution to retouch your videos and shorten the footage. More questions? Please leave a message below this post.
What do you think of this post? Click to rate this post.
Excellent
Rating: 4.6 / 5 (based on 165 votes)