4 Top Video Resolution Enhancers for Easier Resolution Upscaling
A convenient video resolution enhancer allows users to adjust many aspects of a video while upscaling the resolution. These aspects may cover brightness, contrast, hue, and so on, which, reversely, helps with the visual quality as well. As for the top video resolution enhancers, most of which are supported by AI technology and advanced features. Therefore, to make the video upscaling easier and more precise, here comes 4 top enhancers that are best for both desktop and online uses.

GUIDE LIST
Part 1: Top Video Resolution Enhancers on Desktop [Mac/Windows]
At the top of the list, two selective programs can not only be your video resolution enhancers but also possess many other editing features as comprehensive video editors. In this case, you can enjoy more functions like trimming, cropping, applying filters, and adjusting picture quality or size while enhancing the resolution. Therefore, without further ado, move on to check out the features, pros, and cons of the top 2 video resolution enhancers for desktops.
Top 1: Adobe Premiere Pro
Being a professional and long-enduring video editor for professionals, Adobe Premiere Pro can perfectly handle the video-upscaling task. With some basic knowledge and simple editing skills, you can easily enhance your video resolution in this top video resolution enhancer. The biggest feature of Adobe Premiere Pro is that it not only has AI technology but also takes care of your video details with Detail-preserving Upscale after-effects.

Main Features:
◆ Enrich your video content with filters and transition effects.
◆ Maintain the original quality of your video during the process.
◆ Polish your video with more adjustment options and layers.
◆ Sharpen the video picture while upscaling the resolution.
Pros :
You can track an object automatically in the video to blur it.
Achieve multitasking in Premiere Pro without hassle.
Unlimited tracks for video and audio.
Suitable presets for various popular social media.
Cons :
Rendering time can be long and tedious.
Not compatible with all video formats such as AVI.
No perpetual license is available but only annual or monthly commitment.
Top 2: ArkThinker Video Converter Ultimate
Here comes the second top video resolution enhancer, less professional but friendly to beginners in a good way, ArkThinker Video Converter Ultimate is a versatile video editor that offers a high-level upscaling function for all your videos. Whether it is an old video shoot by a camcorder or a blurry video in an uncommon format, this video resolution enhancer app can upgrade its resolution immediately.
ArkThinker Video Converter Ultimate
Provide multiple resolution options for the video.
Remove video noise and shaking to refine the video quality.
Optimize picture quality automatically with one click.
Cut off one clip from an old video for enhancement.
Share your work on several popular social media platforms.
Pros :
Enjoy all features after purchasing a lifetime license.
Fast speed and CPU acceleration for resolution enhancement.
Preview the resolute of enhancement before exporting videos.
Cons :
Limited customization options for video enhancement.
Lack of more advanced features for video polishing.
Extra Tip: How to Enhance Video with ArkThinker Video Converter Ultimate
Step 1
Once you download and install this top video resolution enhancer on your desktop, launch it and click the Toolbox option on the main interface for more tools. Afterward, click the Video Enhancer button to continue the process.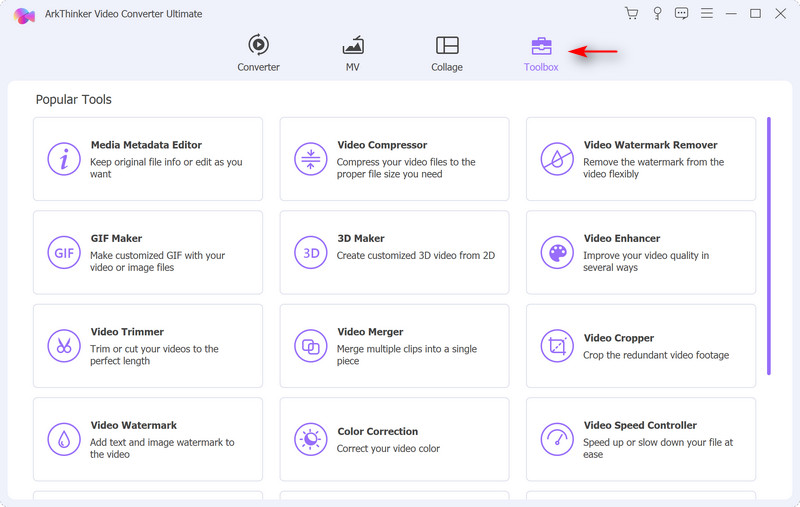 Step 2
Next, there will be an import window, click the Plus icon to add your video. After selecting your video, you will see four options on the following window for your enhancement. You can tick the boxes beside Upscale Resolution and Optimize Brightness and Contrast options.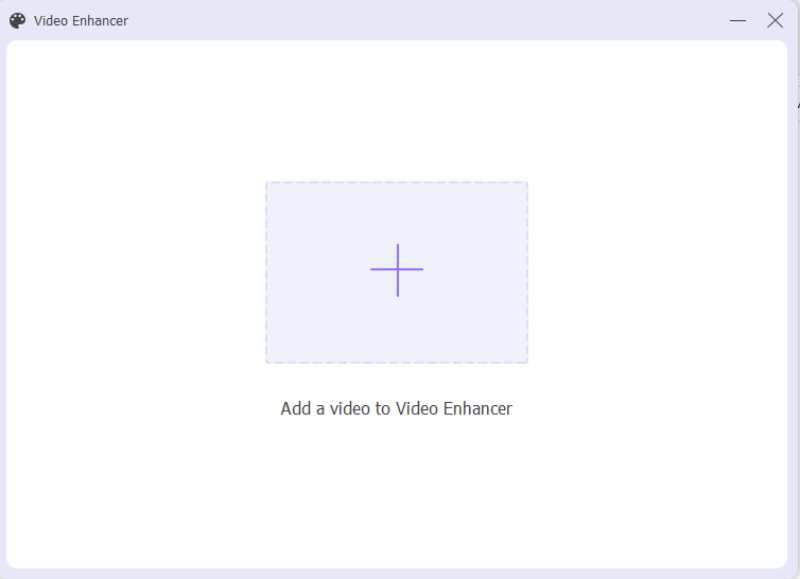 Step 3
After that, choose a higher resolution from the Resolution dropdown option, you can even upgrade your video to 4K resolution there. Next, you can choose a destination folder for your output video via the Save to dropdown button. Then, click the Enhance button to finally start upscaling.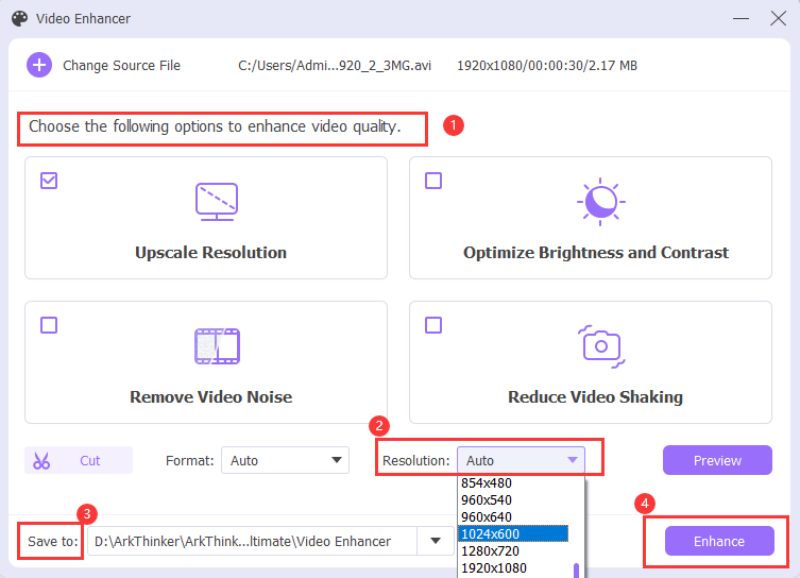 Part 2: 2 Best Video Resolution Enhancers Online
For greater convenience and accessibility, video resolution enhancers online must come to the top. The online super-resolution video enhancers normally allow users to process or enhance videos from online sources like Google Drive or Dropbox, which offer you more flexibility when importing the video for enhancement. Therefore, below are the two best video resolution enhancers online for you to enhance video quality. Meanwhile, the easy operations and quick processing speed even better enhance your productivity.
1. Clideo – Video Enhancer [Free]
Clideo is a comprehensive website that offers various kinds of video tools. This video resolution enhancer online is one of them and can help you adjust many features that will influence the video quality. Although it cannot adjust your video resolution directly since there is no AI technology equipped, it allows you to change settings like brightness, contrast, hue, and so on to enhance a video picture.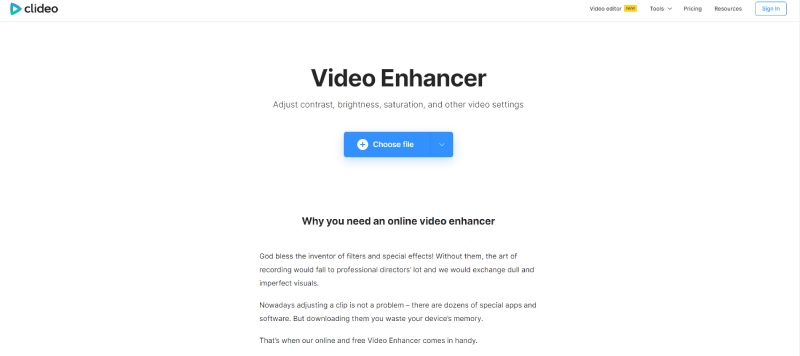 Main Features:
◆ Offer simple options for beginners to enhance the video.
◆ Upload your video for enhancement from online clouds.
◆ Save your output video to online clouds directly.
Pros :
No need for an account for video enhancement.
Free service within a certain range.
Occupy no disk space on your device.
Cons :
Long preprocessing time for videos.
There is a watermark on your output-enhanced video.
There are no direct resolution choices.
2. HD Convert
HD Convert is an online website that offers premium services for video enhancement. As a paid video resolution enhancer online, HD Convert offers a straightforward layout, and you can easily follow the on-screen instruction to complete the enhancement independently. Additionally, you also get the option to adjust more settings for your video like bitrate, format, codec, etc.
Main Features:
◆ Convert your low SD video to HD video.
◆ Offer advanced settings for video adjustment.
◆ Use AI algorithms to upscale and enhance your video resolution.
◆ Fix broken artifacts during the process of enhancement.
Pros :
There is no file size limit on your video of the premium plan.
Accessible on all kinds of devices including mobiles.
Convert your video to a different format while enhancing it.
Cons :
No perpetual license but expensive purchase plans.
There is no free trial for video enhancement.
Part 3: FAQs about Top Video Resolution Enhancers
Is there a handy video resolution enhancer app for mobile phones?
Yes, there is. And there is more than just one app like that. If you want to enhance your video quality on your Android or iPhone, two apps are recommended, Videoshop and InShot. Both two apps are available on Android and iOS systems, and you may also access free service in them.
Can I upscale a video to 4K with a video resolution enhancer?
Yes, you can if the enhancers you use do what they claim to be. Many AI-supported software or apps claims that they have 4K options. But, sometimes, truth is that upscaling a very blurry video or pixelated one to 4K resolution takes great effort.
Is there a free video resolution enhancer online that supports AI?
No, there is not. Normally, a good enhancer that is equipped with AI technology to enhance your video resolution will charge certain fees. Some may offer a free trial but is seldom totally free.
Conclusion
From the 4 top video resolution enhancers above, you can now pick up the best one that is suitable for you to enhance your video quality or even promote your video resolutions. Apart from that, if you are a beginner who knows little about editing skills but try to produce a video of high quality, then the ArkThinker Video Converter Ultimate can be an appropriate choice.
What do you think of this post? Click to rate this post.
Excellent
Rating: 4.9 / 5 (based on 214 votes)