4 Useful Ways to Flip or Mirror a Video on Different Devices
It's quite a common need to flip a captured video horizontally. Do you know how to do a 180 flip and mirror your video? This post tells four easy methods to help you flip a video horizontally or vertically on devices like an iPhone, iPad, Android phone, or computer.

GUIDE LIST
Part 1. How to Flip a Video Horizontally Online and Free
You can use free online video flippers to flip or mirror a video easily. When you Google flip video on the internet, you can see many search results are linked to online tools. However, most of them have limits on your uploaded file size, features, account sign-in requirement, ads, and more. What's worse, they will add a watermark to your flipped video. Considering that, here we introduce the easy-to-use 123APPS Flip Video for you.
Step 1
Open your web browser, search for and then go to the 123APPS Flip Video website. Click the Open file button to add the video you want to flip. Here you are allowed to flip a video from Google Drive, Dropbox, and an online file through its URL. It enables you to mirror a video of less than 4GB.

Step 2
Now you can click on the Horizontal button to mirror your video. Also, you can click the Vertical button to fix an upside-down video and rotate it to the correct orientation.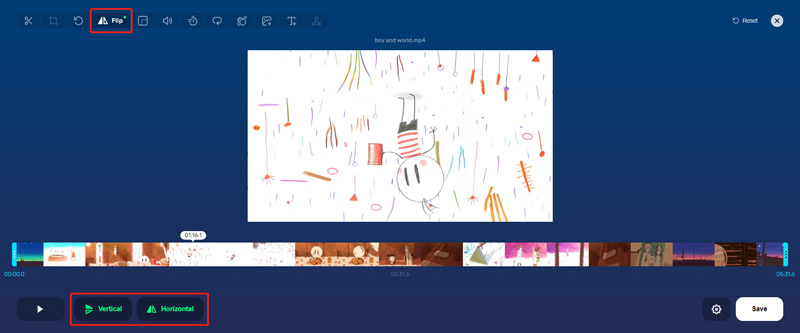 Step 3
After you flip a video, you can click the settings button to select a suitable output format and enable its No-encoding feature based on your need. Then you can click the Save button to start the uploading and encoding process. After that, you can click the Save button again to download this mirrored video on your computer.
While using this free video flipper, you will see some ads. It won't add any watermark to your output file compared to other online tools. Also, you don't need to sign up or sign in to an account.
Part 2. Professional Video Flipper to Mirror Videos on Windows 10 and Mac
If you often edit videos and search for a powerful video flipper, you can try using the all-featured Video Converter Ultimate. It is designed with an individual Video Rotator tool for you to rotate a video to any angle and flip it horizontally or vertically according to your need. All popular video formats are supported, such as MP4, AVI, FLV, MKV, WMV, 3GP, MOV, MPEG, VOB, and more. You can free download it and follow the steps below to mirror videos.
Step 1
Launch Video Converter Ultimate on your Windows 11/10/8/7 PC or Mac. Click the Toolbox tab and then locate the Video Rotator tool. You can simply click to open it.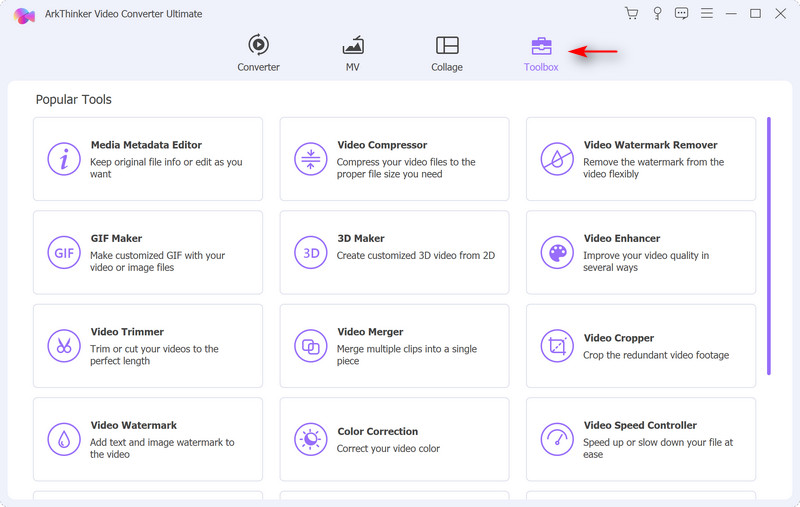 Step 2
Click the + icon in the central part to select and load your video. A built-in media player will automatically start playing the video.
Step 3
4 options are offered in this video flipper for you to rotate and flip a video. You can click on either Flip horizontally or vertically to easily mirror your video. You are allowed to check the source video and the flipped result directly.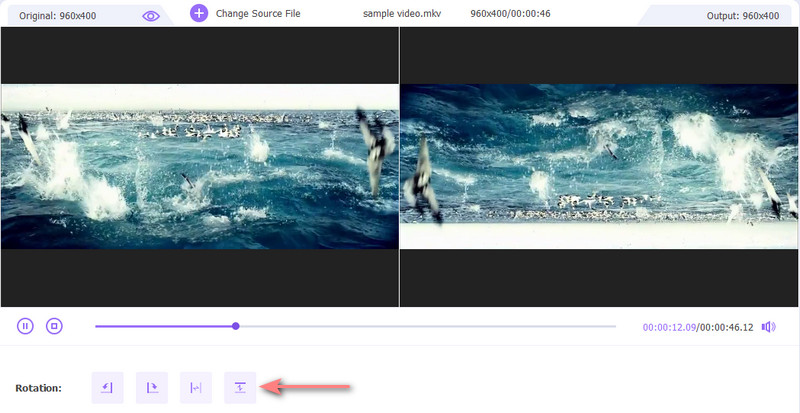 Step 4
After you mirror the video, you can choose to rename it, customize the output video and audio settings, and choose the destination folder. After that, click the Export button to save this edited video on your computer while keeping its original quality.
Part 3. How to Free Flip a Video in iMovie on Mac, iPhone, and iPad
As an iPhone or iPad user, when you need to flip a video, besides its built-in editing features, you can rely on the Apple official video editor, iMovie. You can free install iMovie from the App Store. If you need to mirror videos on a Mac, you can directly launch the application and do the flipping. Generally, we don't install iMovie for only mirroring a video on an iOS device. So here we take Mac as an example to show you how to flip a video in iMovie.
Step 1
Launch the iMovie application on your Mac, create a new project, and add your video. You need to move your video to the Timeline for later flipping.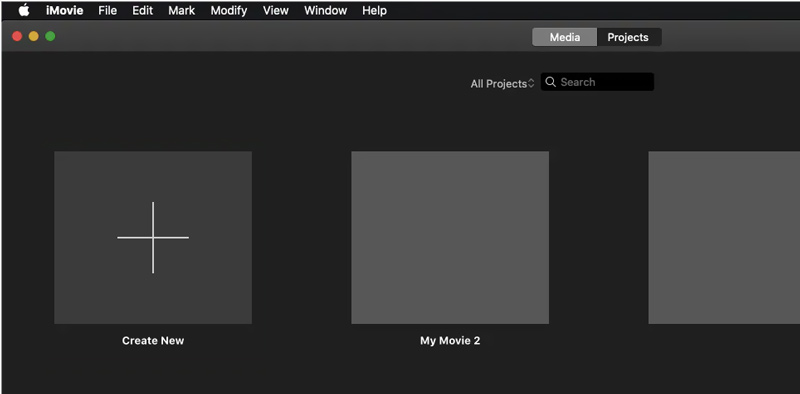 Step 2
Click to highlight your video on the Timeline. You can click the Cropping button above the preview window to display the Rotate Clockwise button and the Rotate Counterclockwise button. To mirror a video, you need to click the Rotate button twice. Click here to learn how to rotate videos in iMovie.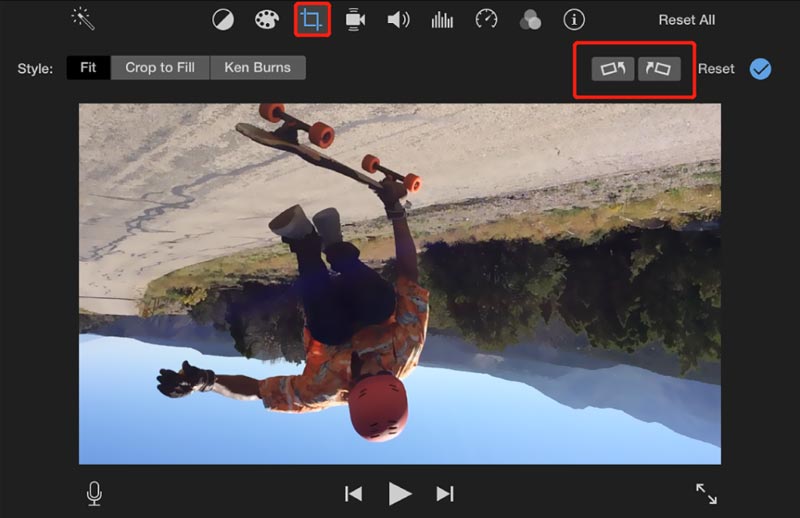 Part 4. How to Flip a Video Clip on Your Android Phone
The Google Photos app is pre-installed on your Android phone as part of the Google suite of apps. It helps to gather various videos and image files. Moreover, it has many essential editing functions, including cutting, rotating, flipping, and adjusting effects. You can use it to flip a video on your Android device easily.
Step 1
Open the Google Photos app and give it the authority to access your video files. You can tap on the Search bar and Videos to select the video you want to rotate or flip.
Step 2
Open the video clip and tap the Edit icon to raise its in-app video editor. Also, you can tap the Slide bar to display various editing options. Find the Rotate feature and tap on its button to flip the video on your Android phone.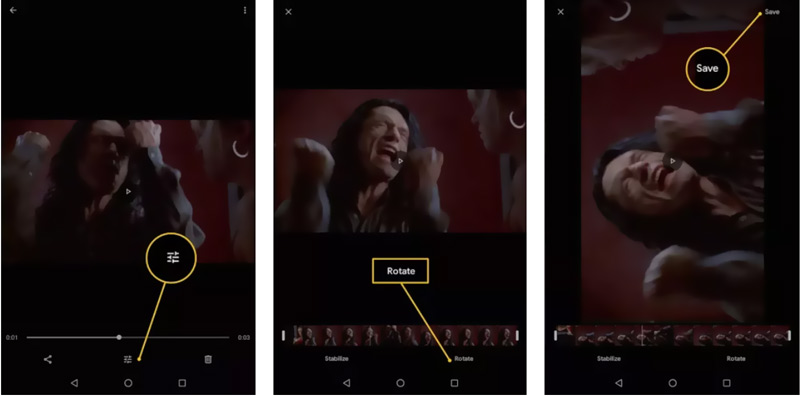 Part 5. FAQs of How to Flip or Mirror a Video
1. How to quickly flip a video on my iPhone?
As mentioned above, iOS has some commonly-used editing features, including rotating and flipping. When you want to flip a video on your iPhone, you can open the video in the Photos app, tap on the Edit button in the upper-right corner, and then tap the Crop & Rotate icon to start mirroring this video clip.
2. Can Kapwing flip a video?
Kapwing is a popular online video editor that can help you flip a video online. But its free version will insert a watermark into your edited video. You have to upgrade to a paid version to remove it.
3. Can you flip a video in Windows Media Player?
No. Windows Media Player is pre-installed as the default media player on any Windows computer. But it does not offer a unique feature that allows you to flip or rotate a video.
Conclusion
This post shared four effective methods to mirror videos on different devices. Whether you want to flip a video horizontally online free, on your computer, or on a portable iOS/Android device, you can find a related video flipper to help you do that.
What do you think of this post? Click to rate this post.
Excellent
Rating: 4.9 / 5 (based on 158 votes)