How to Lower the Video Resolution for Smaller Sizes on Computers
Good-quality videos deliver a better picture while maintaining a bigger size than low-resolution videos. To avoid delay and low speeds when uploading or transferring such a high-resolution video, you may reduce video resolution to compress its size if you do not mind some pixels getting lost. Therefore, this post has picked up the most reliable method for you and offers a complete guide to learning how to lower the resolution of a video.

GUIDE LIST
Part 1: Why to Lower Video Resolution
Have you ever encountered when you try to upload a 4K video to YouTube or other online media platforms, you feel like it takes forever to get the upload done? That's mainly because your video is too big with that high resolution and uploading can be time-consuming. Not just too much time is consumed, but also your bandwidth. Therefore, if you could reduce the video resolution, naturally the video file size will be compressed, the uploading may be quicker and there will not be so much buffering on your view's end eventually. Meanwhile, since your video size becomes smaller after you lower the video resolution, a lot of space on your device can be saved as well.
Part 2: How to Lower the Resolution of a Video [Mac/Windows]
Compressing a video size seems easy since there are many online tools aiming for it. However, it can be troublesome for a beginner to learn how to lower the resolution of a video without a proper tool. But here comes the ArkThinker Video Converter Ultimate, a compatible and comprehensive video editor and converter for both Windows and Mac computers. As a mature converter, it offers you many resolutions presets and format options, so you can lower the video resolution to any level you want in different formats.
ArkThinker Video Converter Ultimate
Offer presets of resolution that fit different scenarios.
Support all popular or uncommon video formats.
Lower your video resolution with great flexibility.
Convert to low-resolution video in a compatible format.
Step 1
First of all, get a free download and installation of ArkThinker Video Converter Ultimate through the button above. Then, you may launch it on your desktop. After launching, click the Add Files button or the Plus icon to import the video you want to lower the resolution of.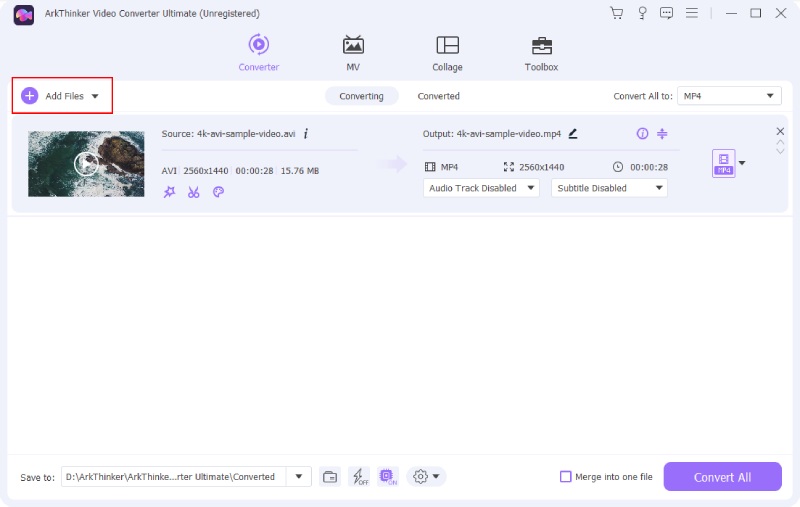 Step 2
To change video resolution, you need to click the Format button on the right side of your video. Then, you can choose an output format and click the gear icon on it to go on. On the new Edit Profile window, click the Resolution dropdown option to choose a lower resolution for your video.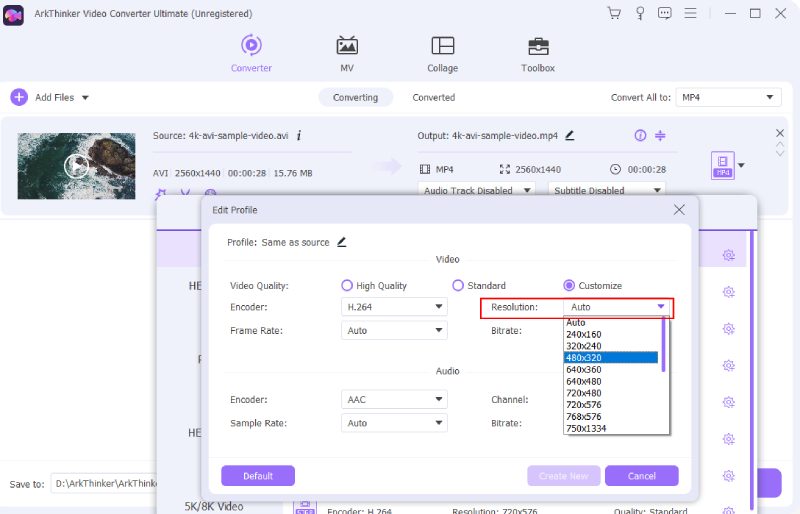 Step 3
After choosing, click the Create New button and back to the main interface. Next, choose a destination folder for your output low-resolution video by clicking the Save to dropdown button on the left corner below. Finally, click the Convert button to generate your new video.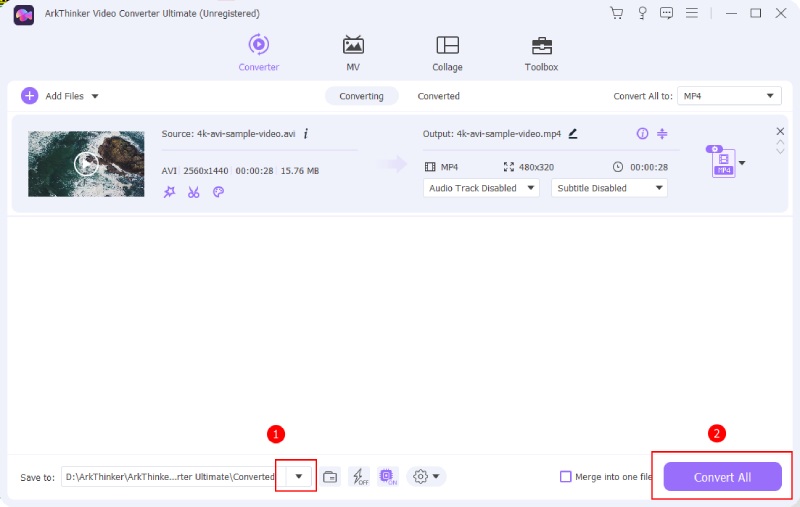 Tip: Apart from lowering the video resolution, ArkThinker Video Converter Ultimate also enables you to achieve the opposite effect and enhance video quality through the Video Enhancer tool. If you ever feel the video resolution is too bad, then you can try this tool and upgrade it in a few clicks.
Part 3: FAQs about Lower Video Resolution
How to reduce video resolution on Android?
You can download the Video Compress app for free from the Google Play Store to lower the video resolution. After installing it, you need to import the video, tap the Compress Video button, and choose a lower resolution for it. After it is done, you can find the new video in the Gallery.
How to reduce the resolution of the video on iPhone without extra apps?
If you do not want to install the third-party app and use iMovie, unfortunately, you can't lower video resolution in iMovie for your existing videos on the iPhone. But you can turn to online websites for help like Adobe Express and Clideo. Or you can adjust the camera settings to make your video less clear when filming. Go to Camera in Settings, tap Record Video, and choose 720p HD at 30fps, which is the lowest resolution in the option.
Is it possible to convert HD video to lower resolution online?
Yes, it is. Although the online tools do not have the lower resolution in their names, there are many online video compressors that can achieve this goal and lower the video resolution for you. For instance, Adobe Express is a free choice for you with straightforward operations and converting speed.
Conclusion
From this post, you have learned how to lower the resolution of a video with the best method for a computer. Next time when you find the uploading speed of your video is too long and is willing to give up some pixels and the picture quality of your video, you can then lower the video resolution and the file size might also be smaller. Consequently, it will take less time to upload the video.
What do you think of this post? Click to rate this post.
Excellent
Rating: 4.9 / 5 (based on 178 votes)