How to Convert 1080p or Full HD Videos to 4K or Vice Versa on PC / Mac
Nowadays, there are lots of 4K display options like 4K monitors, 4K TVs, 4K video websites, and more. However, 4K content is yet to match the pace. If you view an HD video on a 4K device, you will find a big difference. To get the best viewing experience, some people hope to convert their 1080p videos to 4K instead of paying a hefty price for 4K. Therefore, this guide will introduce the easiest ways to do it.

GUIDE LIST
Part 1: Ultimate Way to Convert 1080p to 4K
To upscale 1080p to 4K, you need a powerful video converter, such as ArkThinker Video Converter Ultimate. It allows you to convert between video formats as well as resolutions. It includes a lot of features for video upscaling, converting, and editing. More importantly, the built-in AI technology streamlines the workflow. That makes it the best option for beginners.
ArkThinker Video Converter Ultimate
Convert between 1080p and 4K without quality loss
Easy to use and does not require technical skills.
Support almost all video formats, like MP4, AVI, MKV, etc.
Batch processes multiple videos at the same time.
Way 1: How to Convert Multiple HD Videos to 4K without Quality Loss
Step 1
Install 1080p to 4K converter
Launch the best video converter after installing it on your computer. It is compatible with Windows 11/10/8/7 and Mac OS X. Make sure to navigate to the Converter interface.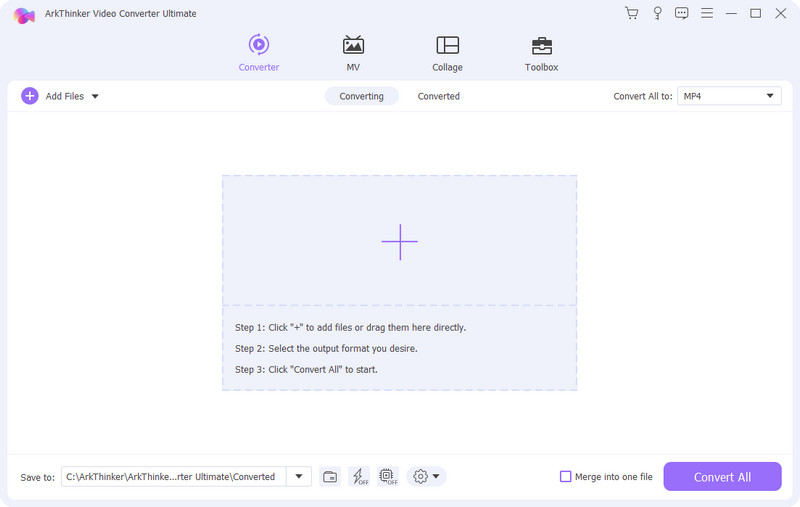 Step 2
Add videos
Click the + icon in the center of the interface, find the 1080p videos on your hard disk, and open them. You can also add videos with the Add Files menu at the top left corner.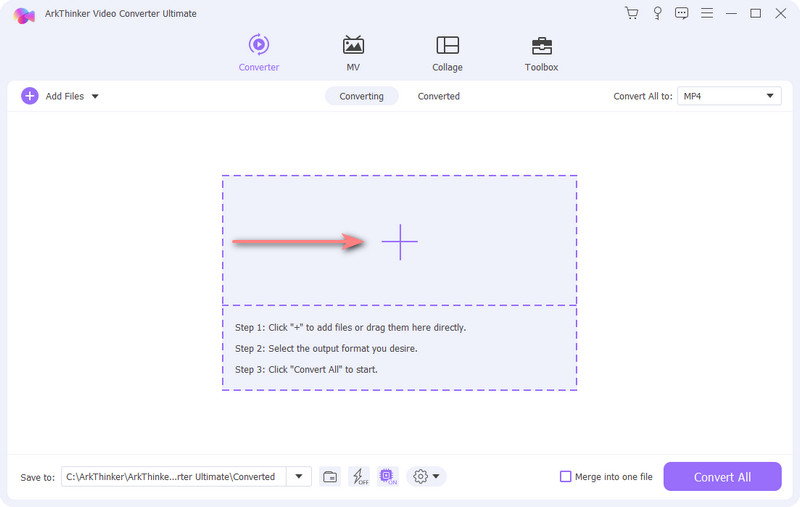 Step 3
Upscale to 4K
Click and expand the Convert All to option at the upper right side. Then you will be presented with the profile dialog. Choose MP4 from the Video tab, and pick the 4K Video option. If you want to customize the profile, click the Gear icon.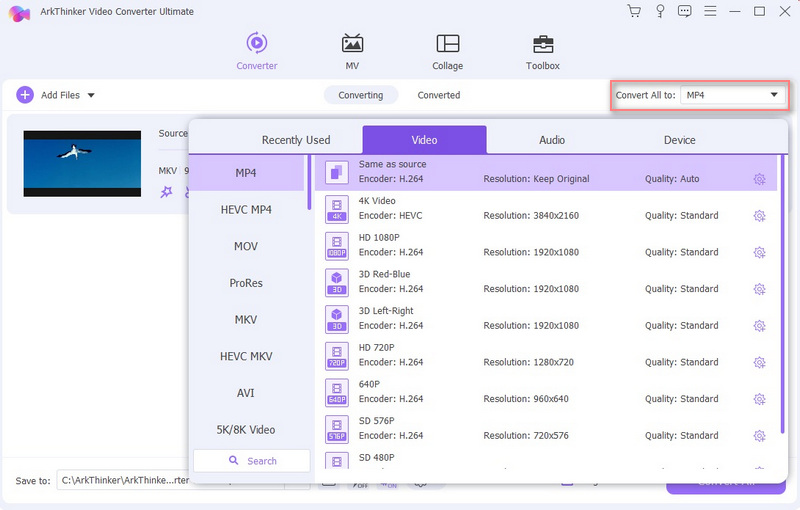 Next, back to the main interface, set the destination folder at the bottom, and hit the Convert All button. That's all.
Way 2: How to Convert Single 1080p to 4K
Step 1
Open 1080p
Another intuitive way to upscale 1080p to 4K is the built-in video enhancer in the software. Switch to the Toolbox interface from the top ribbon, and choose the Video Enhancer tool. Open a file explorer, and locate the 1080p content on your computer. Drag and drop it onto the interface to open it directly.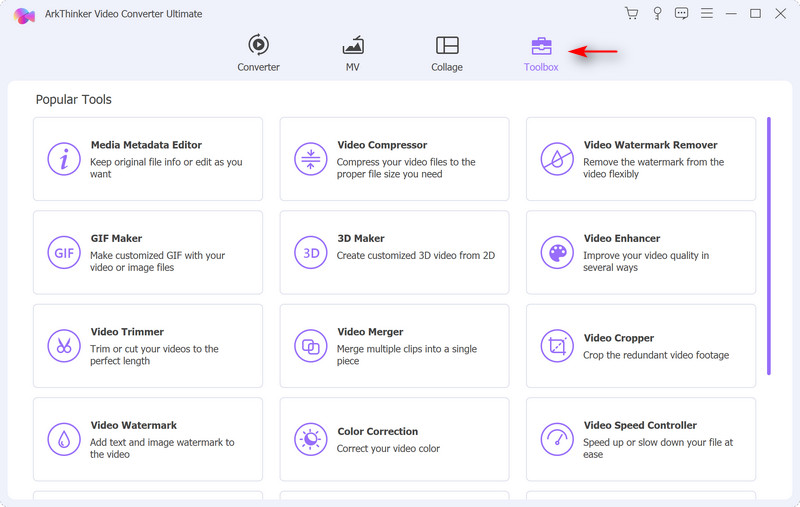 Step 2
Convert to 4K
After the video loading, you will see four options in the interface. Tick the checkbox next to Upscale Resolution. If your video is old, blurry, or shaking, add other enhanced technology by checking the boxes.
Next, head to the bottom, pull down the Resolution menu and choose the 4K resolution. Next, set a proper format, and output folder. Click the Preview button and view the effect. If you are satisfied, hit the Enhance button to confirm HD video to 4K upscaling.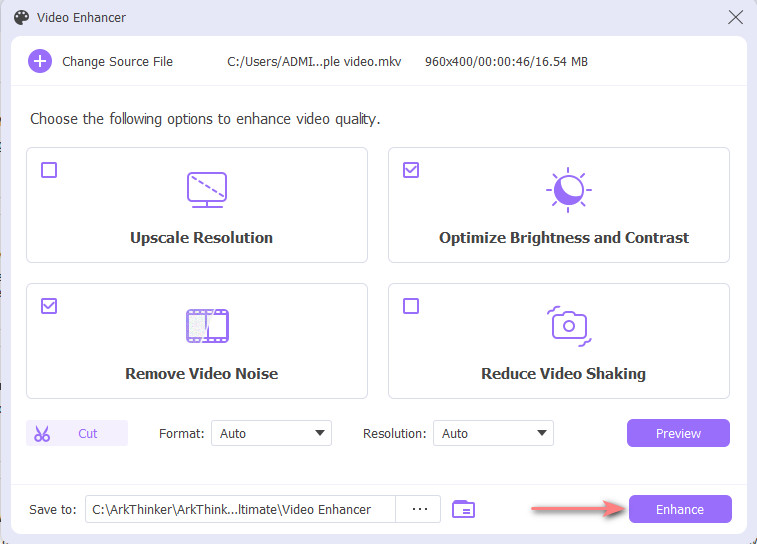 Note: Way 1 is the best choice to convert multiple HD videos to 4K, while way 2 can repair your video and upscale the resolution at the same time. You can pick an appropriate way according to your situation. Besides, the software is available to convert 480p to 1080p without losing quality.
Part 2: How to Convert 1080p to 4K Online
There are a few 4K video converting apps online. They are a simple option to upscale 1080p to 4K without installing software on your disk. Of course, they have drawbacks, such as file size limits, network requirements, and more. Plus, most of them ask you to pay for the upscaling or add watermarks to your video. We set FreeConvert as an example to show you how they work.
Step 1
Access the online 1080p to 4K converter in your browser. Make sure that your computer connects to a good internet connection.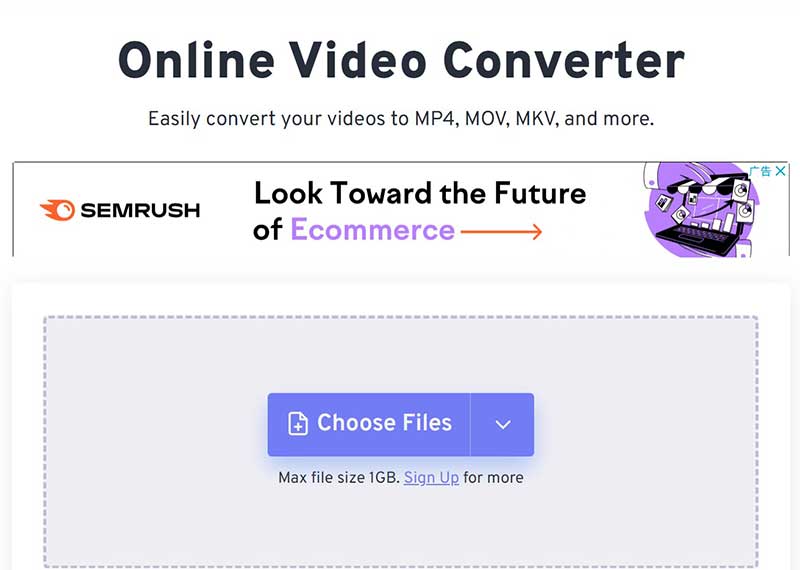 Step 2
Click the Choose Files button, and upload the HD video that you want to upscale. Bear in mind that the maxi file size is 1GB without signup. Moreover, it only supports MP4, MOV, and MKV.

Step 3
Pull down the Output option, and choose MP4. Then click the Gear icon to open the Advanced Options dialog. Click and expand the Video Screen Size option, and choose Custom. Enter the 4K resolution into the boxes, and hit the Apply Settings button.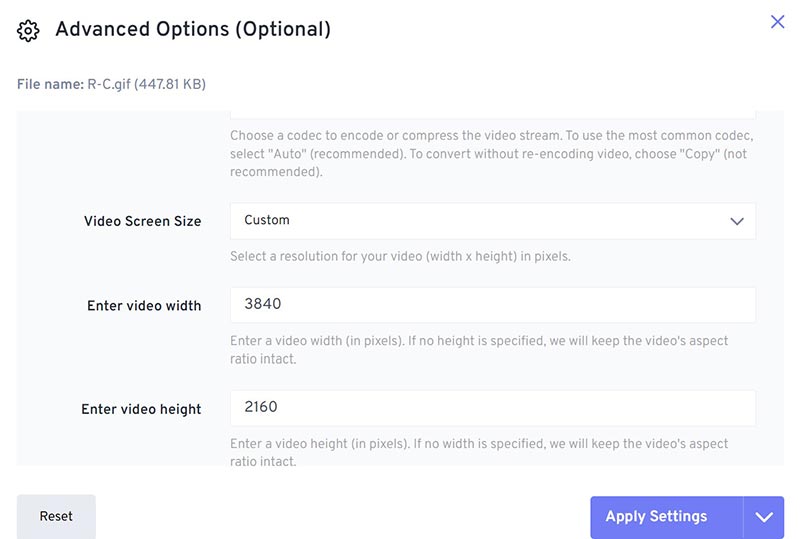 Step 4
At last, click on the Convert button to begin converting 1080p to 4K. When it is done, hit the Download button to save the result to your drive.
Note: According to our research, this web app is not successful on 4K upscaling partly because the maximum resolution supported is 1440p. Moreover, don't upload your private videos online.
Part 3: FAQs about Converting 1080p to 4K
How to change 4K to 1080p in Premiere?
Open the 4K video in Premiere, head to Sequence, and choose Sequence Settings. Then downscale the resolution to 1080p on the popup dialog, and click OK to confirm the changes of 1080p to 4K in Premiere.
Does 1080p look blurry on 4K?
Yes, it does look a bit worse and blurry, but for many people, it does not matter that much. To get a better experience, you can upscale 1080p to 4K with a proper tool.
Will 1080p become obsolete?
1080p is by no means obsolete, but it is not going anywhere because 4K monitors become more affordable. The vast majority of the 1080p market is low-end for beginners and personal use.
Conclusion
Now, you should learn at least three ways to convert 1080p videos to 4K without losing quality on your desktop or online. Sometimes, it is not convenient to install software, the web-based 4K converters are portable choices to upscale your HD video resolution with a web browser. However, ArkThinker Video Converter Ultimate is the most reliable and stable option to make your videos look better. If you have other questions about this topic, please feel free to write them down below this post.
What do you think of this post? Click to rate this post.
Excellent
Rating: 4.9 / 5 (based on 284 votes)