5 Best Video Enhancers to Improve Your Video Quality
When you edit and create a video, you often need to enhance its quality. You can customize various factors like resolution, bitrate, contrast, sharpness, and more to enhance video quality. This post recommends the top five video enhancers for you to help you do that.

GUIDE LIST
Part 1. Powerful Video Enhancer with AI for Mac and Windows Computers
Video Converter Ultimate is a professional video editor and enhancer that can help you deal with a wide range of video enhancements. It has a Video Enhancer tool for you to easily enhance your video quality on Windows 11/10/8/7 and Mac devices. As a video enhancer, it highly supports all commonly-used video formats, including MP4, MOV, FLV, AVI, MPEG, M4V, and more. In addition, it is equipped with many useful editing features to edit a video and adjust its output image and sound effects.
Step 1
Free download this video enhancer on your computer and launch it. Click on the Toolbox tab to display more tools. Here you can choose the Video Enhancer tool and open it.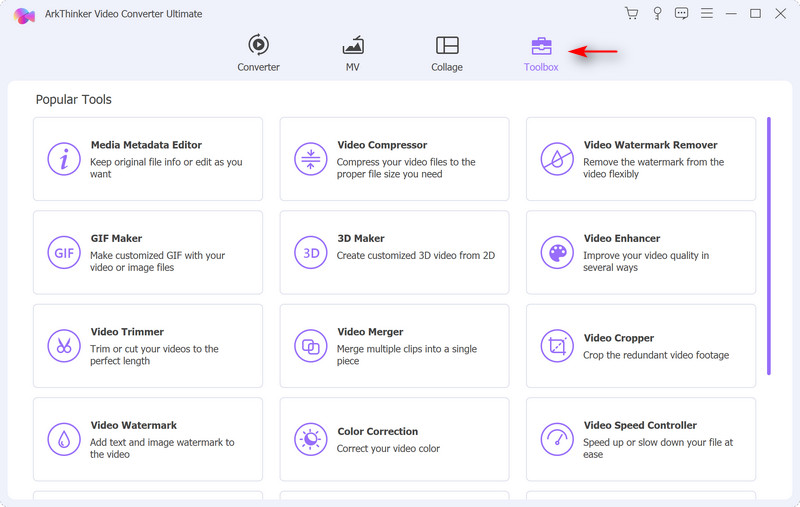 Step 2
Click on the + icon in the central part of the Video Enhancer popup to add your video file to it. You are offered four main solutions to emphatically improve your video quality. You can use this tool to quickly enhance the video quality by upscaling your video resolution, optimizing your video brightness and contrast, removing the video noise, and reducing your video shaking. During this step, you are also allowed to select the output format and adjust the video resolution according to your need.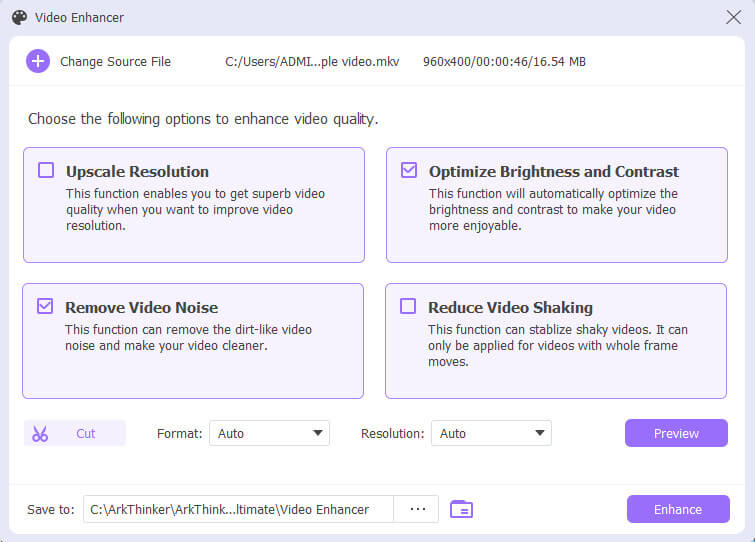 Step 3
You can click the Preview button to view the enhanced video. If you think that the enhancement result is okay, please click the Enhance button to proceed with the video quality enhancement.
Part 2. Default Video Quality Enhancer for Mac, iPhone, and iPad
Apple designs a free and easy-to-use video editor for its macOS and iOS devices. When you want to enhance video quality, you can rely on the official video enhancement software, iMovie. It can edit videos in MP4, MOV, AVI, 3GP, M4V, and other formats. It is pre-installed on Mac devices. You can free install the video enhancer app on an iPhone or iPad from App Store.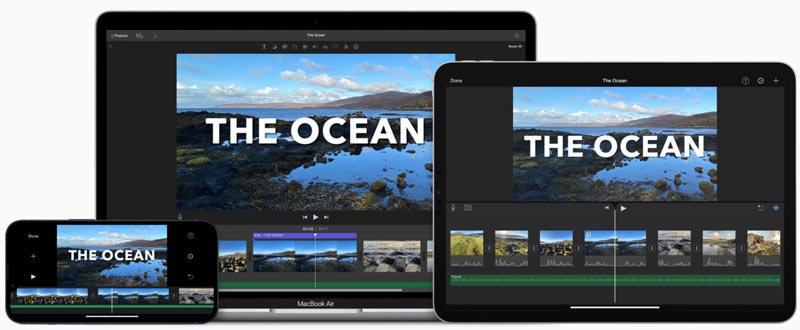 iMovie is designed with an individual Enhance feature in the adjustments bar above the viewer. When you are editing a video in iMovie, you can simply click on the Enhance button in the toolbar to improve the quality of your video clip.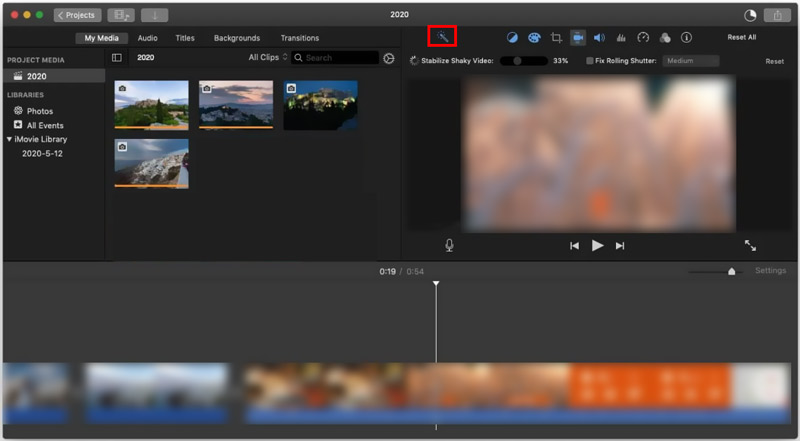 Part 3. Video Quality Enhancer Apps for iOS and Android Devices
If you prefer to directly enhance the video quality on your portable iOS or Android device, you can turn to some third-party video enhancer apps. You can easily find many associated apps in App Store and Google Play Store. In case you don't know which one you should use, this part introduces you to 2 popular video quality enhancement apps.
Video enhancer app for iOS and Android - PowerDirector
PowerDirector Video Editor is a full-featured video editor and video maker that can help you improve your video quality on an iPhone, iPad, or Android phone. It also offers desktop applications for you to enhance video quality on your Windows PC and Mac. This video enhancer app allows you to produce a video in a 1:1 output ratio. It also allows you to easily correct the color distortion in a video clip and stabilize the shaky footage. PowerDirector carries many useful editing features for you to edit videos on your mobile phone. You can use this app to edit and export videos in up to 4K resolution.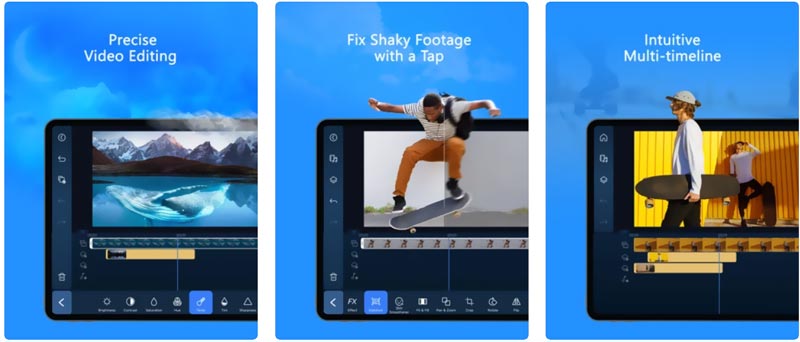 Video enhancer app for iOS and Android - InShot
InShot Video Editor is a popular video and photo editor. It comes with plenty of editing features for iOS and Android users. It gets a high score on both Google Play Store and App Store. This video enhancer app provides you with many unique effects and filters. Moreover, it allows you to combine 2 video clips with smooth transitions. Besides some basic editing features like crop, rotate, flip, trim, zoom in/out, speed, add texts, and add music, it gives a simple way to apply layouts, adjusts your video effects, and enhance its quality.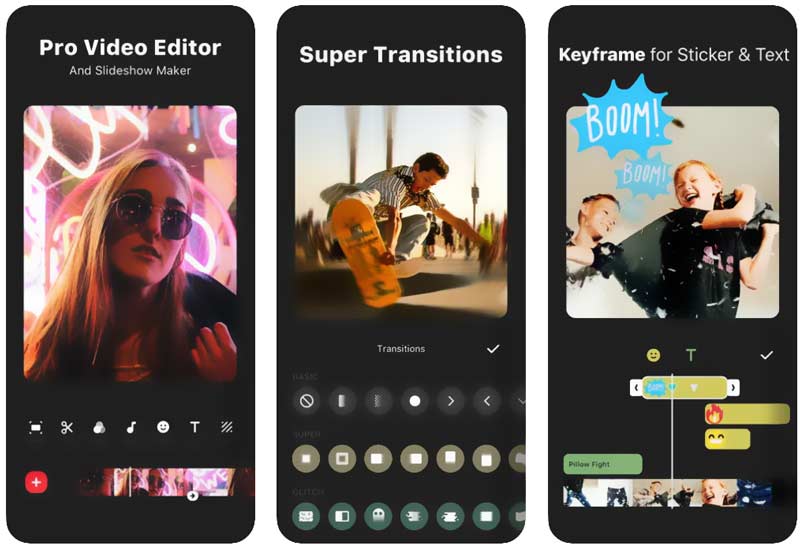 Part 4. Free Online Video Quality Enhancer
You can easily find a large number of online video quality enhancers on the internet. However, it's still hard to get the best ones. Most online tools will add a watermark to your enhanced video. It's not a big deal to see ads on that kind of site. But they may have some file size, format, feature, and other limits. Considering that, here we recommend an easy-to-use online video enhancer, Canva Video Enhancer. It allows you to adjust the video brightness, contrast, color vibrancy, and other settings to improve your video quality.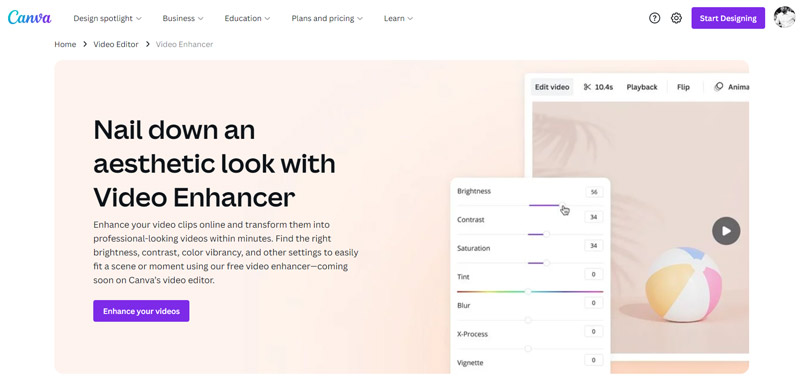 To enhance video quality online, you can go to the Canva Video Enhancer website. When you get there, click on the Enhance your videos button to upload your video file. You can enhance a video from your computer, iOS/Android device, Google Drive, Dropbox, Facebook, or Instagram.
Click on your added video to load it to the main editing window. Here you can click on the viewer to raise more options. Click Edit Video and then go to the Adjust tab. Now you can freely customize the white balance, contrast, brightness, vibrance, saturation, X-Process, vignette, and other options to make the video enhancement.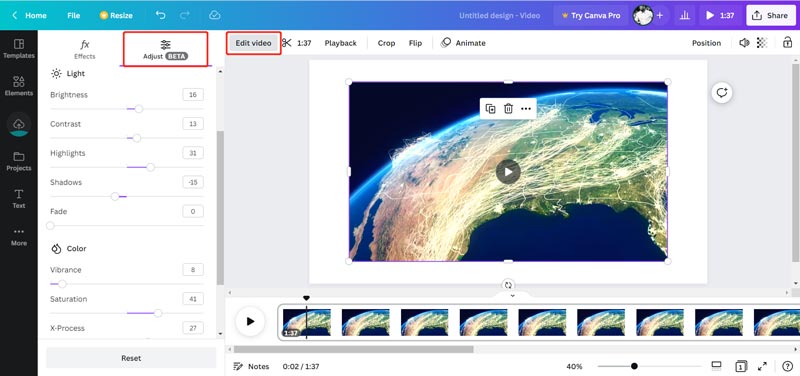 After you enhance the quality of a video, you can click on the Share button and select your preferred way to share or download it. Canva designs more powerful features in its Pro version. You can use all these features for 30 days.
Part 5. FAQs of Video Quality Enhancer
How do you enhance video quality on an iPhone?
Besides iMovie, you can also use the built-in enhancement feature in iOS to improve your video quality on an iPhone. To do that, you should first open the video in the Photos app and tap on the Edit button. After that, you can choose to manually adjust Brightness, Contrast, Sharpness, Noise Reduction, and other settings to enhance video quality with ease. Also, you can use the Auto feature to quickly do the video enhancement.
Can I upscale the video resolution to improve its quality?
Yes. Many AI video enhancers allow you to enhance the video quality by increasing its video resolution. After you turn a low-resolution video into a higher resolution like 4K, 5K, or 8K, you will enhance its video quality at the same time.
How can I capture higher video quality on my iPhone?
iPhone enables you to record a higher quality video by changing the video format and frame rate. You can open the Settings app, choose Camera, and then tap Record Video. After that, you can select the suitable video format and frame rate based on your need.
Conclusion
When you want to improve the video quality, you can increase its resolution and bitrate, sharpen images, adjust contrast and brightness, and more. This post lists the best five video enhancers for you to choose from. If you have any better video quality enhancer recommendations, you can share them in the comment section below.
What do you think of this post? Click to rate this post.
Excellent
Rating: 4.9 / 5 (based on 472 votes)