6 Best Recorders for Lectures with High Quality in 2023
For most teachers and professors, having pre-recorded video lectures would be of great help for online and open-source courses. However, it is not easy to find a suitable video recorder with reliable output. In this case, we have reviewed many products and selected the top 6 options as your lecture recorder. You can get an ideal one following this article.

GUIDE LIST
Part 1. 3 Best Lecture Recorders for Computers (Mac & Windows)
1. ArkThinker Screen Recorder
OS: Windows, Mac
The best pick we recommend for you is ArkThinker Screen Recorder. You can record movies, online meetings, tutorials and more important moments on your desktop. Rather than worry about the output quality and custom settings, you are guaranteed full rights here to make adjustments and preview the effect each time you finish the recording.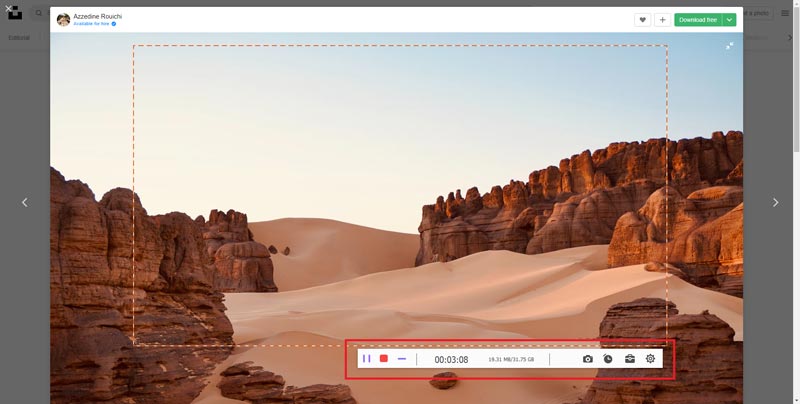 Key Features:
◆ A multifunctional platform to both record and edit your lecture videos.
◆ Independent sections to record different activities like videos, audio, webcams, phones, etc.
◆ A user-friendly interface to record on-screen activities with ease.
Pros :
Compatible with both iOS and Android devices to best meet your needs.
Support selective formats for your recordings with HD quality.
Enable users to change the settings and preferences to fit.
No watermark affiliated with all videos, even in the free trial.
Cons :
It may take a while to save your file for a long lecture video.
2. Movavi Screen Recorder
OS: Windows, Mac
Movavi Screen Recorder is also a good choice to capture your video lecture. It offers many editing tools to assist you in capturing different windows and functions well with a clear interface. You can also take a screenshot whenever and wherever you want. With it, you can easily screen record on Mac.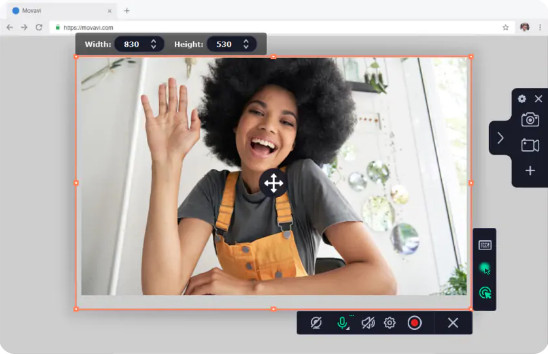 Key Features:
◆ Offer access to record both audio and videos.
◆ No technical requests and difficulties for users to get started.
◆ Limited functions and recording time before you upgrade to the pro version.
Pros :
Offer great tools during the recording process for personal settings.
Support popular video formats to match different platforms.
You can add mouse effects for a creative video based on your needs.
Cons :
The subscription fees are relatively high to get the pro version.
There is a watermark in the free version.
3. Camtasia
OS: Mac, Windows
This is both a video editor and recorder for professional videos on many occasions. You can explore powerful tools inside and make your presentation, lecture and tutorial easier and more understandable. There are powerful editing tools to add effects, transitions, background music and more than you have expected.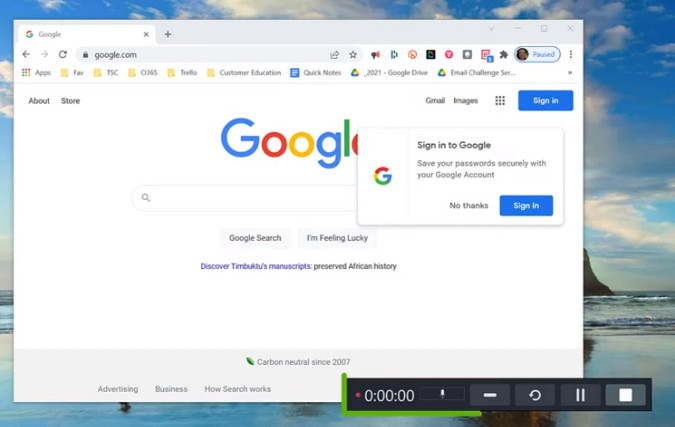 Key Features:
◆ A fast speed for inputting, recording, and exporting your video.
◆ Abundant materials to edit and enhance your videos within this software.
◆ Supply more dynamic backgrounds, filters, cursor effects and more in the latest version.
Pros :
Compatible with popular video and audio formats on your desktop.
Function as a multi-tasker from video recording to editing with practical tools.
Produce HD videos without quality loss for most users.
Cons :
You can't edit the video with limited tools only after you finish the recording.
There is no editing tool to remove unwanted audio tracks.
Part 2. Top 3 Lecture Recording Apps for iPhone and Android
1. Record it!
Supported Device: iPhone
Record it! is one of the top video recorders for iOS users. The intuitive interface makes the whole recording enjoyable and easy. You can share the video lecture with other apps once finished and add video reactions for more details to enrich the content on this platform.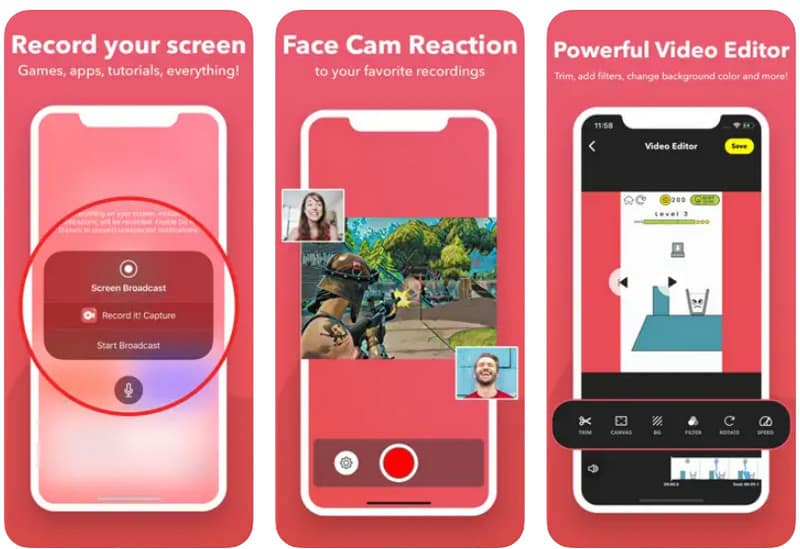 Pros :
Support quick recording with one tap to begin.
You can customize the settings for the reaction shape, position and size.
Support video recording and editing at the same time.
Cons :
Compatible with iPhones running iOS 13 and higher versions only,
English is the only supported language for use.
Sometimes the voice doesn't sync with the motions.
2. AZ Screen Recorder
Supported Device: Android
This app is also frequently chosen by those looking for inspirational and entertaining videos. With all standard recording functions as its basis, it can also be regarded as a live stream helper to broadcast your lecture through the phone screen and you can interact with your audience in real-time. And the editing features enable you to trim, merge, rotate, add subtitles to a video, etc., according to your needs.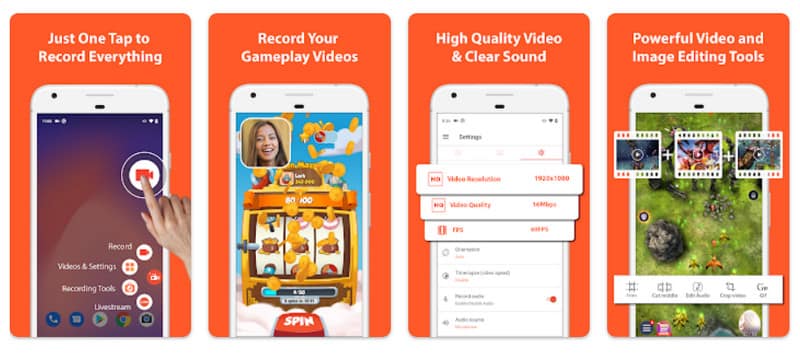 Pros :
Offer multiple features for screen recording and editing.
There is no time limitation for recording on your phone.
Watermark-free and easy to use.
Cons :
A paid plan follows to unlock the full functions of this app.
The default recording will automatically capture the external audio.
The audio quality may not be good in the recorded video.
3. Rec.
Supported Device: Android
You don't want to miss Rec. to enjoy the untethered functions to fit your needs. You are not bound by the desktop but to explore the powerful settings on the video size, bitrate, duration, audio, and file name before you start recording. You can change the presets like standard, demo and more here.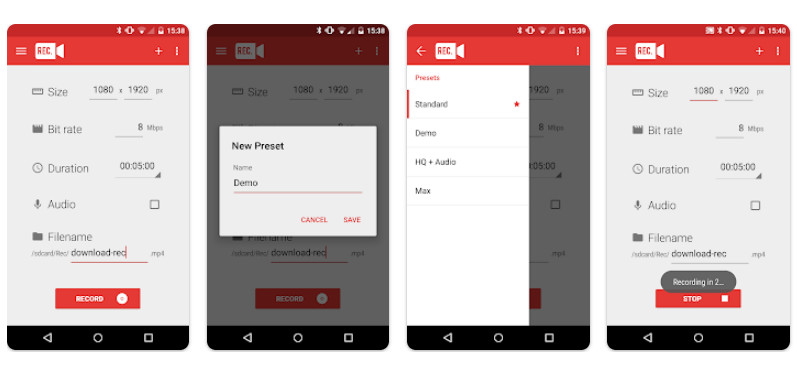 Pros :
A countdown feature of the timing for users to get the set-up ready.
A simple and intuitive user interface to record your phone.
No request for root access to record your lecture in the video.
Cons :
You need to pay for full access to all recording features.
The recorded files may not be supported and detected by video editors.
There may be errors on the timer to help you count the recording.
Part 3. Bonus: How to Record a Video Lecture on the Laptop
After going through all the features and highlights of different lecture recorders in the market, you may already figure out the best way to record lectures for students. What comes next is how to get the hang of video recording. Here we will show you how to record a video lecture step by step with ArkThinker Screen Recorder.
Step 1
Download and install the software on your computer. To record a video lecture, you should enter Video Recorder and get ready.

Step 2
In the following window, you can change the custom window for display and toggle the System Sound. If you want yourself and external audio captured in the recording, you can turn on the Webcam and Microphone as well.

Step 3
Click the REC button to start recording. When you want to stop, click the Stop icon, and you will jump to a new window. Here you can preview the effect and trim your video. Reach the Done button to save your works.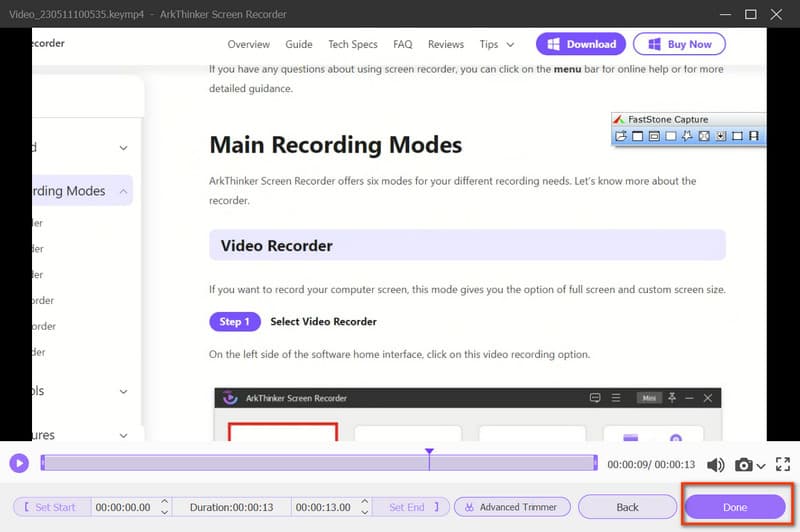 Step 4
After that, you can view all recording history and choose to play or delete the video, open folders, or adopt more editing tools according to your needs.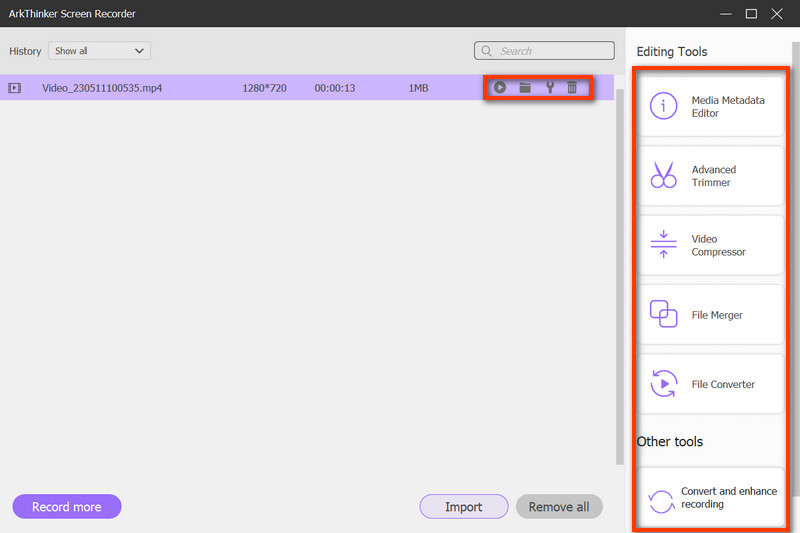 Part 4. FAQs about Lecture Recording
How to record lectures in class?
First, you need to get your lecture, plans and slides ready. Then pre-install the lecture recorders like ArkThinker Screen Recorder and customize the settings for recording. Once finished, you can check the effect and edit further based on your needs.
How to record video lectures on the laptop for free?
You can capture the video lectures with online tools, such as ArkThinker Free Screen Recorder, for free. It can help you record high-quality videos and audio.
How to record a lecture on Zoom?
After launching Zoom, you can join a meeting or start one as the host. Click the Record icon. And the attendees and host will see the recording indicator once you start the process. Then you can click the Pause and Stop Recording icon whenever you want.
Conclusion
This is a detailed review on lecture recorders for your reference. If you find this post helpful, please don't hesitate to share it with your colleagues, friends or family. And we are always willing to reply to you with any questions.
What do you think of this post? Click to rate this post.
Excellent
Rating: 4.9 / 5 (based on 368 votes)