Best Filter App to Enhance the Quality Of Your Video
We have videos where it looks plain to our eyes. So, it requires enhancement to bring life to the video. One way to make your video more attractive is by applying video effects through a filter app. Applying video effects will surely make your video more appealing and lively.
Nowadays, there are numerous applications that you can rely on applying video effects. There are also different effects to choose from your chosen application. It's just up to you what kind of video effect suits your video. This post will provide the best filter app you can use in your video. Let's start making your video more eye-catching!
GUIDE LIST
Part 1. Best Video Filter Software for Desktop
Some editors prefer to edit on a larger screen to edit their video more thoroughly as it will make their job easier. If you are one of those who prefer to edit using your desktop, you can rely on Arkthinker Video Converter Ultimate.
Video Converter Ultimate has built-in feature editing tools that are easy to use and navigate. You don't need to be a professional editor to use this program because it has a beginner-friendly interface. One of the features of this program is its Effects which you can freely apply to your video. You just need to select a filter that fits your video and preference. In addition, you can also add background music to your video. No doubt, this program is one of the best filter apps that you can rely on because it will make your video output more impressive. If you prefer a desktop video filter application, follow the steps below.
Pros :
User-friendly interface
It has numerous free filters
Cons :
Avail for paid-version to use the program's other main feature
Step 1
Download and Install the Program
It is necessary to download and install the program first. And then launch it to start editing your video.
Step 2
Upload Videos and Choose Template
In the program's main interface, click the Collage tab on the upper part of the screen. To upload your videos, click the (+) icon on the separate screens. Once your videos are placed on separate screens, navigate to the Template section on the lower part of the preview screen, and choose a template you prefer.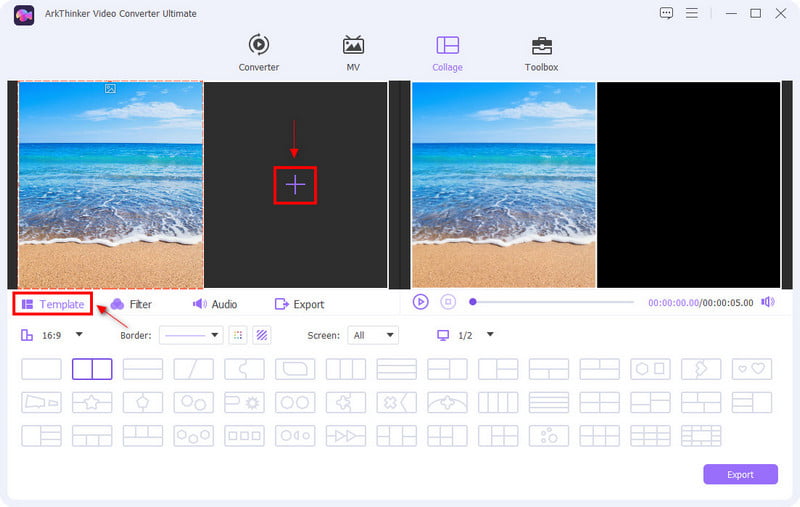 Step 3
Enhance Your Video
Beside the Template section, proceed by clicking the Filter section. From there, you will see different kinds of filters that you can apply to your video to make it more desirable. Select one from the filters available. And once you apply it, the changes will automatically appear on the preview screen.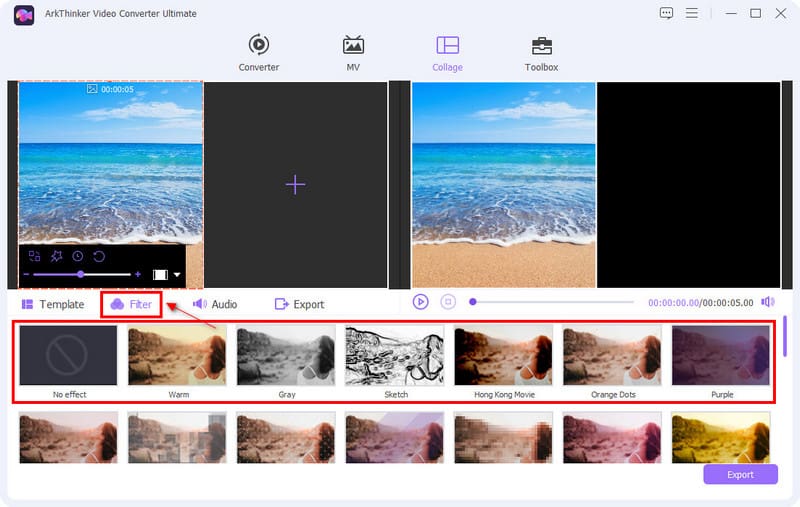 Step 4
Add Audio File
Next to the Filter section, proceed to the Audio option. For the audio track, you can keep the original sound and add background music. To do that, click the middle of the box to mark a check on it. If you prefer to add background music, click the (+) icon, and your folder will automatically appear on your screen. From there, choose an audio track from the folder that you want to add to your video.
In addition, you can adjust the volume of the audio track by placing your cursor on the line bar. Place your cursor on the line bar and move it to the left side if you want to decrease the volume. Also, place your cursor on the line bar and move it to the right side if you want to increase the volume.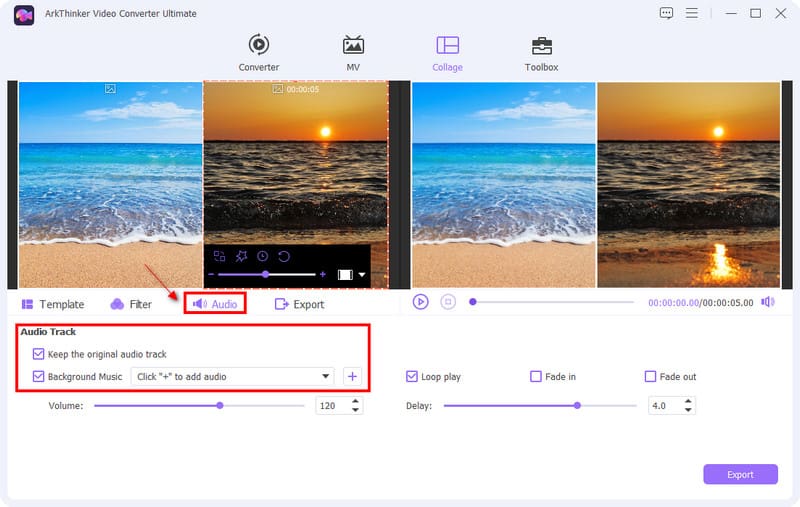 Step 5
Export Your File
Once you are done with the editing process, as well as applying video effects on your video, please view the changes on the preview screen. If you are satisfied with your output, proceed to the Export tab on the lower right side of the screen. From there, click Start Export to save your output.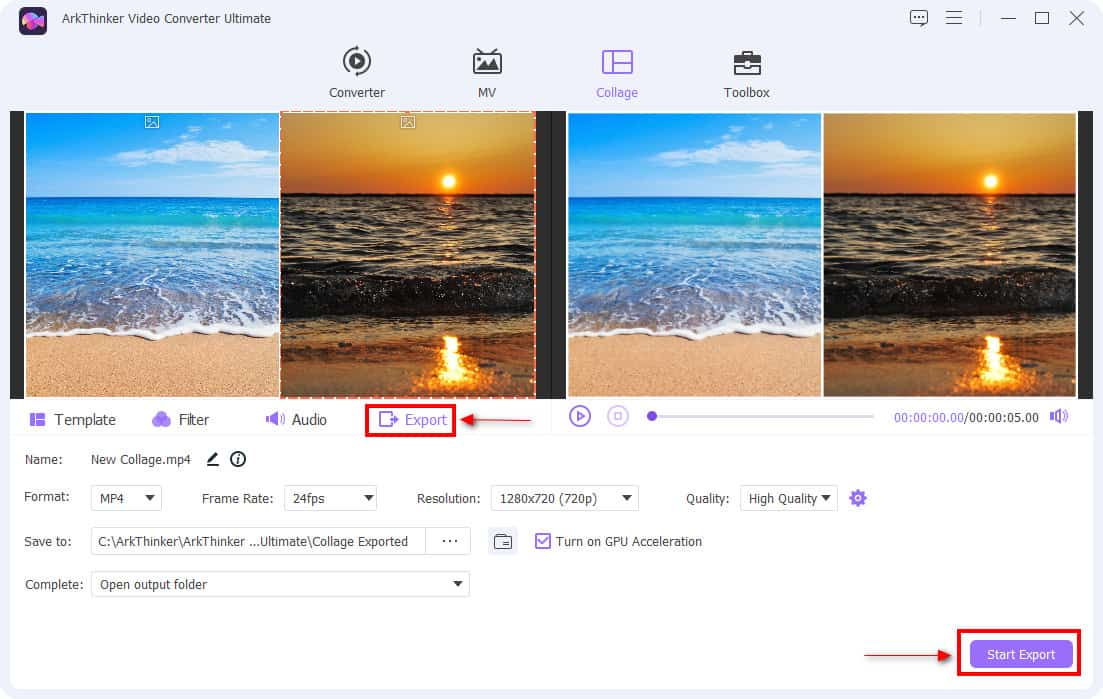 Part 2. Top 3 Video Filter Apps for iPhone
As an iPhone user, it is given that you prefer to edit your video using your device. With that being said, this post will present a video editor that is capable of adding filters to your project. To get to know them, proceed with the applications provided below.
1. YouCam Video
One of the most popular video filter apps on iPhone is YouCam Video. This tool is known for its aesthetic and beautifying effects, which can surely make your video more alluring. This application allows you to apply video effects to your video in easy ways. You don't need to be knowledgeable or a professional editor to use and master this application.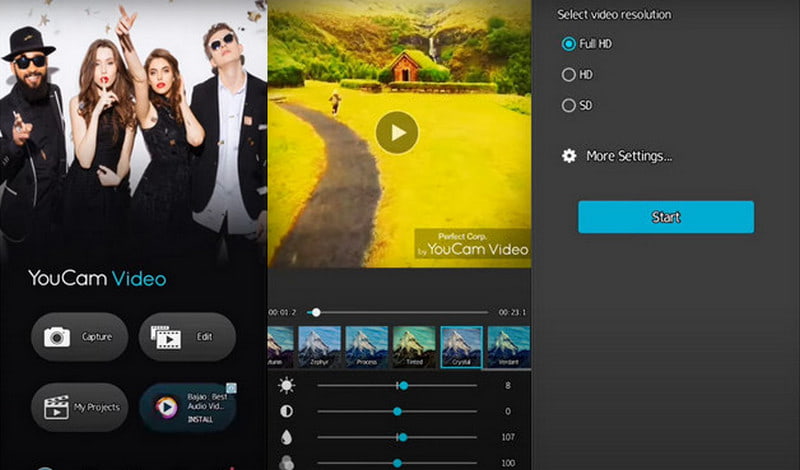 Pros :
Easy-to-use interface
Instant video filters
Advanced editing tools
Cons :
There are only a few options available for the free version
You need to avail of the premium version to fully-used the application
2. iMovie
One of the best video editor applications for iPhone devices is iMovie. Through this application, you can edit your images and videos. In addition, you can arrange your videos in the timeline section in order to add, arrange, and trim video clips. Aside from that, you can apply transitions automatically, or you can apply transitions manually. The best part is that it allows you to add filters and themes that can make your video more pleasing.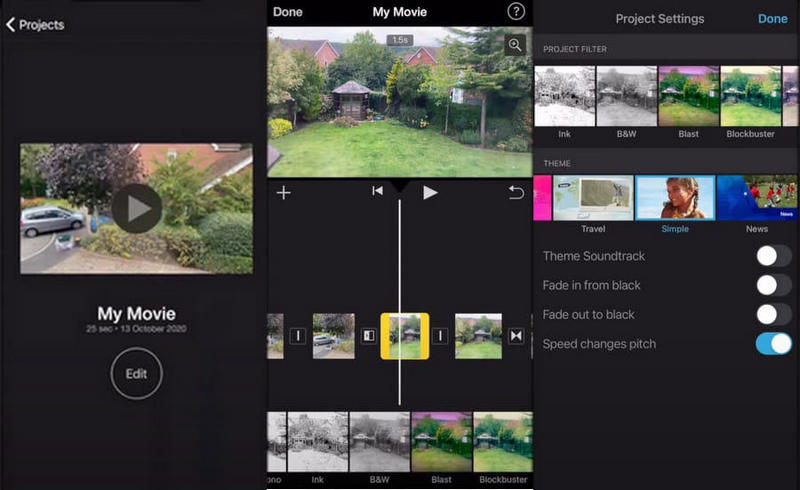 Pros :
Easy to access
Commonly pre-installed on iPhones
Cons :
Editing tools are not that advance
3. InShot
Speaking of plenty of features, Inshot has those. It is rich with editing tools such as cutting, deleting, merging, trimming, and more. It also allows you to flip and rotate your videos easily. In addition, you can also apply stickers and emojis. On top of that, it allows you to correct the color of your video clips to make them more natural. And it has plenty of effects and filters you can add to your project. There is also a music option for you to add a piece of music from your choice freely.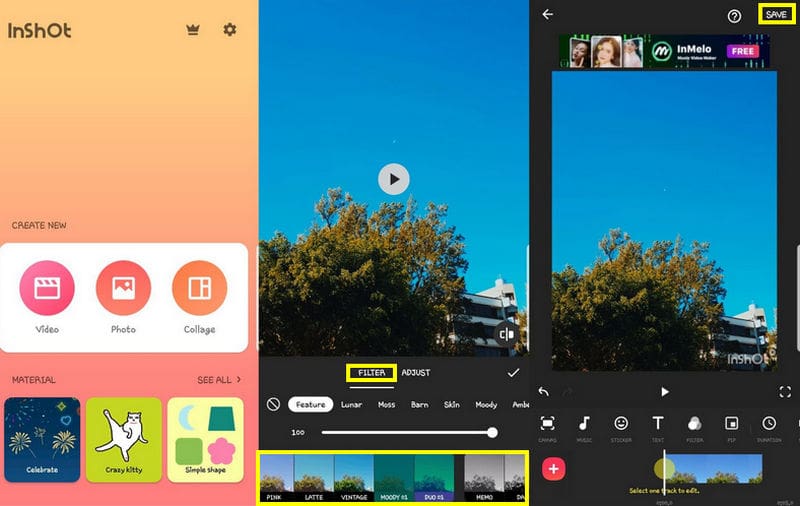 Pros :
It has plenty of effects, filters, stickers, and more
It has color-correction videos
Cons :
Ads are frequently shown in the free version
Part 3. 3 Great Video Filter Apps for Android
If you are an Android device user, you can count on the following applications provided. These applications are also capable of adding filters to your video.
1. Vid.Fun
Vid.Fun has a powerful all-in-one video editing tool that provides excellent features. This best video filter app android allows you to trim your videos, crop your pictures, rotate your pictures or videos, and change your background. In addition, it has a variety of filters you can use to make your videos more attractive. If we are talking about compatibility, this application is only accessible from Android devices.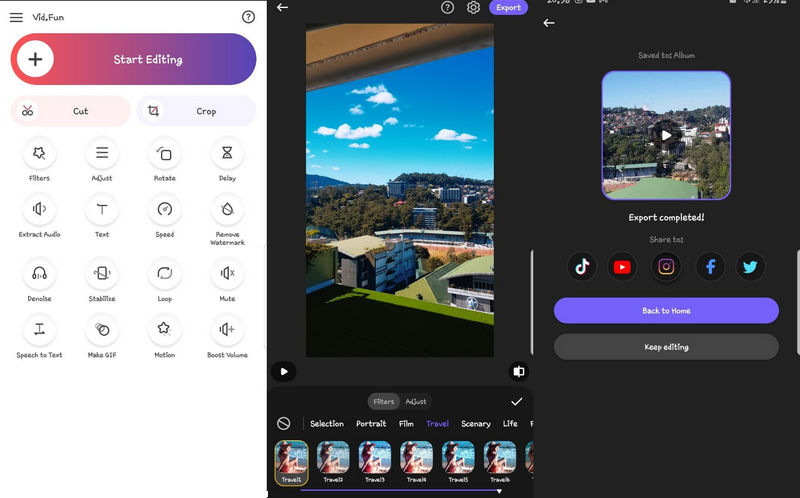 Pros :
Numerous filters available
Cons :
Other features are still under development
2. PowerDirector
If we are talking about the most used applications when it comes to editing purposes, PowerDirector is one of them. PowerDirector is one of the best video editors and makers, as it has plenty of editing tools. You can add transitions, effects, and filters. Aside from that, you can also trim, splice, and rotate your videos. In addition, it has plenty of free templates, video effects, and filters and can add background music. You can surely rely on this application even if you are just a starter in editing, as it is only easy to navigate.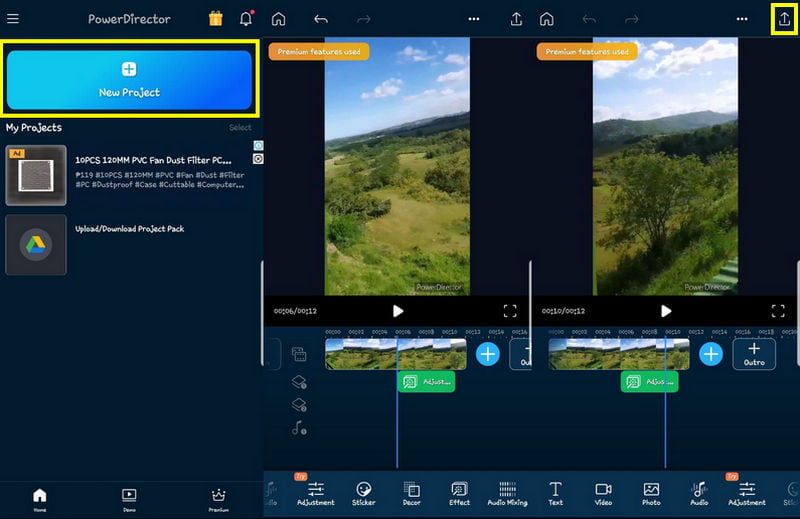 Pros :
It has a user-friendly interface
It has plenty of features and editing tools
It regularly adds more filters
It regularly updates its features
Cons :
Some users experienced an audio problem with their videos
Some users experienced glitches in their videos
3. VidTrim
VidTrim is a video editor primarily used for cropping, merging, trimming, frame grabbing, and applying filters to your videos. If you are a beginner in editing, you can rely on this application as it is simple to navigate. You can choose one from the variety of filters that it has. Just apply a filter that suits your video best to make it more pleasing to the eyes.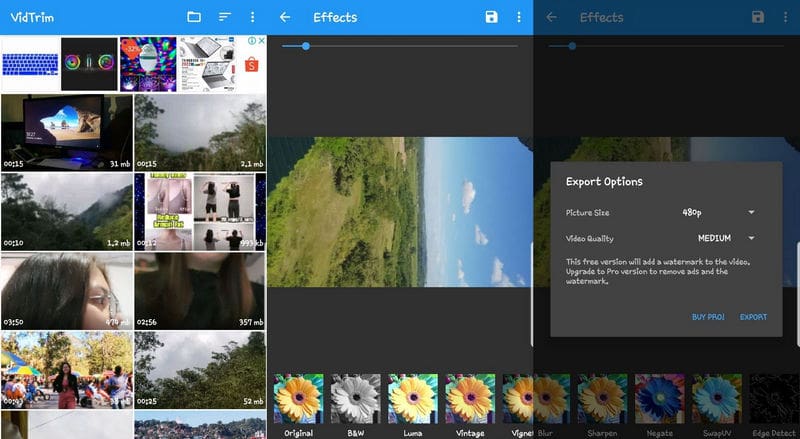 Pros :
Plenty of different languages are supported
Cons :
The free version only includes essential functions
No standard timeline for editing purposes
Part 4. FAQs about Video Filters
How are filters useful in digital video editing?
Video filters are commonly used to enhance the quality of the video. It is done by coloring the picture and adjusting the brightness and contrast of the video.
What is the most popular filter?
The number one and America's favorite filter is Clarendon. It brightens, highlights, and intensifies shadows through the filter.
Do influencers use filters for videos?
They use a lot of skin-enhancing filters and effects, especially when promoting a product or service, to make them stand out even more.
Conclusion
Video filters are one of the best enhancements to make the video even better. It adds a special effect and gives life to your video clips. You can rely on the best filter app presented above to produce a video that has an eye-catching video filter.
What do you think of this post? Click to rate this post.
Excellent
Rating: 4.9 / 5 (based on 123 votes)