Detailed Guide on How to Record an Audiobook
Audiobooks offer a convenient way to consume books, especially for those who have busy schedules. They provide a unique opportunity for talented narrators and voice actors to bring stories to life. The performance aspect adds a new dimension to storytelling, capturing the listener's attention and enhancing the overall experience. Do you want to record audiobooks for money or interest?

GUIDE LIST
Part 1. Get Prepared to Record an Audiobook
Recording audiobooks provides an alternative and enjoyable way for people to engage with literature while accommodating different preferences and lifestyles. To prepare to record an audiobook, here are a few steps you can follow.
Familiarize yourself with the book material: Before recording an audiobook, you should read through the text multiple times to understand the content, flow, and tone of the book.
Find a quiet recording space: When you want to record audiobooks, choose a quiet environment where you won't be disturbed. Ensure no background noises or distractions could interfere with your audiobook recording.
Set up your microphone and recording equipment: Use a good quality microphone, headphones, and audio recording software. Ensure that your equipment is set up properly, and test the audio levels before you start recording sound from microphone.
Warm up your voice for the audiobook recording: Do some vocal warm-up exercises to loosen up your vocal cords and enhance your pronunciation. This will help you maintain clarity and prevent vocal strain during recording.
Plan your audiobook reading: Break the text into manageable sections or chapters. Create clear notes or markings indicating each section's pace, emphasis, and tone to guide your narration.
Part 2. How to Record an Audiobook
Recording an audiobook is a great project to undertake. When you select a quiet and sound-proof location or set up a recording booth to minimize background noise, you can start to record an audiobook with audio recording software on your computer or a digital recorder. This part introduces you to two popular audiobook recorders to help you record audiobooks with high sound quality.
ArkThinker Audiobook Recorder
ArkThinker Screen Recorder is an all-featured video and audio recording software that can help you record audiobooks with ease. It is compatible with Windows 11/10/8/7 PC and Mac. This audiobook recorder can capture your voice from the speaker and microphone. Moreover, it lets you record your computer's system audio. You can take its Audio Recorder as audiobook recording software.

When you want to start recording your voice, you can turn on the Microphone and adjust the volume based on your need. You can click the down-arrow button of the Microphone to enable Microphone noise cancellation and Microphone enhancement. You can also connect an external speaker and customize related recording settings.

ACX Audio Lab
ACX Audio Lab is a platform Audible provides specifically for audiobook creators and publishers. It is designed to assist in the production process of creating high-quality audiobooks. ACX Audio Lab offers a range of resources, such as guides, tutorials, and tools to help with recording, editing, and mastering audio for audiobooks.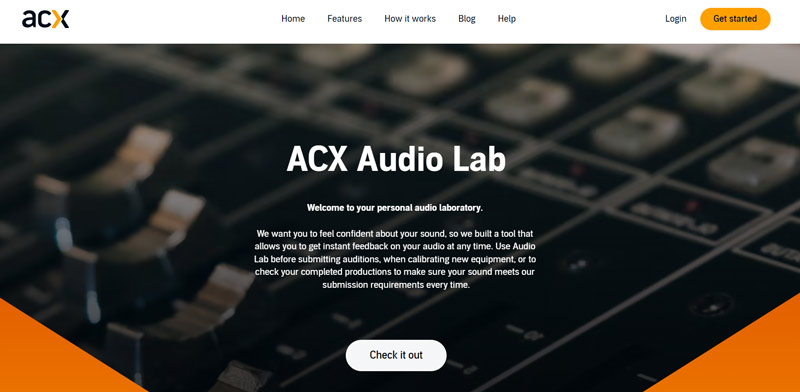 The ACX Voice Recording Project is a service offered by Audible through ACX. It allows authors, publishers, and rights holders to find and hire professional narrators for their audiobooks. Through ACX Voice Recording, they can find narrators, negotiate contracts, and manage the entire audiobook production process. This service aims to connect audiobook creators with talented voice actors to bring their books to life in audio format.
Steps to record audiobooks
Speak clearly and modulate your voice: Enunciate your words clearly and vary your tone of voice to reflect the content and emotions conveyed in the text. Pay attention to your pacing, pauses, and overall performance to keep your listeners engaged.
Take breaks when needed: Recording an audiobook can be lengthy, so remember to take short breaks to rest your voice and clear your mind. That will help you maintain focus and deliver a high-quality recording.
Edit and polish the recorded audiobook: Once you finish recording, review and edit the captured audio files to eliminate any mistakes, background noise, or unwanted interruptions. Use audio editing software to adjust levels, add effects, or enhance the overall quality of the recording. If desired, add intro and outro music to give the audiobook a professional touch. Also, adjust overall volume levels and ensure uniformity throughout the audiobook.
Listen and review your voice recording: Export the final audiobook recording in a suitable format for distribution or upload. Take the time to listen to the final audiobook recording critically. Pay attention to the technical aspects, like audio quality, and the performance, such as clarity and pacing. Make any necessary adjustments to ensure a top-notch audiobook experience for your listeners.
Audiobook distribution: Select a platform for hosting and distributing your audiobooks, such as Audible, iTunes, or your website. Follow the platform's guidelines to upload and publish your voice recordings. Consider marketing and promoting audiobooks through various channels to reach a wider audience.
Part 3. FAQs of Audiobook and ACX Voice Recording
How do you access ACX voice recording projects?
Navigate to the official ACX website or the ACX Audio Lab page and click the Get started button to enter your Amazon account. Then you can access ACX voice recording projects with ease.
How do you get paid for the ACX audiobook sales?
For all the audiobook sales on Audible, Amazon, and iTunes, you will get 40% royalties. If you split royalties with your narrator, you will get 20% royalties. For non-exclusive audiobooks, you will get 25% royalties.
How often will ACX pay?
ACX will pay you monthly for your audiobook sales regardless of how much you earn. You can get paid from ACX by check or direct deposit for sales from the previous month.
This post tells how to prepare for your audiobook recording and the steps to record an audiobook. Remember that practice makes perfect. Don't be discouraged if your first recording doesn't meet your expectations. Keep refining your skills and experimenting with different techniques to improve audiobook recordings.
What do you think of this post? Click to rate this post.
Excellent
Rating: 4.9 / 5 (based on 372 votes)