Everything You Need to Know about iShowU Audio Capture and the Best Alternative
This post will share an unbiased review of one of the best audio recording tools for macOS, iShowU Audio Capture. Today, music streaming services and podcast platforms are popular around the world. However, they are all only available with an internet connection. Plus, Apple executes serious copyright regulations and does not allow users to record encrypted content. That is why you should read our review, discovering the best third-party option to capture audio from your MacBook.

GUIDE LIST
Part 1: What Is iShowU Audio Capture
iShowU Audio Capture or the updated version SWB Audio App is an extension of Mac OS X. It replaces Soundflower to record audio from your MacBook Pro/Air/iMac. The app comes with lots of new improvements to offer a stable audio recording experience.
Key Functions of iShowU Audio Capture
1. Record audio from your Mac computer.
2. Switch to the proper audio output device.
3. Adjust the volume during the audio recording process.
4. Switch between workspaces smoothly.
5. Work in the background and use fewer resources.
6. Come with a user-friendly interface and an excellent layout.
7. Re-capture the audio when you come back.
The app provides a free version and the pro version also allows you to download and use for free during a free trial.
Part 2: Unbiased Review of iShowU Audio Capture
When making a decision, you may want to learn the advantages and disadvantages of iShowU Audio Capture. Of course, it has lots of benefits, but the audio recorder is not perfect.
What We Like:
1. The app is pretty safe to use and it won't send your recordings to third-party organizations.
2. It can work with any app to record on your macOS, such as OBS.
3. If you want to combine the internal audio and your voice, it can meet your need.
4. The app supports multiple outputs to record audio from multiple output devices.
What We Dislike:
1. The audio quality is bad when set as the main output.
2. It does not fully work with MacBook Pro/Air/iMac.
3. When recording FaceTime videos, the volume of line talking is too low.
Part 3: How to Install and Use iShowU Audio Capture
If you have not downloaded iShowU Audio Capture, open your web browser, visit shinywhitebox.com, and download the installer to your Mac. Then follow the steps below to install and use it.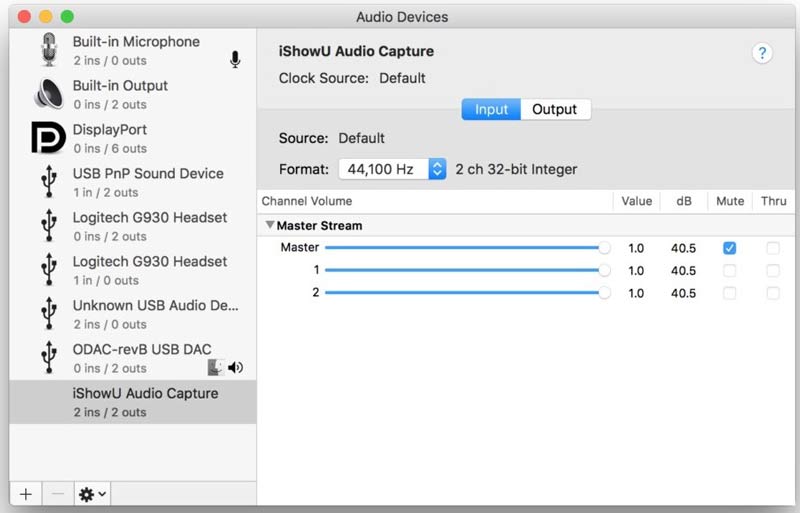 Step 1
Open the installer file that ends with dmg. Then double-click on the app and follow the instructions to run it. It requires a password to complete the iShowU Audio Capture installation.
Step 2
On the System Extension Blocked dialog, click OK to move on. Then press Security & Privacy for System Preferences. Make sure to confirm the subsequent installation.
Step 3
To check if the installation is successful, go to System Preferences, select Sound, and then Output. Here you should find a new app called iShowU Audio.
Step 4
To use iShowU Audio Capture, you also need a screen recorder, such as OBS. Open Audio MIDI Setup, click the + icon at the left bottom and select Create Multi-Output Device. Tick the checkbox next to iShowU Audio Capture and Built-in Output in the Use column.
Step 5
Next, click System Preferences, choose Sound, and select the newly formed Multi-Output Device.
Step 6
Now, run OBS, click the Settings button, and head to the Audio tab. Pull down one of the Auxiliary/ Mic Audio Device options, and select iShowU Audio Capture.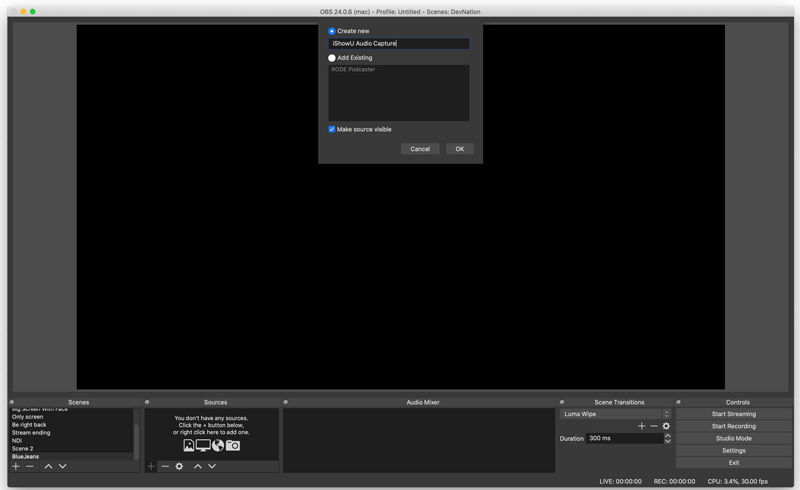 Step 7
Then you can record the screen on Mac with the internal audio and more.
Part 4: Best Alternative of iShowU Audio Capture for Windows
Best Alternative to iShowU Audio Capture
Record video and audio on your screen with one click.
Enhance video and audio quality while recording.
Easy and safe to use.
Include lots of bonus features and custom options.
How to Use the iShowU Audio Capture Alternative
Step 1
Install the iShowU Audio Capture alternative
Launch the screen recorder after you install it on your PC. Choose the Video Recorder. If you just want to capture sound, select Audio Recorder instead.

Step 2
Set recording sources
Set the recording area with the Display option. Toggle on System Sound and adjust the volume. If you intend to add your reactions to the recording, enable Webcam and Microphone. To capture a specific audio source, click the Arrow icon in the System Sound area, and select it.

Step 3
Record the screen with audio
When you are ready, click the REC button to begin recording your screen. Click on the Stop button when you want to finish recording. Then you will be taken to the preview window. Here you can cut unwanted footage, and save the recording.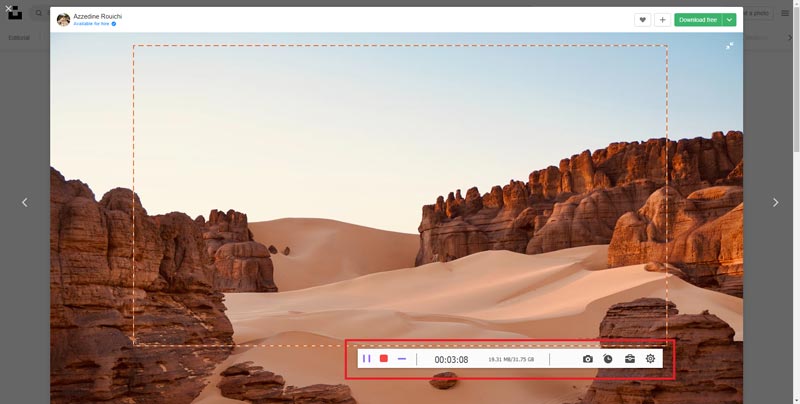 Part 5: FAQs about iShowU Audio Capture Review
How to use iShowU Audio Capture in QuickTime Player?
After installing the app on your MacBook, configure the audio device. Then open the built-in QuickTime Player on your Mac, create a new screen recording, and select iShowU Audio Capture under Microphone.
Is iShowU Audio Capture legal to use?
Yes, you can use the app on your Mac computer without worrying about any trouble. However, you'd better not record copyright protected content.
Is iShowU Audio Capture really free?
The app is free to download and costs $20 to upgrade if you want to continue to use it.
Conclusion
This article has reviewed a virtual audio device for Mac, iShowU Audio Capture. It enables you to capture internal audio from your Mac computer. Although Apple does not allow users to record internal audio due to copyright issue, this app breaks the limit. Plus, we also shared an alternative to PCs, ArkThinker Screen Recorder. If you have other questions about this app, please leave a message below this post.
What do you think of this post? Click to rate this post.
Excellent
Rating: 4.9 / 5 (based on 379 votes)