A Detailed Guide to Record Your Screen with Adobe Program
With the rise of the Internet, people are increasingly sharing videos and pictures on social media platforms. As a trusted software brand, Adobe's numerous software offers powerful functions for different issues. In addition to the most familiar Adobe Premiere Pro and Photoshop, it also has its exclusive recording software. Do you also wonder which software to choose when recording your screen with Adobe screen recorder, do you also wonder which software you should choose?
In this article, we will introduce the most suitable Adobe tool for recording screens and the details of how to use it. We will also recommend another recording tool with similar functions for your screen recording needs. Please read on to find your answer!
GUIDE LIST
Part 1. Which Adobe Program Can Record Screen
Adobe has developed many software for different purposes, and if you are looking for the best Adobe software for video recording, then Adobe Captivate will be your best choice. It detects screen activity and captures all the actions on the screen, including mouse movements, system audio, and keyboard activity. It can also create software simulations and demonstrations based on the recorded content. You can insert text, objects, highlight boxes, and drawings according to the requirements of different professions. It has quite a lot of functions, which to some extent, causes it to be more difficult to operate. And its editing tools are relatively not particularly advanced.
Part 2. How to Record Screen with Adobe Captivate
After reading our introduction, we believe you have learned that Adobe Captivate is the most suitable tool for screen recording developed by Adobe. Next, we will show you how to use it to record your screen. We believe that by following our steps, you can master its basic usage without any trouble.
Step 1
Download and install Adobe Captivate on your computer, and open the page you want to record.
Step 2
Choose Video Demo on the interface, and click the Create button.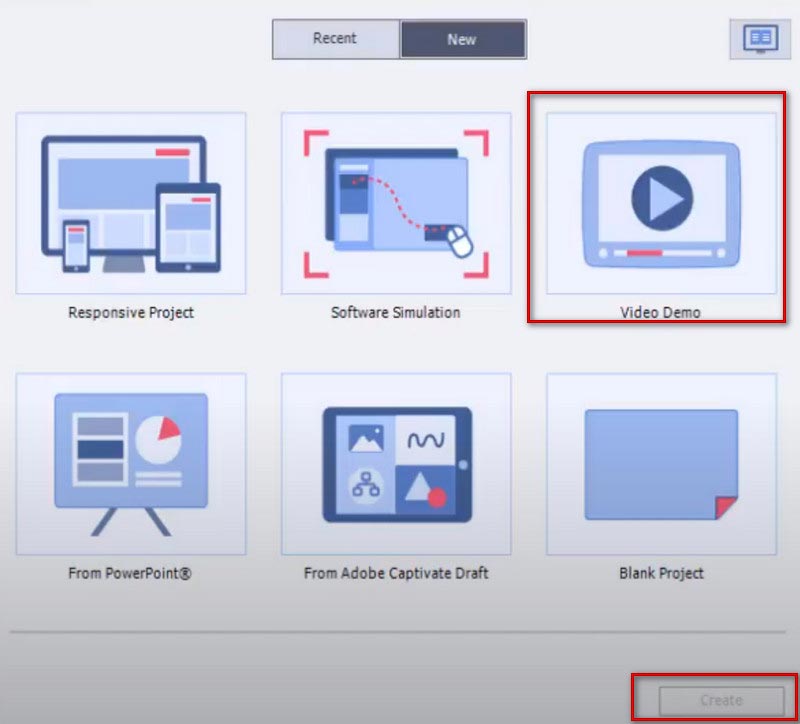 Step 3
You can choose between Screen Area and Application depending on your need. If you record a certain area, select Screen Area, and choose full screen or custom screen. If you want to record contents in an application, choose Application.
Step 4
Choose the type of input audio at the bottom part.
Step 5
Once you have finished setting up, you can click the Record button to start.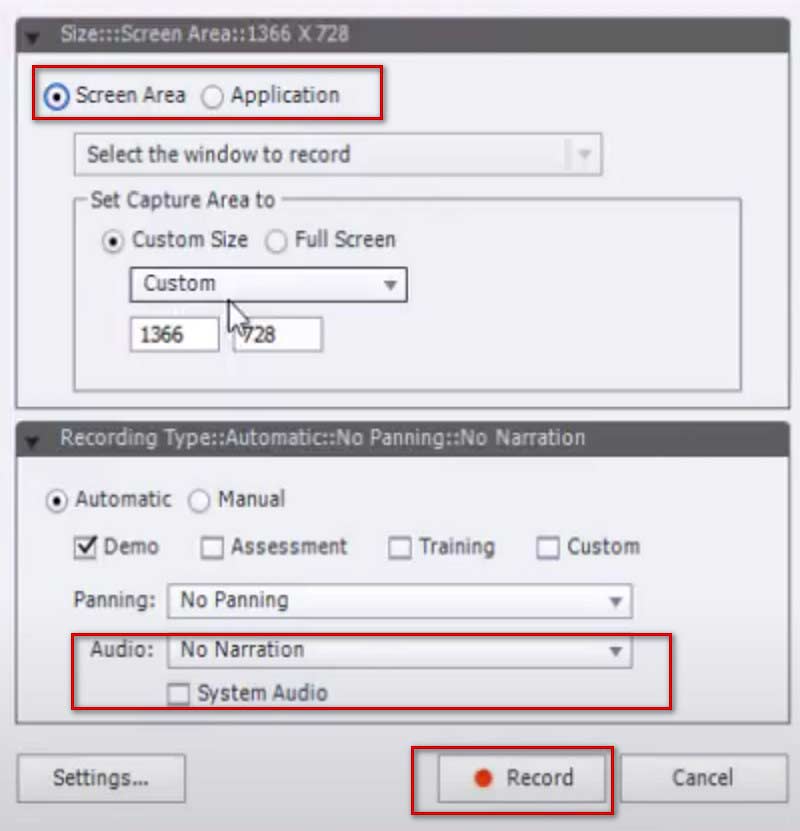 Step 6
If you want to stop recording, press Esc on your keyboard. If you are using Mac, press Cmd and Enter together.
Part 3. Best Adobe Screen Recorder Alternative You Can Try
Although Adobe Captivate is powerful as a screen recording software, problems such as large memory consumption and a complicated operating interface still exist. Therefore, we recommend a useful video recording tool with similar functions, ArkThinker Screen Recorder.
With a user-friendly interface, it is no less powerful than Adobe Captivate recorder. It helps you to record content on your computer screen, including video, audio, games, and webinars. The recorded files have almost no quality loss or delay. You can freely choose the range of recording or a specific window. In addition to recording content on your computer, it can also record content on your phone screen by connecting it to your computer. After you finish recording, you can also use its editing, trimming, compression, and conversion features to process the files you get. It's a comprehensive and easy-to-use tool, so even if you haven't tried screen recording before, you'll be able to get started quickly with its help.
Here are the detailed steps to use it.
Step 1
Download and launch ArkThinker Screen Recorder on your device. After opening it, choose the recorder your need on the interface. Here we will take Video Recorder as an example.

Step 2
Set the range you want to record on the screen. You can choose Full or custom recording range by clicking the Custom button. You can choose among 1920×1080, 1280×720, 854×480, 1024×768, 640×480, or select the region by drawing an area with your cursor.

Step 3
Choose the source of audio among System sound and Microphone. You can freely adjust the volume of the input.

Step 4
Click the REC button to start the screen recording. You can add text, lines, arrows, and specific labels in this process by clicking the edit icon on the right bar.

Step 5
Click the Stop button when the recording ends. And you can click Advanced Trimmer on the preview page to edit your file.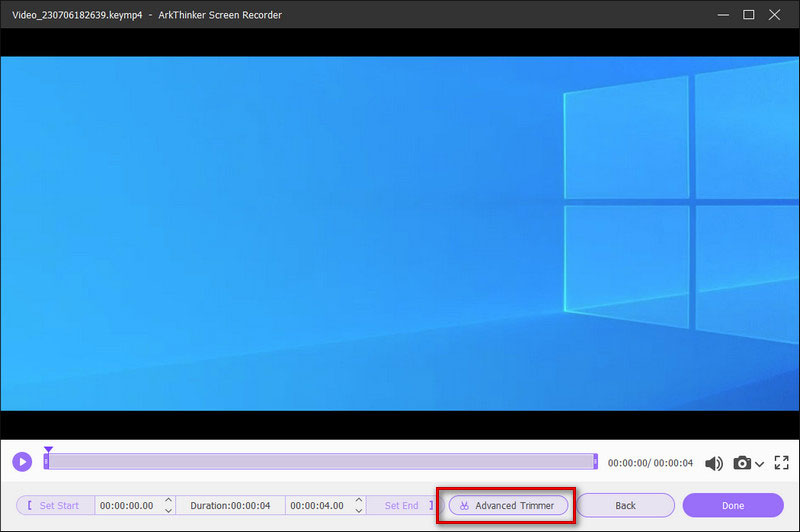 Part 4. FAQs About Adobe Screen Recorder
Can you record music with Adobe Audition?
Of course, you can. You can mix and record audio from your computer microphone or studio recording equipment using Adobe Audition. After getting the audio, you can also use Adobe Audition to edit and enhance your files. If you want to record audio with Adobe, Adobe Audition recorder recorder is the best choice.
Is it illegal to screen-record videos?
It depends on the purpose of your screen recording. If you just want to collect your favorite clips and watch them yourself, then screen recording is perfectly fine. But if you are distributing the recorded video on a public platform and using it for profit, it is completely illegal, and this operation may violate copyright laws.
Why can't I record in Adobe Audition?
The root cause of this occurrence may be that you have not turned on privacy permissions. You can check your computer's privacy settings, click microphone, and then make sure Audition is checked off. If this still doesn't solve the problem, then it may be that the connection between Adobe Audition and the sound device has failed.
Does Adobe collect data?
Adobe collects the necessary information to ensure the smooth use of the program. This information can range from state identification information, account information, account access information, etc. Before obtaining this information, Adobe will send you a message to seek your permission.
Does screen recording a video affect sound quality?
It depends on the content of the audio you are recording. If you only record system sounds, it generally won't affect the sound quality much. But if you record the sound of the microphone or the sound of additional playback, the resulting file may have some noise mixed in. Of course, you can use some tools to process the obtained files and remove the unnecessary background noise from videos.
Conclusion
In this article, we answer your questions about which Adobe tool to use for screen recording and provide you with detailed instructions on how to use Adobe screen software. We have also added a powerful screen recording software as a replacement for it, hoping it will help you achieve more functionality. In general, Adobe's software is very powerful. You can choose according to your needs. We hope our content is helpful to you. Welcome to leave a comment to communicate with us.
What do you think of this post? Click to rate this post.
Excellent
Rating: 4.9 / 5 (based on 266 votes)