Top 3 Ways to Record Your Gameplay on Steam
Recording gameplay on Steam is a great way to share your gaming experience with friends, followers, and the wider community. Whether you want to create video tutorials, showcase your skills, recommend your favorite video games, or just have fun, the process is relatively straightforward. This guide will go through three effective methods to record Steam gameplay.

GUIDE LIST
Part 1. How to Record Steam Gameplay Using Windows Game Bar
The Windows Game Bar is a built-in Steam gameplay recorder available to Windows users. It lets you easily take screenshots and record gameplay footage on Stream. Game Bar is pre-installed in Windows 11 and Windows 10 to record games on Steam and Xbox.
Step 1
When you like to record Steam gameplay, press Windows + G keys to access the Game Bar. If you can't open Game Bar through the shortcut, click the Start menu in the bottom-left corner, go to Settings, choose the Gaming option, then find Game Bar and enable it.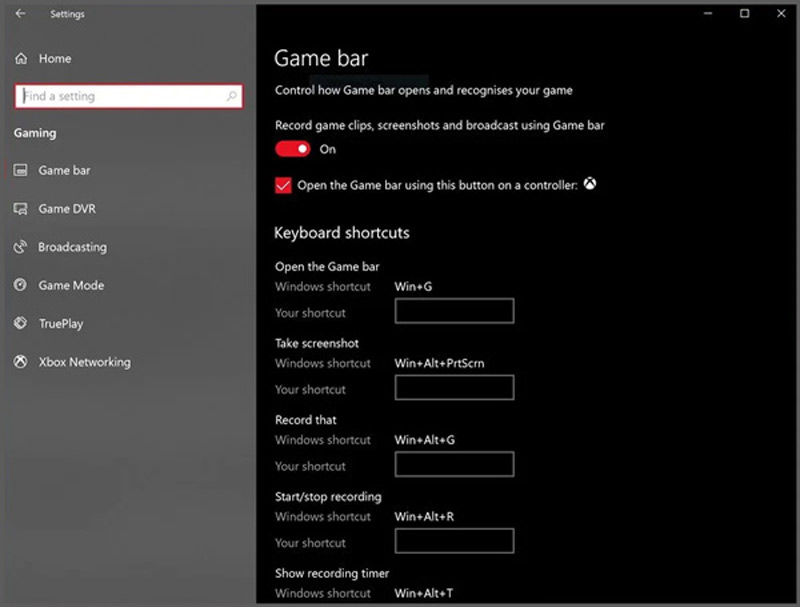 Step 2
When you see the Game Bar recording window, click the Record button to record your game playing on Stream. While playing Steam games, you can press the Win + Alt + G keys to quickly start or stop recording Stream videos. Press Windows + Alt + T to show or hide the recording timer as you like. The recorded gameplay footage is saved in the Captures folder in your Videos directory.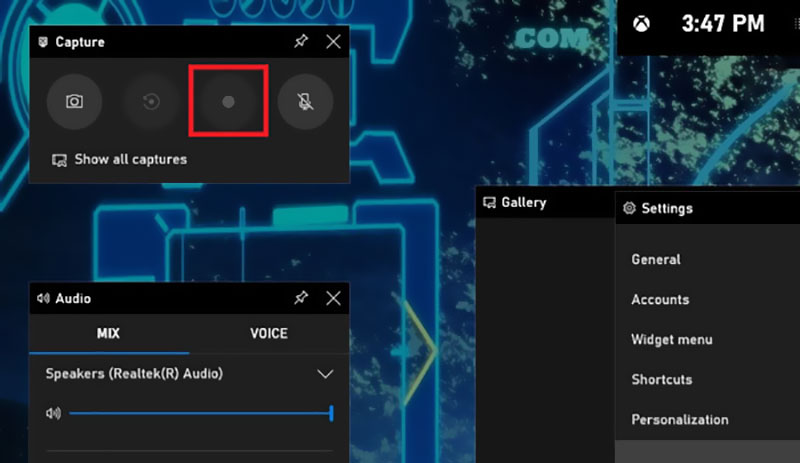 Part 2. How to Record on Steam with OBS Studio
OBS is a free and open-source program used by gamers and online content creators to record videos. It offers a convenient way to record and stream Steam gameplay and other computer-based activities. As a cross-platform Steam gameplay recorder, OBS is compatible with Windows, macOS, and Linux computers. It is designed with various features, including high-quality resolution, custom overlays, and robust audio settings. You can follow the steps below to record on Steam using OBS.
Step 1
Download and install OBS on your computer from the official website. Launch Steam and start the game you want to record.
Step 2
Open OBS and add your game as the recording source. Configure the recording settings to your preference, such as resolution, bitrate, encoder, etc. This Steam game recorder lets you capture high-quality videos at up to 120 fps. Moreover, it lets you add your face to the Steam recording through a webcam.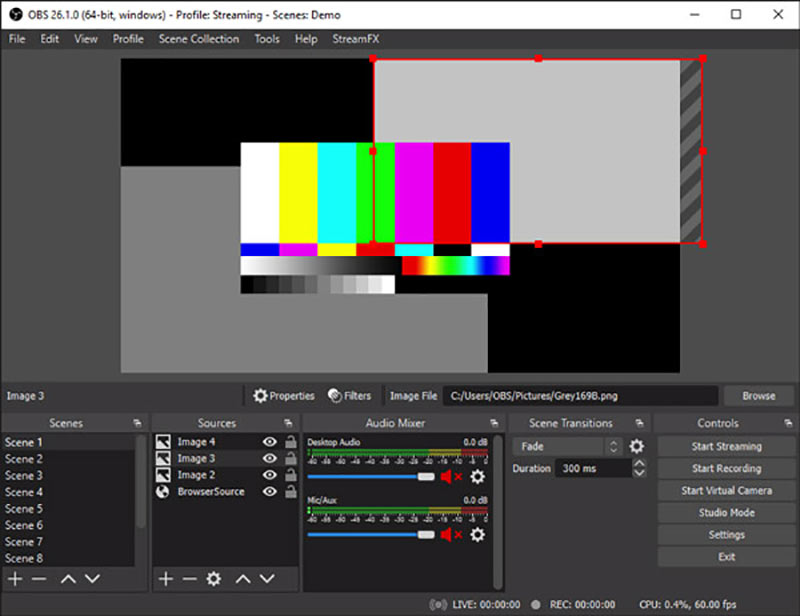 Step 3
Click the Start Recording button to begin capturing footage. Once you finish recording on Steam, stop the process, and save the footage to your computer. Click the File menu and choose Show Recordings to view, edit, or share your recorded Steam videos.
Part 3. Best Way to Record Your Steam Gameplay on Windows PC and Mac
If you want to record high-definition Stream gameplay videos, use the all-featured ArkThinker Screen Recorder. It has an individual Game Recorder to capture your Steam gameplay even up to 4K. Moreover, it lets you record your face and voice through a webcam. You can freely put the webcam recording on any region of the game-playing screen. It's quite useful to share your reactions to the Steam game. More importantly, it adopts advanced Blue-light real-time HD video encoding technology to ensure the recording won't affect your gaming experience.
Step 1
Download this Steam game recorder on your Windows PC or Mac and launch it. When you reach its main window, select the Game Recorder to capture videos on Steam. As you can see, it also allows you to record your webcam and phone screen.

Step 2
Before recording your Steam gameplay, you can customize various video and audio recording settings. You can start the Steam video game and set it as the recording source. Turn on or off Webcam based on your need and choose the audio source. It enables you to capture gaming sound from the microphone and audio card.

Step 3
When you want to record on Steam, click the REC button. While the Steam gameplay recording, you can freely take screenshots. This game recorder gives you a Preview feature to check your recorded video. Moreover, you are allowed to edit it and add text, arrow, line, rectangle, ellipse, or other annotations.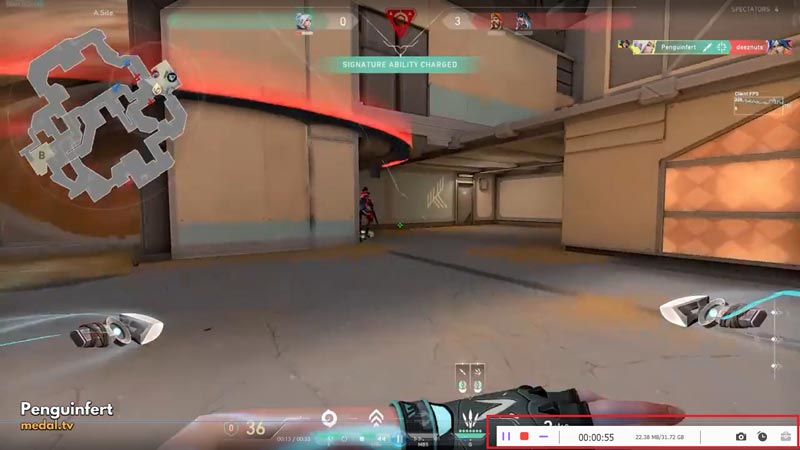 Step 4
Click the Save button to store your Stream recording. You can record Steam videos in any popular format, including MP4, FLV, AVI, MOV, and more.
Part 4. FAQs of How to Record on Steam
How to take screenshots on Steam?
Steam has its built-in screenshot feature, enabling gamers to easily capture and save gameplay screens with a single click. To use this feature, open your game on Steam, and press the F12 key to easily take a screenshot. You can right-click on the game in your Steam Library, choose the Properties option, then click the General tab to enable the feature.
Can I download Steam games during gameplay?
Steam allows you to download games while playing. To enable the download feature, click Steam in the upper-left corner, choose the Settings option, hit Downloads on the left panel, then tick the box ahead of Allow downloads during gameplay.
Does Steam have a built-in game recorder?
No. Till now, Steam itself does not have a gameplay recording feature. It only allows you to screenshot on your gaming screen. When you need to capture your gameplay on Steam, you must rely on an external game recording tool, such as Game Bar, Bandicam, Nvidia ShadowPlay, QuickTime, or the recommended Game Recorder above.
Conclusion
These are three easy ways to record on Steam and capture high-quality gameplay footage. You can select any game recorder depending on your preference and hardware configuration. Recording Steam gameplay is a fun and rewarding experience that lets you share your passion for gaming with others. You can easily create engaging and entertaining videos with a good Steam game recorder.
What do you think of this post? Click to rate this post.
Excellent
Rating: 4.9 / 5 (based on 686 votes)