AZ Screen Recorder [Detailed Review + Key Features]
At some stages, you will need a recording application to help you record your screen activities and voice. Whether you will record a particular video, video calls, report or presentation, and gameplay. It is essential to choose a recording application that can provide your needs and meet your expectations. For instance, you will record your screen using your smartphone. With that, you will need a screen-recording application that is accessible and can be installed using your phone.
AZ Screen Recorder is a dependable screen recorder that produces a high-quality screen and audio-recorded output. It can record your screen, capture your screen, edit your videos, and live stream. The screen-recording application enables users to create tutorial and gameplay videos, save video calls, and record videos that cannot be downloaded. This post will provide comprehensive information about the screen-recording application. In addition, it will present an alternative screen-recording application you can use. To learn more about these, proceed to read the following parts.

GUIDE LIST
Part 1. AZ Screen Recorder Review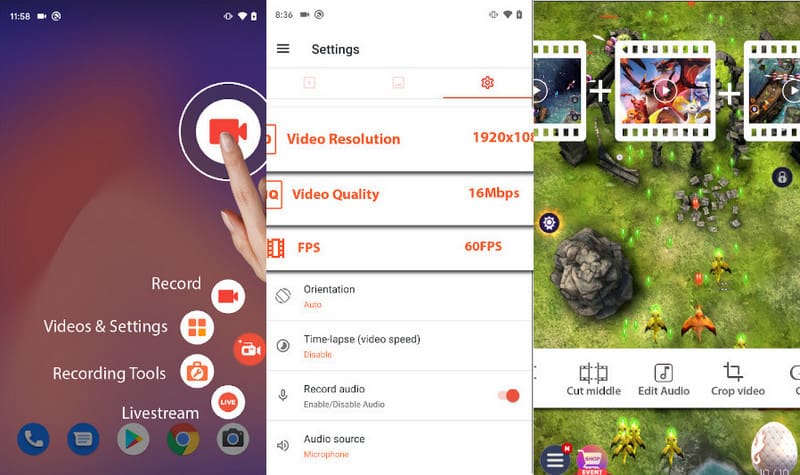 AZ Screen Recorder is a screencasting application with a beginner-friendly interface, free to use and accessible for Android phones. Except for using it on a mobile device, you can install this application on your personal computer using the AZ Screen Recorder mod apk. This application has numerous built-in features designed to create the screencasting process more straightforward and hassle-free. An excellent screen recorder application enables users to capture and record smooth, clear, high-quality screen-recorded videos. In addition, it enables users to edit the screen-recorded video result using the built-in editing options. It has no screen-recording time limitation, so you can record much longer if you desire to. Also, it does not embed a watermark in your screen-recorded video output. On top of that, it provides useful features without the need to root the device. This application is one of the highly-rated screen recording applications, with 4.4 stars and 50,000,000+ installations.
Once you are done recording your screen, users can trim, cut, crop, rotate, add a background, edit audio, and add text. Also, it enables users to compress video and change the speed of the screen-recorded video, and many more.
AZ Screen Recorder has many beneficial features for a first-time user like you. These features are both accessible for free and paid versions. These features are created to make a high-quality screen-recorded video easier and hassle-free. This part will present the essential features that the application can offer.
◆ It can smoothly record your screen activities, whether you are recording an application, live shows, gameplay, and video calls.
◆ It has floating buttons that enable users to access the recording buttons easily. The user does not need to open the application to start a recording. It will remain on your screen for as long as you will and need it.
◆ It provides drawing tools that enable users to annotate the video in various ways. You can use these drawing tools while the recording is ongoing.
◆ It can record a face cam, which appears as an overlay window that you can move around the screen.
◆ It enables users to do a live stream on Facebook on Youtube using the application.
Pros :
It has numerous features such as screen capture, screen video recorder, video editor, and live stream
It is great for recording tutorials, gameplay, and more in high-quality screen-recorder video output
It provides numerous resolutions, video quality, and frame rate selection
It can overlay face while the recording is in process
It does not need to root your device
Cons :
There are cases that the floating buttons cannot be hidden during the recording process
There are instances that the touch effect is blurred during operations
It can only record internal audio on devices running Android 10
It requires you to subscribe to the paid version to remove advertisements
Part 2. Best AZ Screen Recorder Alternatives
This part will present the following screen recorder alternatives you can access aside from AZ Recorder. It will present offline and online tools you can access from your browsers and desktop. To learn about these tools, continue reading the other parts.
1. ArkThinker Screen Recorder

If you are looking for the best alternative tool to record your screen, you can rely on ArkThinker Screen Recorder. This program has an intuitive interface that is easy to use and control whether you are a beginner or a professional. This program has numerous recording features capable of recording your screen activities and audio. It has a video, audio, game, window, webcam, and phone recorder to help you accomplish your task. It offers different screen sizes that enable users to choose what area they want to record from their screen. Also, it enables users to overlay their faces using the webcam and add their audio by turning on the system sound and microphone.
This program has an option where the users can set a task schedule and select a record set to record their screen. In addition, set a start time and end, and select your screen-recorded video length. Aside from the recording features, it also has a trimming option to help you cut off the unwanted parts of your screen-recorded video. The good thing about this program is that it will not embed a watermark on your recorded output. This program can help you achieve your goal in minutes easily and hassle-free.
Pros :
It has numerous built-in recording features
It supports numerous audio and video file formats
It has no recording time limitation
It has a trimming option
It has a task schedule and auto-stop options
No watermark is presented in your screen-recorded output
Cons :
Avail of the paid version to have full access to the program
2. FlexClip

If you prefer to record your screen straight online, you can count on FlexClip. This web-based screen recording tool enables users to capture anything on their screen. You can record gameplay, presentations, and webinars and create video tutorials hassle-free. On top of that, it is an all-in-one screen recorder and video editor, which allows users to edit their recordings. When you are done recording, you can highlight important parts and add annotations, overlays, and subtitles to your video.
Pros :
It has a beginner-friendly interface that is easy to use
It can edit screen-recorded video output using the editing options
It has a selection to record screen and webcam, screen or webcam only
Cons :
It asks you to sign in to your account
It has a time recording limitation
3. SCREENAPP

ScreenApp is a web-based screen recorder allowing users to record the entire screen, application window, browser tab, and webcam. You can record important online meetings, presentations, and webinars. This screen-recording tool can record for up to 3 hours long. In addition, it has trimmed and merging options that can help you remove unnecessary parts of your recording.
Pros :
It is free to use, and no payment is required
It is capable of recording your screen activities with or without audio
It enables users to edit their screen recordings output
Cons :
It requires you to sign in to your account
It can only record for up to 3 hours
The free version can only record for up to 20 minutes
Part 3. FAQs about AZ Screen Recorder
Is AZ Recorder Free?
AZ Screen Recorder is a free-to-use application that provides a smooth recording process and clear screen recordings.
What is the advantage of AZ Screen Recorder?
The good thing about this application is that it has no frame loss, no recording time limit, and no watermark. Also, it is one of the few screen recording applications that can record internal audio.
Can AZ Screen Recorder record zoom?
This screen recording application can record Zoom calls and meetings using your Android phone.
Conclusion
There you have it! You have learned information regarding AZ Recorder that can help you decide. This recording application can accomplish your goal if you plan to record your screen. But if you are looking for the best alternative screen recorder that works on a desktop, you can rely on ArkThinker Screen Recorder. It has numerous built-in recording features that provide you satisfaction when using it.
What do you think of this post? Click to rate this post.
Excellent
Rating: 4.9 / 5 (based on 249 votes)