Tutorial: How to Record Skype Calls Step by Step [2023]
Having online webinars or office meetings on Skype is not something new to us, especially after the pandemic and SOHO time. However, in order not to miss the details in the Skype meeting and review the important information, you need a thorough tutorial on how to record Skype Calls. Read this post for more information.

GUIDE LIST
Part 1. How to Record Skype Video Calls – Default Way & Third-party Tool
Skype is a conversation platform that connects businesses, individuals and groups together. Everyone can start a video call within this platform and communicate their ideas, and works with others on their mobiles and desktops. Whether you are the host or participant, it's not a difficult task to capture the Skype meetings. And you can record your Skype calls in two ways.
1. Use the Built-in Recording Feature
You can record on Skype without downloading other plug-ins or software via its local feature. Here is what you need to do to record Skype video calls.
Step 1
Launch Skype and choose Host a Meeting or Join a meeting. Or you can copy and share the meeting link with other participants by clicking Add people button.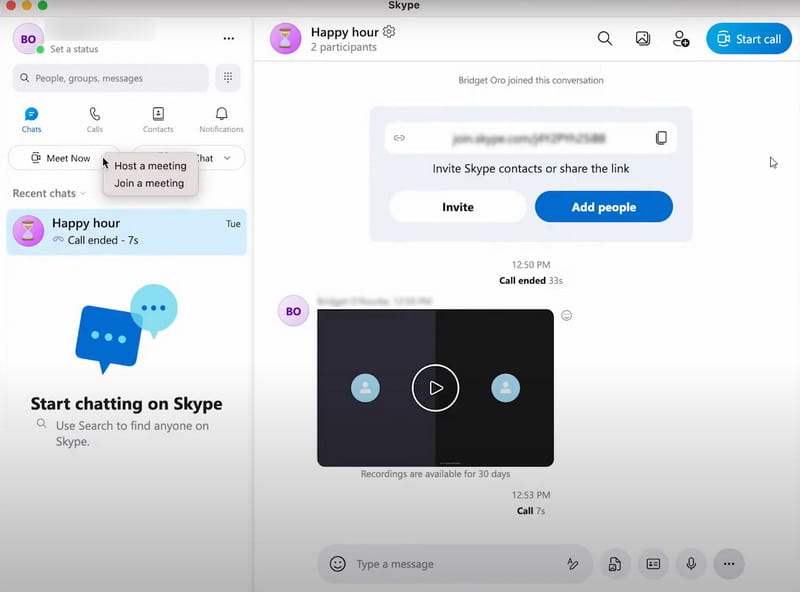 Step 2
In the meeting window, click the Record button. Then there will be a banner on the top to suggest you let others be aware of this recording. Please make sure your recording is permitted by other participants.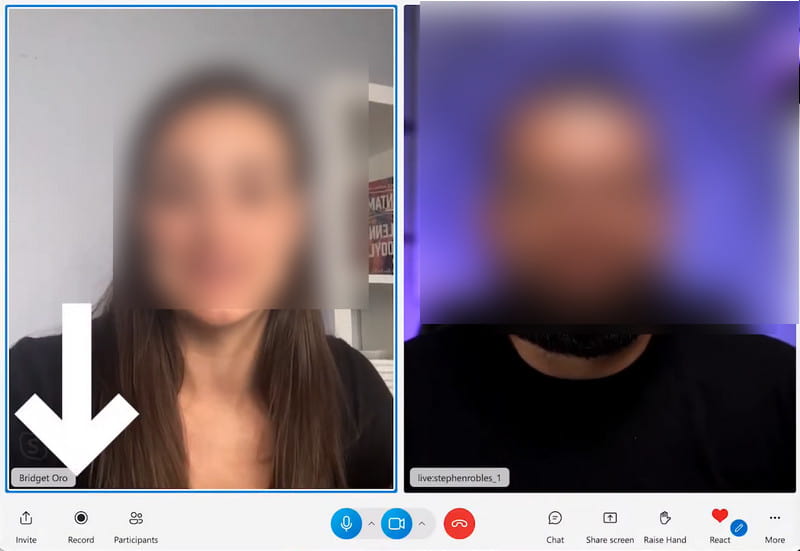 Step 3
After you get the ideal part, click Stop recording. Then your recording will be auto-saved in Skype. You can click the Three Dots icon on the top right corner of this recording and choose Save to Downloads or Save as to find a destination for your file. If the recording is too long for the output, you can speed up the video or compress the large files with other tools.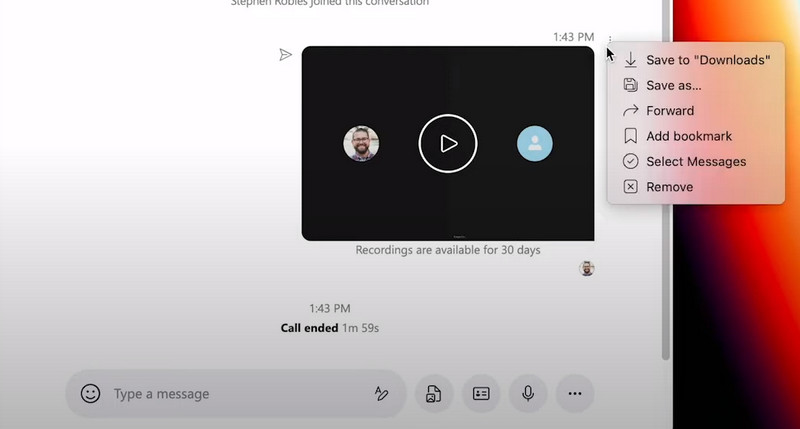 Tips: For mobile users, you can also record Skype meetings with similar steps. You just need to click the Three Dots icon in the meeting window and find the Start Recording function. As for ending and saving the Skype call recording, you can tap and hold the call meeting and choose the Save button in the pop-up window. Then you can find this recording in the camera roll on your phone.
2. Recommend Skype Call Recorder – ArkThinker Screen Recorder
However, once you adopt the default way to record Skype video calls, you will find many limitations there. Video call recordings that exceed 24 hours will be automatically divided into several files. The recording will be invalid and not show up in the Skype chat after you record it for 30 days. And you may worry about notifying others of your recording, even with legit reasons.
So, we recommend the best Skype call recorder- ArkThinker Screen Recorder for you.
This is a professional and multifunctional recorder for both videos and audio. Rather than record the fixed window of your video call, you can customize the recording area for more details on your desktop. What's more, there is no time limitations and all the recordings will be available in the recording history.
You can enjoy high-quality recording in your preferred format and adopt abundant tools, including a media metadata editor, advanced trimmer, video compressor, etc., to edit videos after recording. Follow the instruction to learn how to record Skype meetings with it.
Step 1
Download and run this software on your computer. To record the Skype video call, choose the Video Recorder to continue.

Step 2
Then you can change the recording settings based on your preference. Choose the display window and turn on the System Sound. You can also switch the toggle of the Webcam to record your reaction and the Microphone to capture your voice.

Step 3
Tap the REC button to start recording. Once you want to complete the recording, click the Stop icon and you can preview the recorded video call. Save your files by clicking the Save button.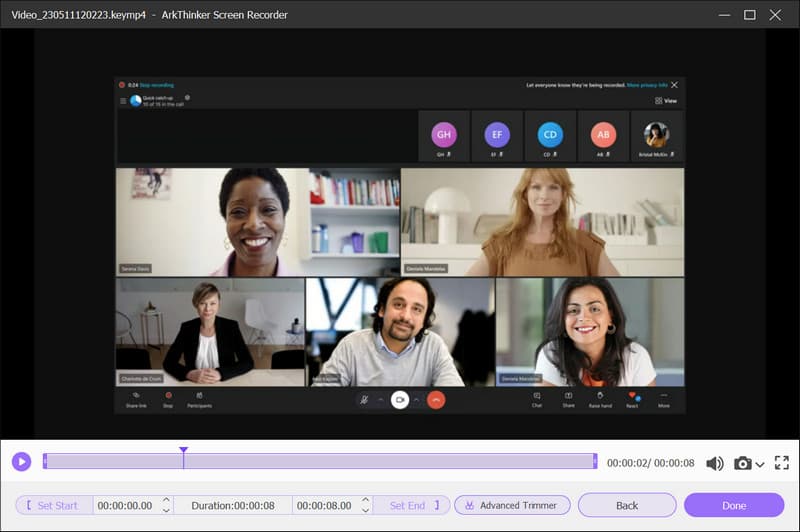 Step 4
In the following window, you can view all recorded files in the recording history and choose to play or delete your file, open another folder, or use more tools for editing.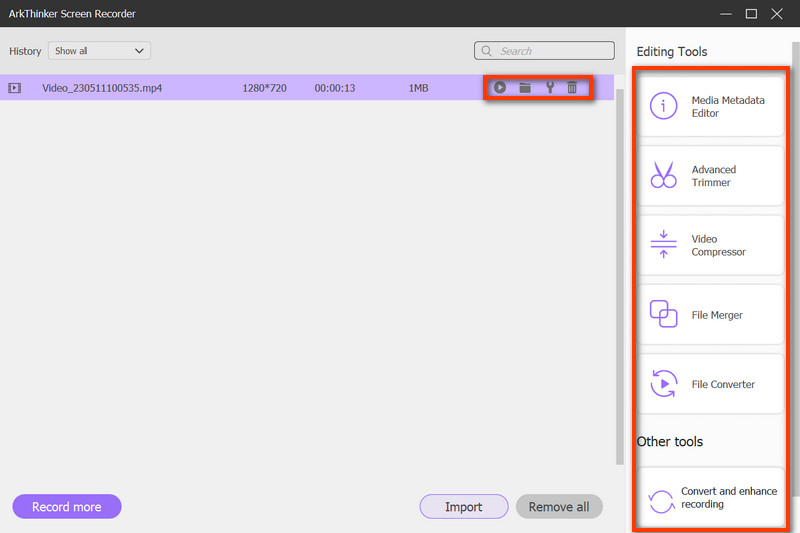 Part 2. FAQs of Skype Calls Recording
Is it free to record Skype calls?
Yes, you can use the built-in recording function to record Skype calls for free.
Is it legal to record Skype video without permission?
Absolutely not. Out of protection of privacy and information, it would be considered illegal to record the Skype video and share it to public media platforms without others' permission.
How do you tell if someone is recording you in Skype?
There will be a notification for each participant in the Skype call if anyone in the meeting starts a recording, so you can check the notice to tell.
Conclusion
This post shows you the steps to record Skype calls in two ways. If you feel limited by the default way, you can still turn to ArkThinker Screen Recorder for help. And you are always free to share any problem or idea in the comments below.
What do you think of this post? Click to rate this post.
Excellent
Rating: 4.9 / 5 (based on 357 votes)