Full XRecorder App Review and Best XRecorder Alternative
Screen recorders have become an essential tool for content creators, vloggers, gamers, teachers, and more. XRecorder is one of the best Android screen recording apps on the market. You can easily capture and share what's happening on your phone's screen. Before downloading this app, check the detailed XRecorder review below for its key features, pros, cons, and how to use it.

GUIDE LIST
Part 1. XRecorder Review - What Is XRecorder
XRecorder is an easy-to-use screen and audio recording app that enables Android users to capture their screens with high quality. It lets you record anything from gameplay, tutorials, presentations, or other content. The XRecorder app has many powerful recording features, making it an excellent solution for producing engaging and informative videos. XRecorder is currently available for free.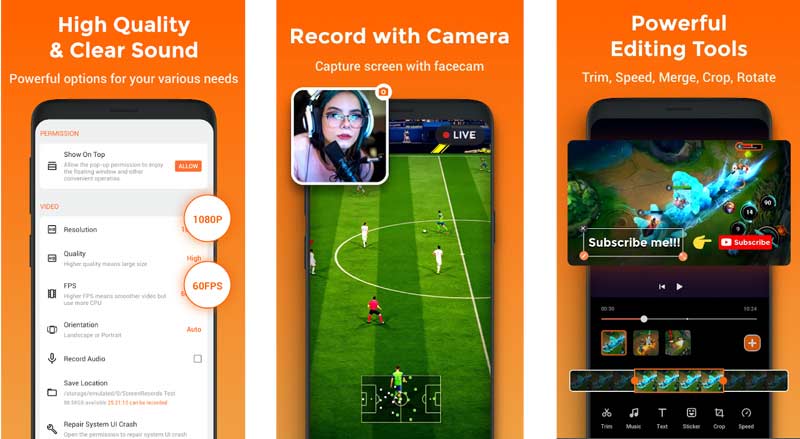 Key features of the XRecorder app
XRecorder is mainly designed to capture your activities on an Android device. It lets you capture high-quality videos, games, songs, and other content up to 1080p. It supports internal audio recording without noise. Moreover, it offers a Facecam feature to present reactions with multiple camera switches. The XRecorder app also has a video editor to freely trim and edit your recordings.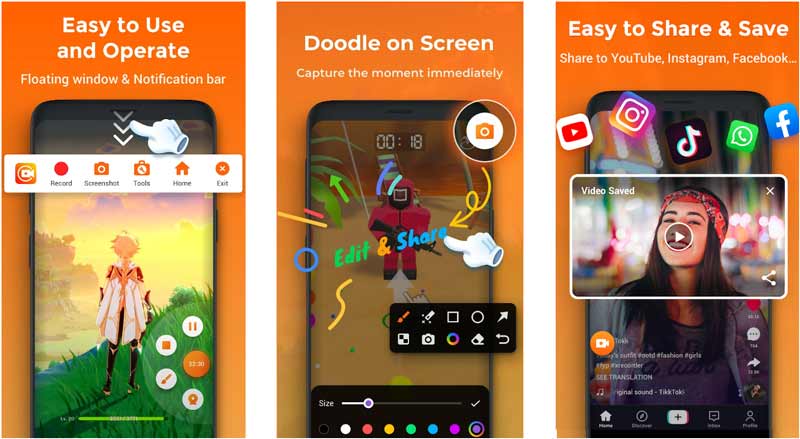 XRecorder has a simple and user-friendly interface. It is designed with a clean layout and offers customizable options that are easy to understand and use. You can easily access its Record, Screenshot, Brush, and other tools. You can use XRecorder to capture anything happening on your screen in high definition. More importantly, it allows you to output 1080p recordings with 60FPS, 12Mbps.
XRecorder gives a convenient way to share your captured video or audio file to social media like Instagram, TikTok, Facebook, or YouTube. It won't add a watermark to your recordings. Also, it has no recording time limit and requires no device rooting. But as a free XRecorder user, you may see many ads while using it.
XRecorder Download
You can free download the XRecorder app from the Google Play Store. It contains ads and in-app purchases. Also, you can access the XRecorder APK file on its official website.
Part 2. How to Record Audio in XRecorder
XRecorder gives a simple way to record videos and audio on your device. You can download it from Google Play Store, then follow the steps below to capture your Android screen with audio.
Step 1
Open the XRecorder app and grant necessary permissions like access to your camera, microphone, storage, etc. You can check the onscreen prompts to know its key functions and how to use it.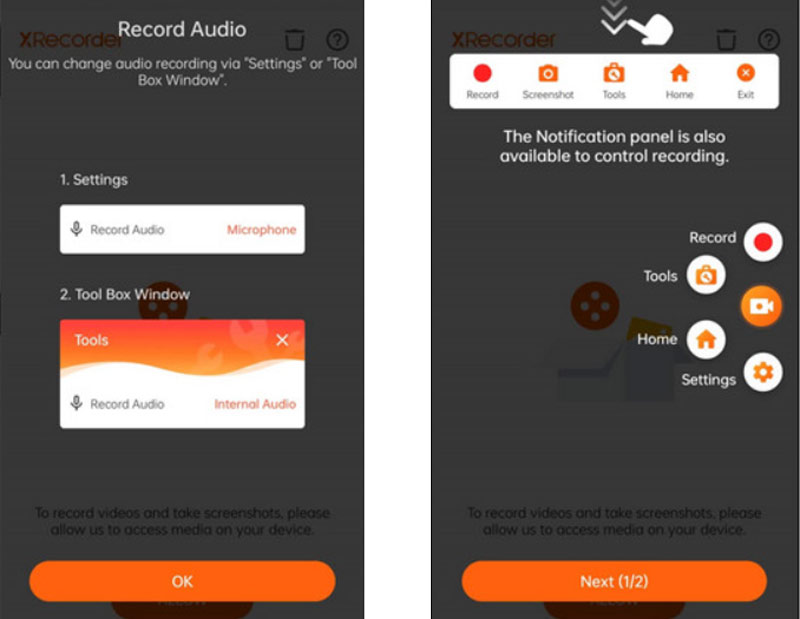 Step 2
Before recording screen or audio in XRecorder, you can go to Settings to customize various options, including audio source and volume. It enables you to capture sound from Internal Audio and Microphone.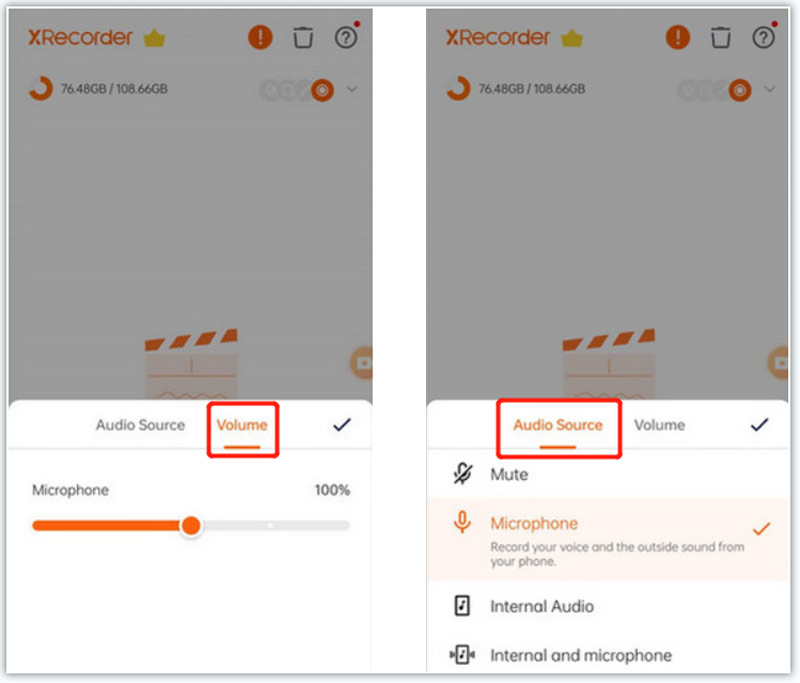 Step 3
Tap the Record button to begin capturing audio in XRecorder. When you want to stop the recording, go to the notification center and choose Stop.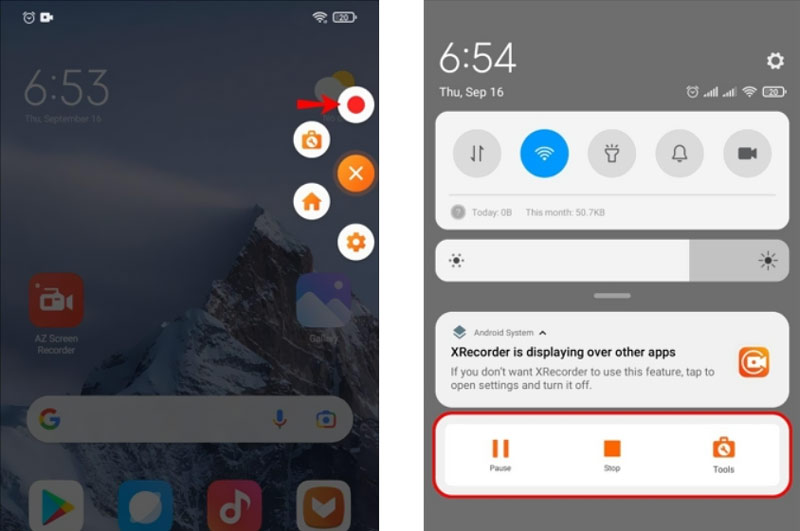 Part 3. Best XRecorder Alternative to Record Audio and Screen
Until now, XRecorder does not offer Windows, macOS, and iOS apps. You must rely on BlueStacks App Player or Nox App Player to use it on a Windows 11/10 PC, Mac, or iPhone. Suppose you are not satisfied with the recording feature of XRecorder, or you prefer another recorder to capture videos and audio on your device. In that case, you can turn to the best XRecorder alternative, ArkThinker Screen Recorder. It lets you easily capture your computer screen, activities on your iOS/Android device, gameplay, and webcams.

You can free download this XRecorder alternative on a Mac or Windows computer. Select the specific tool you want to use, freely customize video and audio recording settings, and then click REC to start the recording. It can capture high-quality videos up to 4K. Moreover, it lets you record from a webcam and audio from System Audio and Microphone.

If you want to record on your iPhone, iPad, or Android phone, select the Phone Recorder. Then choose iOS Recorder or Android Recorder to begin your recording. This powerful XRecorder alternative carries many commonly-used editing functions to edit your recording and enhance its quality.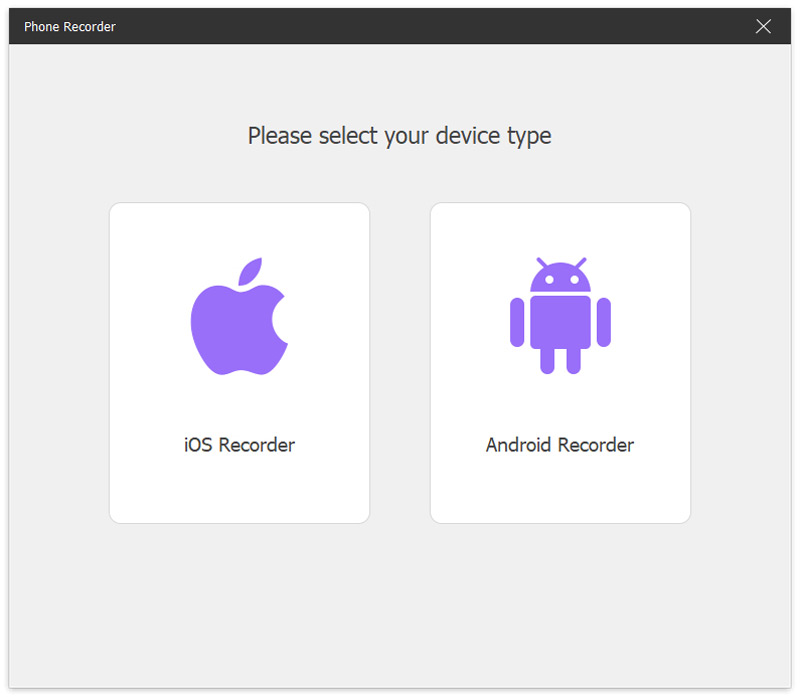 Part 4. FAQs of XRecorder
Is XRecorder safe to use?
The XRecorder app is safe to use and can protect your privacy and data. But you should ensure that you download it from Google Play Store. You should not download XRecorder from some third-party app sharing and downloading sites. Also, there are no official apps for Windows, macOS, and iOS users.
How can I get rid of XRecorder ads?
You can't get rid of ads using a free XRecorder account. You have to upgrade to its Pro account to remove ads and get more premium functions.
Why does XRecorder stop recording automatically?
The XRecorder app will automatically stop the recording when there is insufficient storage. Sometimes, app bugs will also cause it to stop recording. You can restart your phone or reinstall the app to fix the issue.
Conclusion
After reading the XRecorder review, you can know its features and how to use it. Also, you can get a great XRecorder alternative to better capture videos and audio on your device. For more questions about the XRecorder app, please message us in the comments.
What do you think of this post? Click to rate this post.
Excellent
Rating: 4.9 / 5 (based on 378 votes)