4 Highly Recommended Mouse Movement Recording Software
For those who want to create a how-to or guide, video is often a more visual format than text. Seeing only text and pictures may not effectively solve some operational problems. Following the detailed steps of the video is more time-saving. Therefore, you must record your mouse and keyboard tracks for instructional videos or game operation cheats. This time a single-screen recording tool can no longer meet your requirements. You need more professional and more targeted mouse and keyboard recording tools.
To help you, we will recommend four best mouse recorders for you and hope you can find the most suitable one among them.

GUIDE LIST
Part 1. Top 3 Free Mouse Recorders
Below we will introduce you to three free mouse recording tools and analyze their main features, advantages, and disadvantages to help you choose more precisely.
Macro Recorder
Macro Recorder can be used for recording the screen on Windows and Mac. It can record mouse events and clickers like a tape recorder. With it, you can automate the tedious process on your computer. Your mouse movements, including clicks and wheel scrolling, will be recorded in detail. In addition, it can capture your keyboard input and play it back. It has a built-in macro editor that can be used to view and edit the captured video. But you'd better ensure you are very familiar with the process and make a few mistakes when recording because it will also capture every mistake you make. The smoother the mouse recorded sequence, the more efficient the playback.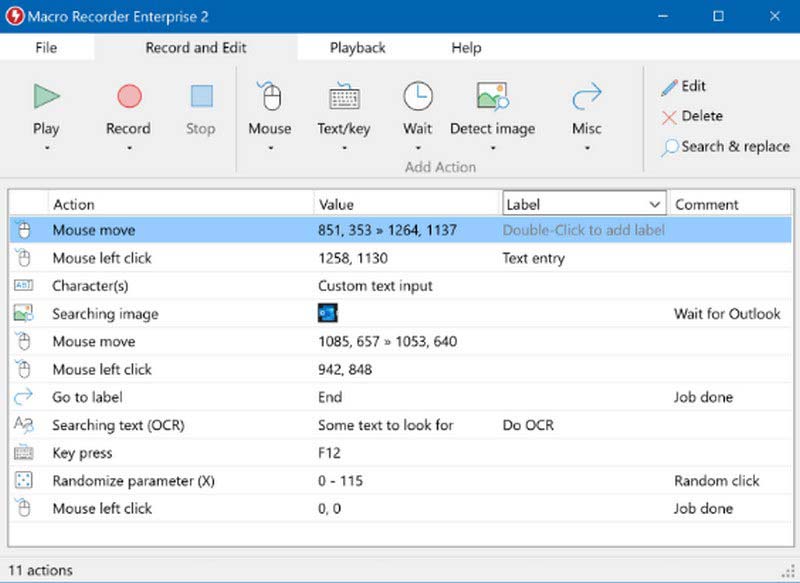 Pros :
Can be used to solve more complex problem-solving tasks.
Easy to edit. You can easily modify your macros to suit your needs.
Can be applied to Microsoft Word, Excel, and PowerPoint.
Cons :
Takes up a lot of storage space.
Mechanically takes a snapshot of the actions, making the code confusing and useless.
Relatively complex to operate.
ReMouse
ReMouse software, developed by AutomaticSolution Software, is available for Windows systems, including Windows 7, Windows 8, Windows 10, and 64-bit. It allows you to record mouse and keyboard actions and save them as script files for later use. Its interface is quite simple and does not require you to do complex programming.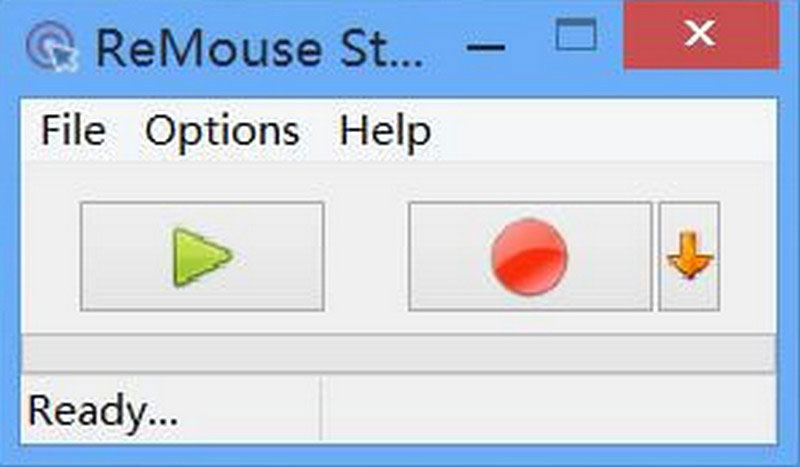 Pros :
Provide simple and easy-to-use pages.
Can run multiple tasks simultaneously.
Do not require programming knowledge.
Cons :
Only four free accesses are available.
Unable to edit or run the acquired file script.
Jitbit Macro Recorder
Jitbit Macro Recorder is a powerful mouse and keyboard recorder that also helps you convert macros to EVE files and save them to disk for later use. It has a user-friendly interface and does not require very complicated operations. In addition, you can use it to edit your files.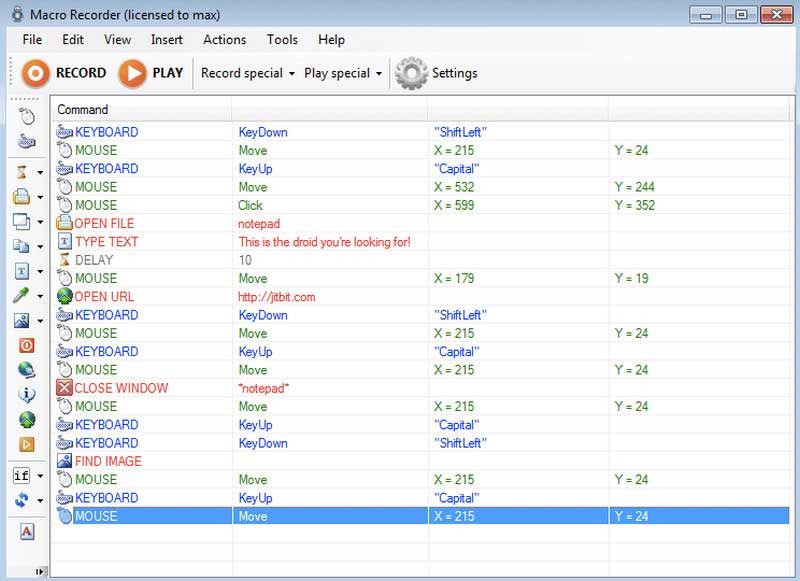 Pros :
Simple and flexible operation.
Allows creation of shortcuts to help write text.
Offer built-in Visual Macro Maker to edit your macros.
Cons :
Sometimes, the program will lag in operation.
Some glitches can occur. Not very stable.
Part 2. Best Mouse Recorder to Highlight Mouse Movement
ArkThinker Screen Recorder is a professional mouse movements recording software. You can use it to record audio, video, games, webcam, etc. And you can freely adjust the range of the recorded picture and the source of the recorded sound. It will record the process of operation or games without any delay, and the recorded audio will be of the maximum original quality. In addition to recording on your computer, it can also be used to record your phone screen on your computer. This tool will provide a one-stop service if you want to edit, enhance, or convert the recorded video. This powerful and comprehensive feature makes it the most trusted tool among users. With a simple and clear interface, you can record your mouse and keyboard movements as you wish without any expertise.
ArkThinker Screen Recorder
Record videos, audio, webcam, gameplay, mouse movements, etc., without delay.
Allows to specify a specific window or screen size for recording.
Offer various tools for editing recorded videos.
Support compressed video and converted video.
Support recording iPhone screen and Android screen on the computer.
If you want to use it to capture the mouse movement, you can find the mouse recorder on the interface.

It supports you to freely set the color and area style of the mouse during the recording process. You can also set it to show your keyboard on the screen. During the recording process, the movement of your mouse will be recorded without any delay.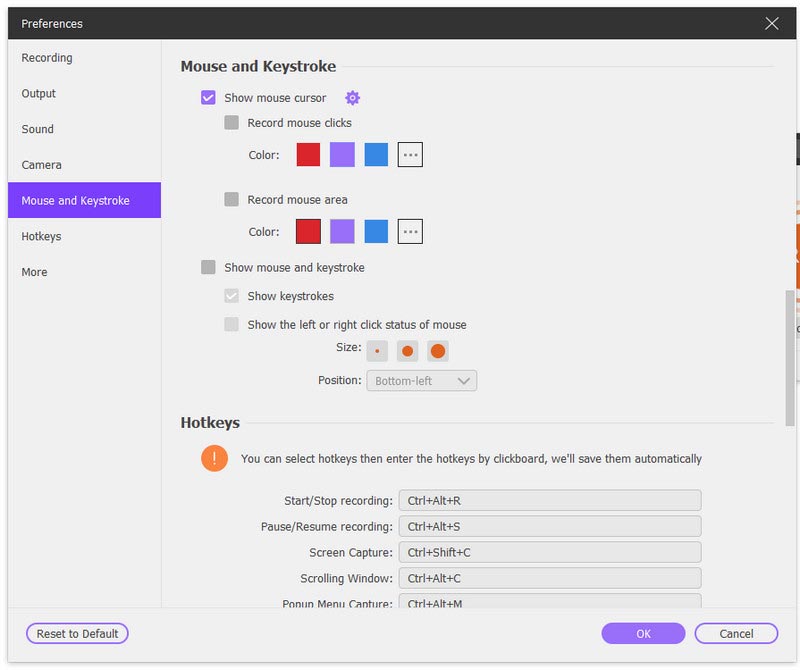 This tool is completely secure and does not capture your private information during the recording process, nor does it carry any viruses or malware so that you can use it confidently. Besides these features mentioned above, it has more tools to be discovered by you. Get it and try it out!
Part 3. FAQs About Mouse Recorder
Can a hacker move your mouse?
Hackers can control your mouse when you don't know it. Someone controls your computer if you see the cursor not moving under your control and an application is clicked or opened. This situation is quite dangerous, and at this point, you want to disconnect your device from the Internet immediately.
How do I turn on mouse highlighting?
First, open Settings on your computer, then choose Devices. Then a new window will be opened. You will find Mouse in the left sidebar. Click it. If you want to highlight your mouse or change the style of your mouse, choose Adjust mouse & cursor size or Additional mouse options on the right side of the page. These two options will help you personalize your mouse style.
How do I record my screen on Windows 10/11 without an app?
Windows PC has a useful screen recording tool inside the Xbox Game Bar. You can wake up the screen recording window by pressing the Win + Alt + R shortcut on your keyboard. With its help, you don't need to download additional software for recording the screen on Windows. But before recording, you must set the recording screen and the sound.
How to record your screen on Mac?
Mac computers have a screen recording tool called Screenshot. You can hold Shift + Command + 5 on your keyboard at the same time. Then you can start screen recording on demand. Also, QuickTime Player is a good choice, with a wider variety of settings available to you.
Why is my mouse movement weird?
If you find that your mouse movement track is very smooth or can not follow your instructions to move in the specified direction, it may be because your mouse's scroll wheel is in debris or stains. You can also check the bottom of the mouse and carefully clean it.
Conclusion
In this article, we detail 3 free mouse recorders and briefly analyze their features and pros and cons. In addition, we also recommend one of the best tools for recording mouse movements to help you. You can choose the one that suits you best according to your preference. We hope our content can be helpful to you. If you have better tool recommendations or other opinions, please feel free to leave your comments.
What do you think of this post? Click to rate this post.
Excellent
Rating: 4.9 / 5 (based on 360 votes)