All-In-One Answer to How to Screen Record Instagram Story
In this era of the rise of social media, many people tend to share their lives by posting videos and tweets on these platforms. Some interesting and exciting content also attracts many followers' attention and favorites. Have you ever seen a video you liked so much while swiping through Instagram that you wanted to record and save it? Maybe you are looking for details on how to screen record Instagram stories and the tools to do so. Also, since posting videos involves copyright issues, you may be concerned about whether Instagram will notify the publisher when you record a video.
To answer your questions and help you save your favorite videos smoothly, we will analyze in this article under what circumstances Instagram notifies publishers when you record a video. We will also recommend one of the most useful video recording tools to help you record videos on Instagram. Read on and explore with us.

GUIDE LIST
Part 1. Does Instagram Notify the Sender When You Screen Record Their Stories
In general, Instagram does not notify publishers when you try to screen record posts, stories, and reels. So if you want to record video clips of your interest and live stream, you don't need to worry about being found out.
However, there are two situations where people can see if you screen record their Instagram story.
◆ When you want to take a screenshot of a disappearing video or photos in the Direct Message.
◆ When you want to record videos in private DM threads.
Part 2. How to Screen Record Instagram Story & Instagram Live
When you see a great video on Instagram or watch your favorite blogger's live stream, you may want to record your favorite clip in the form of a screen recording. To help you, we'll explain the steps to Instagram screen recording in detail, using iPhone as an example. Phones usually have their recording function so you can do it directly on the device.
Step 1
If your phone's control center does not add screen recording, you can go to Settings > Control Center > Customize Controls to add it.
Step 2
Open the Instagram video you want to record.
Step 3
Launch the Control Center by swiping up from the bottom of your screen. Tap Screen Recorder to start.
Step 4
When the recording is complete, open the Control Center, and tap the Screen Recorder icon again.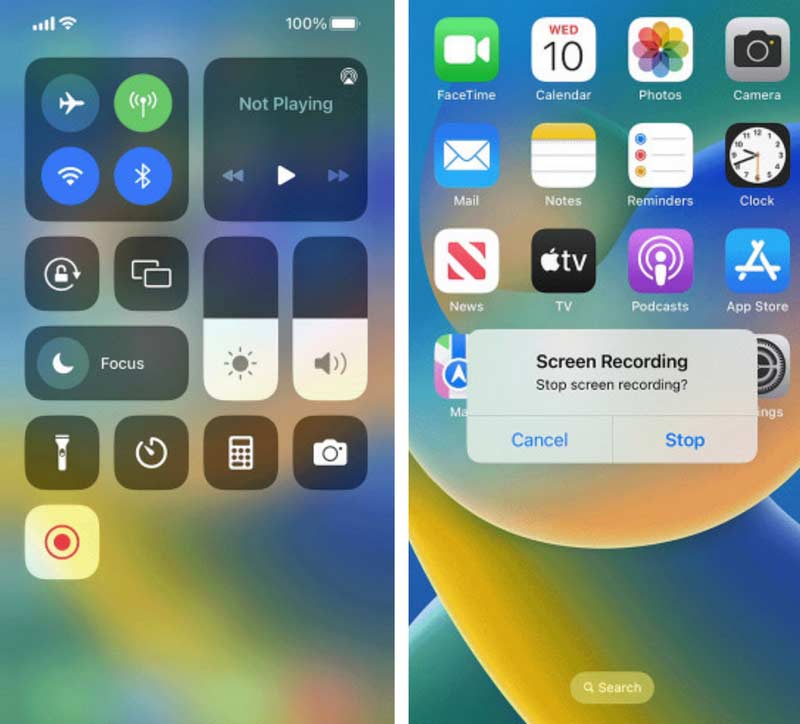 Part 3. Best Way to Record Video on Instagram
To help you screen record your favorite Instagram videos we highly recommend you try one of the best screen recording software, ArkThinker Screen Recorder. This software supports you to record the Instagram content on your screen at any time. During the recording process, you can freely choose the source of the recorded sound. Whether you are recording the system or microphone sound, the tool ensures the sound quality is not lost. It does not matter if you are recording a video, a game, or a video conference. This tool will record it without any delay.
In addition to recording content on your computer, you can even record Instagram content on your phone's screen by connecting it to your computer. The range of the recorded screen is also free for you to decide. Besides, ArkThinker Screen Recorder also provides one-stop video processing functions, including editing, compression, trimming, merging, converting, etc. With such a comprehensive and powerful tool, we believe you can get videos as you like.
Here we will provide a guide to help you record Instagram posts.
Step 1
Download and install ArkThinker Screen Recorder on your computer, then choose Phone on the interface.

Step 2
Choose the type of your device on the new window.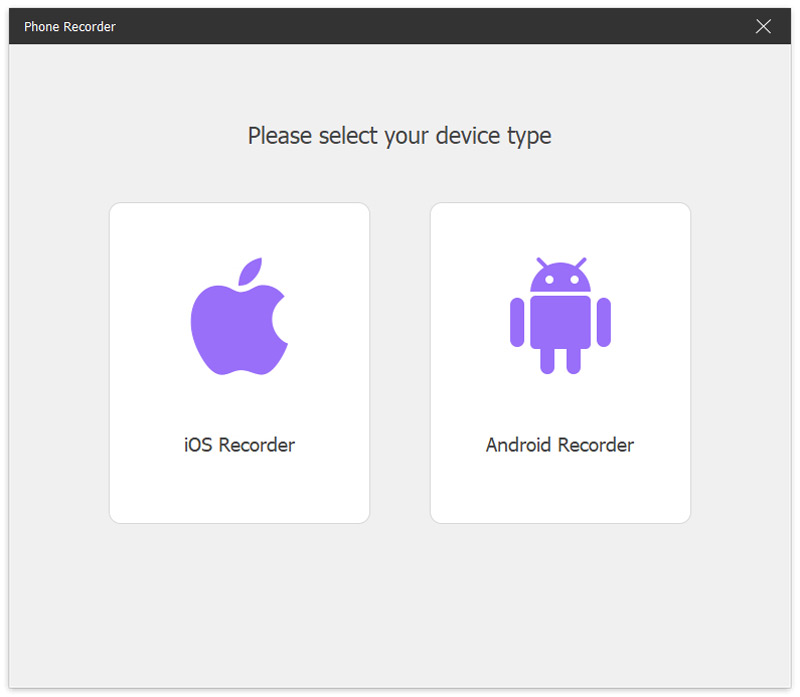 Step 3
Mirror your mobile phone to the computer through the Control Center on your device.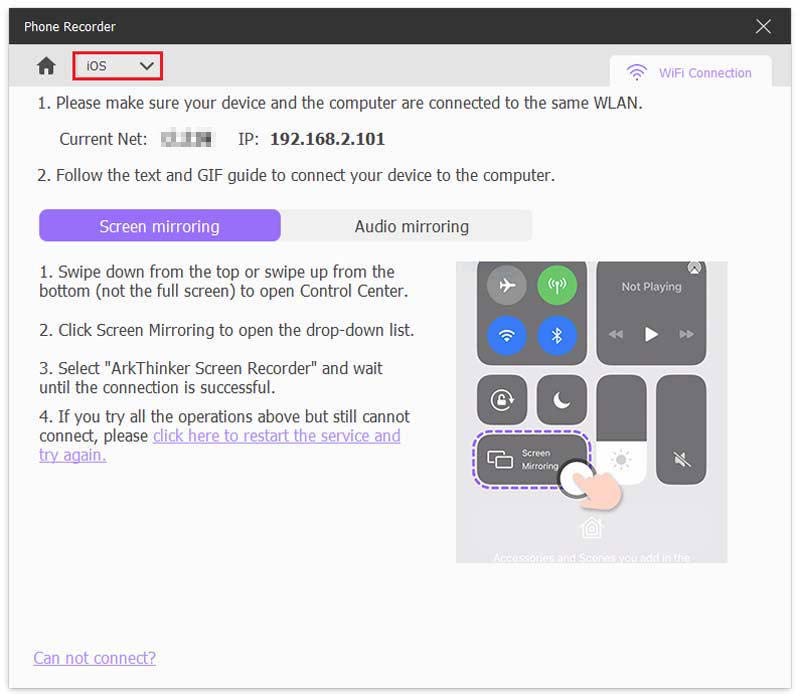 Step 4
Once connected, you can view your phone screen on the computer. Open the video you want to record, and you can start recording now.
If you want to record Instagram lives or posts on the computer, you can open Instagram directly on your computer and use our Video Recorder to record your screen.
Part 4. FAQs About Screen Record Instagram Story
How long do Instagram Stories last?
Generally speaking, Instagram story videos will only last for 24 hours. Then they disappear from Feed, your profile, and Direct. If you want to keep them, you can add them to highlight so they will be kept on your profile forever.
Can websites detect screen recordings?
It depends on what type of recording tool you are using. The website will detect your actions if you record through browsers, extensions, or browser plugins. However, if you use recording software separate from the browser, your recording actions will not be detected.
What are the best post formats for Instagram?
If you want to upload a video file to Instagram, it's best to ensure your video is in MP4, MOV, or GIF format. Generally speaking, the best choice is probably still MP4 format. It has the widest range of adaptability and allows for the best quality and playback.
Does screen recording lower video quality?
Sometimes recording video may reduce the quality of the video. Essentially there is no loss of quality in the video being played, but there may be some change in picture size during playback on the player. And the monitor as a medium may cause some quality loss due to its parameters. Therefore, you can record the video being played directly, which may result in quality degradation.
Can I share my screen-recording videos with others?
It depends on your purpose. It is perfectly fine if you just want to watch it yourself or share it with friends. But it is illegal if you screen-recorded videos on Tik Tok, Instagram, and other social media platforms and publish them without the original author's permission or use them for profit.
Conclusion
In this article, we explain in detail how to smoothly screen record Instagram posts and under what circumstances the publisher will know your recording. For your video recording needs, we recommend powerful Instagram screen recording software to ensure you get lossless videos easily and quickly. We hope that the content we have provided answers your questions and that our recommended products meet your needs. If you have other opinions or suggestions, please feel free to leave a comment and discuss them with us!
What do you think of this post? Click to rate this post.
Excellent
Rating: 4.9 / 5 (based on 678 votes)