2 Different Ways to Record Your Webex Meetings
In our increasingly digital world, it is essential for businesses, educational institutions, and individuals to effectively communicate and collaborate remotely. One solution that has gained significant popularity is Webex, a robust and feature-rich video conferencing platform.
Among its extensive range of capabilities, Webex recording stands out as a valuable tool for capturing and preserving important content shared during virtual meetings. This post will guide you to know more about Webex recording. You can learn to record Webex meetings as a host or a participant.

GUIDE LIST
Part 1. What Is Webex Recording
Webex recording is a built-in feature of the Webex platform that lets you easily record your meetings, presentations, training sessions, and webinars. It captures audio, video, and any shared content, enabling participants to review and refer to the recorded material at their convenience. The recordings can be accessed and shared via the Webex interface or downloaded for offline viewing.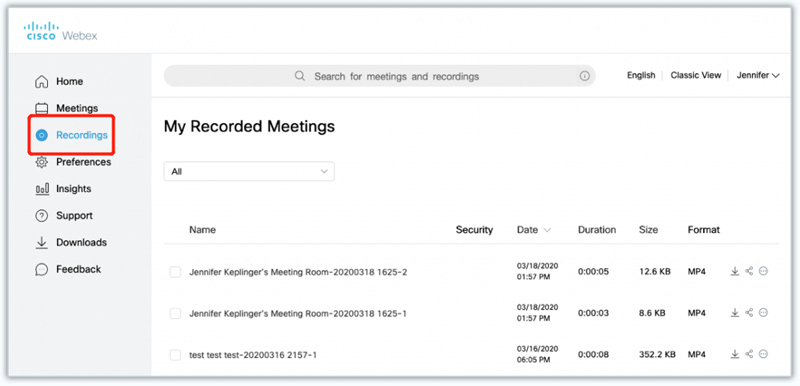 Webex recording allows organizations and individuals to store important information shared during meetings, ensuring that it is not lost or forgotten. Participants can refer to the recordings for clarification, training purposes, or to refresh their memory on critical details. Recorded Webex meetings, webinars, and sessions can be shared with team members who weren't present during the live meeting. That fosters collaboration and inclusive decision-making, as individuals can catch up on discussions and contribute their insights, regardless of their availability during the meeting.
Part 2. Default Way to Record Webex Meetings
Webex recorder is an integral feature of the Webex Meetings platform that enables participants to easily record their online meetings. It provides a valuable resource for those who want to review important discussions, share content with absent colleagues, or retain information for future reference. If you are the Webex meeting host, you can easily use the built-in recorder to make your Webex recording.
Step 1
To start using the Webex recorder, you need to have the Webex Meetings application installed on your device. Or you can go to the official Webex website and sign in to your account.
Step 2
Start a meeting and locate the Record button in the meeting controls toolbar. You can click the Record button to initiate the Webex recording. Once the meeting concludes, stop the recording by clicking the Stop Recording button.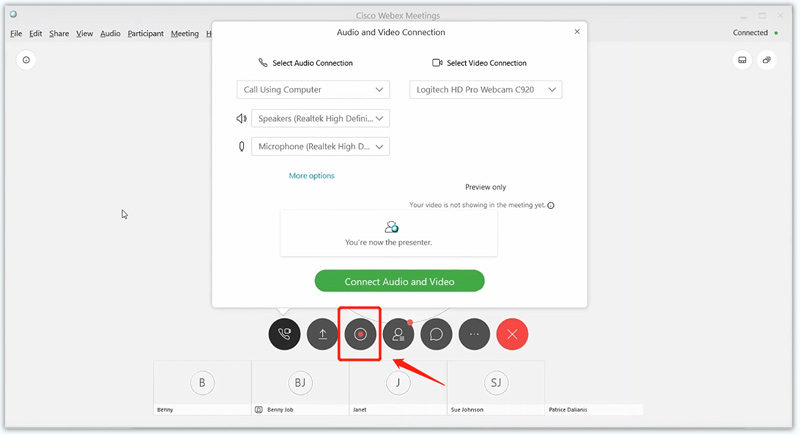 Webex recorder offers flexible recording options to cater to various meeting scenarios. Full Meeting Recording captures the entire meeting, including audio, video, shared screens, and discussions or Q&A sessions. With the Selected Area Recording option, you can record specific areas of the Webex meeting, such as shared screens, a particular presenter, or a particular participant. If you only need an audio record of the meeting, use Audio-Only Recording to capture the audio stream without recording the video.
Part 3. Best Recorder to Record Webex Meetings As a Participant
The inbuilt Webex recorder will store your recordings as WRF files. You have to convert WRF to WMV using the Webex Recording Editor. What's worse, you may not have the authority to record the Webex meeting as a participant. ArkThinker Screen Recorder is a powerful video and audio recording software that can record Webex meetings without limits. You can free download it on your computer and take the steps below to start the Webex recording.
Step 1
Open this Webex recording software and choose the Video Recorder feature. If you only need to capture audio of the Webex meeting, you can select Audio Recorder. As you can see, it also allows you to capture your gameplay, webcam, and activities on iOS/Android devices.

Step 2
When you start or join a Webex meeting as a host, alternate host, co-host, or attendee, you can customize the recording area, select the audio source, then click the REC button to record a Webex meeting.

Step 3
During the Webex recording process, you can freely pause, continue, or stop it according to your need. When the meeting concludes, click the Stop button and save the recording in your desired output format.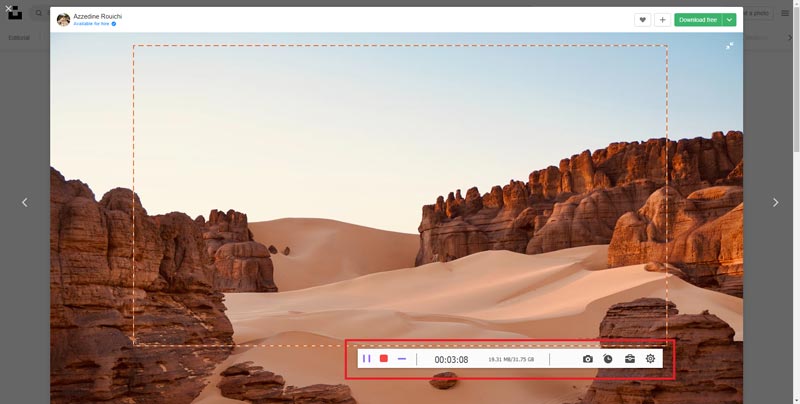 Part 4. FAQs of Webex Recording
Why can't I record my Webex meeting?
You may be experiencing difficulties recording a Webex meeting for several reasons. If you are not the host or have not been granted recording permissions by the host, you may not be able to record the meeting. Make sure to check with the host or organizer for permission. If the meeting host has disabled the recording feature, participants cannot record. Reach out to the host or organizer to inquire about the recording settings. Occasionally, network or technical issues can disrupt the recording functionality.
Where is my Webex recording stored?
By default, Webex recorder will save your recordings locally on your device. You can select the destination folder and target file format for your recordings. Besides, Webex offers the option to automatically save your recordings to the cloud. It provides added convenience and accessibility. You can locate and access your Webex recordings from any device with an internet connection.
Can I share my Webex recording through email?
Yes. Once you have recorded a meeting on Webex, you can share the recording with others via email. Also, Webex lets you share it on a file-sharing platform or upload it to a content management system.
Conclusion
This post shares two effective methods to record Webex meetings. You can follow the guide above whether you want to review a discussion, share content with absent colleagues, or keep a comprehensive record of your meetings. Hope you can make the most of the powerful Webex recording and elevate your online collaboration experience.
What do you think of this post? Click to rate this post.
Excellent
Rating: 4.9 / 5 (based on 396 votes)