ScreenRec Review | Details, Features & More
Recording screens has become a familiar part of our daily work, especially during meetings. It ensures that we won't miss any initial notifications or information. ScreenRec focuses on capturing desktop, webcam, audio, and voice. It makes it easy to share ideas with colleagues. This ScreenRec review will examine the features, pros and cons, performance, and all you need to know about ScreenRec.

GUIDE LIST
Part 1. About ScreenRec
ScreenRec is a program that helps individuals and business users take screenshots and record screens. It also offers ways for them to annotate the captured images. By providing these services, ScreenRec allows users to upload their recordings to its secure platform and share them by links. Through its main capabilities, ScreenRec facilitates the recording process for business. If you have these requirements, feel free to download it from the ScreenRec website.
Pros :
Tiny interface that can be pinned to stay minimized.
Clear instructions before screenshot or recording.
Unlimited recording and no watermarks once logged in.
Cons :
The download time is too long.
Users can't select the entire screen or a window automatically.
Requirements
1. ScreenRec for Windows
◆ Windows 7 or later (32 & 64-bit supported).
◆ SSE2-capable Intel Pentium 4 processor or higher.
◆ 1024 MB of RAM minimum.
◆ MS Visual C++ Redistributable 2015 64 bits.
2. ScreenRec for Mac OS
◆ macOS 11, 12, 13.
◆ Macs with Apple Silicon chips or Intel chips.
◆ 2GB of RAM minimum.
Part 2. ScreenRec: Features
ScreenRec offers features to simplify the recording process for individuals and businesses. With its user-friendly interface, you can record everything you want in just one click. By doing so, it improves both your productivity and creativity. The entire interface of ScreenRec solely comprises a toolbar. It is even smaller than a standard computer icon on your desktop. This enables you to save time and focus on your work without frequently switching between different software.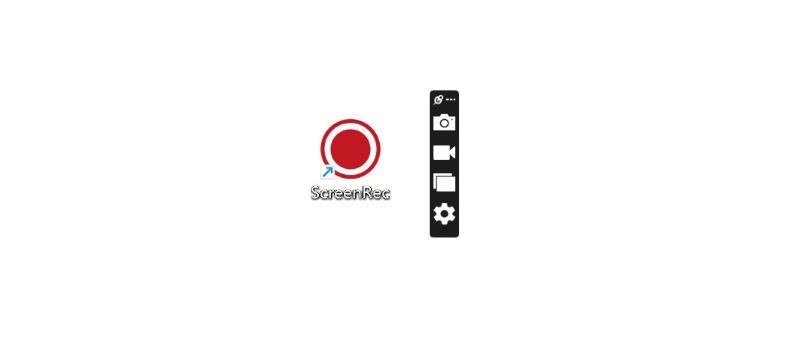 One of the standout features is Image Annotation, which allows you to add text and stickers to the screenshots. In this way, you can highlight details, write down ideas, and make your own comments. Upon completion, you can immediately share the image with others by either copying a sharable link or the actual image to the clipboard. You may also save it to your computer. Normally, we can only alter the image name in a pop-up system window. But with ScreenRec, you can edit and name the image on the same interface. This feature is extremely helpful when you need to take multiple screenshots and sort them efficiently.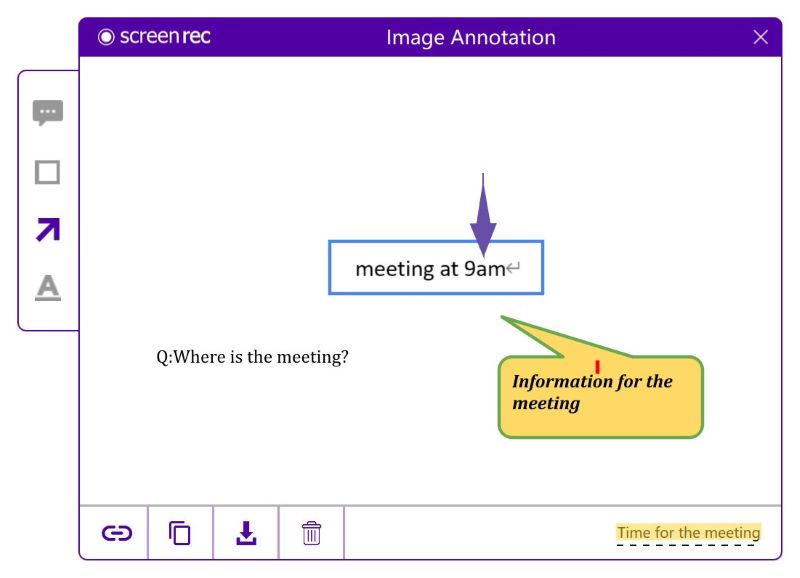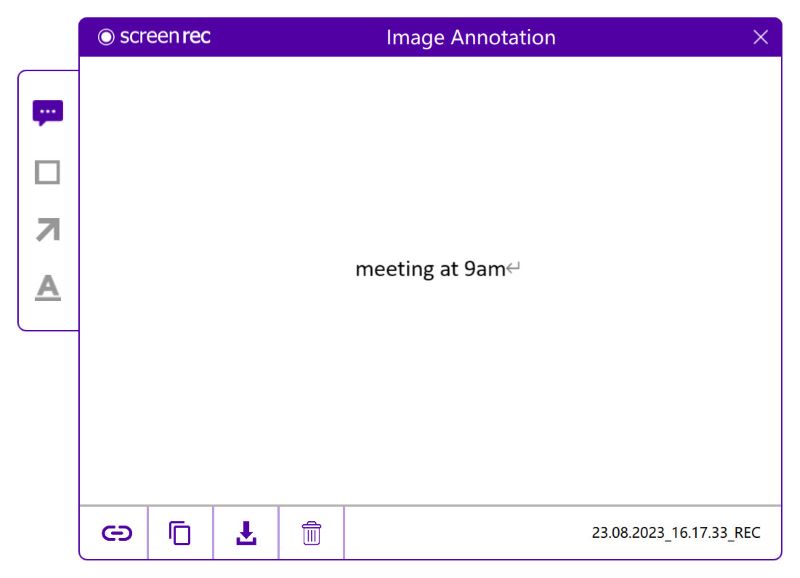 ScreenRec also allows you to analyze the images you share. You can see who watched your content and for how long. For example, if you post a notification in a group chat, you can make sure that all the members have read it. This feature also helps to protect your privacy.
Part 3. ScreenRec: Ease of Use
ScreenRec has taken steps to make the recording process more efficient. You can always record offline and save the files onto your computer. As soon as you're online, the files will be uploaded to the cloud automatically. You can also find the recorded videos in Gallery and share them anytime.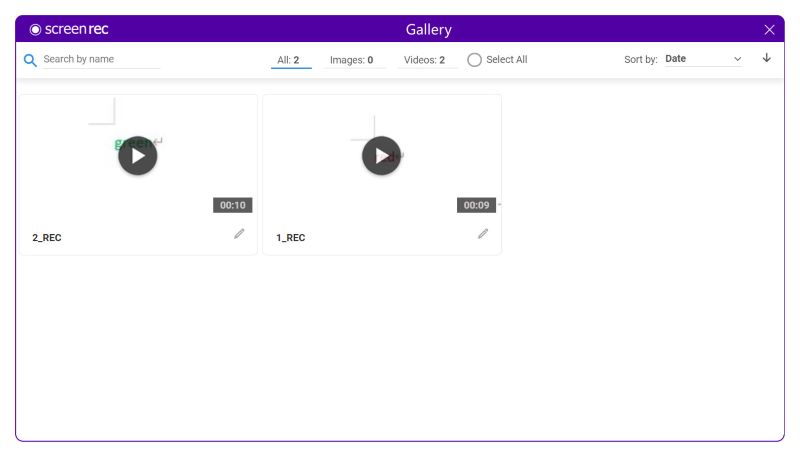 Despite the ease of saving, it only takes a few clicks to share your images with other people. All you need to do is copy the sharable link or the image itself and paste it into the dialog boxes of your preferred social media platform. For example, you may have to give feedback on some articles. In this case, you can screenshot a sentence and type comments on the image before sending it back to the author. This type of feedback is easier and more straightforward for the recipient to understand. The entire process is simple, and there are no watermarks on the shared images.
Part 4. ScreenRec: Privacy and Security
ScreenRec is completely safe and virus-free. You may use ScreenRec for either personal or commercial purposes. It provides enterprise-grade security with 128-bit encryption to protect your screenshots and recordings. If you don't want your videos to be accessible to everyone, you can set a password to view or restrict access to specific users.
Part 5. Alternative to ScreenRec: ArkThinker Screen Recorder

ArkThinker Screen Recorder is a versatile program for video and audio recording and live streaming. It impresses users with its professionalism. The relevant setups can be very detailed when it comes to photo and video recording. However, both novices and experienced users can quickly master the program, as it provides step-by-step guides. It is also convenient in helping users capture a window, a webcam, or a phone automatically. If you have specific requirements for size or quality, you're free to alter them on the main interface.
In addition to the functions offered in the recording process, ArkThinker Screen Recorder also provides features that help you get prepared. The software includes Auto Stop and Task Schedule, which allow for easy recording. Users can set the start and end times, the recording duration, and even schedule recordings for specific dates. At the same time, ArkThinker Screen Recorder includes the Record Watermark feature to protect your content. You may add a picture or text watermark before recording to prevent unauthorized use.
Part 6. FAQ
Does ScreenRec have a time limit?
There is a limit of five minutes for recordings if you are not logged in. But once you are logged in, the time is unlimited.
Does ScreenRec record audio?
Yes, it can record your computer sound or narrate with your microphone.
How to convert ScreenRec to MP4
The recorded video is exported in MP4 format, so there's no need to convert.
Conclusion
All in all, ScreenRec is a suitable solution for desktop capture and recording. It is a free program with an easy-to-understand interface, a powerful annotation function, and a strict privacy policy. Therefore, ScreenRec is worth considering as your first choice. However, if you have the need to edit recorded videos, ArkThinker Screen Recorder is also a desirable choice for you.
What do you think of this post? Click to rate this post.
Excellent
Rating: 4.9 / 5 (based on 624 votes)