VSDC Free Screen Recorder Review – Introduction, Guide & Alternative
A screen recorder plays a pivotal role in our daily tasks, whether it's unveiling a new product, creating tutorial videos, recording online meetings, boosting website traffic with marketing videos, or capturing various activities. Fortunately, the abundance of free and premium screen recorders offers us a wide selection to choose from, each with its unique features and suitability. However, choosing the right one can be time-consuming, especially if you're new to this landscape.
That's where authentic reviews come into play, simplifying the decision-making process. After reading this article, you'll no longer need to worry. We've meticulously conducted a thorough evaluation of VSDC screen recorder, assessing it from various angles to present you with an in-depth review. Furthermore, we've identified another application that not only matches VSDC in terms of features and price but is also suitable for Mac users. Let's jump right in and explore these exceptional screen recording options!

GUIDE LIST
Part 1. Understanding VSDC Screen Recorder
VSDC Screen Recorder is a versatile and powerful tool designed for capturing the activity on your PC screen and save it in the MP4 format. With this application, you have the freedom to capture your entire desktop screen, a specific area, or even the window of a video game, regardless of its resolution. You can also connect inbuilt or external devices — including microphones, webcams, or video capture cards — and use all of them simultaneously. Remarkably, this app enables free recording in 4K UHD quality absolutely for free. Whether you're a content creator, educator, or simply someone who wants to save memorable moments, VSDC Screen Recorder provides a user-friendly platform to get the job done.
Without further ado, let's dive straight into VSDC Screen Recorder, an exceptional tool for capturing and creating videos in today's trending digital landscape.
Functions of VSDC Screen Recorder
Desktop Screen Capture
Aside from its primary feature of desktop screen recording, VSDC also offers the convenience of capturing desktop screenshots. This feature allows users to take snapshots of their desktop and save them as image files for various purposes.
Recording Video Games
Not every screen recorder offers smooth and stunning game recording. However, with VSDC you can record 2D and 3D game screens in 4K quality with impressive frame rates of up to 480 fps.
Audio and Video Narration
Many screen recorders lack support for local audio and video connectors, but VSDC breaks this mold. You have the flexibility to connect various audio and video-capturing devices and seamlessly integrate them with this screen recorder.
Connect Multiple Devices
Unlike many recorders using just a microphone, VSDC allows multiple device connections like webcams, microphones, and line-ins.
Integrated Drawing Tools
VSDC offers built-in drawing tools for annotating and highlighting screen content during recording, which could enhance the clarity of your content.
Capture External Video
One remarkable feature of VSDC is its ability to record content from your TV or other video consoles in your home equipped with an HDMI port. All you need is an HDMI cable to connect your TV to your PC, enabling you to record content with ease.
Pricing of VSDC Screen Recorder
The great news is that VSDC Screen Recorder is COMPLETELY FREE!
It doesn't cost a dime for users to enjoy its impressive features and functionalities without the need to open their wallets.
Part 2. Pros and Cons of VSDC Screen Recorder
Perfection is elusive, and in the realm of software, the key lies in finding a balance between the software's strengths and weaknesses. While VSDC Screen Recorder is highly regarded as an exceptional screen recording tool, it's essential to explore both its advantages and limitations. Let's examine the pros and cons in this section.
Pros:
◆ User-Friendly: VSDC Screen Recorder offers a straightforward and intuitive interface, making it accessible for all levels of users.
◆ Customizable: It offers flexibility to select specific recording areas, adjust audio settings, and more.
◆ Global Support Center: VSDC features a worldwide support system to assist users in resolving issues or answering queries.
◆ Optimized Game Recording: VSDC delivers high fps and top-quality video recordings.
◆ Free to Use: VSDC Screen Free Recorder is available at no cost. You can benefit from regular free software updates.
Cons:
◆ Limited Editing: While it offers basic editing, it may not meet the needs of users requiring advanced video editing features.
◆ Windows Exclusive: VSDC is primarily designed for Windows users. It can only work on Microsoft Win 8, Win 8.1, Win 10, and Win 11.
◆ Watermark: The free version of VSDC may add a watermark to your recordings.
Part 3. How to Use and Stop VSDC Screen Recorder
Having covered the extensive list of VSDC's features, let's take the next step and initiate the download process for VSDC. To keep things straightforward and concise, we'll break it down into a series of steps in the upcoming sections.
Step 1
Download and Install VSDC
Visit its official website or trusted software distribution platform to download the software. Follow the installation instructions to set it up on your computer.
Step 2
Launch VSDC Screen Recorder and Record Screen
Once installed, launch VSDC Screen Recorder. The user-friendly interface will greet you. Choose the specific area of your screen that you want to capture. You can select the full screen or customize the dimensions as needed. Click start recording, the app will start recording the whole screen.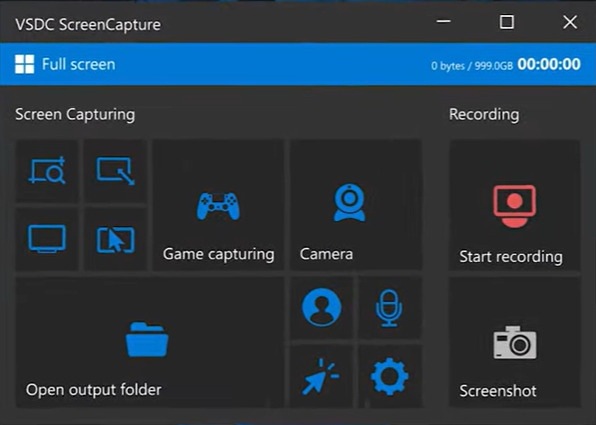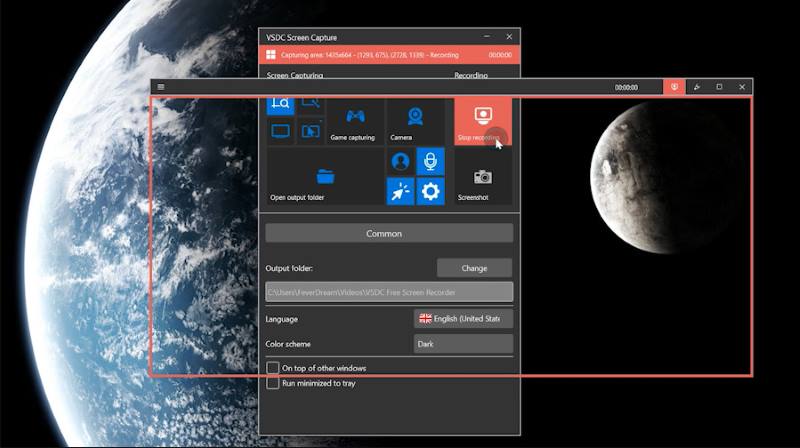 Part 4. Best Alternative to VSDC Screen Recorder
VSDC certainly stands out as an exceptional screen recorder, as we've explored in this article. Yet, it's always a wise practice to consider alternatives, especially if you're seeking an application with even more extensive capabilities, and one that caters to Mac users as well. With this in mind, let's introduce you to a similar application – ArkThinker Screen Recorder.
ArkThinker Screen Recorder is an easy-to-use software that is very convenient for users looking for a one-stop software that offers recording video, audio, and screenshot features. Its intuitive design with prominent thumbnails and innovative features like annotations sets it apart from other recording software. With ArkThinker, you can expect high-resolution video recording without delays, ensuring crystal-clear system and audio capture. Whether you're gaming, conducting presentations, recording films, meetings, or tutorials, ArkThinker Screen Recorder delivers exceptional performance. What's more, you can even use ArkThinker Screen Recorder to capture the screens of both iPhone and Android devices on your computer, providing versatility for a range of recording needs.

Outstanding Functions of ArkThinker
Record screen or video with audio on computer.
Record the computer system audio or microphone sound only.
Record gameplay, webcam, and window on the computer.
Capture iOS and Android devices screens on PC.
Take snapshots on a specific screen, scrolling window, and pop-up menu.
Apart from recording video, audio, gameplay, and the phone screen, ArkThinker Screen Recorder is also equipped with more helpful features.
1. Window Recorder: You can use the Window Recorder function when you open multiple windows but want to record only one.
2. File Compressor: After recording, if you think that these recorded files are too large, you can compress the video and audio files.
3. Video Trimmer: In this function, you can cut your recorded video into several parts or remove unwanted parts.
4. File Converter: If the recorded file is not supported by the platform you are going to upload, you can convert their formats.
5. Media Metadata Editor: After exporting the recording file, you can edit the file's ID3 tag, name, cover, album, year, track, etc.
6. File Merger: With this tool, you can combine your recorded video and audio files and your local files.
ArkThinker Screen Recorder is not just a screen recorder; it's a comprehensive multimedia toolkit designed to simplify your recording and editing tasks. It's time to explore the difference with ArkThinker Screen Recorder. Download it today and experience the full spectrum of its capabilities. Your recording and editing needs are in capable hands.
Part 5. FAQs about VSDC Screen Recorder
Is VSDC really free?
Actually VSDC Screen Recorder has two versions: Free version and Pro version. The Free version is totally free. And the Pro version will cost you $19.99.
Does the free version of VSDC Screen Recorder have watermark?
No. Even if you choose the free version, it will not add watermark to your video.
Is it safe to use VSDC Screen Recorder?
Yes. There are no reported scams or damage problems for now.
Conclusion
While numerous applications similar to VSDC can be found on the internet, the key lies in making an efficient choice. A discerning user often seeks out an application with honest and thorough reviews before making their decision. This article, born from comprehensive research on various screen recorders, aims to provide you with the optimal choice among them all. We hope that after reading this article, it has effectively served its fundamental purpose: to guide you towards the best screen recording solution for your specific needs.
What do you think of this post? Click to rate this post.
Excellent
Rating: 4.9 / 5 (based on 377 votes)