ADV Screen Recorder Review: An Excellent App for Capturing Content on Android
Have you ever needed to record on-screen activities for tutorials, app guides, gameplay, video creation, or any other purpose? Fortunately, ADV Screen Recorder is an excellent all-in-one solution. Equipped with a simple interface and strong capabilities, ADV enables you to capture any on-screen content in high quality. Moreover, this amazing tool allows you to record your voice and internal audio, draw on the screen in any color, pause or resume recording at any time, and much more. You can download ADV Screen Recorder from the Google Play Store for free. Go ahead and uncover more impressive features of the ADV Screen Recorder app.

GUIDE LIST
Part 1. Quick Review of ADV Screen Recorder
ADV Screen Recorder is a remarkable app for high-quality screen recording for Android users, working smoothly on your smartphone with no lag, without the need for rooting your device. Safe and reliable, this amazing tool allows you to capture any screen activity without watermarks. What's more, ADV Screen Recorder offers numerous amazing features, like recording internal audio. This easy app is free to use for simple screen and audio recordings on Android. But there is an in-app purchase if you want to unlock advanced features.
Pros and Cons of ADV Screen Recorder
Pros :
Capture any content on Android devices for free.
You can draw or write on the screen with any colors.
Permit to use the Front or Back camera.
Record microphone and internal audio.
Pause and resume the recordings at any moment.
Support adding text or images as a watermark.
It has an easy-to-use interface.
Cons :
ADV Screen Recorder doesn't support the iOS system.
Lack of more advanced annotation tools, like eraser, rectangle, arrow, and zoom.
Consume significant storage space for high-resolution recordings.
How to Use ADV Screen Recorder on Android
Step 1
Download and install ADV Screen Recorder from your Google Play Store.
Step 2
Open the app and customize your recording settings.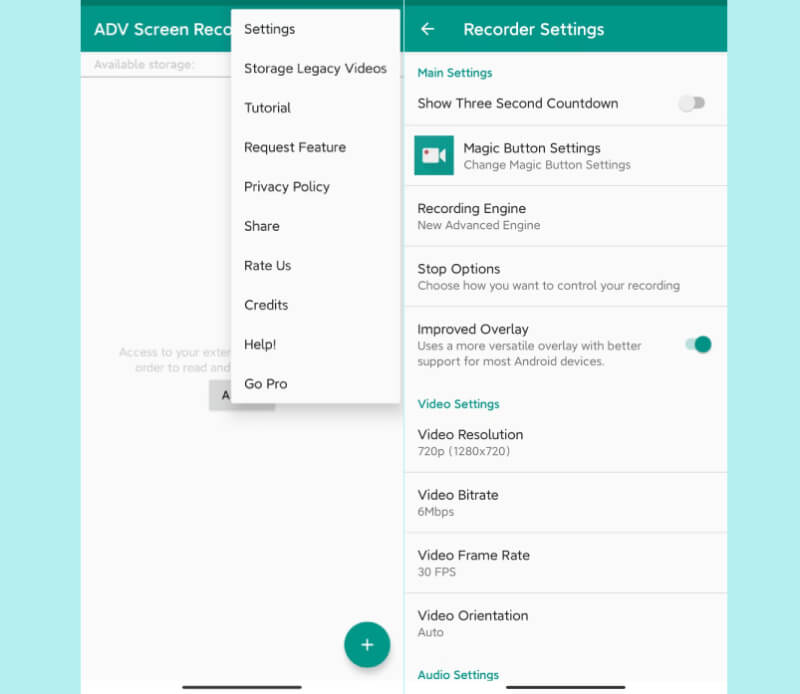 Step 3
Tap the Start icon to start recording. While recording, you can use the drawing tool to make marks on the screen.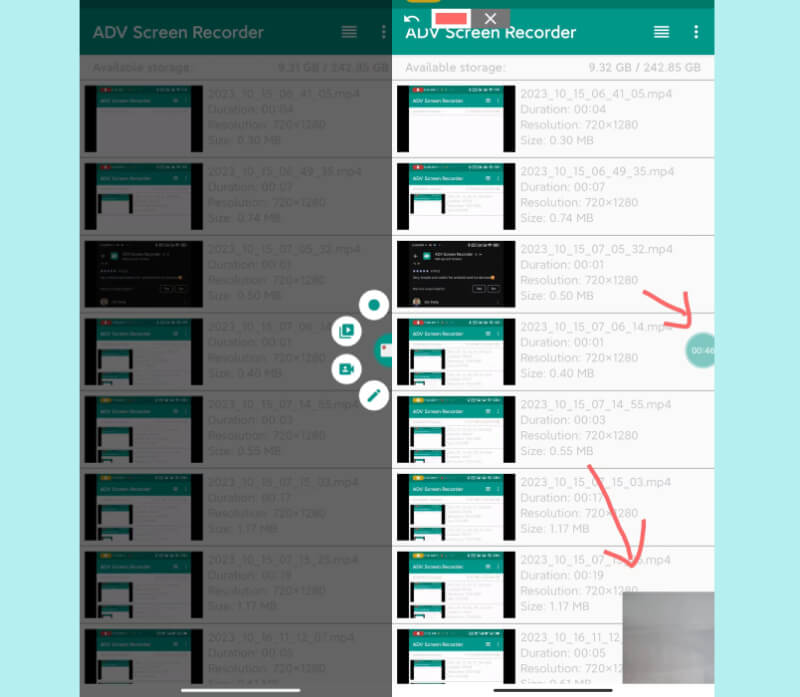 Step 4
To end the recording, tap the Stop icon. Your video will be saved automatically. To trim, share, or rename the video (a pro feature), long-press the video file in the ADV Screen Recorder.
Tip: Usually, the video icon can be found as a plus sign in ADV Screen Recorder, and you can use that icon to start recording, open folders, activate the camera, and draw on the clip.
Part 2. Tip: Easier Alternative to ADV Screen Recorder on Windows/Mac
ADV Screen Recorder is a powerful recorder application, but it's not compatible with the iOS system. Moreover, if you wish to use ADV Screen Recorder on your PC for Windows or Mac, you'll need to install an Android Emulator before you can run the app directly. Alternatively, you can consider installing ArkThinker Screen Recorder, a superior alternative to ADV Screen Recorder on Windows and Mac. As a reliable software with a user-friendly interface, ArkThinker Screen Recorder empowers you to capture on-screen content easily. You can record various types of content and even edit the recorded files on the app with a wide range of versatile tools it offers.
ArkThinker Screen Recorder
Record screen on your computer in various situations like gameplay, online meetings, etc.
Record microphone sound and computer system audio.
Provide various tools for better annotating and recording content.
Mirror and record your phone screen on the computer.
Equipped with many advanced tools for better editing the recorded file, such as Advanced Trimmer, File Merger, and more.
Support removing background noise and enhancing audio quality.
Schedule for recording tasks.
Not only a decent one-stop application, but ArkThinker Screen Recorder also has an online version. You can access the Free Screen Recorder Online tool from the Free Tools menu on ArkThinker's official website. Simply install a small launcher from the website, and you'll be able to use this online tool freely.
How to Use ArkThinker Screen Recorder Software
Step 1
Click the Download button above to get a free download of ArkThinker Screen Recorder. Then, install and launch this recorder on your computer. Next, click the Video Recorder button.

Step 2
Customize the recording area and select the audio source. You can get more customization options in the Preferences menu.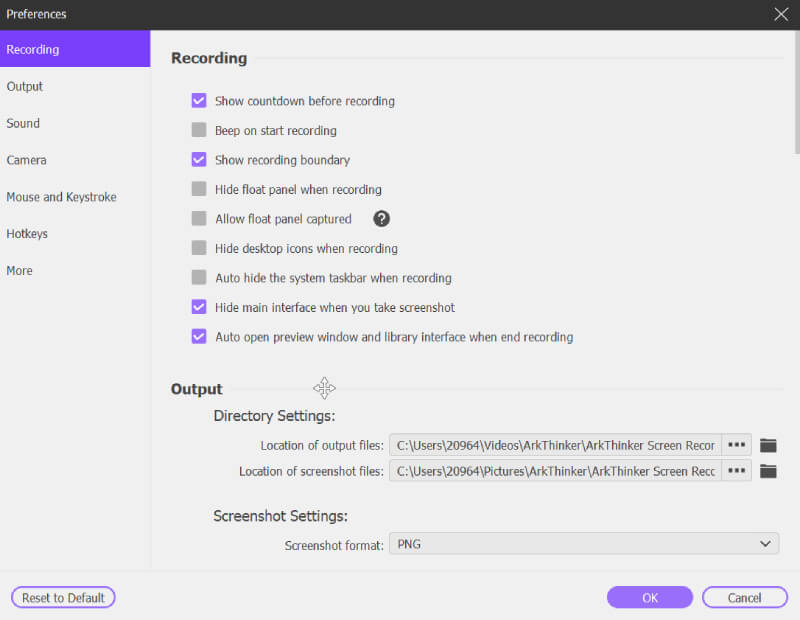 Step 3
Click the REC button to start recording. You can annotate content, capture screenshots, and pause the recording by clicking icons on the float panel.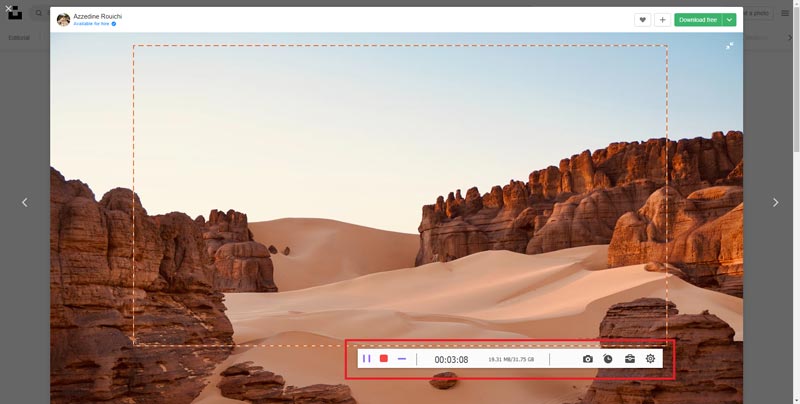 Step 4
Click the Stop button to end the recording. When you finish editing the recording file, click the Done button to save the video.
Part 3. FAQs about ADV Screen Recorder
Is ADV Screen Recorder safe?
Yes, it is. ADV Screen Recorder is a reliable tool since it won't share your data with third parties, and all data is encrypted in transit.
How long can you record on ADV Screen Recorder?
The duration depends on the space capacity of your device. As long as your storage space is enough, ADV Screen Recorder will keep working until you manually stop the recording.
Does screen recording have audio?
Yes. In ADV Screen Recorder, you can set up audio settings, including options for recording microphone audio, internal audio (Android 10+), and no audio.
Conclusion
ADV Screen Recorder app is indeed an excellent screen recording application for smartphones, offering numerous basic yet useful features with a user-friendly interface. The primary limitation of ADV Screen Recorder is that it can't work on your iPhone or Mac. As the best alternative to ADV Screen Recorder for PC, ArkThinker Screen Recorder also provides advanced features and great performances in various recording tasks. This remarkable application can be the best choice for recording your PC screen since it provides powerful in-app editing tools and also develops a free online version. These two apps make it easy to capture your screen in high quality but on different devices. Feel free to try the one that best suits your needs.
What do you think of this post? Click to rate this post.
Excellent
Rating: 4.9 / 5 (based on 472 votes)