A Comprehensive ScreenFlow Review and Its Best Alternative
In today's digital age, screen recording software has become vital for content creators, professionals, and even regular users. In this detailed ScreenFlow review, we will analyze its main functions, discuss its pros and cons, explore its pricing options, explain how to use ScreenFlow effectively, and suggest a viable alternative.

Part 1. ScreenFlow for Mac, Features, Pros, and Cons
ScreenFlow is a versatile and powerful screen recording and video editing software available for Mac. It offers necessary functions that make it a good tool for content creators, educators, and professionals.

ScreenFlow Key Features
Screen Recording: ScreenFlow lets you easily capture high-quality recordings. You are allowed to record the full screen or choose specific portions, making it ideal for creating software tutorials, gaming videos, or educational content.
Video Editing: ScreenFlow offers various video editing tools to enhance your recordings. You can freely trim, split, and merge video clips, add annotations, captions, and callouts, and even adjust audio levels for a professional finish.
Multitrack Editing: ScreenFlow simplifies working with multiple audio and video tracks. You can easily add multiple media layers, including text, images, and video overlays. This feature enables the creation of engaging and visually appealing videos.
Transitions and Effects: ScreenFlow provides a library of transitions and effects to add visual interest to your videos. You get many creative options, from basic transitions like fades and dissolves to more complex effects like green screen compositing.
Recording and Editing iOS Devices: ScreenFlow offers seamless integration with iOS devices, allowing users to record their iPhone or iPad screens directly from their Mac. This feature is particularly useful for app developers, tech reviewers, or anyone creating content related to iOS devices.
Publishing and Sharing: ScreenFlow makes it easy to publish and share your videos. It supports various export formats, including popular video formats, and optimized settings for platforms like YouTube, Vimeo, and social media. Users can also upload their videos directly from within the software.
Pros and Cons of ScreenFlow
ScreenFlow boasts an intuitive interface that makes it accessible to users of all skill levels. Its drag-and-drop functionality and well-organized tool panels contribute to a smooth editing experience.
With its extensive video editing tools, ScreenFlow offers professional-level editing capabilities. You can create polished videos with ease, resulting in high-quality content. Its efficient timeline and powerful features let you work quickly and effectively. The software's ability to handle multiple audio and video tracks without sacrificing performance is a significant advantage.
ScreenFlow enables you to edit audio and video simultaneously, making it convenient to synchronize visuals with audio narration or background music.
ScreenFlow is only available for macOS screen recording, which may be a drawback for Windows or Linux users. Despite its user-friendly interface, beginners may initially find ScreenFlow's extensive capabilities overwhelming. It may take time to learn and fully leverage all its features.
ScreenFlow Price Plans
ScreenFlow offers three pricing options: ScreenFlow, ScreenFlow Super Pak, and ScreenFlow Super Pak +.
The ScreenFlow ($169) version provides all the core features of the software, including screen recording, video editing, and publishing capabilities. It is suitable for most users who require professional video editing tools.
The ScreenFlow Super Pak ($229) and ScreenFlow Super Pak + ($259) versions include premium features like access to media stock libraries, motion and animation effects, and additional export options. It is recommended for users who need advanced features or work in marketing or graphic design.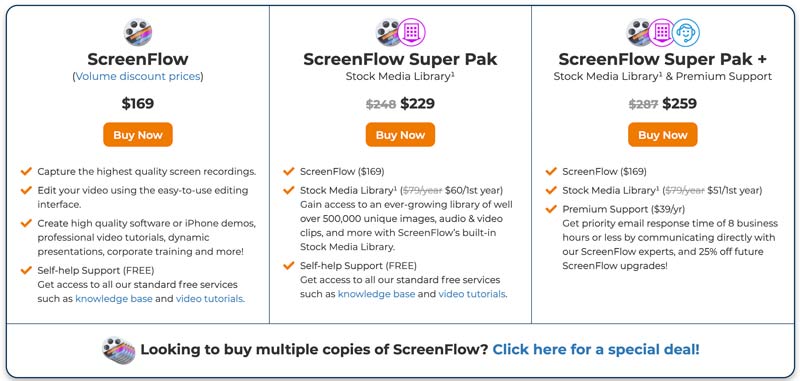 How to Use ScreenFlow
Install and launch ScreenFlow on your Mac. All features are listed in categories on the left. View the user interface and available tools.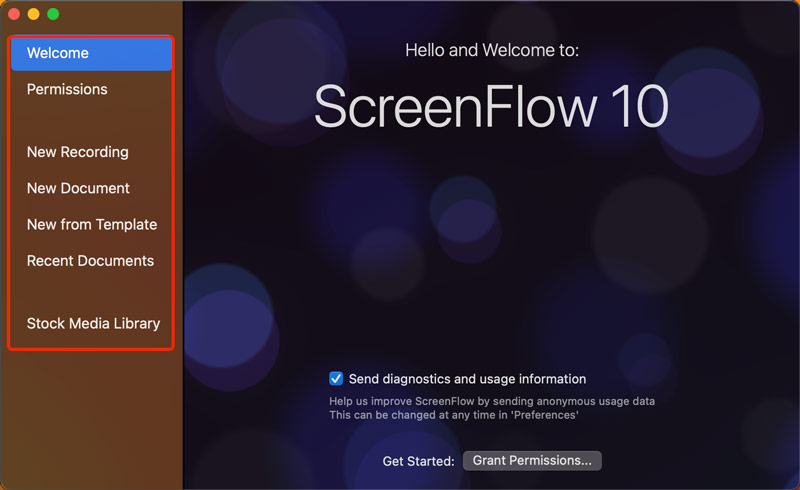 Customize your recording settings, including selecting the capture area and audio sources. Click the Record button to start capturing your Mac screen.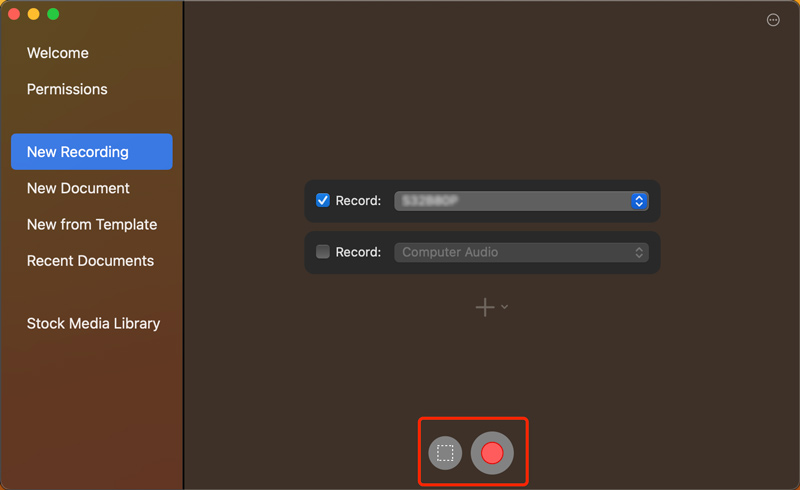 Once the recording is complete, import the footage into the editing timeline. Trim, split, and arrange the clips as desired, add effects or transitions, and adjust audio levels. Preview your recorded video and make any necessary refinements. Export your recording file in the desired format and share it on your preferred platform.
Part 2. Best ScreenFlow Alternative for Windows Computers
If you are looking for an alternative to ScreenFlow for Windows, ArkThinker Screen Recorder is an excellent choice. It offers similar functionalities and is available for both macOS and Windows operating systems. This ScreenFlow for Windows alternative provides an intuitive editing experience, comprehensive editing tools, and seamless screen recording capabilities.
This ScreenFlow for Windows alternative offers different tools to capture your computer screen, gameplay, webcam, iPhone and Android phone activities, and more. It can record high-definition videos, even up to 4K.

Better than ScreenFlow, ArkThinker Screen Recorder gives you a more convenient way to adjust the recording area. Moreover, you can customize the audio recording source from the system sound and microphone.

Click the REC button when you want to capture your Windows or Mac screen. After recording, preview the recorded video and edit it. All commonly-used editing options are offered to help you optimize your recording.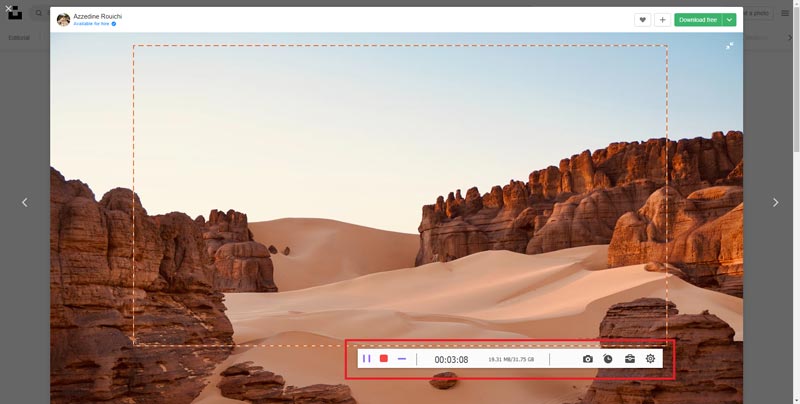 Part 3. FAQs of ScreenFlow
Is ScreenFlow available for Windows?
No, ScreenFlow is not available for Windows. It is a screen recording software that is exclusive to macOS. However, there are several alternative screen recording software options available for Windows, such as Screen Recorder, OBS Studio, Camtasia, and Bandicam.
Is ScreenFlow safe to use?
Yes. ScreenFlow is generally safe to use. It's a popular screen recording and video editing software that's been used by many macOS users and is known for its reliability. However, as with any software, it's always a good idea to download it from its official website or a trusted source and keep your Mac antivirus software up to date to ensure maximum security.
Can I record my Mac screen with system sound?
The built-in options cannot capture your Mac audio from system sound. You must use third-party Mac recorders like Screen Recorder to capture system sound on your Mac.
Conclusion
This post gives you a detailed ScreenFlow review to discuss its key features, pros, cons, plans, and the best alternative for Windows. ScreenFlow provides everything you need to create high-quality videos, from capturing your screen to producing polished and engaging content. Whether you are a beginner or an experienced user, ScreenFlow delivers a seamless video recording and editing experience.
What do you think of this post? Click to rate this post.
Excellent
Rating: 4.9 / 5 (based on 532 votes)