IObit Screen Recorder Review and Its Best Alternative
Screen recording has become essential, whether for creating tutorials, recording gaming sessions, or capturing important moments on your computer screen. One tool that stands out in this field is the IObit Screen Recorder. This post gives a detailed IObit Screen Recorder review to explore its features, downloading process, pros, and cons, providing you with all the information you need to make an informed decision.

GUIDE LIST
Part 1. What Is IObit Screen Recorder
IObit Screen Recorder is a feature-rich recording tool with a concise interface, making it accessible for both beginners and professionals.
IObit Screen Recorder Key Features
IObit Screen Recorder lets you capture your screen effortlessly. You can freely record the entire screen or a specific area, making it ideal for various use cases. It supports high-resolution recording and multiple monitors, ensuring clarity and flexibility.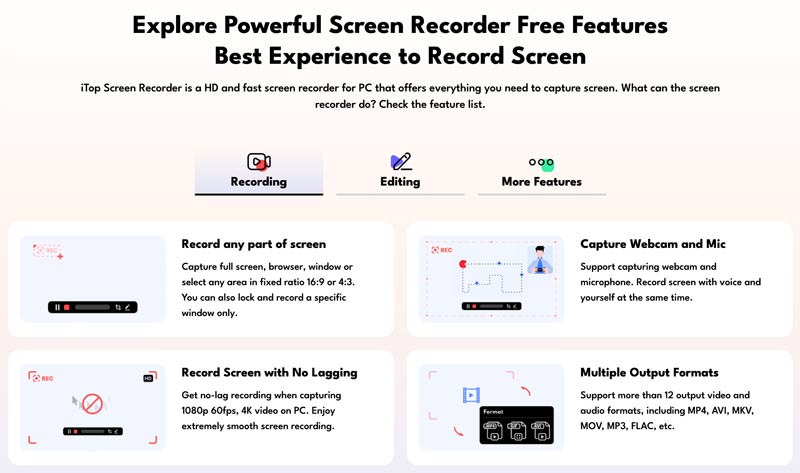 IObit Screen Recorder lets you include system sound, microphone sound, or both in your recordings. It is perfect for creating instructional videos, live streaming, or capturing gaming moments with synchronized audio.
For a more engaging experience, IObit Screen Recorder can overlay your webcam footage onto your screen recordings. This is particularly useful when creating tutorials, video presentations, or vlogs.
With its built-in editing tools, IObit Screen Recorder lets you edit your recordings quickly. You can trim unwanted parts, add text, shapes, and arrows, and use the highlighter to emphasize certain screen areas.
IObit Screen Recorder allows you to schedule recordings in advance, making it convenient to capture live streams, webinars, or any screen activity at specific times.
IObit iTop Screen Recorder Download
Because the IObit Screen Recorder is replaced by the iTop Screen Recorder product, you should go to the official iTop website and navigate to the IObit Screen Recorder product page. Click the Free Download button to begin the installation.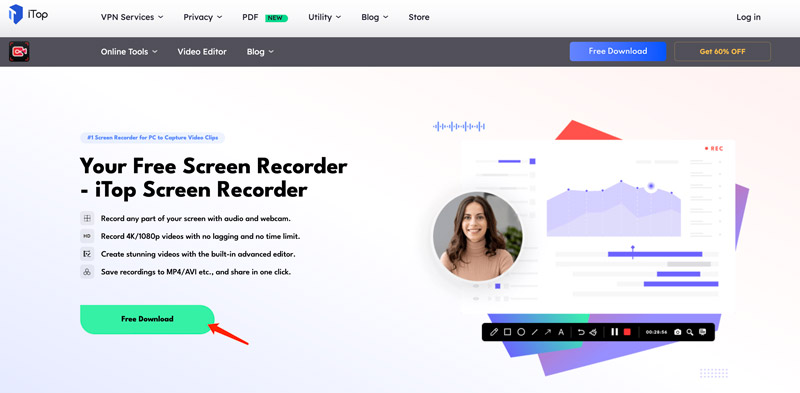 IObit Screen Recorder Pricing
IObit Screen Recorder offers free and paid plans. The free version typically has limitations on features and may include watermarks on recorded videos. On the other hand, the paid plans usually offer some more advanced features, including the ability to remove watermarks and access additional recording options. To get specific information on pricing and features, you can visit the official iTop website or contact their customer support.

Pros and Cons of IObit iTop Screen Recorder
IObit Screen Recorder is designed with a simple interface, making it easy for users of all experience levels to navigate and use. It offers many helpful features, including screen recordings with audio, webcam recording, and real-time drawing tools. It also allows you to schedule recordings and customize the frame rate and quality.
IObit Screen Recorder supports various output formats, including MP4, AVI, FLV, and MOV. That gives users flexibility in choosing the format that best suits their needs.
While IObit Screen Recorder has basic editing tools, it lacks advanced features in dedicated video editing software. Users looking for more precise editing capabilities may find it limiting. The free version of IObit Screen Recorder includes a watermark on recorded videos. To remove the IObit watermark, you must purchase the premium version.
Some users have reported difficulties in obtaining timely customer support from IObit. In case of technical issues or questions, it may take some time to receive assistance. During the installation process, IObit Screen Recorder may offer to install additional software that some users may not want or need.
Part 2. Best IObit Screen Recorder Alternative for PC and Mac
If you are looking for a reliable IObit Screen Recorder alternative, use the easy-to-use ArkThinker Screen Recorder. It is designed with many standout recording and editing features that make it the best choice for your screen recording needs.
Whether you need to capture video tutorials, live streams, gaming sessions, or any other on-screen activities, ArkThinker Screen Recorder has you covered. Free download this IObit Screen Recorder alternative on your computer and launch it.

ArkThinker Screen Recorder supports recording from various sources, including your computer screen, webcam, or mobile phone. It ensures crisp and clear video recordings by offering customizable resolution, frame rate, and audio settings. You can customize screen and audio recording settings according to your needs.

ArkThinker Screen Recorder goes beyond basic screen recording by providing various annotation and editing tools. You can add text, shapes, and arrows and highlight specific areas in your recordings to emphasize key points or important details. It lets you set up scheduled recordings, automating the process to capture specific activities at desired times.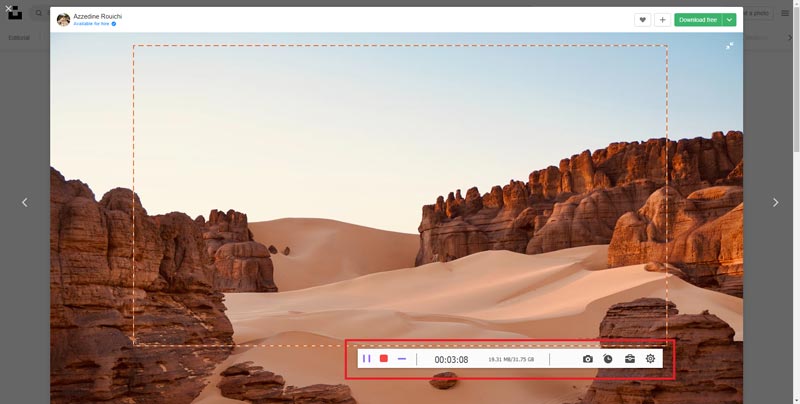 Part 3. FAQs of IObit Screen Recorder
Is IObit Screen Recorder for PC safe?
When evaluating software safety, it's important to consider factors such as the company's or developer's reputation, user reviews and ratings, and the presence of any security certifications or seals. You can also use antivirus software to scan the installation file for any potential malware or viruses. For specifically evaluating IObit Screen Recorder, we recommend researching the company's reputation, reading user reviews, and checking for any security certifications or awards they might have received.
Is there an IObit iTop Screen Recorder for Mac?
No. When you reach the iTop Screen Recorder product page and click the Download button on your Mac, you will download an EXE installation file for Windows.
Can iTop Screen Recorder record my gaming moments?
Yes, iTop Screen Recorder can indeed record your gaming moments. It is a powerful screen recording tool that lets you easily capture your screen and record any activities on your computer, including gameplay.
Conclusion
This post gives a detailed IObit Screen Recorder review and guides you to know the necessary information about it. Moreover, we introduce you to a great IObit alternative for better recording on your computer.
What do you think of this post? Click to rate this post.
Excellent
Rating: 4.9 / 5 (based on 462 votes)