Loom Screen Recorder Can Change Your Communication and Work with People
Screen recorders are becoming more important in modern work, study and communication. Whether you're an educator, content creator or individual user. A powerful screen recorder helps you easily capture and share your screen activity. It can convey information, demonstrate procedures and enhance communication. Screen recorders usually have an intuitive interface and easy-to-use features. They allow you to quickly start recording and make the necessary adjustments. Loom Screen Recorder is such a good tool for you to use. Let's read this article together and use it to capture a beautiful world.

GUIDE LIST
Part 1. ArkThinker Screen Recorder - Loom Screen Recorder Alternative
Though Loom Screen Recorder is a powerful and useful tool. There are some recording time limitation, incomplete editing functions and more. We need to choose another better screen recorder. ArkThinker Screen Recorder is a free, safe and multi-function software. It can be used for entertainment, study, work and more. It can meet your needs in recording screens and taking screenshots. It has plenty of popular tools. For example, image formats, practical hotkeys, watermarks and others. You can use these to record your screen recordings without delay. It also records both computer system audio and microphone sound in high quality. Apart from these, you can use it to record Windows, compress files, cut and combine recorded video and audio files. After recording and editing recordings, you can upload them to the platform and other devices.

Part 2. Details of Loom Screen Recorder
What is the Loom Screen Recorder?
Loom Screen Recorder is a useful video recording and communication tool. Many companies and people use it to deal with work, communication and other things. It has an intuitive interface and impressive functions. It provides efficient and easy-to-use tools and options. It not only records videos but makes us share videos fast. In a word, Loom Screen Recorder can change the way we record videos.
From the following contents, you will get more details about Loom Screen Recorder. So let's read together now.
Key Functions of Loom Screen Recorder
How to use one software easily? At first, you need to know and master its key functions. There are five important functions of the Loom Screen Recorder.
High-quality Screen and Audio Recording
Loom Screen Recorder offers many recording options including Full screen, HD Camera and Microphone. You can choose the right one according to your needs. By using Loom Screen Recorder, you can record high-quality and clear screen recordings and computer audio. It also offers many setting options for you.
Live Webcam Recording
Loom Screen Recorder supports live webcam recording. It means you can add your face and voice to the video. Then you will interact with your audience more vividly. And it increases the vividness of your communication.
Video Editing and Annotation
Loom Screen Recorder provides powerful video editing and annotation tools. For example, drawing, cropping, adding a personal touch and mouse emphasis. These tools are easy to use and require no specialized skills to operate. They help you better illustrate and emphasize recorded files. They can also increase collaboration.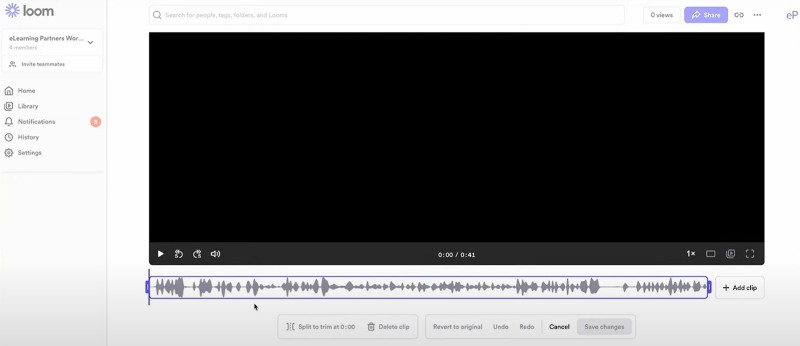 Team Collaboration and Comment Function
Loom Screen Recorder has a team collaboration and a video commenting function. You can share videos with your team members and invite them to comment and give feedback. This form of communication is more intuitive and effective. So people between your teams can work better together.
Cloud Storage and Sharing
Loom Screen Recorder makes it easy for you to save recorded videos in the cloud. Then you can access them anytime and anywhere via generated shareable links. You can also share the content of recorded videos with others via the link. This function saves time and effort. And you don't have to worry about file size or transfer speed limitations.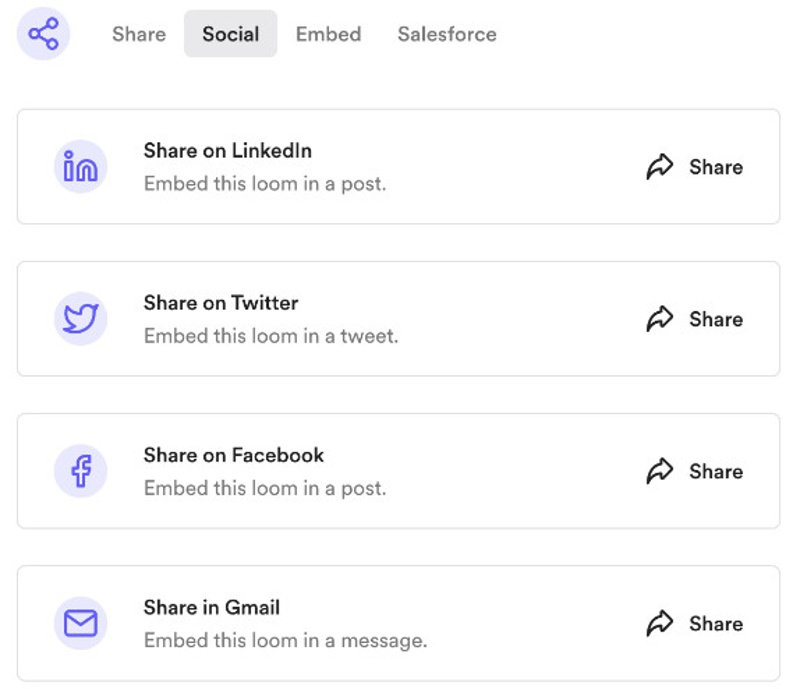 Steps of Downloading and Using Loom Screen Recorder
Loom Screen Recorder is a free screen recorder for Mac, Windows, Chrome, iOS, and Android. It is very popular among people. You can install it fast and get simple methods to use it.
Step 1
Sign up, Download and install
First, you need to create a free account on the official website. You can download Loom Screen Recorder from the official website, Chrome Web Store, Google Play and App Store. There are plug-in and desktop versions. For plug-in version, you can use Loom Screen Recorder directly in the browser. For desktop version, it is an independent application. So you can use it on Windows and Mac operating systems.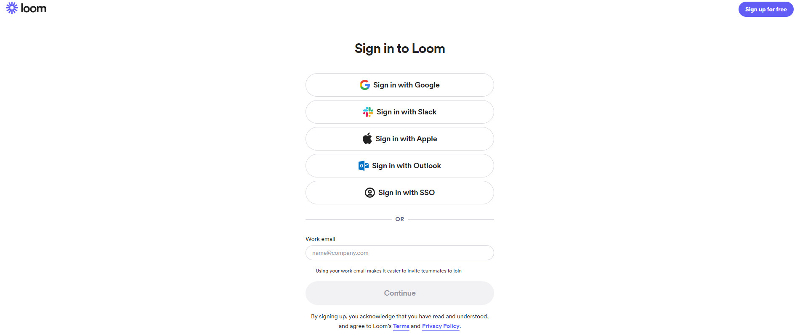 Step 2
Open the software and Create an Account
After the installation is completed. You can click or tap to open the Loom Screen Recorder with your account.
Step 3
Set up Recording Options
Because we can use Loom Screen Recorder both on computers and phones. So their recording options may be a little different. You can select Screen Only or Screen and Camera. You can also set up options for recording area, webcam, audio and more. And They are mainly according to your requirements and preferences.
Step 4
Start Recording
Loom Screen Recorder can record screen and camera at the same time. You can click Start Recording to record meetings, sales, education, design and more. It has a high-quality recording mode. As for recording time, it can only record up to 5 minutes for free plan. If you want to have a long recording, you can consider a business and enterprise plan.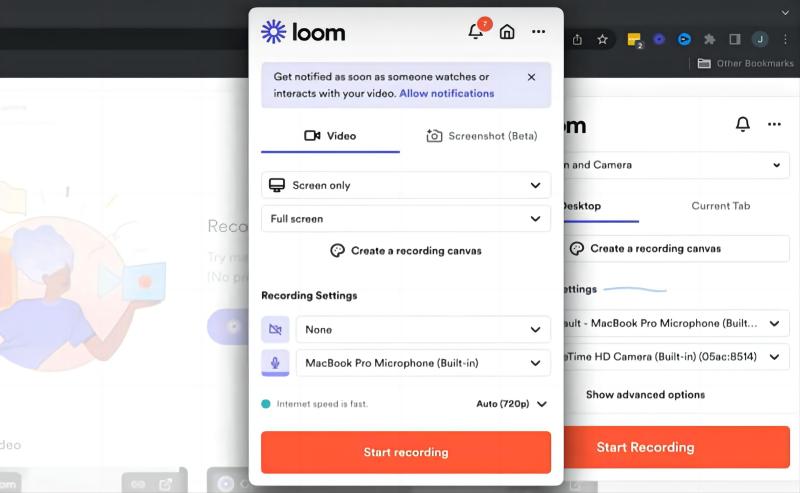 Step 5
Stop and Save Recording
You can click or tap the red button in Loom Screen Recorder to end and save the recording. It will automatically save your recorded video to your Loom account.
Step 6
Edit and Sharing
Open Loom Screen Recorder and select the video file you want to edit. There are settings and options in the editing interface. When you click or tap the Stop button, the Loom Screen recorder generates the shareable link. You can share your recordings via the link or embed videos on web.
Advantages and Disadvantages of Loom Screen Recorder
Pros :
Loom Screen Recorder is a free screen recorder.
You can take part in engagement with comments and emoji reactions.
There are many use cases for Loom Screen Recorder.
It has high-definition screen capture up to 4K.
Cons :
The unlimited recording hours are only available for paid plans.
Its editing capabilities are relatively limited.
FAQs about Loom Screen Recorder
Is the Loom Screen Recorder safe?
Yes. Loom Screen Recorder is a safe software. It uses Amazon Web Service for secure and resilient hosting. And it provides many security measures to protect your data and privacy.
Can you use Loom Screen Recorder to record a Zoom meeting?
Yes. Because it can record the entire screen or a selected window. You can use Zoom to live videos and calls during the meeting. Then you use Loom Screen Recorder to record the selected Zoom meeting screen.
How long can you record on Loom Screen Recorder?
For the free version, Loom Screen Recorder has a recording time limitation of up to 5 minutes. If you need to record with no limited recording time, you can consider upgrading to the paid plans. They are business and enterprise versions.
Conclusion
Loom Screen Recorder is a safe software to use and download. It provides an intuitive surface and many easy-to-use tools and more. Besides there are some limitations in terms of recording duration and paid plans. So you have to pay for paid plans to extend the recording duration. However, ArkThinker Screen Recorder doesn't have a time limitation. You can record your videos and audio as long as you need. It is a free software and doesn't have any paid plans. It offers more powerful features and flexible recording options than the Loom Screen Recorder.
What do you think of this post? Click to rate this post.
Excellent
Rating: 4.9 / 5 (based on 361 votes)