Start Teams Recording: Desktop and Phone Methods
Are you one of the users who use Microsoft Teams to attend class, hold business meetings, or present your report or presentation? If so, there are times when you need to record to share it with others who did not attend the meeting. Other than that, when you want to revisit essential parts of the meeting, you have a screen-recorded video to return to.
Microsoft Teams is a messaging application capable of holding online meetings, sharing documents and applications, and screen sharing. It has numerous features that are beneficial for school and business matters. Whether using a mobile device or desktop, you can use it hassle-free. This application can hold meetings for a large group of people and have a thirty-hour time limit. This post will teach you how to record a teams meeting using the built-in recorder and another recording tool you can use. To learn more about these, proceed to the following parts.

GUIDE LIST
Part 1. How to Record a Meeting in Teams
Microsoft Teams has a built-in screen recording to help you record your meetings. The process is similar whether using a mobile device or a desktop. With the help of built-in screen recording, you can have your video for future viewing. However, it will expire and be automatically deleted after the set period. To learn how to record teams meetings, refer to the following steps.
Step 1
First and foremost, launch the application on your mobile device or desktop. Once the application is opened, choose whether to join or start a meeting.
Step 2
Head to the meeting controls bar on the upper left of the screen. Afterward, click the three horizontal dots icon to view the meeting controls bar. Click the Start recording option from the applied list to start the recording process. A notification will appear on the top of the participant's screen informing them that the meeting is being recorded.
Step 3
Once the meeting is done, hit the three horizontal dots icon and click the Stop recording option.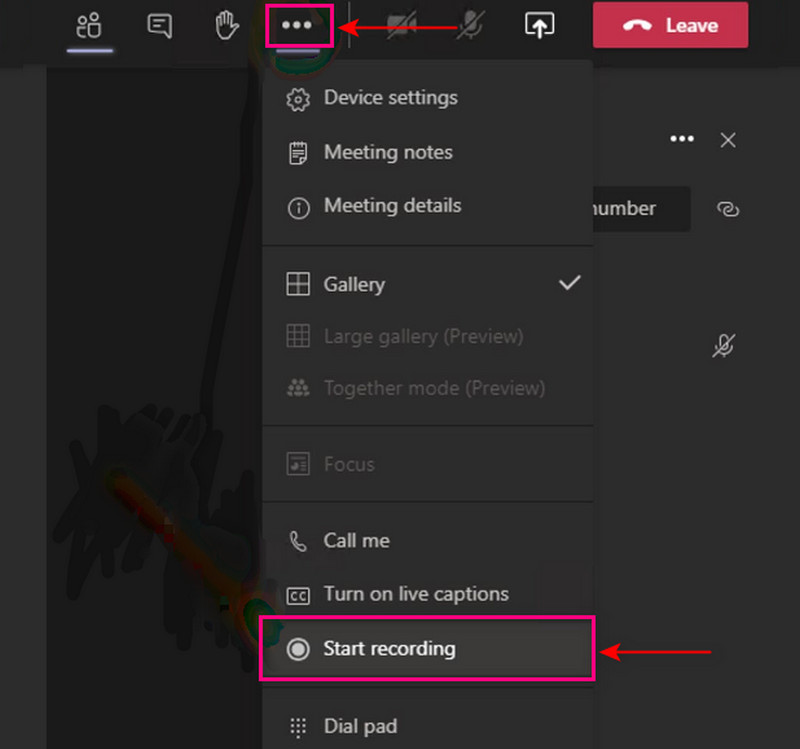 Part 2. How to Record Teams Meeting with Desktop App
If you want to record the meeting without other participants being notified, you can count on ArkThinker Screen Recorder. This program has numerous built-in recording features to help you record your screen activities. It can record video, audio, game, window, webcam, and phone hassle-free. It also lets users incorporate their face and audio into the screen-recording process. In addition, it enables users to set a task schedule to start and stop recording the screen activities automatically. When you record using this program, it permits you to choose your desired screen size. It might be the entire screen, a particular portion of your screen, or choose from the list. To start Teams recording, proceed to the guide given.
Pros :
It has a beginner-friendly interface that is easy to use and master
It supports numerous audio and video file formats
It enables users to overlay faces and incorporate audio from the recording process
There is no watermark presented on your screen-recorded video output
It is accessible offline and does not require you to use an internet connection
It is compatible with Mac and Windows PC
Cons :
Avail of the paid version to have full access to the program
Step 1
Download and Install ArkThinker Screen Recorder
To fully access the screen recording tool, download and install the program to your computer. After the installation procedure, open the program to start the recording process.
Step 2
Start Recording Teams Meeting
Once the program is opened, select the Video Recorder button from the list of built-in features presented. Once you click that button, the Video Recorder section will appear on your screen. Turn on the Display option, and select your desired screen size that the program can only record. Choose the best screen size that can record the entire screen to see the details presented on the screen clearly. Other than that, you can select a portion from your screen or select from the list. Afterward, turn on the System Sound, and adjust the volume based on your preference. In addition, turn on the Webcam and Microphone to incorporate your face and audio in the recording. Once settled, click the REC button to start recording your Teams meeting.

Step 3
Stop Recording Teams Meeting
Once the Teams meeting is done, hit the Stop button, and the preview window will appear on your screen. Head to the Advanced Trimmer button to remove unnecessary parts from your recording you do not need. Alternatively, you can manually cut on the timeline by operating the sliders or setting the time on the Set Start and Set End options. Once settled, hit the Trim button to leave the unwanted parts successfully.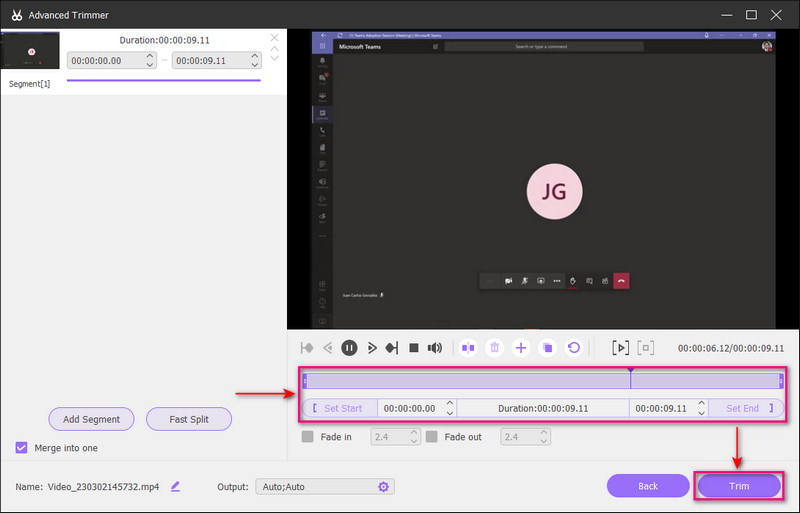 Step 4
Save Recorded Meeting
Once satisfied with your recorded Teams meeting, hit the Done button to save your screen-recorded video. Your video will be placed on the uppermost of the recorded history. You can play the meeting on your desktop media player and locate it in your folder.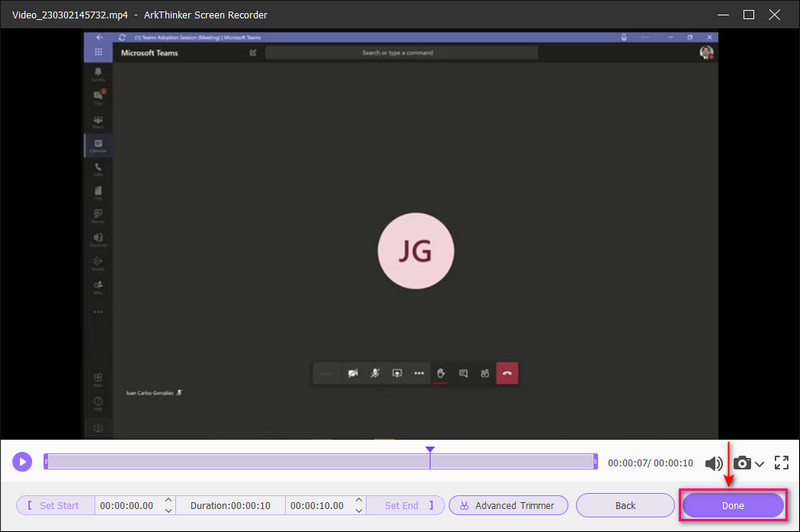 Part 3. How to Record Teams Meeting on a Phone
That is possible if you prefer to record your meeting using your mobile device. Using Screen Recorder - XRecorder app will only take a few steps to accomplish your goal. It can record without time limitation, no root needed, and with no watermark presented to your output. It enables users to capture smooth and clear screen videos and produce high-quality screen-recorded videos. To learn how to record Teams recording, rely on the guidelines provided.
Pros :
It is accessible using Android and iOS devices
It can record screen activities and produce high-quality video
It does not have a recording time limitation
Cons :
Some bugs occur from time to time
It has features that are confusing to use
Step 1
To have complete access to the application, download and install it to Google Play Store or Apple Store. After the procedures, the recording function will appear on the notification section of your phone.
Step 2
Open the Microsoft Teams application on your phone. Once the meeting starts, hit the Record button to begin recording the meeting. You will see an orange circle at the upper part of your phone's screen. This function will help you check if your recording has started or not. Also, you can see a recording timer showing how long your recording is.
Step 3
Once the meeting is done, head to the orange circle to stop the recording process. After that, your screen-recorded meeting will show on your screen. Tap that to save it on your gallery or share it with others.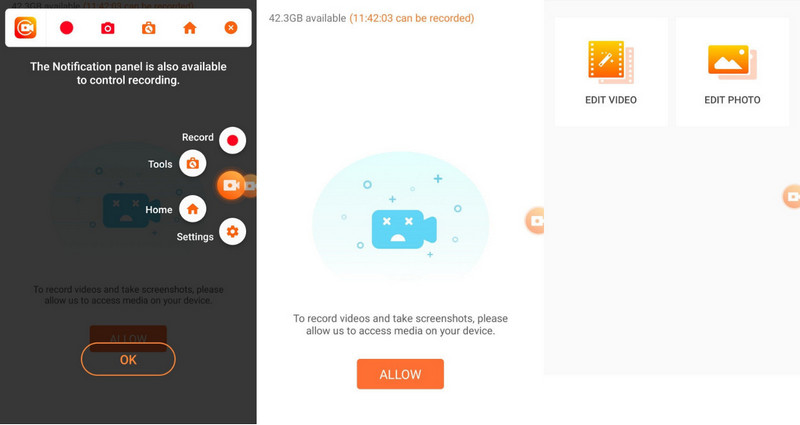 Part 4. FAQs about Microsoft Teams
Why can't I record a Teams meeting?
You might not have an eligible office account if you cannot record a meeting. Also, you might need permission to record on Teams. You must have had an Office 365 Enterprise, M365 Business, Business Premium, or Business Essentials account to record the meeting.
Can I record a Teams meeting if I am not the host?
The meeting organizers only have access to start and stop recording. However, if you have an Enterprise license account, you can start and stop a meeting recording even if you are not a host. In addition, if you are part of the same organization as the meeting organizer.
Why is start recording disabled in Teams?
The recording option is not enabled by default and is only accessible when you are in the meeting. If the start recording button is greyed out, you need to ask for permission to record the meeting.
Conclusion
Microsoft Teams has been used as a platform to hold meetings. It is commonly used for attending classes and meetings online and provides an excellent experience for meeting participants. This application has a built-in feature to record meetings, enabling users to view the screen-recorded meeting for different reasons. If you are looking for another screen-recording application to record teams meeting, you can count on the mentioned above. Select whether to record using a desktop or mobile device based on your preference.
What do you think of this post? Click to rate this post.
Excellent
Rating: 4.9 / 5 (based on 266 votes)