The Latest Panopto Video Recorder Review in 2023
In the digital age, video has become an integral part of our lives, transforming the way we communicate, learn, and collaborate. From classrooms to boardrooms, the power of video is undeniable. However, managing, recording, and sharing videos can often be a complex and time-consuming process. That's where Panopto comes in.
Panopto is a versatile software that simplifies all your video needs, bringing together recording, sharing, and live broadcasting in one unified platform. Let's explore some scenarios where Panopto can make a significant difference.

GUIDE LIST
Part 1. The Functions of Panopto in Video Recording
Panopto is a software for video recording, sharing and live broadcast. It condenses lots of your video needs in one place. In terms of video recording, Panopto includes 6 products.
1. Record Remotely
It's a widely used function which allows users to record videos without being present. With Record Remotely mobile app for both Android and iOS, it's simple to preview, control, and schedule recordings in classrooms and conference rooms. This function is particularly practical because it's needed in both school and workplace so its user base is huge.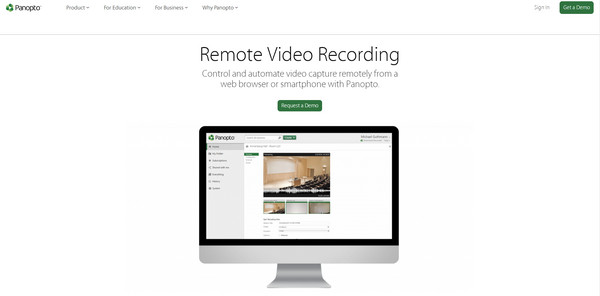 2. Record Live Sessions
It's a revolutionary software for capturing videos. Traditional setups required complex wiring and synchronization for multiple camera angles, but with this software, each camera and audio source can connect to a web-connected device independently. The software seamlessly synchronizes all feeds into a professional production, eliminating the need for extensive cables and complicated AV setups. It allows users to record various events with minimal setup time and cost, simplifying setups for meetings and presentations.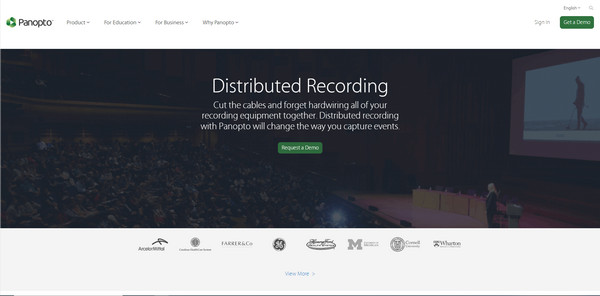 3. Record Video Conferences
It allows you to securely capture, search, and easily share all information in your video conference recordings. It addresses the problem of valuable information being lost in meetings, where employees can recall only a fraction of the content discussed. By using Record Video Conferences, attendees can focus without taking notes, scheduling conflicts can be avoided, and recorded sessions can be shared with team members. The software enables secure capturing, management, and sharing of recordings from various sources, including video conferencing systems and conference room cameras.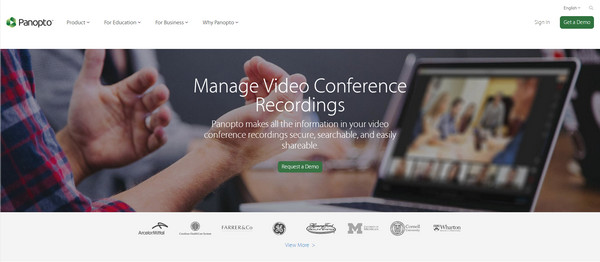 4. Edit Videos Online
Edit Videos Online is a cloud-based video editing software that makes editing videos easier with a user-friendly web browser interface. It allows you to edit your videos without altering the original recording, known as non-destructive editing. You can also upload and synchronize additional content like slides and supporting videos to enhance your recordings. The software also provides seamless integration with YouTube videos and clips, giving you control over visibility and autoplay settings.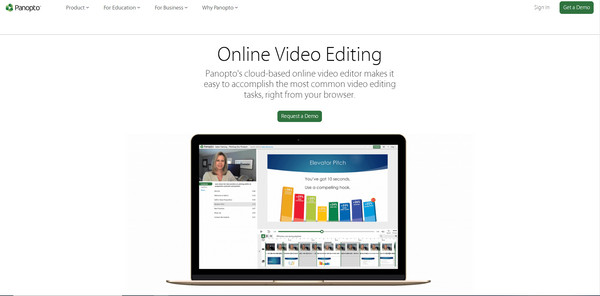 5. Live Stream Video
Live Stream Video is a software that allows secure and effortless live streaming of events, communications, and lectures in high-definition. It offers simultaneous recording for later on-demand viewing, ensuring a flawless experience. Additionally, it supports mobile live streaming with optimized performance on Android and iOS devices. This cost-effective solution simplifies the process, requiring minimal setup and technical expertise.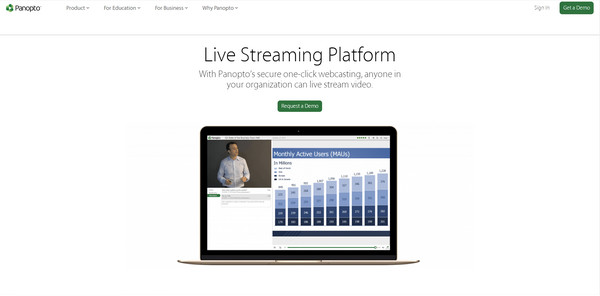 6. Record with Video Capture Hardware
Record with Video Capture Hardware is a top-notch software that offers video recording and live streaming through all-in-one appliances. In collaboration with leading AV industry partners, Video Capture Hardware provides high-quality appliances for recording and webcasting. Each recording is automatically published to Video Capture Hardware's secure video content management system, where they are indexed for easy search using Smart Search technology and encoded for on-demand playback on any device.

Part 2. Advantages and Disadvantages of Panopto
Advantages
1. Panopto is really popular and the range of users is broad, which means the quality is stable and hassle-free. With a certain popularity and market popularity, many well-known schools and enterprises, such as Stanford University, Boston University, HongKong University and New York Life are all using Panopto's product.
2. Its usage is simplified. Some users said that they like Panopto because it helps them to do something, which greatly saves users' time and simplifies the using process. For example, when a teacher finishes recording a teaching video in class, the video will be automatically classified into the course to which it belongs, and there is no need for the teacher to add it after class. What's more, students will have a progress bar while watching it later. This humanized function makes the use of this software very convenient.
3. Panopto covers all the functions of video recording, editing and uploading. It can provide one-stop service for your video so it's truly efficient. Many webpage-like functions may only be video post-production, and can't provide such a complete service from recording, production to publishing like panopto.
4. Its target users are clear, which allows people in need to find and use this software intuitively. There are two sections on the main page, including for education and for business. The function settings are also set for school teaching, online courses, corporate meetings and more. For those who have related needs, this software provides targeted and high-quality functions.
Disadvantages
1. If you want to try the demo of this software, you must fill in your personal information and email address, which makes the procedure of using Panopto for the first time complicated and some users may worry about privacy breach .
2. Some users think that in the beginning it was hard to navigate and figure out how to use each tool for editing videos. They have spent too much time trying to figure out how to use Panopto because the operation is kind of complicted. In this case, this software is definitely not for someone who is pressed for time.
3. Only online use is supported, so it can't be used when it is offline. This is so inconvenient for users. Some users have reported that when they lose internet connection, they can never reload the replay video. After this occurrence whenever they click on the replay, all they get is a black screen and the video will never load again. This is infuriating as the replay is then lost forever. Only online use is the major inconvenience and this makes the service useless without network connection. It's the major bug that needs to be fixed.
Part 3. A Perfect Alternative to Panopto
There is another software with more complete functions than Panopto. This software is called ArkThinker Screen Recorder. ArkThinker Screen Recorder supports off-line screen recording and the recorded video is very clear and high-quality. This software can let you capture, annotate, and share your video with ease. If you are looking for a reliable and user-friendly screen recording solution, look no further than ArkThinker Screen Recorder. This exceptional software brings you a seamless recording experience, allowing you to capture high-quality videos with audio effortlessly. Whether you need to create a video tutorial or showcase your screen activities, ArkThinker Screen Recorder is the perfect tool for the job.

Simple to Use
One of the standout features of ArkThinker Screen Recorder is its simplicity. Designed with ease of use in mind, this software ensures that anyone, regardless of their technical expertise, can record their screen effortlessly. With just a few clicks, you can start capturing video with audio, eliminating the tedious and complicated setup processes often associated with other screen recording tools.
Add Annotations
ArkThinker Screen Recorder never stop at basic screen recording. It goes above and beyond by providing powerful annotation tools right at your fingertips. Say goodbye to separate applications for drawing and annotation. ArkThinker Screen Recorder allows you to draw directly on your screen while recording. Whether you need to emphasize certain points, highlight key details, or add informative callouts, the Pencil, Brush, Rectangle, and Ellipse tools are there to assist you. Additionally, you can easily draw arrows, input texts, and create callouts, making your recorded videos more engaging and informative.
Comprehensive Audio Recording Capabilities
Unlike many online screen recorders, ArkThinker Screen Recorder understands the importance of audio. That's why it offers comprehensive audio recording capabilities. With ArkThinker Screen Recorder, you can record not only your system sound but also your voice from the microphone. Whether you're narrating a tutorial or providing commentary on your screen activities, ArkThinker Screen Recorder has you covered. Rest assured, the audio quality remains crystal clear, ensuring that your recorded files sound professional and immersive.
Privacy security
Safety is another top priority for ArkThinker Screen Recorder. We understand that privacy and data security are crucial concerns, which is why we have implemented robust measures to protect your sensitive information. You can trust that your recordings are safe with ArkThinker Screen Recorder, giving you the peace of mind you deserve.
Part 4. FAQs
What is Panopto recorder?
Panopto is a website that integrates functions such as video recording, video editing, and video uploading. There are up to 14 software options available on the website for you to freely choose from.
Is Panopto easy to use?
The interface of Panopto is clear, making it easy to find various functions, but it should be noted that it can only be used when connected to the internet.
Does Panopto record audio in screen recorder?
Yes. You can select the audio button in the upper left corner of the interface and turn on the computer microphone to record audio.
What are the benefits of Panopto?
This software has a wide range of functions, which can meet the basic needs of schools and enterprises for video recording. Moreover, its video editing and uploading functions are also convenient for users.
Is Panopto the same as zoom?
No. The main function of Panopto is video recording but the main function of zoom is online meeting not recording.
Conclusion
Panopto has enough functions for recording, editing and publishing videos. Although the product has some minor flaws, overall it is capable of producing high-quality videos. However, if you just want to record your screen and edit videos, the ArkThinker Screen Recorder is a better choice. ArkThinker Screen Recorder is your ultimate solution for hassle-free screen recording. Its user-friendly interface, comprehensive annotation tools, and high-quality audio recording capabilities set it apart from the competition. Whether you're a content creator, educator, or simply someone who needs to capture their screen, ArkThinker Screen Recorder is the perfect tool to meet your needs. Give it a try today and unlock the unlimited potential of screen recording.
What do you think of this post? Click to rate this post.
Excellent
Rating: 5 / 5 (based on 370 votes)