V Recorder Review - Key Features, Pricing, Problems and the Best Alternative
Have you ever felt in need of a powerful tool that can handle both video/audio recording and editing? Well, let me introduce you to V Recorder - the app that's got your back whether you're on Android, Mac, or other devices. If you're into making videos or want to record your screen for tutorials at work, V Recorder is definitely ready to help out. Curious about whether this is the right choice for you? What we've got for you here is a full-blown review of its pros and cons. Just keep scrolling for what's down below!

GUIDE LIST
Part 1. Key Features & Pricing of V Recorder
Let's check out what V Recorder can do for you in a number of scenarios whether you're at work settings or simply wanting to capture a special moment.
◆ Capturing high-quality videos with customizable settings. The software support a wide range of recording options - HD video as well as portrait and landscape orientation.
◆ Explaining your video in real time. This feature enables content creators like YouTubers, especially those livestreaming video games, to record screen and Facecam at the same time as well as the according internal and external audio.
◆ Editing recorded videos with all-in-one toolbox. You can seamlessly trim and merge clips, apply filters to switch mood of storytelling, add captivating transitions, and even insert subtitles for context clues.
◆ Personalizing the floating window with preferred features. You can easily hide recording window for borderless video while recording or screen capturing. You can also change aspect ratio to wide, vertical or square.
◆ Changing voice and inserting auto subtitles with AI-powered features such as smart subtitles and voice changer.
If you're looking for fancy filters, cool effects and 1080p recording, you'll need to go for the pro features that requires subscription. It's gonna cost you $59.99 a year. That might sound a bit steep, but if you're a serious user editing videos day in and day out for your business, it's probably worth the investment.
Part 2. How to Download and Use V Recorder on Windows/Mac
V Recorder is primarily an Android application. So if you're an Android user and want to download it on your phone, you'll find this pretty easy by going to the application store, searching for the exact app and hitting the download button. Wait for a few seconds. Tab the icon on your screen that features a camera popping out of an orange blanket and you're opening the app and on your way to explore!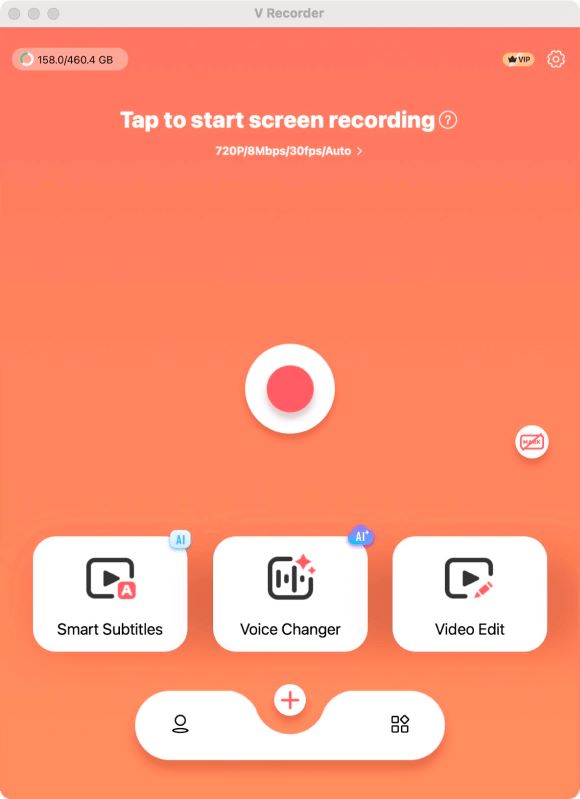 If you want to download the software on PC, whether it's Windows or Mac, it will take a few more steps. For windows PC users, you need to install an Android app player first. For Mac users, you need to go to your apple store and search the app, as what you do on your phone. Remember to insert your apple ID for download and install permission. Once you finish downloading the app, you'll find it's right there on your launch pad. If not, go to the file, double click the app in .dmg form and you'll find it in your application collection.
Once you open the app, you'll be greeted by a huge "plus" button which welcomes you to tab and start recording. Once you hit the button, a window will pop up asking for your preference for video resolution. It's 720p by default, which is ideal for most scenarios. You can also upload videos to insert auto subtitles, which is a highly appreciated feature among most users. You can also change your voice when needed with the AI-powered feature Voice Changer.
Part 3. The Best Alternative to V Recorder
Speaking of a couple of hiccups you might encounter as a PC user, installing V Recorder, especially on Windows, can be quite the headache. And even if you manage to get the app on your computer, you'll notice that the interface stubbornly takes up just half your screen. It's clear the app is designed mainly for phones, not computers. If you rely on your computer instead of phone for video recording, ArkThinker Screen Recorder is for sure a better choice!
ArkThinker is professional at recording and capturing screen, this app packs some serious features while keeping things simple to use. Whether you're a beginner at content creation or someone who wants to record screens for tutorials at work, ArkThinker is what you've been looking for.
The app brings a lot to the table - from video/audio/webcam recording to scheduling and setting length. Users feel free to customize the setting - you can choose whether there shows countdown, boundary or preview window before or during recording starts. The user interface is self-telling and the interaction can be very intuitive - even someone downloads the app for the first time to record a meeting starting in 5 minutes can successfully handle the recording task with it.
The price is offered at $59.96, the same as V Recorder. But what sets ArkThinker apart as an amazing deal is that this price covers a lifetime subscription, not just a year! And if you're curious to give it a shot, there's even lower price at $19.96 per month for one of your devices.
How to Use Arkthinker on PC/Mac
Step 1
Simply tap on the button right in the middle – Let's assume you want to capture your window – and you'll be taken to a screen where you can pick whether you want to record your camera, system sound, or microphone, in addition to the window.

Step 2
Tap the box on the left to select the window you want to record.

Step 3
See the the big, light-orange button to the right? That's your cue to hit it and kick off recording right away. Your recorded videos are automatically saved to the location specified in your settings.
Part 4. FAQs about V Recorder
Can Snapchat detect V Recorder?
The answer is a huge YES. Snapchat has implemented various measures to prevent users from capturing screenshots without the sender's consent. Using third-party apps to capture snaps can violate Snapchat's terms of service.
Is it legal to record a YouTube video?
Recording a YouTube video and then uploading it on any platform as your own is considered illegal. However, you can download clips from YouTube videos for personal use, like for recreational purposes, then it's appropriate.
What's the basic guideline for video editing?
The 3C rule of editing, comprising Correctness, Consistency, and Completeness, is a vital guideline for crafting content. You're supposed to ensure accuracy in your content, maintain uniformity throughout your content and make sure that your content is comprehensive and leaves no information gaps.
What do you think of this post? Click to rate this post.
Excellent
Rating: 4.9 / 5 (based on 338 votes)