Get 4 Best Song Loopers to Repeat Music on Different Devices
When you discover a new song you can't stop listening to, you can loop music to listen to it constantly without interruption. Generally, the built-in player allows you to play a song continuously. For instance, when you watch a music video on YouTube, you can use its Single Loop feature to loop it with ease. Do you know how to repeat part of a song?

This post shares four best song repeater tools to loop audio on your Mac, Windows PC, iPhone, iPad, Android phone, or directly online. You can select your preferred song looper to repeat the whole song or a part of it.
GUIDE LIST
Part 1. Online Song Repeater to Loop Music for Free
Whether you want to repeat part of a song or a whole audio file, you can rely on the Free Video Looper Online. It is specially designed to repeat videos on your web browsers like Chrome, Edge, Firefox, or Safari. It can work as a song repeater online to loop MP3 songs. It supports all popular lossless and lossy audio formats, including MP3, M4A, WAV, AAC, ALAC, AIFF, FLAC, and more. It allows you to repeat the duration for any part of a song and set loop times based on your need. You can follow the steps below to loop music online.
Step 1
On a web browser, search for ArkThinker Free Video Looper Online, and go to its video and audio looping page. When you get there, click the Start Looping Video button to upload your music video or song. You can loop audio on a Mac, PC, iPhone, iPad, or Android phone.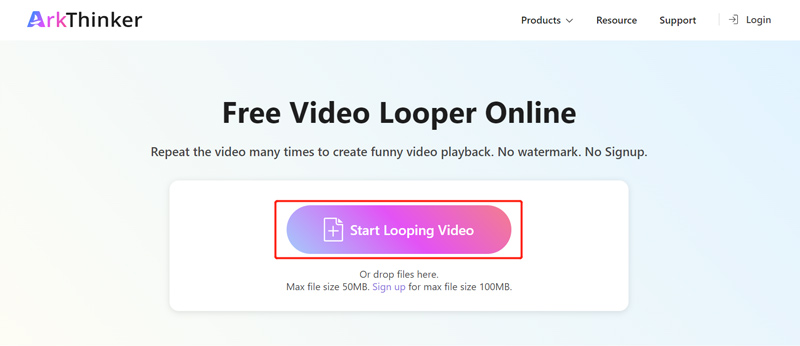 You can loop a music file of less than 50MB with no signup. When you need to repeat a music video, you can choose to sign up for an account to get the max file size of up to 100MB.
Step 2
When the song is uploaded, you can freely adjust the duration you like to loop by dragging its left and right sliders. Also, you can choose the loop times as you like. This online song looper allows you to repeat a song 2, 3, 4, or 5 times.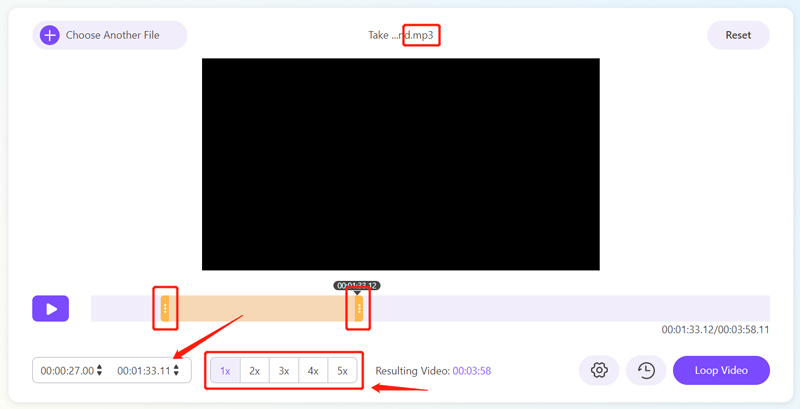 Step 3
Before you output the looped song, you can click the Settings button to customize various audio settings according to your need. For instance, you can choose the correct audio format, encoder, channel, bitrate, and sample rate.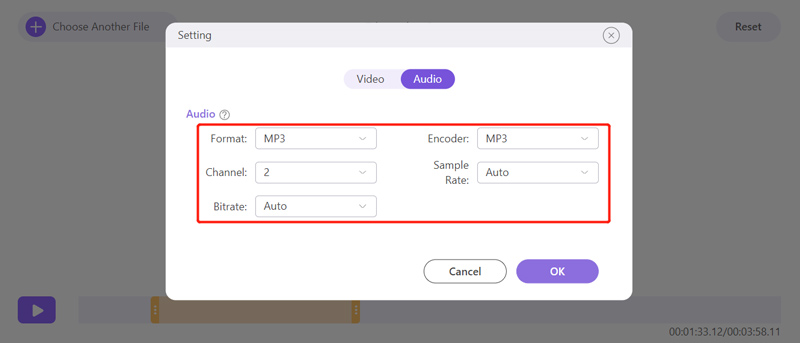 Step 4
Click the Loop Video button to make the song on repeat. When it is looped successfully, you can click the Save button to store it. You can click the specific editing buttons like crop, rotate, flip, cut, and others to edit the looped song.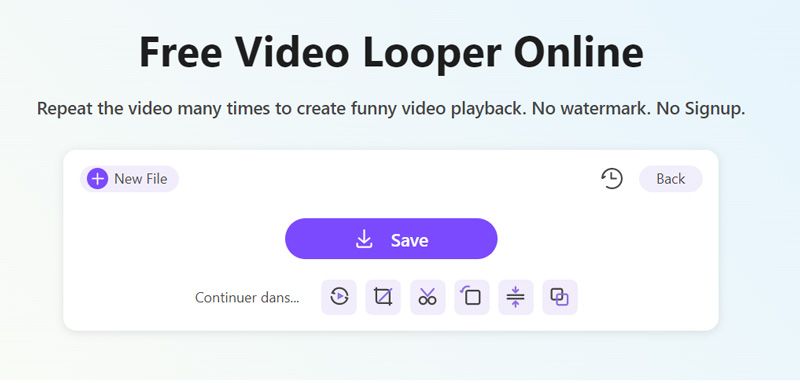 Part 2. How to Make Music Loop on Mac, iPhone, and iPad Using iMovie
iMovie is a free music looper for Apple devices like Mac, iPhone, and iPad. It is pre-installed on any Mac to edit video and audio files. If you need to repeat MP3 songs on an iOS device, you should free install the iMovie app from App Store. You can follow the steps below to make a music loop in iMovie. Here we take loop audio on Mac using iMovie as an example.
Step 1
Launch iMovie on Mac and start a new project. Add the music file you want to loop and then drag it onto the Timeline for later editing.
Step 2
Click the audio track in the timeline to highlight it. Click the Edit button and then use its Copy feature to make a copy of it. You can right-click on the audio and then select the Copy option.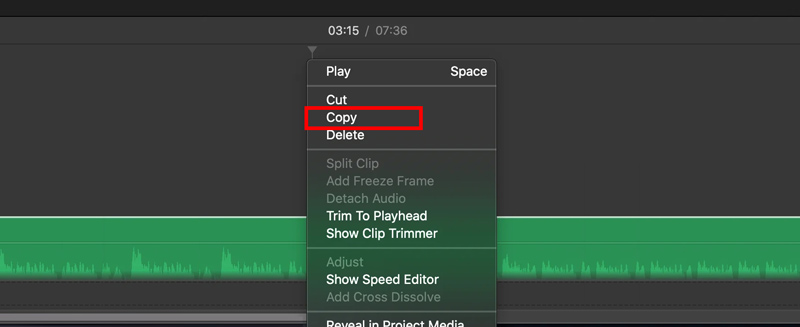 Step 3
Move the timeline cursor to the starting or end point and paste your copied audio file. By doing so, you can make a music loop in iMovie.
Part 3. Popular MP3 Song Looper App for iPhone and iPad
As an iOS user, you can easily loop songs in the Apple Music app on your iPhone or iPad. While playing a song, playlist, or album, you can use its Repeat feature to play continuous music with ease. But this function can't repeat part of a song. In that case, you can find some third-party song repeater apps from App Store to help you loop music.
Music Looper is a popular song repeater app that can play the continuous repeat of the selected music section. It is specially designed for musicians to practice music and play instruments. It allows you to select any audio segment and continuously play the section. This sound looper app can also slow down your selected audio section and repeat it to fit your practice. It supports different ways to experience beats.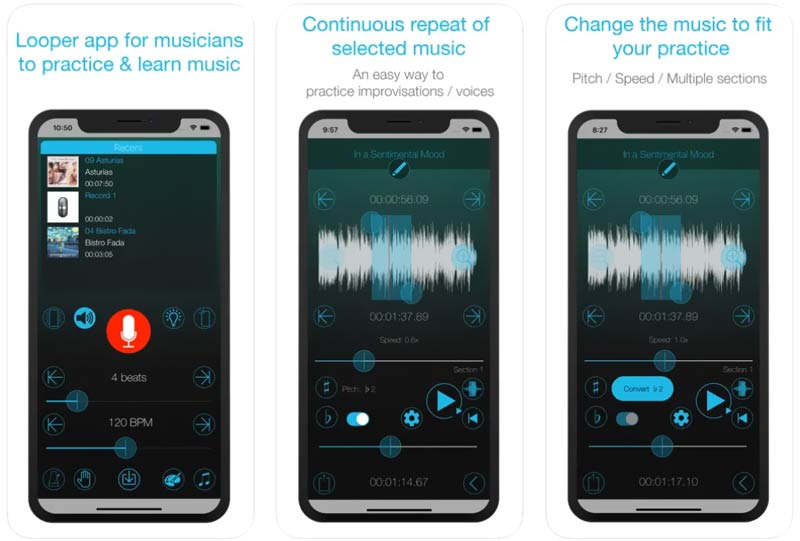 Part 4. Best Song Repeater App for Android
When you want to repeat music on an Android phone, you can use a free online song looper or a third-party app. You can access many song repeater apps in Google Play Store. Loop Player is a famous A - B song repeating player for Android users. It is equipped with many advanced controls to make a song repeat and change the playing speed. This audio repeater app is mainly used for practicing music, studying new languages, dancing, and more.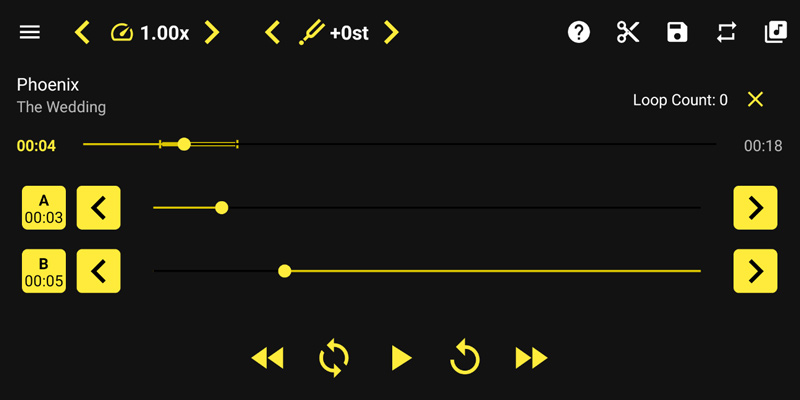 Loop Player offers both free and paid versions. You can play songs, repeat interval or loop music, customize audio playback speed, browse files, count loop repetition, and more for free. After upgrading to its paid version, you can pitch from -6st to +6st, change playing speed from 0.3× to 1.7×, store unlimited loops, and get more pro features.
Part 5. FAQs of Song Repeater
How do you repeat a song in Apple Music on your iPhone?
When you listen to a song or album in the Apple Music app, you can tap on the playing interface, tap the Playing Next button in the bottom-right corner, and then tap the Repeat button at the top Playing Next screen to make a music loop.
Can Audacity create a seamless audio loop?
Audacity is a free audio editor that can help to loop music. When you add an audio file to Audacity, you can click on the top Transport menu to use its Looping feature.
How do you loop a video on an iPhone?
You can use ArkThinker Free Video Looper Online to loop a video on iPhone. Here are steps: enter this tool in Safari on your iPhone, tap on the Start Looping Video button to load your video, select the duration of your video you want to loop, tab Loop Video, then you can finish looping a video on your iPhone.
Conclusion
After reading this post, you can get helpful song repeater apps to loop music on different devices. If you have better audio looper recommendations, please share them in the comments below with our other readers.
What do you think of this post? Click to rate this post.
Excellent
Rating: 4.9 / 5 (based on 175 votes)