Detailed CamStudio Review and Best CamStudio Alternative
CamStudio is one of the most popular screen recorders available today. You can use it to capture videos on a Windows computer. Before downloading it, you may wonder if the CamStudio screen recorder is safe, what are the key features of CamStudio, and its pros and cons. This post gives a full CamStudio review that covers all the associated information.

GUIDE LIST
Part 1. What Is CamStudio Screen Recorder
CamStudio is a popular screen recording software that lets you capture your computer screens and create video tutorials, gameplay recordings, and demonstrations. It is mainly used for Windows users to record on-screen video and audio activities. In this part, we will explore CamStudio's key features, usability, performance, and overall user experience.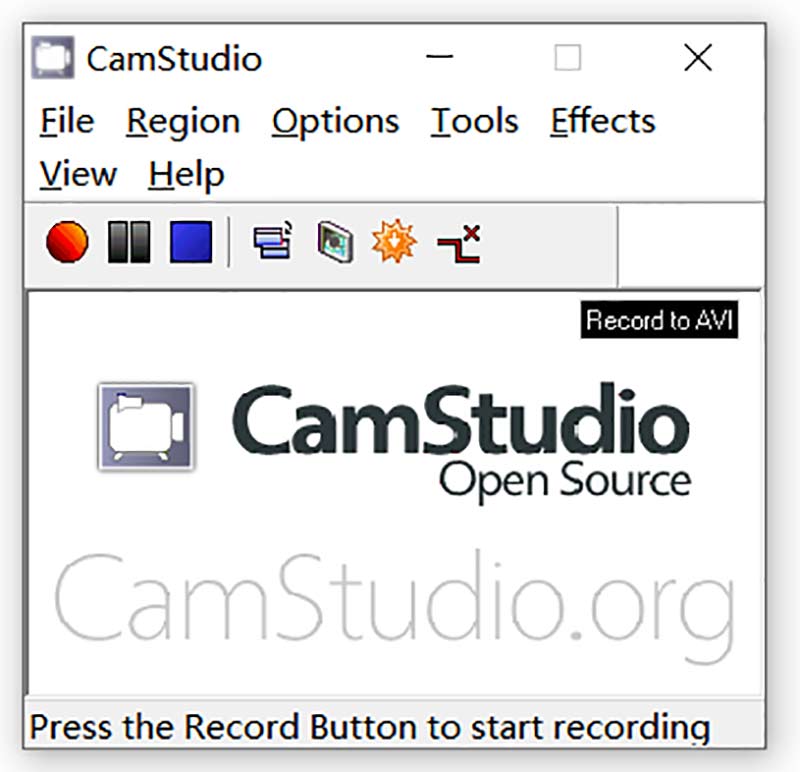 Key features of the CamStudio
Screen Capture: CamStudio enables you to record your computer screen with high-quality video and audio. It offers options to choose specific regions or the entire screen for recording.
Audio Recording: Users can record audio from the speaker and microphone simultaneously, providing the ability to add voiceover.
Customizable Cursors: The CamStudio screen recorder allows you to enhance your recordings by adding customized cursors, which can be helpful while demonstrating specific actions or highlighting important elements on the screen.
Video Annotations: CamStudio provides tools to add text and annotations to recorded videos. You can highlight and emphasize certain areas, draw shapes or arrows, and even add watermarks to protect your intellectual property.
Output Formats: The recordings can be saved in different output formats based on your need, including MP4, AVI, SWF, and more. The flexibility allows for easy sharing and compatibility with various video players and platforms.
CamStudio pros and cons
CamStudio is open-source software that is free to use without licensing fees. That makes it an accessible choice for users who require basic screen recording features but have budget constraints.
The user-friendly interface of CamStudio makes it simple for beginners and experienced users to navigate and start recording their screens quickly. The straightforward controls and intuitive layout contribute to a smooth user experience.
CamStudio is a lightweight screen recorder that doesn't consume many system resources. It runs smoothly on most machines without causing any noticeable impact on performance.
You can customize various settings within CamStudio to match the specific recording requirements. These settings include video quality, audio sources, frame rates, and cursor options, allowing for better control over the recording process.
CamStudio does not support Mac. It excels at screen recording, while CamStudio lacks advanced video editing features. Users looking for extensive editing functionality may need additional software to meet their needs. It does not allow you to capture system sound.
CamStudio's development has been inactive for several years. The lack of updates may lead to compatibility issues with newer operating systems and potential security vulnerabilities. What's worse, most anti-virus software doesn't trust CamStudio. You may face various bugs while using CamStudio.
CamStudio supports several popular video formats. But it lacks some newer formats widely used in the industry, such as MOV and MKV. You may need to convert recorded videos using external software.
CamStudio download
You should navigate to the official CamStudio website to download the CamStudio screen recorder. When you get to the page, click the Download button, then follow the on-screen prompts to download and install it.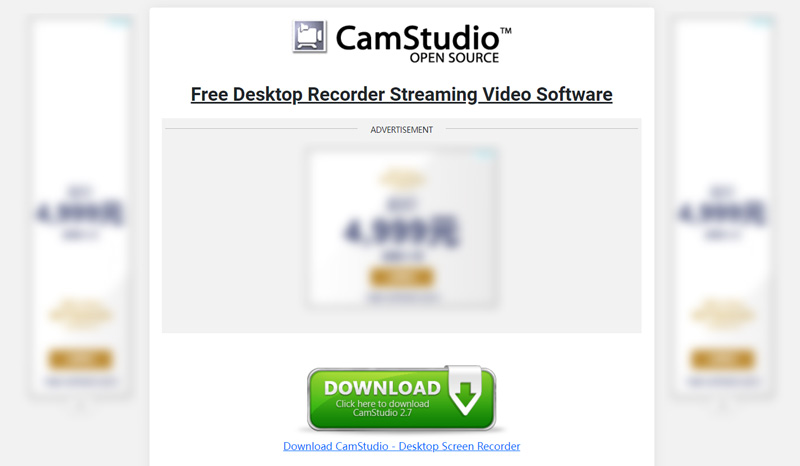 How to use CamStudio
Open CamStudio Desktop Screen Recorder on your computer. Go to Region and Options to configure audio and video recording options. Set your desired screen region, audio sources, video quality, and other preferences per your requirements.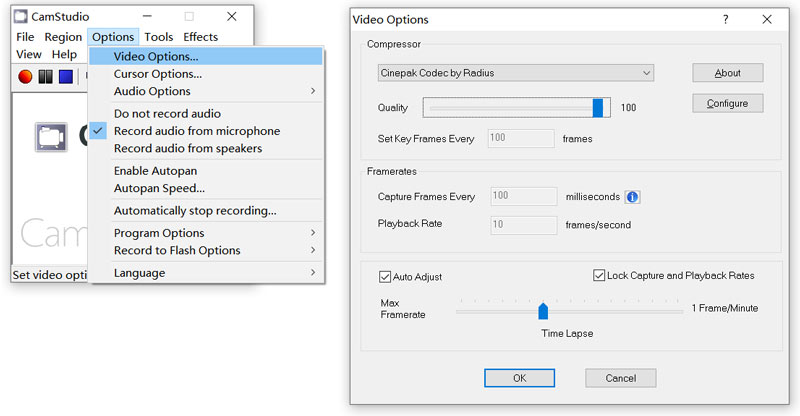 Click the recording button within the software interface to start and stop recording. Once you have finished recording, CamStudio allows you to save the captured video to your desired location in its default output format. Choose the corresponding settings and export your recording file.
Part 2. Best Screen Recorder Alternative to CamStudio
CamStudio may give you a bad recording experience. When you first launch CamStudio, you will be prompted to upgrade it. However, the new updated version is the same as the downloaded one. What's worse, you cannot adjust its interface and output your recording with a preferred video format.
Suppose you are unsatisfied with CamStudio and prefer a better recording tool. Just turn to the best CamStudio alternative, ArkThinker Screen Recorder. It is designed with all necessary recording and editing functions. It lets you easily capture your Windows or macOS computer screen with high quality. Moreover, this CamStudio alternative offers many output formats for you.

The recommended CamStudio alternative provides options for different recording needs, such as Video Recorder, Audio Recorder, Webcam Recorder, Game Recorder, Phone Recorder, and more. You can download it on your computer and select the specific recorder. It lets you capture your device with full screen or a selected region. Moreover, it can record audio from system sound and microphone.

Part 3. FAQs of CamStudio Screen Recorder
Is CamStudio safe to use?
CamStudio screen recorder is safe to use. But you should ensure that you download its Desktop Screen Recorder from the official website.
Is there a CamStudio for Mac?
No. CamStudio does not offer a screen recorder for the Mac version. You can only download and use CamStudio on a Windows computer.
How to stop the screen from flashing while recording on CamStudio?
Open CamStudio and click the top Options menu. Go to the Program Options and tick the Hide flashing rectangle during the recording option. After that, the flashing corner feature will be disabled.
Conclusion
CamStudio is a free and user-friendly recorder that offers basic features to capture screens. However, through our test, it can't give a good screen recording experience. So we introduce you to a CamStudio alternative for better capturing video and audio files on your computer.
What do you think of this post? Click to rate this post.
Excellent
Rating: 4.9 / 5 (based on 543 votes)