oCam Screen Recorder Review with Alternative
Whether you want to create a tutorial, capture important moments in a game, or record a video conference, having a reliable screen recording tool is essential. When you search for a screen recorder online, you may get the oCam recorder recommendation. This post gives a detailed oCam screen recorder review. You can know its key features, pros, cons, and other related information.

GUIDE LIST
Part 1. What Is oCam Screen Recorder
oCam screen recorder is a popular and user-friendly software that allows you to capture your computer screens in high quality. Whether you want to record your gameplay, create tutorials, or capture video conferences, oCam offers various features to meet your needs. Its intuitive interface and extensive customization options have gained popularity among casual and professional users. oCam recorder supports Windows 7, 8, and 10.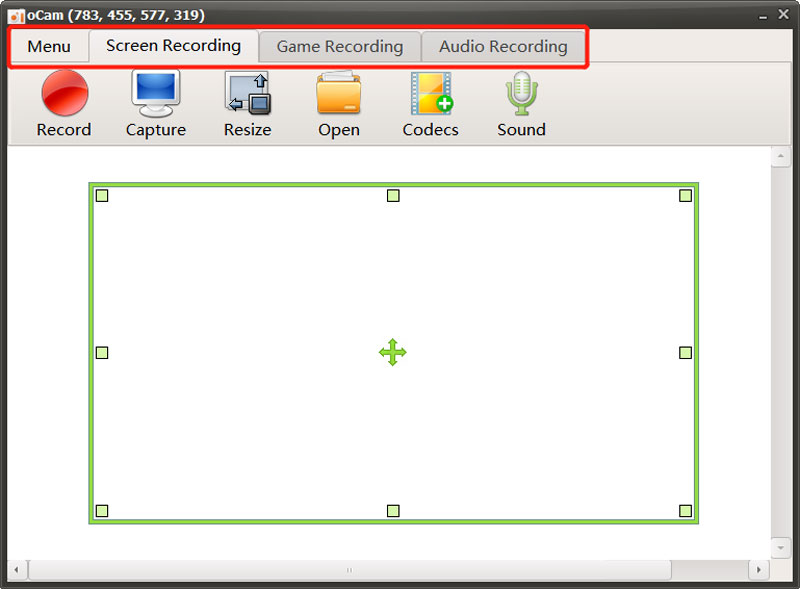 Key features of the oCam recorder
oCam screen recorder offers three main options, Screen Recording, Game Recording, and Audio Recording, to customize your recordings according to your specific requirements. You can choose the recording area, whether the entire screen or a specific portion. The flexibility allows you to focus on the relevant content without capturing unwanted elements on your computer screen.
oCam offers a Resize feature to directly capture your screen for YouTube uploading. It lets you record high-resolution videos, even up to 8K UHD. Also, it lets you freely customize the video and audio codec settings. You can save your screen recordings in popular formats like MP4, MKV, M4V, MOV, FLV, VOB, AVI, and more. Additionally, oCam can record audio from various sources, such as system sound, microphone, or both, providing a comprehensive multimedia recording experience.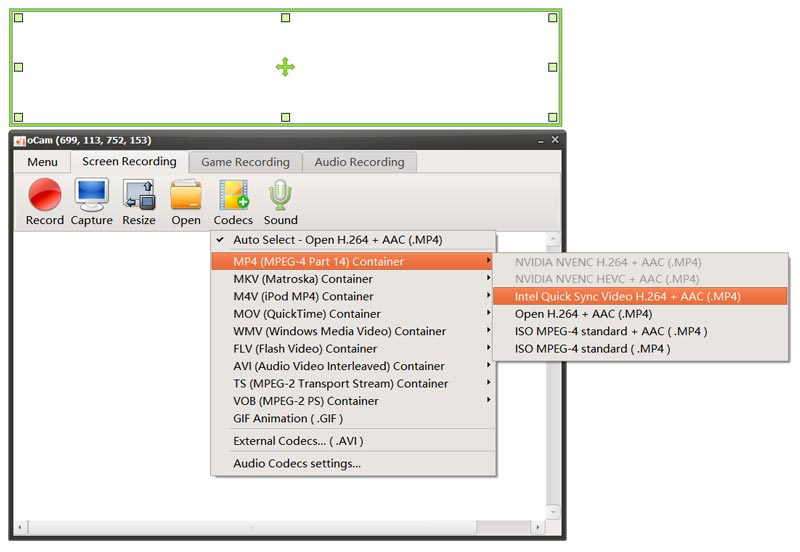 oCam screen recorder enables users to overlay webcam footage onto their recordings. This feature is handy for tutorial creators or gamers who want to add a personal touch to their videos. To enhance the recording experience, oCam lets you define custom hotkeys for functions like start, stop, pause, and more. The feature allows for quick and seamless control over the recording process. It also gives other useful options to ensure you record high-quality videos with ease.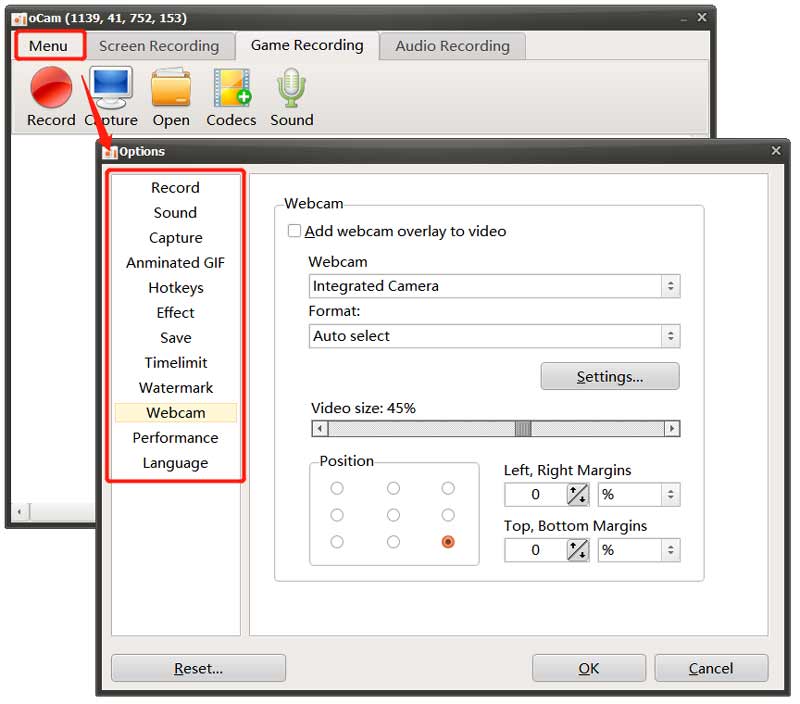 Download the oCam screen recorder
You should go to the official Ohsoft website to download the oCam screen recorder. When you reach the page, hover your mouse on the oCam tab, then click the Download option. Scroll down to the oCam Free Download section, and click the download button to get to the specific downloading page.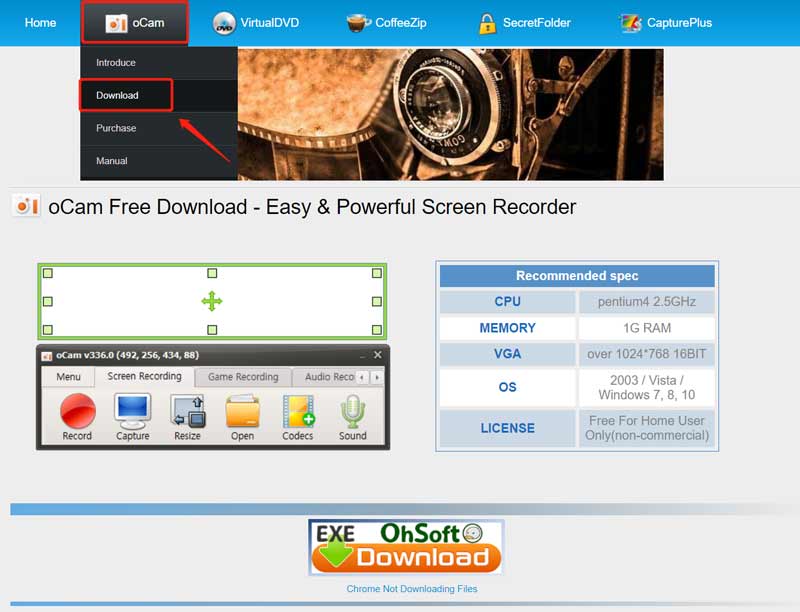 Click the Download button next to the oCam product to start the recorder downloading.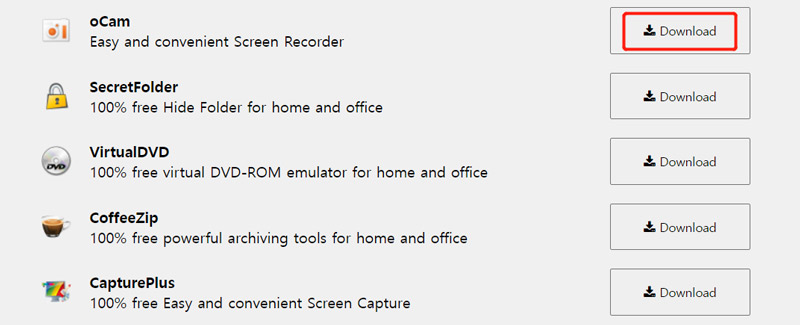 Part 2. Advantages and Disadvantages of oCam Screen Recorder
Before downloading the oCam recorder, you may want to know its pros and cons. This part will discuss its advantages and disadvantages to help you decide whether to use it.
Advantages of oCam recorder
The interface of the oCam screen recorder is clean, intuitive, and easy to navigate. Whether you are a novice or an experienced user, you will find it simple to operate.
oCam delivers excellent recording quality, capturing videos with sharp details and smooth motion. It is crucial, especially for gamers and content creators requiring professional output.
Compared to other screen recorders, oCam is lightweight and requires minimal system resources. That ensures smooth recording performance without causing system slowdowns. Moreover, the oCam screen recorder offers various outputs for different platforms.
Disadvantages of oCam recorder
oCam lacks basic editing functions for you to directly edit your screen recordings. You need dedicated video editing software to get extensive video editing capabilities. While using the oCam screen recorder, you may be prompted with many ads.
One drawback of oCam is the absence of live-streaming support. If you want to live stream your screen recordings to platforms like Twitch or YouTube, you must explore alternative software options.
oCam screen recorder is only compatible with Windows systems, such as Windows 10, Windows 8, and Windows 7. Till now, you can't use it on a Windows 11 or macOS computer.
Part 3. How to Use oCam Screen Recorder
To begin your recording, you can launch the oCam screen recorder and select Screen Recording, Game Recording, or Audio Recording based on your need. You can freely adjust the recording region to capture your computer screen. Also, you can go to Menu to customize various settings.
Click the Record button to start the capturing. During the recording, you can take screenshots by clicking the Capture button. Your recording files will be automatically stored in an oCam folder on your computer. You can click Open to quickly locate them.

Part 4. Best oCam Recorder Alternative to Capture Your Screen
Suppose you are not satisfied with the recording feature of the oCam screen recorder, or you prefer a recorder to capture videos and audio on your Mac. In that case, you can turn to the best oCam recorder alternative, ArkThinker Screen Recorder. It offers more advanced recording and editing functions. Besides capturing high-quality recordings on Windows and Mac computers, it lets you record your iPhone and Android phone screen.

Free download this oCam screen recorder alternative on your Mac or Windows PC. Launch it and choose the specific recorder tool you want to use. You can freely adjust video and audio recording settings, then click the REC button to start capturing.

Choose its Phone Recorder when you need to capture activities happening on an iOS or Android device. It also has a Webcam function to put your face into the recording. Moreover, this oCam alternative offers many commonly-used editing functions. You can use them to directly edit your video or audio recordings.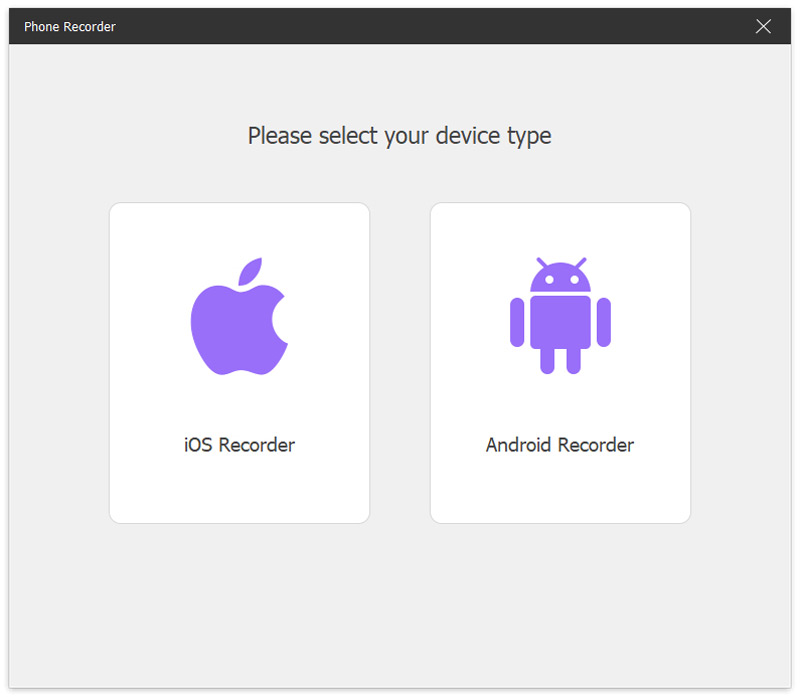 Part 5. FAQs of oCam Screen Recorder
Is the oCam screen recorder safe to use?
oCam is generally considered safe to use as a screen recorder. However, it's always important to download software from reputable sources and ensure a reliable antivirus program is installed on your device. Before installing and using the oCam screen recorder, you should read user reviews and check the authenticity of the software.
Is the oCam recorder free?
You can free download oCam and use its recording features. But its free version has feature limits and ads. The oCam Official Version costs 1 PC/$39.00 USD.
How to capture animated GIFs using oCam?
Open oCam and choose Screen Recording. Click Codecs and select the GIF Animation option. Then click the Record button to capture GIF files using oCam.
Conclusion
Screen capture allows you to take a snapshot or record the content of your computer screen. It can be helpful when you want to share specific information or troubleshoot a problem. This post gives you a detailed oCam screen recorder review. You can check its recording capabilities and figure out if it can fit your particular use case.
What do you think of this post? Click to rate this post.
Excellent
Rating: 4.9 / 5 (based on 473 votes)