iTop Screen Recorder Review: How to Use, Pros & Cons, Pricing and More
Nowadays, a good screen recorder is necessary for most people. You can use it to capture your screen, record video and audio, which is handy for rewatching and relistening online meetings, making presentation recordings and tutorials. Then iTop Screen Recorder is here for you. With great multiple functions and easy-to-use design, it can satisfy almost all your needs for a screen recorder. Check this review to look at it deeply.

GUIDE LIST
Part 1. What is iTop Screen Recorder
With the aid of the intuitive, effective, and simple iTop Screen Recorder, you can record all of your PC operations and produce films. The free screen recorder for PC has four modes that make it simple and quick to record screen, camera, audio, and gaming clips.
Flexibly Capture Your Screen
You can record any area of your screen, either full screen or a selected region in a fixed ratio 16:9 or 4:3. The high-quality recording can be smoothly done without any lag. After recording, you can output video and audio in more than 12 formats, including MP4, AVI, MKV, MOV, MP3, etc.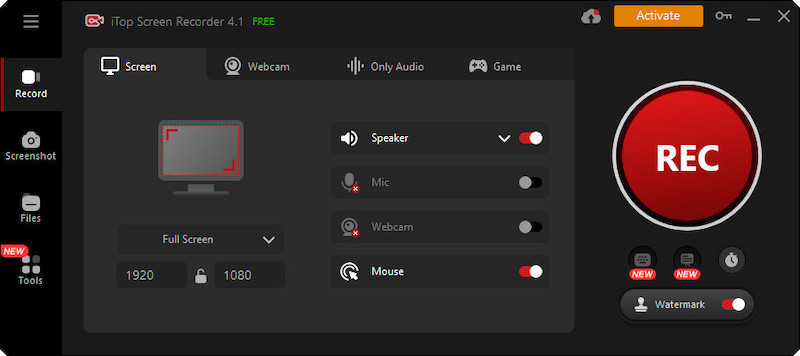 Record Video, Audio, and Webcam Simultaneously
With a camera and microphone, you may capture your face and voice in a video for tutorials, gaming, and other purposes. For music or your voice, you may also record and save a separate audio file.
Game Recording Without Lag
A game mode is now available in iTop Screen Recorder to record your greatest performances. The screen recorder uses NVIDIA, AMD, and Intel hardware acceleration to capture game clips in 4K UHD and 1080P 90fps FHD without FPS dips or delays. A camera may be used to simultaneously record gaming and oneself.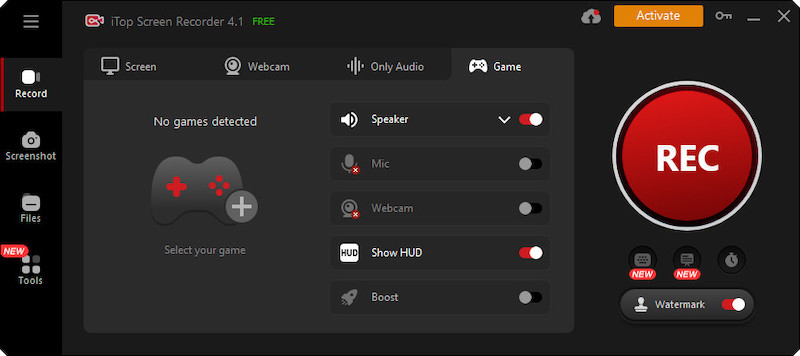 Recording Schedule
You can set a starting and ending time for your recordings in advance with the schedule function, which can make your recording as convenient as possible.
Able to share to Popular Video Platforms
iTop Screen Recorder allows you to directly share your videos to various online video platforms, such as YouTube, Facebook, Instagram, etc.
Free Download
You can download iTop Screen Recorder for free for a limited service. To update to Pro version, pay $19.99 per month or $32.99 for 1 PC and $39.99 for 3 PCs.
Part 2. How to use it
Step 1
Launch iTop Screen Recorder. Select the recording area according to your needs.
Step 2
Choose Speaker, Mic, Mouse and Webcam according to your needs.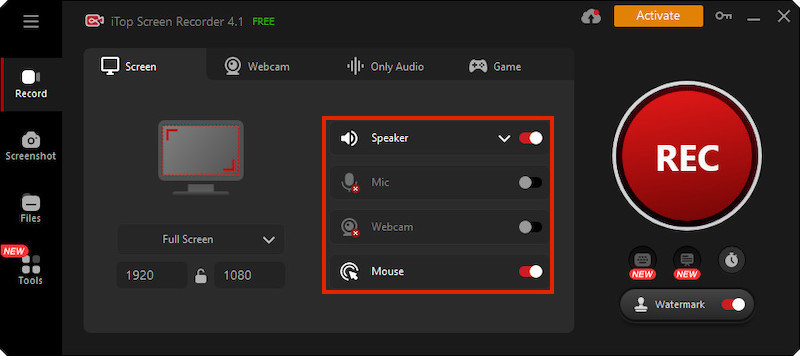 Step 3
When you are ready for recording, click on REC button. You can also set a hotkey for start. After a few seconds, the recording will start.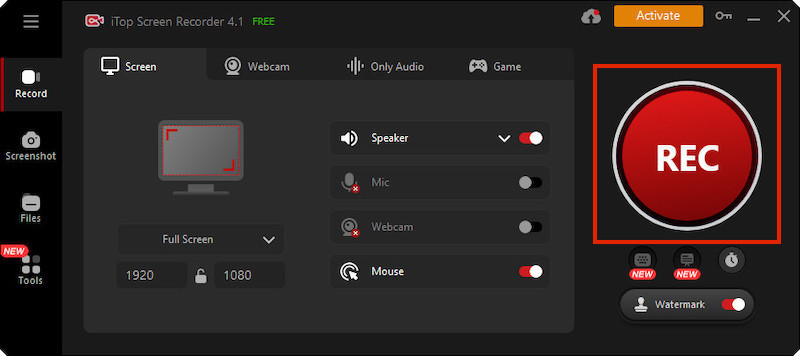 Step 4
To stop recording, click on Stop button.
Step 5
In My Creators section, you can find your recording and edit it by the edit button.
Part 3. Pros & Cons
Pros :
Extensive use
Able to edit videos inside, including applying filters, adding stickers and watermarks
Self-setting hotkeys and multiple output formats
Schedule recording
Cons :
Only for Windows system
Low-quality output
Free version has watermark
Part 4. An Alternative – ArkThinker Screen Recorder
What can ArkThinker Screen Recorder do?
ArkThinker Screen Recorder is a universal screen recorder. You can record your screen, online meetings, gaming process and so on. It provides both Windows and Mac version.

It is able to record screen or video without damage and record the computer system audio or microphone sound only. You can capture your webcam and record with your webcam on. Its snapshot function allows you to take snapshot on any window. Most importantly, its screen recording can support recording at 4K resolution without any lag.
The video won't be produced immediately once you've finished recording. You may examine it and ensure everything is accurate when you have time. You may use the trimmer to modify your video if there is a problem. It's time to hit the Save button when you're through watching your film and are completely satisfied. The preview area might help you avoid wasting time by producing the wrong video.
What's more, With the ArkThinker Screen Recorder, you may capture the screens of iOS and Android devices on your PCs. You can use it to record the displays on your computer if you can't record the screens of your iPhone or Android phone directly on the device. To make watching films more comfortable, this function may magnify the iPhone or Android screen on your PC.
How to use ArkThinker Screen Recorder?
Step 1
Launch ArkThinker Screen Recorder.
Step 2
Select your recording area.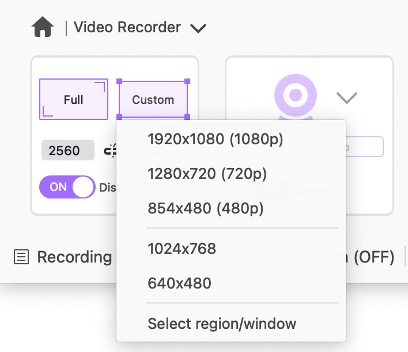 Step 3
When everything is ready, press the REC button to start recording. Or press the hotkey you set.

Step 4
Press the stop button or hotkey to stop recording.
Step 5
If you want to make adjustment to your video, use the video trimmer. Then output into any video or audio format you want.

Part 5. FAQs about iTop Screen Recorder
Is iTop Screen Recorder safe to use?
iTop Screen Recorder is a trustworthy Windows screen recorder. There are adequate technological and organizational steps to guarantee no virus or hacking concerns since it takes the security of client data and information seriously. So you don't need to be concerned about safety when using iTop Screen Recorder.
Can I use it in game live-streaming?
You can record your gameplay but cannot directly use it in game live-streaming.
Where can I get a crack version?
We cannot crack iTop Screen Recorder for you concerning the copyright and we strongly discourage this. Please download it via official website.
Conclusion
As for Windows users, iTop Screen Recorder is definitely a great application for screen recording. It might be of tremendous use to you when you want to record online meetings and presentations, create video lessons, or record gameplay, among other things. If you have interested in it after reading this review on iTop, you can download it for free and use trial version. But don't forget: ArkThinker Screen Recorder is always here for you when you are willing to try another one.
What do you think of this post? Click to rate this post.
Excellent
Rating: 4.9 / 5 (based on 436 votes)