What Is iSpring Suite and Whether It Is Worth You to Open Wallet
iSpring Suite is popular among instruction designers, educators, course developers, and L&D professionals. Originally, the eLearning toolkit was developed as an extension and plugin for Microsoft PowerPoint. Now, some users have it as an independent program. Although iSpring Suite allows you to make quizzes, dialogue trees, surveys, and more, it is not perfect. Therefore, you'd better read our review carefully before using this toolkit. So that you can make the best decision.

GUIDE LIST
Part 1: iSpring Review
As mentioned previously, iSpring Suite is an eLearning toolkit. It is developed to be intuitive to create online courses, quizzes, interactive role-plays, and video lessons. It works as an extension for PowerPoint or an independent eLearning authoring toolkit.
What Does iSpring Suite Include?
The iSpring Suite is free to download. After a free trial, you can subscribe to a plan. The standard plan costs $770 per author per year. The Max plan costs $970 per author per year, and the Premium plan costs $1,970 per author per year. The standard subscription includes:
iSpring QuizeMaker for making smart quizzes and tests. It lets you choose from a variety of question types, add video and audio to quizzes, and answer the quizzes.
iSpring TalkMaster for simulating dialogues. It consists of linked scenes arranged in a tree structure.
iSpring Visuals for adding media-rich interactions to your course to make your e-learning courses engaging.
iSpring Flip is a flipbook that allows users to turn their Word, PDF, or presentations into e-books.
iSpring Audio-Video Editor is the built-in video and audio editor to adjust your audio and video narration within the iSpring Suite.
iSpring Cam Pro is a tool to create screencasts, webcam videos, and screen captures complemented with a presenter video.
With the iSpring Suite Max subscription, you will also get access to:
iSpring Space is the online host service within iSpring Suite.
iSpring Content Library provides thousands of visual content for your courses.
Review of iSpring Suite
Pros :
You can use iSpring integration with Microsoft PowerPoint or as an independent program.
It integrates a client with everything you need to build engaging training modules.
The toolkit utilizes HTML5, which is accessible on a range of devices.
The customer support is excellent.
Cons :
The built-in video editor only has limited capabilities.
iSpring is only available to PCs.
The privacy standards are questionable.
The price is too high for personal use.
Part 2: How to Use iSpring Suite
To create interactive online training, you need to download the iSpring Suite from the official website. Then you will get a 30-day free trial to try the capabilities. Open the installer file, and log in to your account. After installation, iSpring will be added to PowerPoint. You can return to PowerPoint and start creating an online course.
Step 1
To use iSpring in PowerPoint, open your presentation software, and go to the iSpring Suite tab on the top menu bar.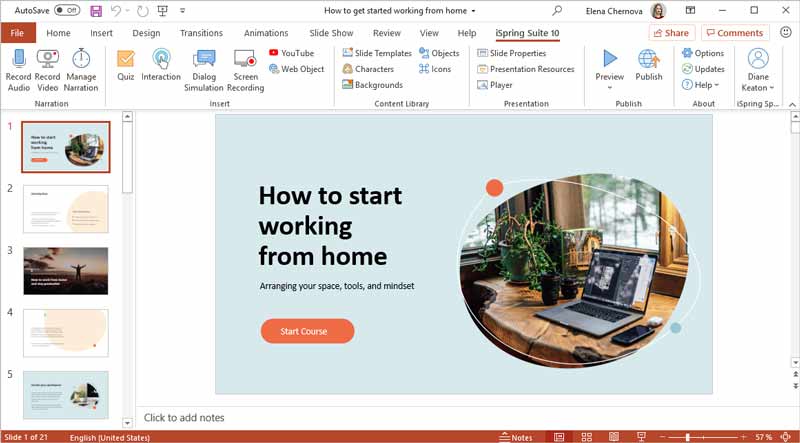 Step 2
Click on Slide Templates on the ribbon and you will get a huge library of creative resources. Choose a proper one according to your subject, and click the Insert button to add it to your presentation.
Step 3
Next, add characters, backgrounds, objects, or icons to your course by hitting the respective options. The Characters window, for example, gives you a diverse library of options.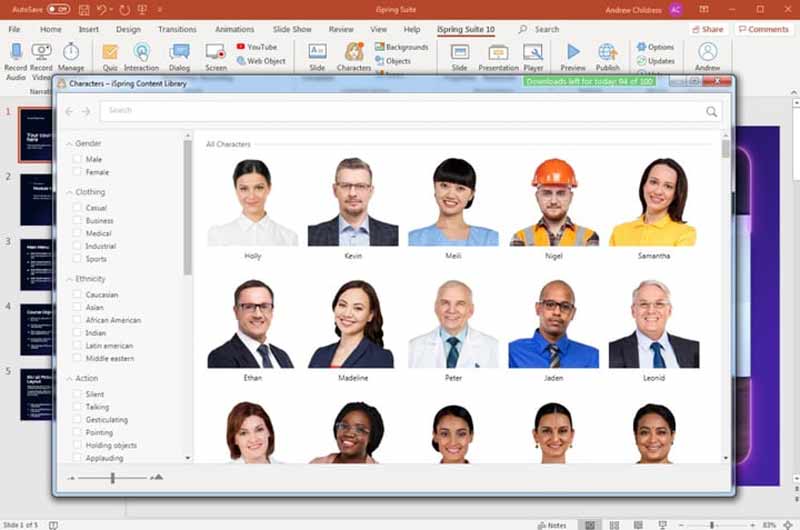 Step 4
To add audio or video narration, choose the Narration option. Then click on Record Audio or Record Video to start recording audio or video with iSpring.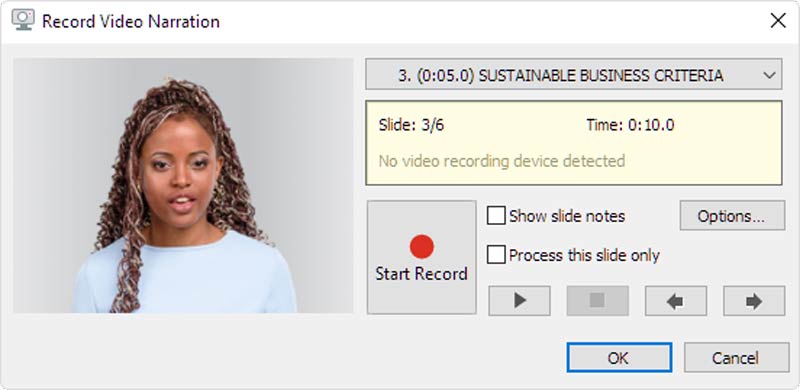 Step 5
Click the Stop button when you want to stop the iSpring recording. If you want to adjust the recording, click the Manage Narration button to open the embedded audio and video editor.
Step 6
Besides, you can add interaction designs, screen recordings, quizzes, or dialog by choosing Interaction, Screen Recording, Quiz, or Dialog Simulation in the Insert section.
Part 3: Best Alternative to iSpring
Obviously, iSpring is one of the best e-learning software for large companies and professionals. If you have a limited budget, you may need an alternative to iSpring Suite, such as ArkThinker Screen Recorder. It offers pro-level functionalities at an affordable price.
Best Alternative to iSpring Suite
Record video, audio, gameplay, screen, and more easily.
Capture multiple sources at the same time.
Optimize video and audio quality.
Include a wide range of custom options.
How to Use the iSpring Suite Alternative
Step 1
Set up the tutorial creator
Launch the best alternative to iSpring after you install it on your PC. There is another version for Mac. Choose Video Recorder to enter the main interface. If you wish to make audio narration, choose Audio Recorder instead. Set the recording area in the DISPLAY section. Enable System Sound and adjust the volume. To add your face and narration, enable Webcam and Microphone.

Step 2
Make a visual course
Click the REC button to begin recording the tutorial. When it is done, click the Stop button. Then preview and edit the tutorial, and hit the Done button to save the course.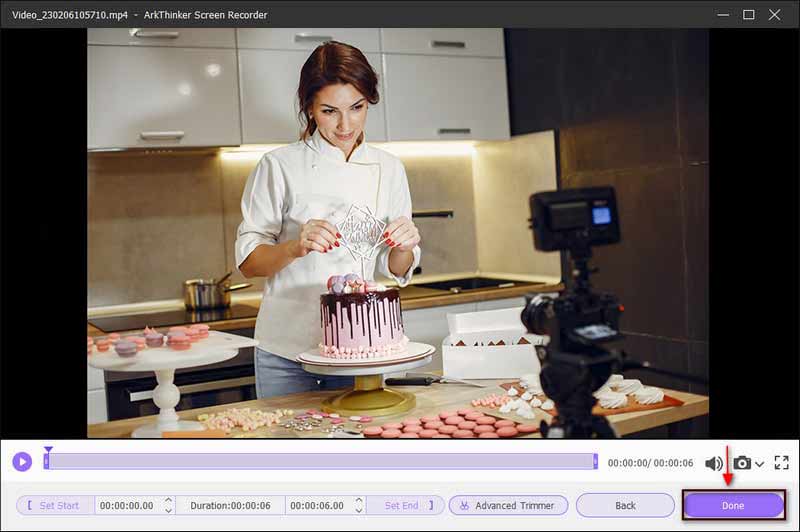 Part 4: FAQs about iSring Review
Is iSpring free to use?
iSpring is free to download, but you have to subscribe to a plan after a 30-day free trial.
Is iSpring safe?
According to our research, iSpring is safe to use for tutorial making. However, you should not add private content to online courses.
What output format does iSpring support?
iSpring Suite allows users to create tutorials and courses in HTML5 or popular video formats. If you are using iSpring in Microsoft PowerPoint, you can save the presentations in ppt.
Conclusion
This article has reviewed one of the best e-learning software, iSpring Suite. Following our introduction and review, you should understand what it can do, whether it is worth to download, and how to use it. Moreover, we also recommended an alternative to iSpring for beginners and average people to make online tutorials and courses quickly. If you have other questions about the software, please feel free to write them down below this post.
What do you think of this post? Click to rate this post.
Excellent
Rating: 4.9 / 5 (based on 261 votes)