FlashBack Express Screen Recorder Review [2023]
Screen recording software has become an indispensable tool in this fast-paced digital age. It has various features, from creating compelling content to facilitating presentations and tutorials. FlashBack Express screen recorder has emerged as a standout contender among the multiple options. It is one of the simplest solutions to meet the diverse needs of users.
In this FlashBack Express review, you will know its pros, cons, key features, performance, and overall experience. By the end of this evaluation, you'll clearly understand whether this tool meets your need. And you will know if it merits consideration as your screen recording solution. Now, let's dive into the world of FlashBack Express.

GUIDE LIST
Part 1. Review FlashBack Express Screen Recorder
FlashBack Express is one of the best screen recorders nowadays. This recorder is developed by Blueberry Software. It is designed to capture and record your computer screen. Meanwhile, it provides a range of powerful features for creating high-quality videos. Whether you need to create tutorials, demonstrations, or presentations, FlashBack Express offers an intuitive design to accomplish these tasks easily.
Pros :
Easy to use with intuitive design.
No time and watermark limitations.
Customize the recording with hotkeys.
Cons :
The free version has limited features.
FlashBack recorder for Mac is not supported.
It does not support recording audio only.
What is Best for
What sets FlashBack Express apart from its competitors is its intuitive design. FlashBack screen recorder has the simplest interface. It allows you to start recording the screen with one click. And it only supports the screen recording feature, which allows beginners to navigate easily.
Recording Interface
When you view the FlashBack recording interface for the first time, you will find it easy to use. The main interface shows the necessary settings, including screen range, webcam, and audio options. And the bottom is the recording button. It is not complex for beginners. However, the program display supports 3 languages only, which is not good enough. And it cannot customize the background color, so you have to bear it. In sum, the screen recorder will be a better recording choice if it can support more languages and background colors.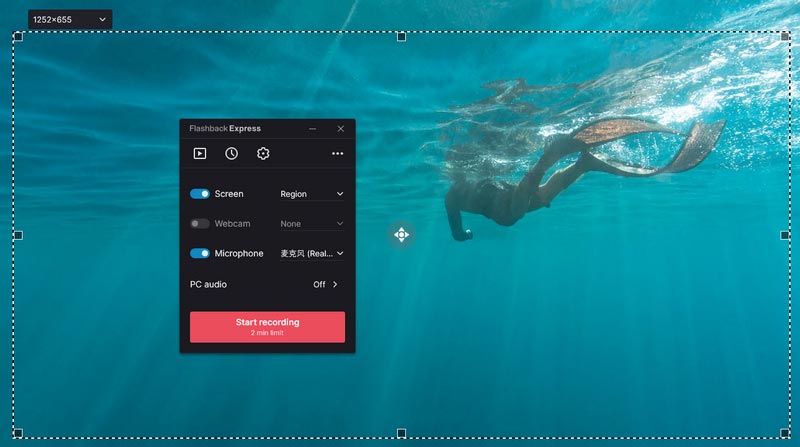 Recording Features
FlashBack Express can record the entire screen, a specific region, or individual windows. It provides flexibility in capturing what you want to showcase. Meanwhile, the software allows you to record audio from your microphone or system audio. It enables you to include voiceovers, explanations, or background music to enhance your videos. Additionally, FlashBack also supports webcam recording, allowing you to add a personal touch. After recording, the software provides some output options, including popular formats like MP4, AVI, MKV, and WMV.
Whether you are a novice or an experienced content creator, FlashBack offers a straightforward solution for all your screen recording needs. It is a reliable choice for capturing and sharing engaging visual content.
Recording Quality
The quality of the screen recording is also very important for the visual presentation. FlashBack Express can record video at 720p. However, it can meet basic recording needs only. If you want to make professional recording content, you must upgrade to the FlashBack Pro version. The pro version can record videos up to 4K. If you need to capture video in higher resolution, you can try other third-party recording tools listed in the next part.
Part 2. Best Alternative to FlashBack Express
ArkThinker Screen Recorder is the best all-in-one screen recording software. Compared to FlashBack Express, it can record 1080p/4K/8K videos with better visual effects. Meanwhile, it provides various recording modes that could satisfy your different needs. You can easily record video, audio, gameplay, specific Windows, Webcam, and phone screen. Moreover, it offers advanced editing features. For example, it allows you to customize, edit, draw, add watermarks, etc., during recording. Free download this professional recording software on your Windows and Mac computer now!
ArkThinker Screen Recorder
Offer 6 powerful screen recording modes.
Support various popular formats for exporting.
Optimize the performance with hardware acceleration.
Offer common-used hotkeys to record screen activities.
How to Record Screen with FlashBack Express Alternative
Step 1
Download and open the FlashBack Recorder alternative on your desktop. Choose Video Recorder on the main interface.

Step 2
Set the recording range by clicking Full or Customize.

Step 3
Adjust System Sound and Microphone accordingly.

Step 4
After customizing settings, click REC to capture your screen activities. Finally, click Stop to end the recording.

During recording video, you can edit, draw, input texts, add images, take screenshots, etc. Besides, you can also record audio on computer with this program.
Part 3. FAQs of FlashBack Express
Is FlashBack Express free?
Yes. FlashBack Express is completely free. And it can help you to record screens without time limits.
Does FlashBack Express have a watermark?
No. FlashBack Express can record your screen without a watermark.
Is FlashBack Pro good?
Yes. FlashBack Pro is a paid and professional screen recording software. And it has over 20+ features to customize the screen recording.
Does Windows 10 have a default screen recorder?
Yes. Game Bar is the built-in screen recorder in Windows 10. And it is usually used for game recording.
How can I record my screen?
You can use the default recording software or a third-party screen recorder if you want to record the screen on a computer. If you need to record a screen on the phone, you can download some recording apps from Google Play or App Store.
Conclusion
This article reviews the FlashBack Express recorder from different aspects. After reading, you can better know its features and various performances. Meanwhile, you get the best alternative to FlashBack Express, ArkThinker Screen Recorder. When you want to make professional-looking videos, we recommend trying this powerful recording tool. If you have other questions about the FlashBack recorder, comment below.
What do you think of this post? Click to rate this post.
Excellent
Rating: 4.9 / 5 (based on 244 votes)