All You Need to Know about ShareX (with ShareX Alternatives)
For many desktop users, capturing a screenshot and video is no longer a hot potato with many advanced screen recorders. ShareX, with its powerful features and great performance still stands out among a wide variety of products. So what's the mystery of its charm? Is ShareX available for the mobile and Mac? You can have an insight into it here.

GUIDE LIST
Part 1. What Is ShareX?
ShareX is designated as an open-source tool that allows users to take screenshots, record videos and make editing. Fueled by configured hotkeys, this platform enables people to jump to the target function and share recordings easily and quickly.
OS: Windows, Steam
Price: Free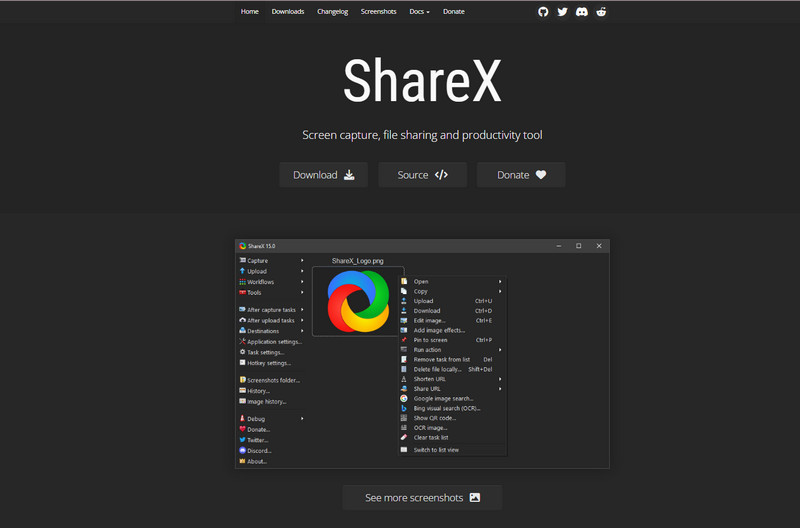 Part 2. How Is ShareX Screen Recorder?
To grasp a deeper understanding of ShareX and know about its pros and cons, we have listed its feature and make a comparison between ShareX and Greenshot. You can also learn to use ShareX to make long screenshots and record videos here.
Highlight:
◆ Free and open to public. Users can free download this screen recorder for screenshots and recordings.
◆ Selective modes for screen capture. You can customize the screen area, color and content type based on your preference.
◆ Multiple channels to upload and share files. You can add images via URL, clipboard, file folder and hotkey settings for editing and sharing easily.
Drawbacks:
◆ Not easy to follow. All functional buttons are vertically arranged so users may find it hard to grasp an individual section among the overlapped layout.
◆ No more custom settings for video recording. There is no more options to adjust the video and audio parameters and multimedia information for recordings.
◆ Limited Compatibility. It is now supported on Windows 10 and higher versions and Steam platform. Mac users need to take screenshots on Mac with other alternatives.
ShareX VS Greenshot
ShareX is featuring on video and image capture but only available for Windows and Steam users. But Greenshot is open-source and can meet the needs of both Windows and Mac users. However, the latter one only enables users to take screenshots and gives no access to record videos and audio. But the UI is much more intuitive and easier to follow based on the users' experience.
Install and Use ShareX
1. Visit ShareX offical website (https://getsharex.com/) and click the Download button to find the version you desire. Follow the on-screen instructions for installation.
2. Enter this screen tool and you can see the configured hotkeys to record videos and take screenshots in the interface.
To Capture Screenshots:
Click the Capture section and browse the list to choose the region and mode you want. Or you can click Ctrl +PrtSc keys for custom area, PrtSc key for the whole screen or Alt+PrtSc keys for any active window.
If it's a long screenshot, you can choose Scrolling Capture to get the desired part.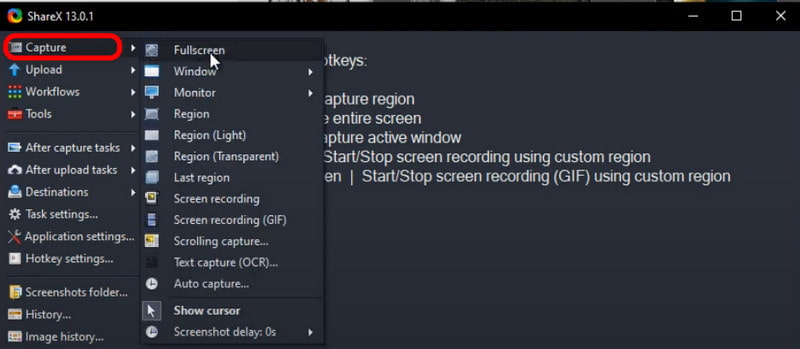 To Edit the Screenshot:
Open the Screenshots Folder to upload an image or press Ctrl + U keys to add one.
Or you can right click the screenshot and choose the Edit image column or press Ctrl + E to jump to the editing section and make drawings, highlights or input text.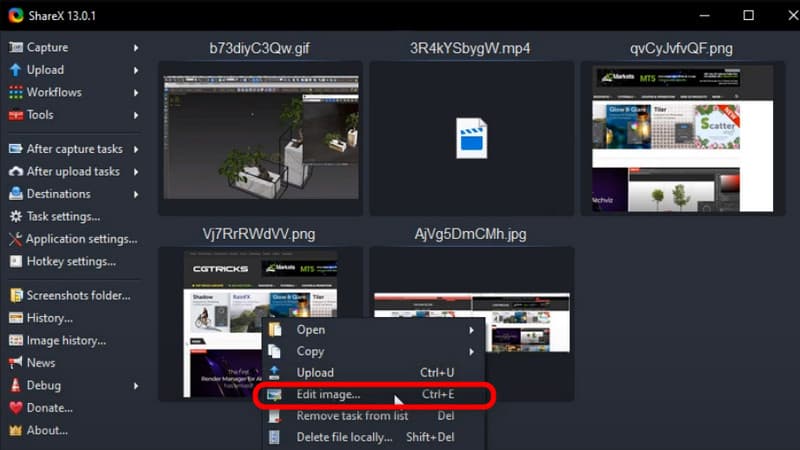 To Record Videos:
Scroll down the Capture list and choose Screen Recording. Then you can start recording a video.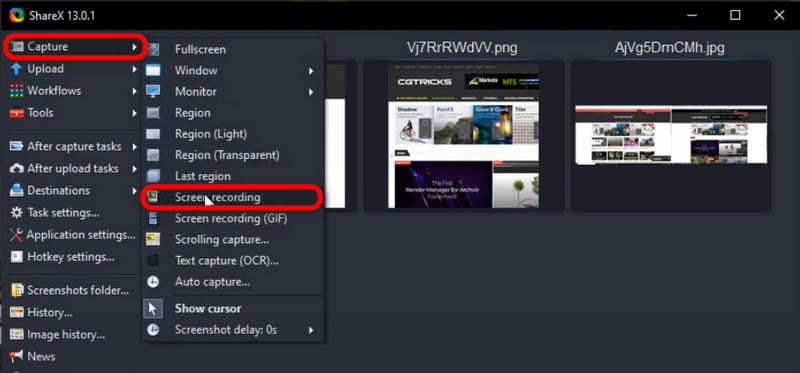 Tips: If you want to convert your image or videos to/from GIFs for more fun, here are 10 GIF converters for you.
Part 3. Best Alternative to ShareX
Is there any screen recorder with a more intuitive interface? Do you want to record gameplay, tutorial or any videos with webcam and your own voice? Fancy a screen recorder for both Mac and Windows systems?
Here you can turn to ArkThinker Screen Recorder as the best ShareX alternative.
Compared with ShareX, you can get high-quality recordings and customize the file format for screenshots, videos and audio for output as well as change the hotkey settings based on your preference with ArkThinker Screen Recorder.
ArkThinker Screen Recorder
Capture the desktop, game, webcam or any window with 4K/HD quality.
Compatible with the latest Mac Ventura and Windows 11 systems.
Record Videos and audio in MP4, MOV, MP3 and other popular formats.
Offer hotkey settings to take screenshots and schedule tasks.
Support custom changes for watermarks, auto-stop, languages and preference.
Bonus Tips: How to Record Screens & Take Screenshots via ArkThinker Screen Recorder
Step 1
Download and Install the Recorder
Access this software with links above to install it on your computer. Then run it and enter Video Recorder to continue.

Step 2
Make Settings for Recording
Customize the recorded window and turn on the System Sound. If you want to capture external audio and video record yourself, turn the Microphone and Webcam toggle on individually. Then click the REC button to start recording.

To take screenshots, you can click the Screen Capture button and select the area for a screenshot or press Alt + C keys together to open the capture tool as default.

Step 3
Preview Your Recording
During the recording, you can click the menu buttons to make a pause, stop recording, take snapshots, set the timing or open the toolbox to make drawings as you want. Then click the End button and preview the video in the next window. Tap the Done button if satisfied.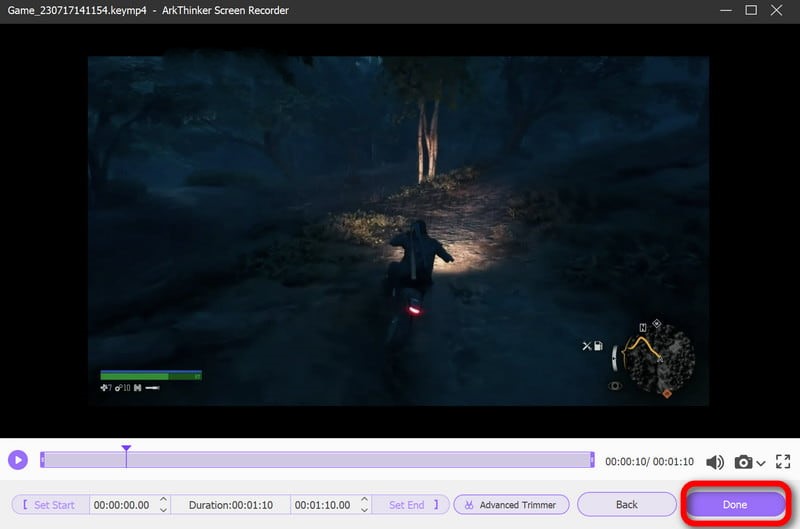 Step 4
Save the Recording
Here you can view all recording history in a list and rename, delete, edit or share the recording to other platforms as long as you want.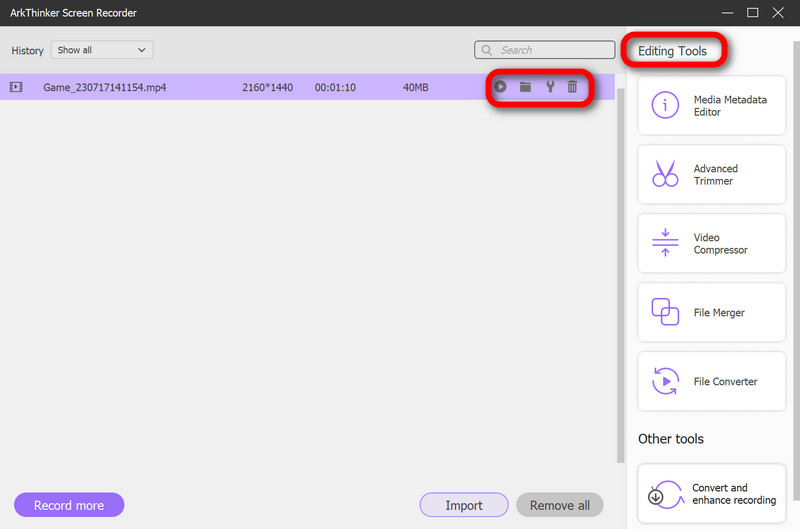 Part 4. FAQs of ShareX Screen Recording
Is ShareX safe?
According to ShareX's privacy policy, it is secure to use and will not collect or leak any personal information.
Is ShareX good for game recording?
Desipte the convenience, ShareX is not the optimal game recorder. You can turn to Xbox Game Bar and other recorders for help.
Is there a time limit for ShareX recording?
Actually not. The recording length is determined by your internal storage space on your computer so please make sure you have cleared all the cache to free up more space.
Conclusion
This post is a ShareX review with comparisons and its best alternative. We hope you can gain something useful from it and you are always welcomed to share your ideas with us.
What do you think of this post? Click to rate this post.
Excellent
Rating: 4.9 / 5 (based on 422 votes)