Radeon ReLive - Capture & Stream Your Golden Gaming Moments
2017 has witnessed another update on AMD Radeon Software, following Crimson Edition and Crimson Relive Edition. This time Adrenalin Edition is regarded as a new landmark for game performance and GPU settings. Apart from the new highlights, many gamers may still find it baffling to get an objective Radeon Relive review. Now you can read this post for all details.

GUIDE LIST
Part 1. All-in-one Review about Radeon ReLive
1. What is Radeon ReLive?
Here are many splendid features within AMD products. As an optional part within the AMD Radeon Software, you can utilize Radeon ReLive to grab a recorded game video with audio, screenshots and stream gameplay moments to audience on other hot platforms like YouTube, Twitch, Facebook and so on.
Supported System: Windows 10 and higher versions 64-bit, Linux Ubuntu, CentOS and SLED.
Functions:
Global: Monitor and adjust all configurations for Radeon ReLive, including recording modes and areas, hotkey settings, saving folder and audio adjustments.
Game & VR Streaming: (for Windows 10 64-bit users) Stream content from PC to mobiles and head-mounted display via WiFi connection.
Live Streaming: Make a live streaming on popular media platforms for views and likes.
Recording: Change video and audio recording profiles and other features like Instant Replay, Instant GIF, etc.
Scene: Customize system information and graphics shown on your display.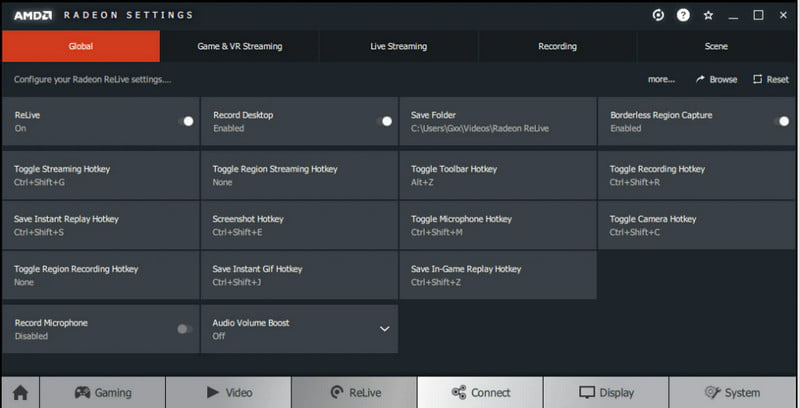 2. Download and Install Radeon ReLive
To get Radeon ReLive on your PC, you can visit AMD official website (https://www.amd.com/en/support/kb/faq/ReLive-install) and follow the tutorial for installation and using.
Since Radeon ReLive and Crimson ReLive Edition is an involved component in package with Crimson ReLive, you can first download the Radeon Software with AMD drivers.
Then you can visit Install Radeon ReLive > AMD Radeon Settings to turn the ReLive toggle on. And you can explore all functions now.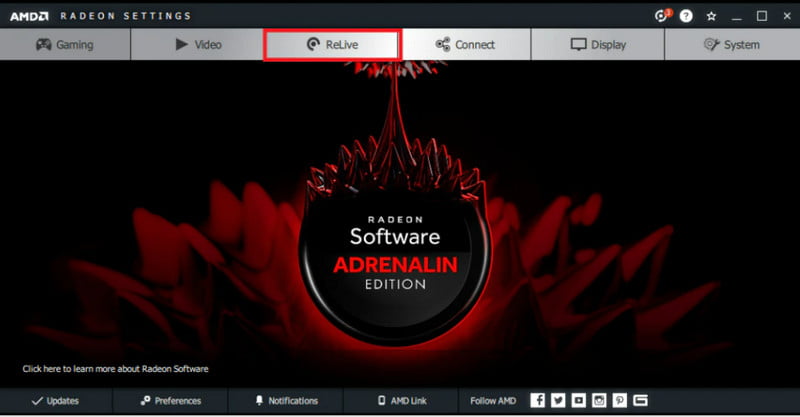 3. Compare Radeon ReLive with Other Software
Software
Radeon ReLive
ShadowPlay
OBS
OS
Windows, Linux
Windows
Windows, Mac, Linux
Feature
Offer users a bunch of personalized settings for videos and audio with hotkeys for high-quality display.
Record, stream and share your gameplay videos at 1440 p (for maximum) for a smooth experience.
Create a pop video from different sources like video and audio recordings, images and text content.
Pro
1. Selective execution for gaming performance via Radeon Boost, Anti Lag and FreeSync.
2. Integrates gameplay streaming and recording for convenience.
3. Customize settings for GPU.
1. Little requirements for CPU performance.
2. High quality for the video and audio output.
3. Support 4K recording.
1. Pools video recording, editing and sharing at one stop.
2. Multiple choices for custom settings.
3. No limitations for recording length.
Con
Specific users only (with AMD graphics card)
Recognizable status when recording tasks are performed.
Possible incoherence issues for systems.
Storage-consuming.
No support for file editing.
MP4 only for the uploaded video format.
Lower frame rate for output.
Costs more CPU power that may affect the gaming experience.
Part 2. Best Alternative to Radeon ReLive
Is there a better option for game players who want to record 4K videos without graphics cards? Can game vloggers get video recording, editing and sharing at one basket? Even without an AMD graphics card, you can get a high-quality video with ease. Here we recommend you another game recorder on your computer - ArkThinker Screen Recorder.
ArkThinker Screen Recorder
Record HD gameplay videos quickly and smoothly.
Capture glorious moments in screenshots with custom hotkeys.
Share your game videos to other platforms in MP4, AVI, MOV, MP3, etc.
Edit recorded videos with drawing and texting tools as you like.
Customize recording settings for videos, audio and more.
How to Record Game Videos via ArkThinker Screen Recorder
Step 1
Download and Install this software based on your device. Then launch it and go with the Game Recorder section.

Step 2
Make all settings fit before recording. Select your wanted gameplay window and turn on the System Sound.
You can record yourself and voice with the Webcam and Microphone on respectively.

Step 3
Click the REC button to begin. During the recording, you can take screenshots, make a pause, set the timing or use the toolbox to make drawings or input text freely.
Then click the End button and preview your video. You can tap the Done button if satisfied.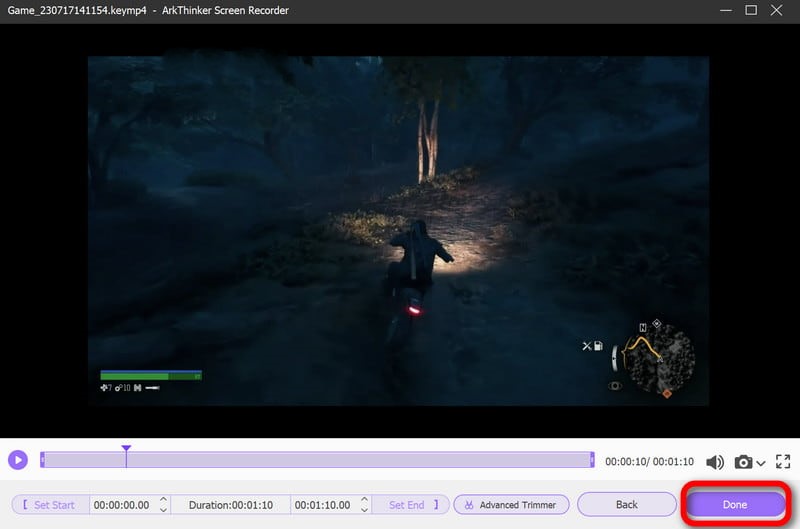 Step 4
Here you can preview all recordings in the list. All options next to each file are available for you to rename, delete, edit or share your video.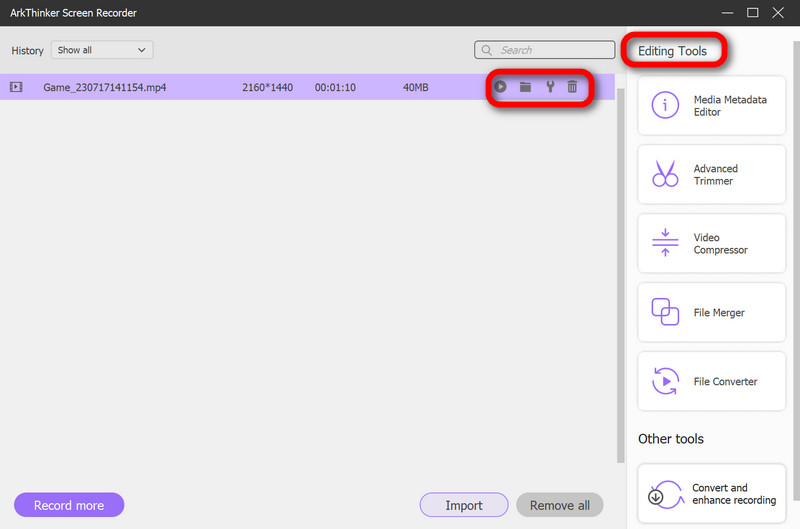 To get an excellent screen recorder for both your phones and computers, you can also look up the best screen recorder here.
Part 3. FAQs of Radeon ReLive Recording
Is Radeon ReLive free?
Yes. It is a video recording and streaming app without any charges, especially for graphics-card-based users
Is Radeon ReLive better than ShadowPlay?
In terms of selective file formats and custom settings, Radeon Relive can gain an edge over ShadowPlay if you prefer an optimized screen recorder for games.
Does AMD recording affect FPS?
The configurations for AMD recording are manageable and there will be barely influence on FPS (frames per second) to enjoy a smooth and realistic gaming time.
Conclusion
This post navigates to Radeon ReLive and provides readers with an optimized choice for gameplay recording and editing. If you want to explore a more comprehensive and convenient screen recorder for games, phones and webcams, you can give ArkThinker Screen Recorder for a shot.
What do you think of this post? Click to rate this post.
Excellent
Rating: 4.9 / 5 (based on 267 votes)