Full Screencast-O-Matic Review and Its Best Alternative
Screen recording has become essential for creating tutorials, presentations, and instructional videos. Among the screen recording tools available, Screencast-O-Matic stands out as a popular and user-friendly option. When you search for a screen recorder on the internet, you may easily get the Screencast-O-Matic recommendation. This post gives you a detailed Screencast-O-Matic review to tell its key features, price plans, download process, and how to use it effectively. Moreover, we will discuss its pros and cons and share a great recorder alternative to it.

GUIDE LIST
Part 1. What Is Screencast-O-Matic: Features, Plans, Pros, and Cons
Screencast-O-Matic, now called ScreenPal, is a famous screen recording and video editing software. It lets you capture your computer screen activity, record webcam footage, and narrate recordings. It offers options to record the entire screen or specific areas depending on your preferences.
Screencast-O-Matic Main Features
Screencast-O-Matic allows you to effortlessly capture your computer screen, camera, or both, enabling you to easily record tutorials, demonstrations, or gameplay sessions. You can freely customize the recording size, audio source, and more. It supports macOS, Windows, Android, and Chromebook devices.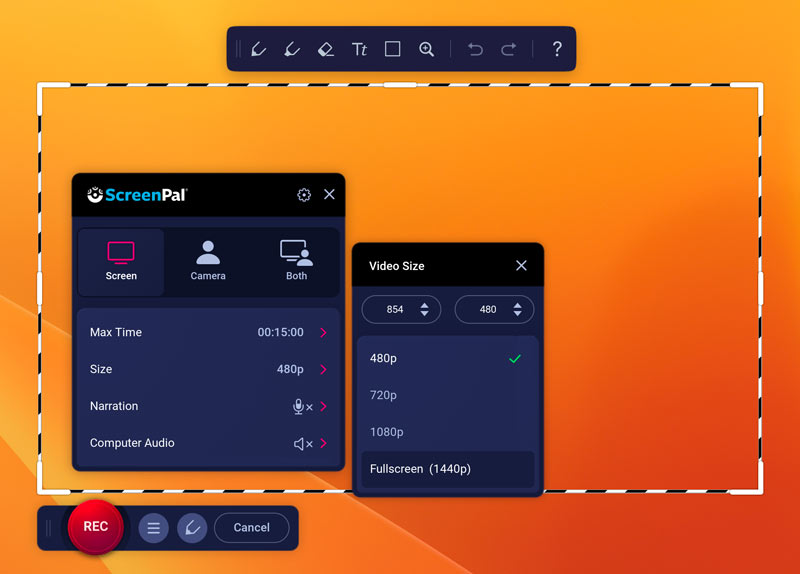 Screencast-O-Matic is designed with a simple and concise interface that makes it easy to navigate and utilize its recording features. It offers basic video editing features, such as drawing, cutting, and adding captions or annotations to recorded videos. As mentioned above, you can turn on Camera to record your webcam footage simultaneously with the video recording. That is useful for creating tutorial videos, presentations, or video blogs where face-to-face interaction is necessary.
Screencast-O-Matic provides you with effortless options for quickly sharing and publishing your recordings. You can directly upload captured videos to different platforms like ScreenPal, YouTube, Vimeo, Google Drive, and Dropbox or save them locally in various formats.
Disadvantages of Screencast-O-Matic
Whether Screencast-O-Matic or the new ScreenPal is not a free screen recorder. While using its free version, you can only capture a 15-minutes video. What's worse, many features are limited to the paid version. Screencast-O-Matic lacks advanced video editing functions.
Some users have reported occasional performance issues, such as lag or delays in recording, especially when dealing with large files or extended recording sessions. However, these issues may vary depending on the user's computer specifications.
Screencast-O-Matic Price Plans
Screencast-O-Matic offers both a free version and paid plans with additional features. The free version provides limited functionality, including a 15-minute recording limit and a watermark on the videos. You can navigate the official ScreenPal website and click the Pricing tab to check different plans.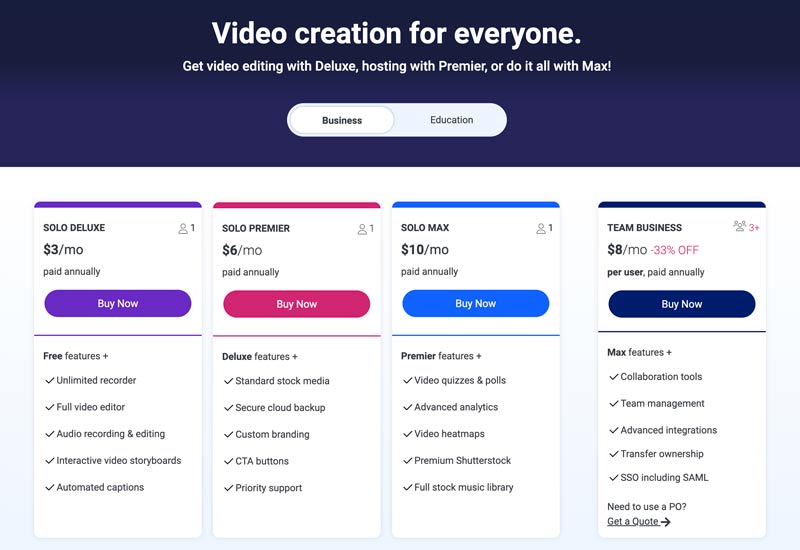 Screencast-O-Matic Download
Downloading and installing Screencast-O-Matic is a hassle-free process. You can visit the official ScreenPal website, click the Record for free button, and follow the prompts to download it. Screencast-O-Matic will prompt you with the correct download version based on your operating system.

How to Use Screencast-O-Matic
Launch ScreenPal (Screencast-O-Matic) and click the Start button to open its recorder. Select the recording area, set narration and computer audio, and do other settings before starting a screen recording.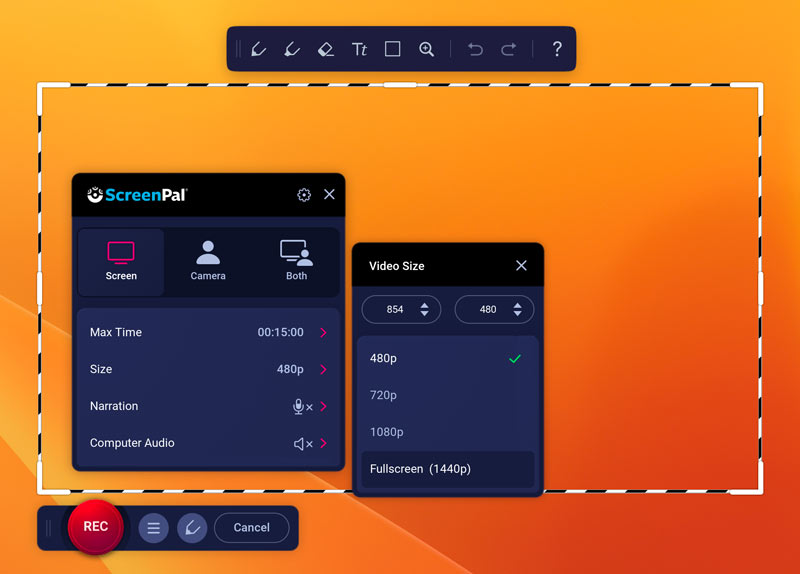 When you want to capture your computer screen, simply click the REC button. While recording, you can use its tools to draw freely on the screen. Click Down to finish the recording. ScreenPal enables you to edit, share, or upload the captured video.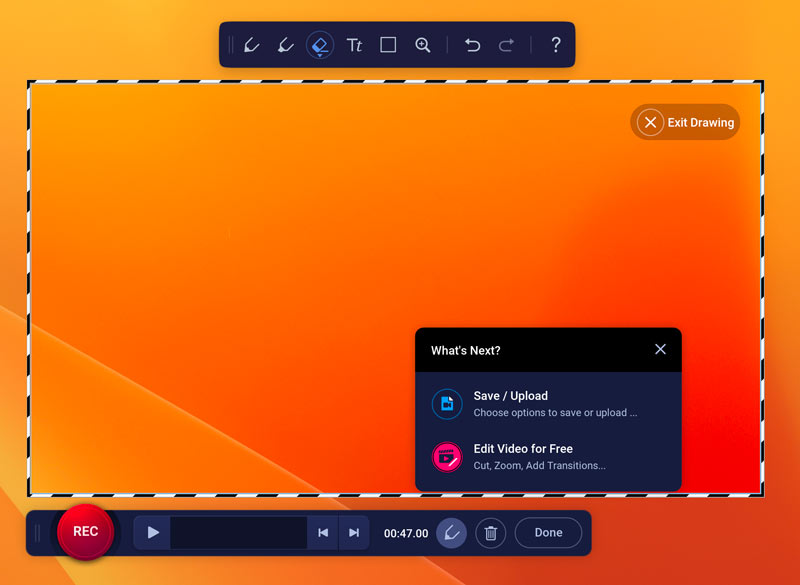 Part 2. Best Screencast-O-Matic Alternative to Record Computer Screen
There could be several reasons why you may need an alternative to Screencast-O-Matic. For instance, you are unsatisfied with the user experience during the free trial or want specific features that Screencast-O-Matic doesn't offer. This part recommends a great Screencast-O-Matic alternative, ArkThinker Screen Recorder, to better capture your screen.
This Screencast-O-Matic alternative offers options to record your computer screen, capture your gameplay, webcam, phone activities, and more. It can capture high-resolution videos up to 4K UHD.

It lets you customize the recording region based on your need, such as full screen, selected area, or a specific window. You can capture audio from the microphone, an external speaker, and system sound. Also, you can enable Webcam to capture yourself while the screen recording.

When you want to record any activity on the screen, simply click the REC button. After recording, you get the necessary features to view and edit your captured video. Then store it in any popular video or audio format you want.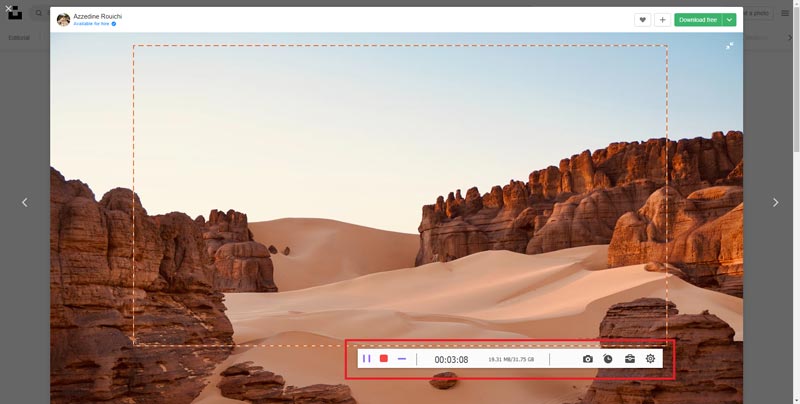 Part 3. FAQs of Screencast-O-Matic and ScreenPal
Is Screencast-O-Matic safe to use?
Screencast-O-Matic is a popular screen recording tool that has been around for many years and is generally considered safe. It has a good reputation and is widely used by many individuals and businesses. However, exercising caution when downloading and using any software is always a good idea. Ensure to download it from a trusted source, its official website, and keep your antivirus software current.
How do you record your Mac screen with system audio?
The built-in QuickTime can help you easily capture your Mac screen and record a video. However, it does not allow recording sound from the system audio. You must rely on some third-party recorders like Screen Recorder to capture your Mac's system sound.
Why is the Screencast-O-Matic recording corrupted?
It's quite a common issue that Screencast-O-Matic prompts that your recording is corrupted and asks if you want to delete it. Generally, the problem is caused by a cloud-sync app like Google Drive, Dropbox, or OneDrive. You can change your storage location to resolve it.
Conclusion
Screencast-O-Matic is a powerful screen recording tool that offers a range of features, intuitive navigation, and user-friendly editing capabilities. Whether you are a content creator, educator, or business professional, Screencast-O-Matic provides an accessible platform for creating engaging and informative videos. If unsatisfied with it after a free trial, you can turn to the recommended Screen Recorder.
What do you think of this post? Click to rate this post.
Excellent
Rating: 4.9 / 5 (based on 362 votes)