All about DU Recorder to Know Before You Pay for It
Screen recording for an 1080p, 4K video has always been what gamers, vloggers, techies and educators are chasing for. DU Recorder, as one of the hits among screen recorders. has brought great convenience for mobile and desktop users. To help you have a comprehensive grasp of DU Recorder, we have listed everything you need to know.

GUIDE LIST
Part 1. Quick Review of DU Recorder
1. Introduction to DU Recorder
DU Recorder is a professional and comprehensive screen recorder to capture videos, audio and screenshots. Featuring on gameplay and tutorial video recordings, it has enjoyed wide currency among different people. People can click specific buttons to start recording, make editing and change settings easily.
On top of that, it is designated with a local live creator to connect each user to RTMP (Real-Time Messaging Protocol) media like YouTube, Facebook and Twitch. Without launching the live stream app and video webcam separately, everyone can set up a live streaming room and make custom settings for the live tools.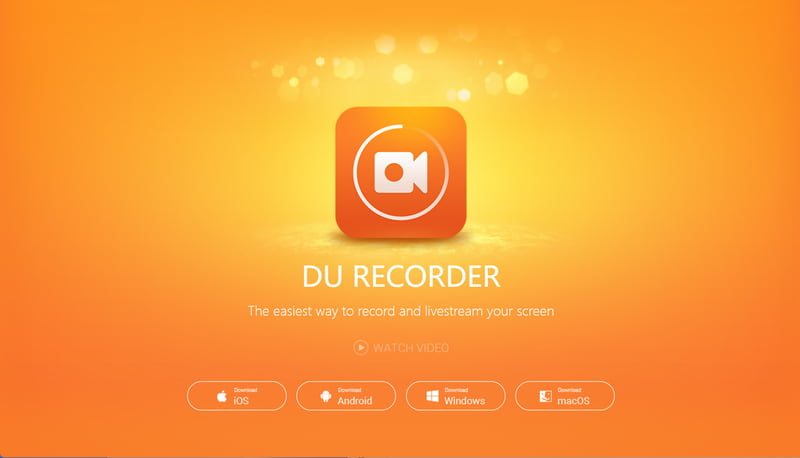 2. Main Features of DU Recorder
Platform: Mobile (Android, iPhone) & Desktop (Windows, Mac)
Pricing: Free ( In-app Payment for Premium Version)
Functions: Video & Audio Recording, Editing, Live Streaming and More
Video & Audio Recording
◆ Customize record settings, including video resolution, quality, FPS, orientation, location for saving and more.
◆ Offer a smart gesture to shake your phone to stop recording.
◆ Support hotkeys match to start recording with Ctrl + F11.
◆ SupportOne tap to start, pause and stop the recording via the floating window on your computer or phone.
◆ Record high-quality audio from the microphone and system sound.
◆ Auto-save all recordings for preview and editing.
Video Editing
◆ Trim your recorded video and get different segments.
◆ Add filters, background music, text and stickers for diverse themes.
◆ Adjust the video speed to slow down or fast forward your video and enjoy cool effects.
◆ Crop and rotate the video to change the size and orientation.
◆ Adjust the volume based on your needs.
◆ Create a unique GIF from your recorded video.
Live Streaming
◆ Select the live streaming channel to cast your gaming, instruction, filming and any screen easily.
◆ Customize live steaming settings to change the screen, webcam, commenting, donation, etc.
◆ Support real-time interactions with messages, subscriptions and donations.
◆ Turn on and off the webcam to show yourself and the environment on live.
Other Features (Updated)
◆ Merge different video clips into an integrated one.
◆ Use WiFi to transfer files without any limits.
◆ Stitch your image to make a collage for more joy.
3. Download & Use:
For Mac & Windows
Step 1
Visit the official website (https://www.du-recorder.com/) to access and install DU Recorder app based on your OS.
Step 2
Run the app. Here you can see 4 sections on the menu bar: Record Screen, Record Videos, Stream Live and Settings.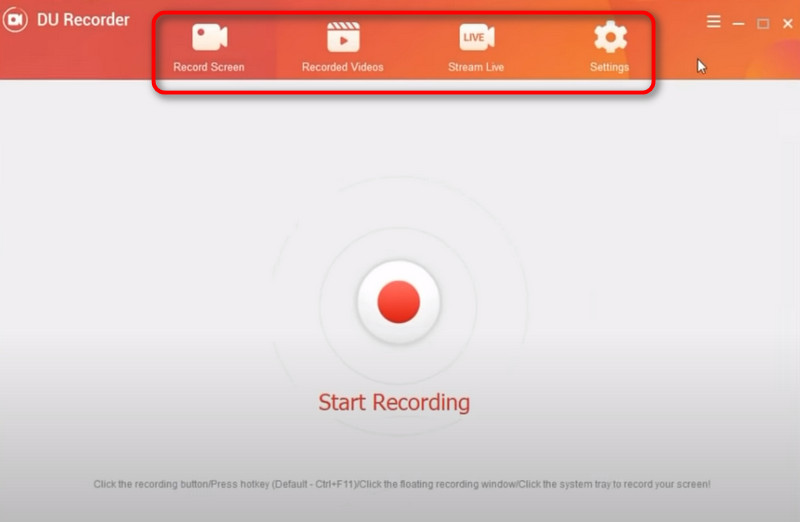 To record videos, you can click the red Record button under the Record Videos to start and end recording.
To Stream Live videos, tap the Stream Live section above and copy the Server URL and stream key on the platform.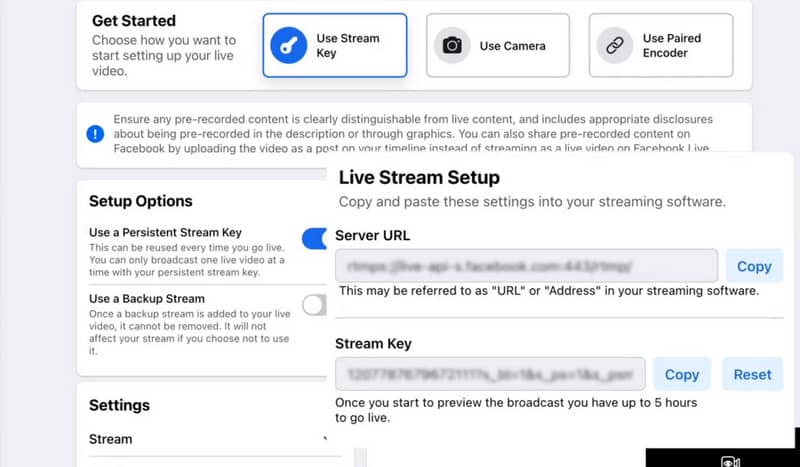 Paste the URL and key on DU Recorder and change settings before you start live steaming. Then click the Start Streaming button.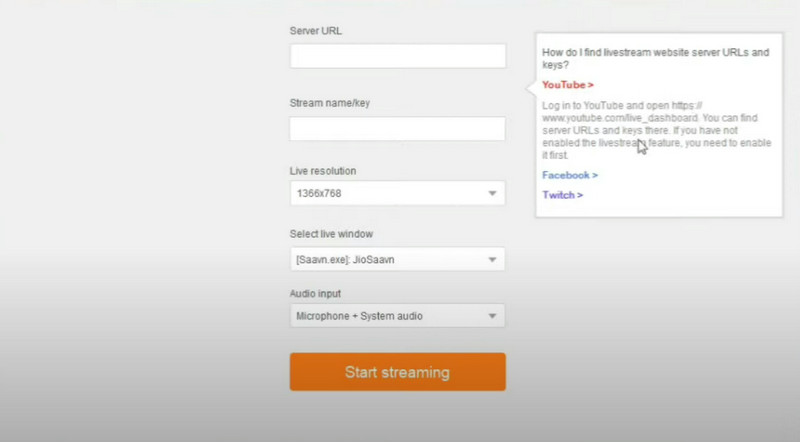 Step 3
After the recording, you can view, delete and edit the recordings in the video list.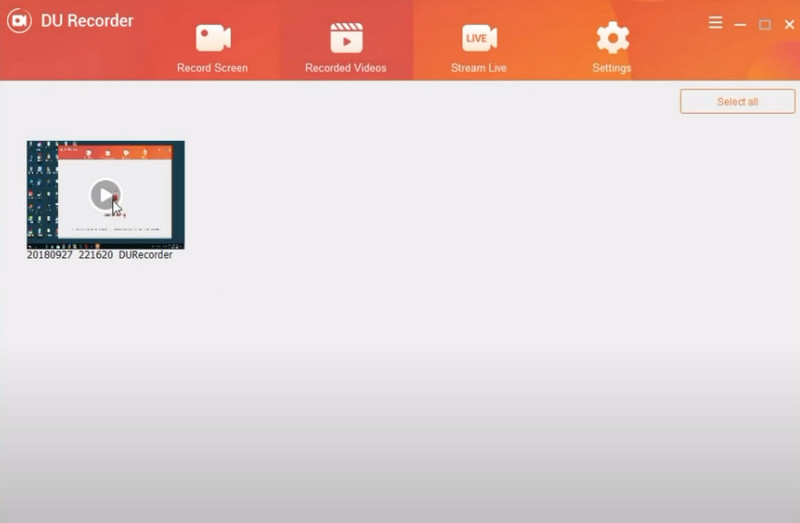 For Android Users
Step 1
Download and install DU Recorder APK. After you launch this program, you can see the Camera button folded on the phone side.
Step 2
Here you can move to 4 different sections: Record, Video & Settings, Recording Tools and Live Creator.
Click the Record button to capture your ideal screen. And you can edit the video before you save it.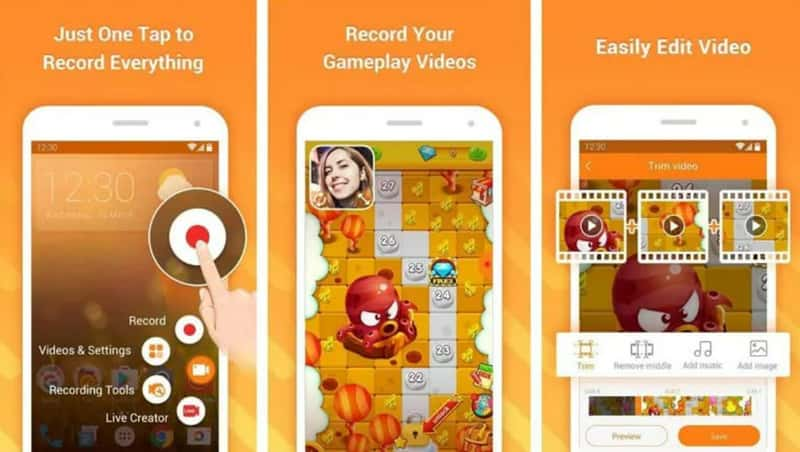 Click the Live Creator and you can set up your live streaming with your preference. All the live tools are available for use.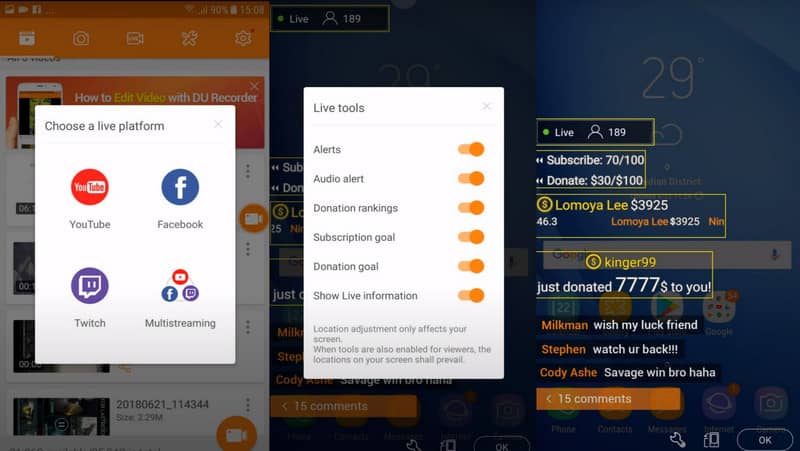 For iOS Users
Step 1
Reach DU Recorder from App Store and Enable Screen Recording feature via Settings > Control Center > Screen Recording.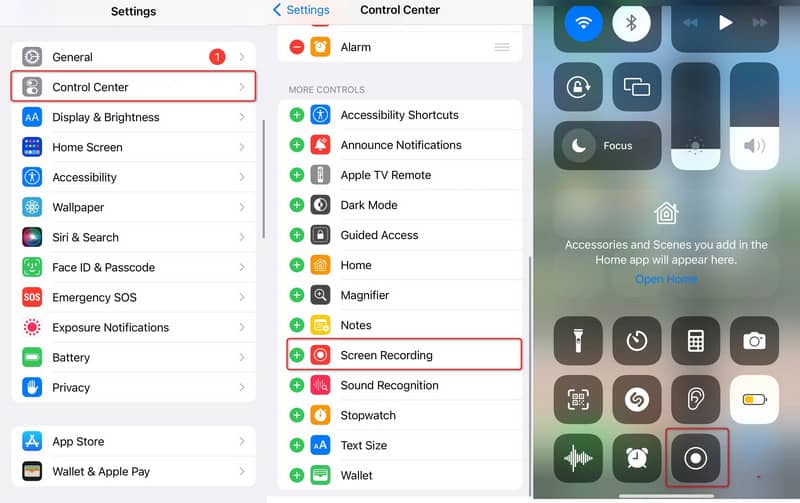 Step 2
Swipe your iPhone screen from the top and long press the Record button before you start recording. Choose the DU Recorder to start.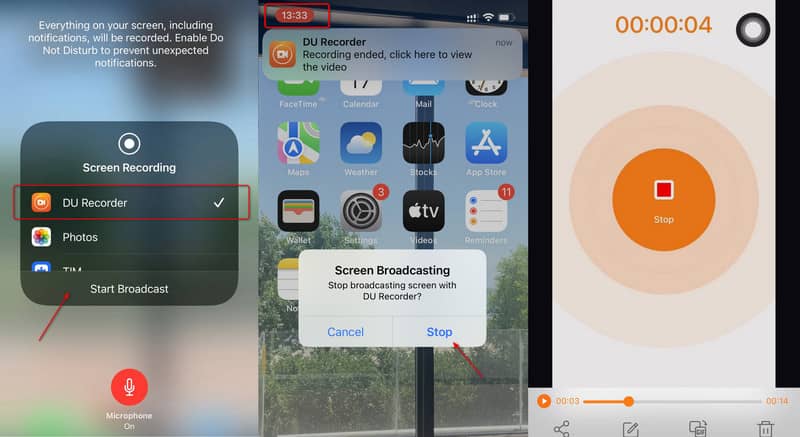 Step 3
Click the red notification bar above to stop the process. Then you can check and edit your recording now.
Editor's View
For people who prefer an integrated platform to record videos for free, it can be a good choice to download DU Recorder Pro and buy the full version. But it's worth noticing that there are pop-up ads and watermarks, possible crashing and no access to RTMP livestream and audio recording in the trial version. To get the best screen recorder, you can read the picks below.
Part 2. Best Alternatives to DU Recorder
Pick 1: ArkThinker Screen Recorder
Platform: Windows, Mac
Pricing: Free Trial Supported
To break the mentioned limitations for screen recording, we introduce ArkThinker Screen Recorder as your cherry pick.
Rather than a single screen recorder, it can work to capture videos, audio, gameplay, webcams, phones, custom windows, screenshots and more. Once you reach this tool, you can get an HD recording for free. There is no quality loss and delay. Best of all, you are free of third-party apps and watermarks, even in the free trial version.
ArkThinker Screen Recorder
Record your game videos with 4K/HD quality.
Compatible with the latest Mac Ventura and Windows 11 systems.
Offer video and audio recordings in MP4, MOV, MP3 and popular formats.
No lagging, delays and ads when you play and record your games.
Support custom settings on hotkeys to capture and edit your screen.
Bonus Tips: How to Record Your Gameplay Screen via ArkThinker Screen Recorder
Step 1
Download and Install ArkThinker Screen Recorder
Access and install this gameplay recorder based on your computer systems. Then launch it and enter the Game Recorder section to go.

Step 2
Customize the Recording Settings
Select the gameplay window and turn on the System Sound toggle. If you want to record your voice and yourself in the gaming video, remember to toggle on the Microphone and Webcam respectively.

Step 3
Start and Preview the Recording
Click the red REC button to start your recording. You can pause the recording, take snapshots, set the timing or open the toolbox to edit your video freely.
Click the End button and you will jump to the preview window. Click the Done button if you are content.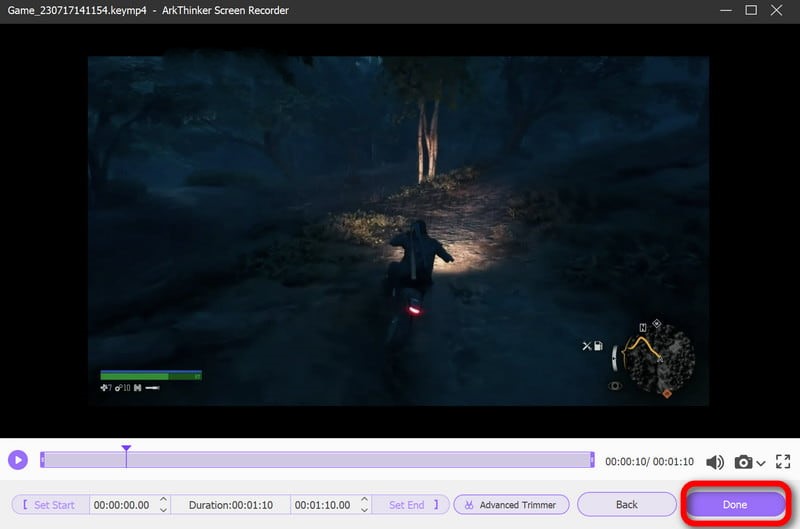 Step 4
Save Your Recording
Now you can see the recording history in the new window. Here you can rename, open the file folder, delete, edit or share you video based on your needs.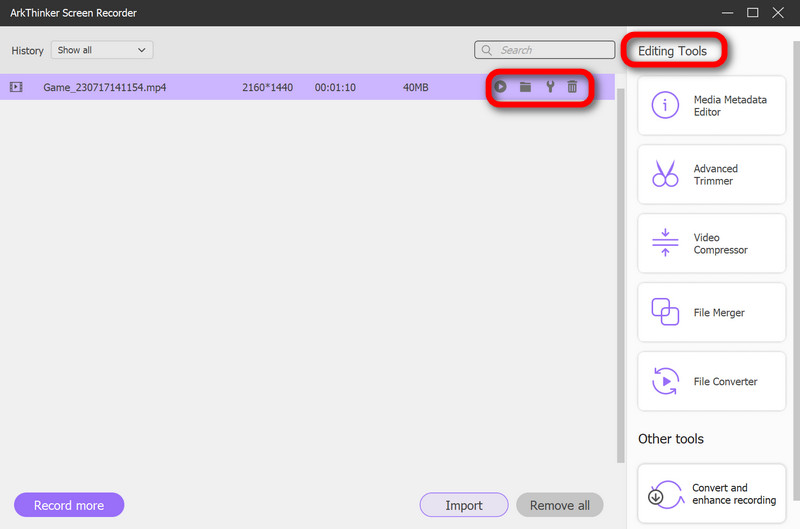 If the recorded video is too big for transfer, you can also learn to compress MP4 files to free up more storage space.
Pick 2: Record it!
Platform: Android, iOS
Pricing: Free (In-app Purchase included)
For mobile users, you can also turn to Record it! to take reaction videos in your recordings. This is extremely popular with gamers for fabulous video effects and more likes on YouTube.
This recorder provides you with access to record videos and audio, edit recordings, organize the files and easily share your creation to different platforms. And you can utilize the FaceCam Reactions to add more details and fun to your works.
Part 3. FAQs of DU Recorder
How long can you record with DU Recorder?
It depends on your system performance. You can record a video as long as you want if you have enough storage space on your device.
Is DU Recorder free?
DU Recorder is not 100% free with limitations on watermarks, ads, audio recording and other editing functions. You have to purchase the premium version to unlock these features.
Is DU Recorder safe?
Based on the users' experience and response, DU Recorder comes with malware, possible crashing and privacy items during the usage. So the security issue may still be a problem.
Conclusion
This post has gathered all details and makes an unbiased DU Recorder review. You are also suggested to take the recommended picks before you make the final decision. And it's always a pleasure to get your comment if you have any other questions.
What do you think of this post? Click to rate this post.
Excellent
Rating: 4.9 / 5 (based on 361 votes)