HitPaw Screen Recorder Review and the Best Alternative
Screen recording is a useful method for capturing video and audio from your computer. Whether you want to create demos, presentations, or gameplay videos, screen recording can help you achieve your goals. However, some recorders may have limited features, watermarks, high requirements, or expensive prices. How can you find the best screen recorder for your needs?
In this article, we will review one of the popular screen recorders in the market: HitPaw Screen Recorder. We will introduce its features, pros and cons, requirements, and price. By reading this article, you will learn more about HitPaw Screen Recorder and its alternative. You will also be able to make an informed decision on which screen recorder to choose for your projects.

GUIDE LIST
Part 1. What is HitPaw Screen Recorder
HitPaw Screen Recorder allows you to capture, record, and stream your screen, webcam, game and other sources. This software also provides templates, backgrounds, stickers, and texts to enhance your videos. It supports various streaming platforms, video meeting apps, and social apps. HitPaw Screen Recorder requires Windows 11/10/8/7 64-bit or macOS High Sierra or higher.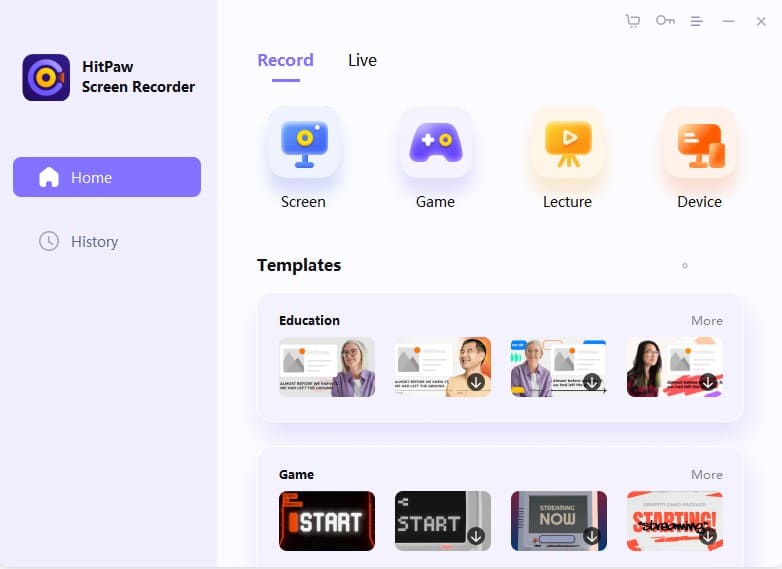 Key Features of HitPaw Screen Recorder
Operation studio: You can add multiple sources to record at the same time, switch from content only, presenter only, or content + presenter, and create professional scenes based on your script.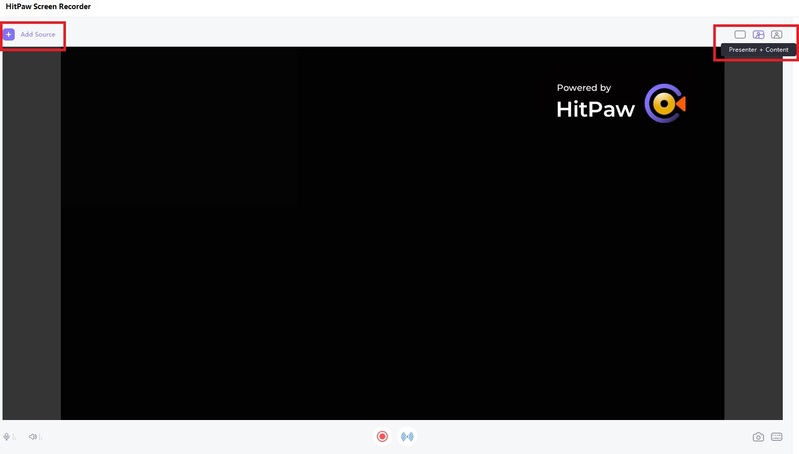 Video enhancement: You can use templates, backgrounds, stickers, and texts to make your videos more attractive and interesting.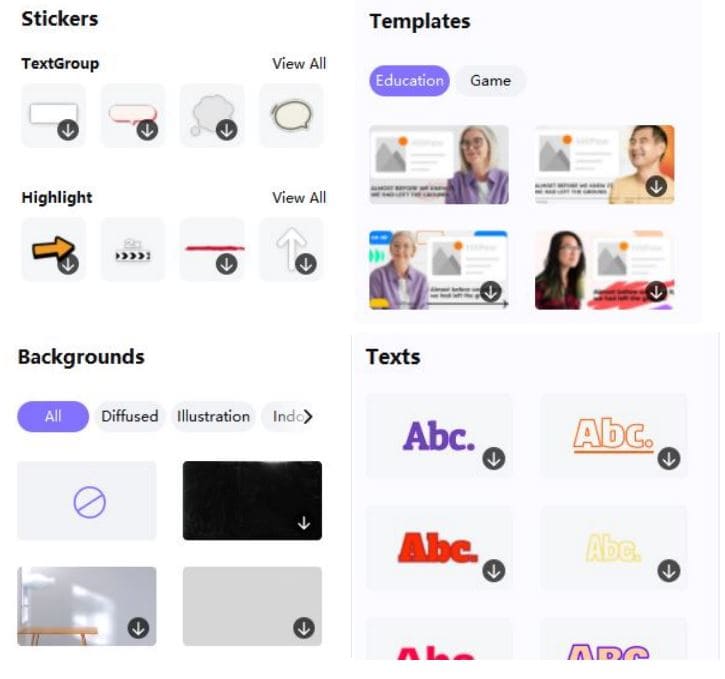 Streaming and meeting support: You can stream to various platforms such as YouTube Live, Facebook Live, Twitch, etc. You can also join video meetings and chats with apps such as Zoom, Google Meet, Microsoft Teams, etc.
Pros and Cons of HitPaw Screen Recorder
Pros :
It can capture, record, and stream various sources, such as screen, webcam, game, iOS devices, etc.
It has an operation studio that allows you to create professional scenes based on your script.
It has a picture in picture mode that enables you to record both your screen and your face at the same time.
It has a simple and user-friendly interface.
Cons :
It is not free to use and the free trial supports only 1 minute recording. You need to upgrade to the full version to access more features and remove the watermark.
It is relatively large with a 17.7 MB installation on Windows 10. This may impair the performance and speed of your device, especially if you have limited storage space or memory.
It may not be compatible with some older or lower-end devices. You need to have Windows 11/10/8/7 64-bit or macOS High Sierra or higher to run this software.
It may not support some formats that you want to use for your videos with its output formats limited to MP4 and MKV.
It does not have a drawing function that allows you to freely add shapes, lines, and numbers during the recording process. You also cannot use a pen tool to draw or write on the screen as you wish.
Price of HitPaw Screen Recorder
There are three plans to choose from: 1 Month, 1 Year, and Perpetual. The prices are $9.99, $29.99, and $49.99 respectively. The plans include full-featured license, free upgrades for all big versions, use for 1 PC, and 24/7 tech support. The 1 Month and 1 Year plans can be canceled at any time while the Perpetual plan is a one-time payment. The refund policy of HitPaw Screen Recorder is 30-day refund guarantee.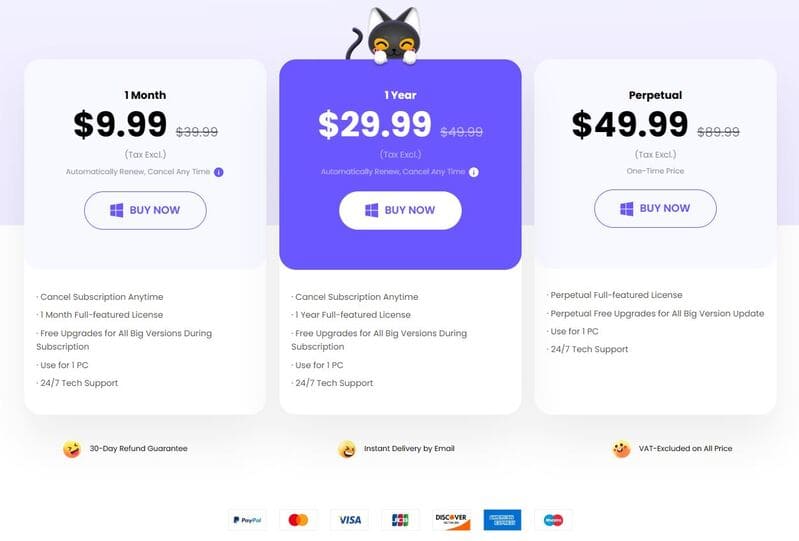 Part 2. Best Alternative to HitPaw Screen Recorder
If you're seeking a screen recording software that addresses HitPaw Screen Recorder's limitations, consider trying ArkThinker Screen Recorder. This user-friendly software enables you to record video, audio, gameplay, and screen activity on your computer. It also offers valuable features such as editing, compression, conversion, and file merging.

It is free to use for basic functions. You can record video and audio without any watermark or time limit. You can also access more features by upgrading to the full version.
It supports various formats for your videos. You can choose from MP4, MOV, WMV, F4V, GIF, and more as your output formats. You can also convert your recorded files to other formats if needed.

Besides, if you want to have more control and flexibility over your screen recording, you may prefer ArkThinker Screen Recorder, on which you can draw, input texts, add images, etc., when recording on the screen.

If you are interested in ArkThinker Screen Recorder, you can download it from the link below and try it out for yourself.
Part 3. FAQs of HitPaw Screen Recorder
Is HitPaw Screen Recorder Crack safe?
Using cracked versions of HitPaw Screen Recorder is unsafe due to potential viruses, copyright infringement, and lack of official support or updates.
How to use HitPaw Screen Recorder?
After downloading it from the official website, you can choose the recording mode that suits your needs: screen, game, lecture, or device. And then adjust the settings such as capture area and sound. When you want to start recording, just click the red button and you can pause or stop anytime. After recording, you can view or edit the video.
Can I screen record without an app?
Yes, you can use HitPaw Online Screen Recorder to make a recording, especially when you are using a 32-bit computer. You can also use the 100% free ArkThinker Screen Recorder online to help you capture video without quality loss.
What is the best screen recorder without watermark?
One of the best screen recorders without watermark is ArkThinker Screen Recorder, with which you can record your screen without any watermark or time limit.
Conclusion
This review of HitPaw Screen Recorder elaborates on its features of capturing, recording, and streaming various sources, along with an operation studio for creating professional scenes. However, it comes with limitations such as a paid model, potential compatibility concerns, and limited output formats. On the other hand, ArkThinker Screen Recorder emerges as a strong alternative, providing free basic functionality, diverse output formats, and creative flexibility. Hence, we highly recommend this alternative and you can download it for a free trial.
What do you think of this post? Click to rate this post.
Excellent
Rating: 4.9 / 5 (based on 472 votes)