RecMaster - Empowering You with Exceptional Screen Recording Capabilities
RecMaster is a versatile screen recording software that allows users to capture and record activities on their screens. With its user-friendly interface and multiple recording modes, it provides a convenient solution for various screen recording needs. In this article, we will go through its features, pricing, pros and cons and more. We will also offer our solution to screen recording.

GUIDE LIST
Part 1. Features and Pricing of RecMaster
RecMaster is a powerful screen recording software designed to help you effortlessly capture and share your screen activities. Whether you want to record online meetings, highlight gaming moments, create instructional videos, or deliver presentations, RecMaster has got you covered. And in this section we will look at this software's key features and pricing.
Key Features of RecMaster
1. Straightforward and intuitive interface. RecMaster boasts an intuitive user interface that prioritizes ease of use. The layout is clean and well-organized, allowing users to navigate effortlessly through the various recording options and setting. The page design of RecMaster is optimized for a streamlined workflow. Users can quickly access essential features like screen recording modes, audio settings, and output formats without any confusion or unnecessary steps. This efficiency enhances productivity and saves valuable time.

2. Multi-mode Recording. The software offers various recording modes, enabling users to choose the most suitable option for their specific recording needs. Users can choose to record audio only or pictures only. There is also the customizable area recording, allowing users to select and record specific regions as desired. Aside from these, RecMaster provides powerful features, like HD recording, up to 4K recording, auto-start recording, picture in picture, schedule recording, etc.
3. Easy editing. With its integrated annotation and editing tools, RecMaster empowers you to effortlessly embellish your recordings with annotations while you record or enhance the video through editing after completion.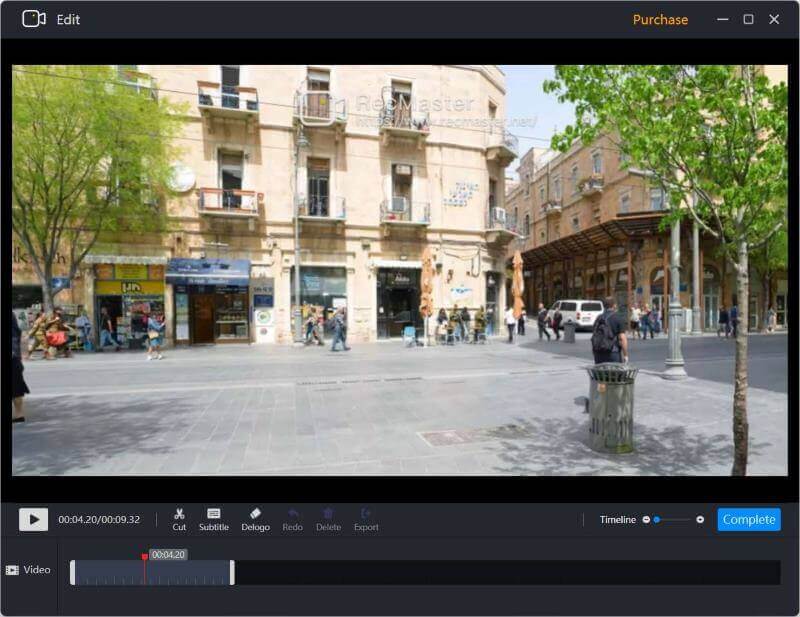 4. Recording scheduler. With RecMaster, one can easily set recording tasks, scheduling automatic recordings at specific times or for recurring events. This allows users to preset recording start and end times for automated capturing of screen activities. Besides, stop recording automatically and auto recording at system startup or RecMaster launch are also available.
RecMaster Pricing
RecMaster offers a flexible pricing structure to cater to different user requirements. The software provides three plans: the free plan, the one-year license and the lifetime license.Free trail offers basic recording features and allows users to record videos with a limited duration. It is an excellent option for those who have occasional recording needs or want to test out the software before committing to a paid plan. The one-year license can only be used for one year and on one computer. Whereas, lifetime license costs $29.95. This is for users who are seeking more advanced features and unlimited recording capabilitie. This plan includes additional features such as editing tools, annotation options, the ability to add custom watermarks to recordings and more.
Part 2. Pros and Cons of RecMaster
Now that we have introduced the impressive features of RecMaster, let's take a closer look at its strengths and weaknesses. Like any software, RecMaster has its pros and cons that are worth considering before making a decision.
Pros of RecMaster
Pros :
User-friendly interface
Multiple recording modes
High-quality recording
Able to use offline
Cheap
Cons of RecMaster
Cons :
Limited advanced features.
The output formats are not enough for different needs.
Not stable. Many reported problems like not working or sound problems.
The file size is big.
Part 3. Best Alternative to RecMaster
While RecMaster offers many features for screen recording, there may be other options available for users who are looking for more advanced capabilities and easier way to record screen. This brings us to ArkThinker Screen Recorder.
Features of ArkThinker Screen Recorder
1. High-quality recording. ArkThinker's Screen Recorder ensures high-quality screen recording, capturing videos with clarity and smoothness. Whether it be video or audio recording, this software provides outstanding sound and image quality. It utilizes advanced recording technology and professional equipment to ensure that each recording captures rich, crystal-clear audio and lifelike video.
2. Flexible recording options. It provides various recording modes, including full screen, custom region, and window recording, catering to different recording needs. Plus, users can use Screen Recorder to record the audio only. Apart from capturing the computer's system sound, this remarkable tool also grants you the ability to record the microphone audio, providing flexibility in capturing different audio sources.

3. Customizable settings. The software allows users to adjust settings such as recorded video format, frame rate and bitrate, enabling customization based on specific requirements. With a myriad of options at your disposal, you can effortlessly adjust various parameters, such as video resolution, frame rate, audio quality, and format. This level of flexibility empowers you to create recordings that are perfectly suited to your desired specifications, ensuring an optimal and personalized recording experience.
4. Real-time preview and editing. Screen Recorder supports real-time preview of the recording content, allowing users to make adjustments during the recording process. It also offers basic editing functions like trimming, merging, and adding text to the recorded videos. Additionally, you have the convenience of seamlessly incorporating custom watermarks, be it text or image, ensuring your recorded videos possess a distinctiveness that is both captivating and informative to your viewers. Ultimately, these features guarantee that your recorded videos will be flawlessly crafted and convey the desired message effectively.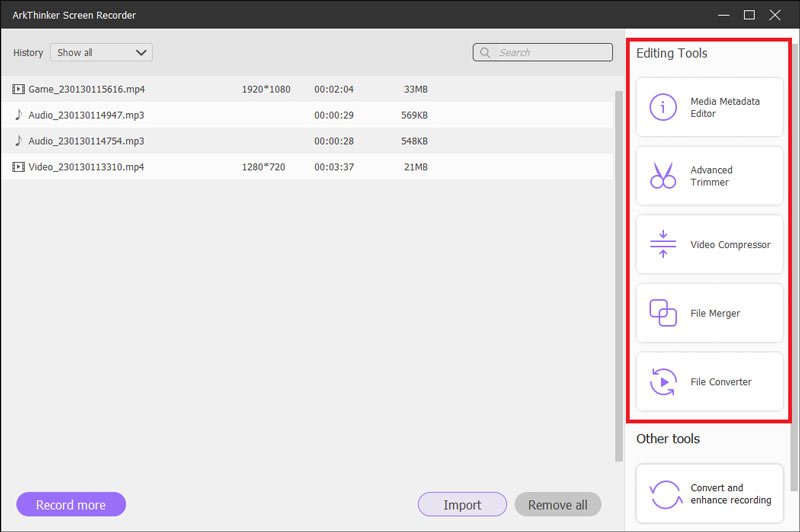 Advantages of ArkThinker Screen Recorder
1. It supports saving recordings in more video/audio formats.
2. It has more powerful editing functions.
3. Graphics Card and Hardware acceleration ensure high speed and stability.
4. Reliable customer support.
5. It is designed with more customized and thoughtful settings for users.
6. It supports the latest H.265/HEVC codec.
Price of ArkThinker Screen Recorder
ArkThinker Screen Recorder's pricing plans are designed to provide flexibility and value to users based on their specific recording needs and budget, making it accessible to both casual users and professionals alike. You can try out its free version for limited functions, or purchase lifetime license for $59.96. License for shorter period is also provided, with one-month license costing $19.96.
RecMaster vs. ArkThinker Screen Recorder
| Features | RecMaster | ArkThinker Screen Recorder |
| --- | --- | --- |
| Full Screen Recording | ✔ | ✔ |
| Custom Area Recording | ✔ | ✔ |
| Window Recording | ✔ | ✔ |
| Game Recording | ✔ | ✔ |
| Phone Recording | ✖ | ✔ |
| Webcam Recording | ✔ | ✔ |
| Follow Cursor Recording | ✔ | ✔ |
| Schedule Recording | ✔ | ✔ |
| Edit Function | Add subtitles, Annotate, Delogo, Cut, Timeline | Annotate, Add logo, Add text, Draw, Cut, Compress, Merge, Edit metadata, etc. |
| Convert Recorded Video | ✖ | ✔ |
| Recorded Video Format | MP4, AVI, FLV, GIF | MP4, WEBM, MOV, F4V, MPEG-TS, GIF |
| Recorded Audio Format | MP3, WAV | MP3, M4A, OPUS, WMA, AAC, FLAC, WAV |
| Screenshot Format | PNG | PNG, JPG, BMP, TIFF |
| Codec | H264, MPEG4 | H.264+ AAC, H.265/HEVC + AAC |
| File Size | 43803kb | 2345kb |
| Hardware Acceleration | ✖ | Graphics Card acceleration, Hardware acceleration |
| Trial Version Limit | Record for 2 minutes | Record for 3 minutes |
| Lifetime Price | $29.95 | $59.96 |
Part 4. FAQs
Is RecMaster free?
RecMaster offers both free and paid versions of its software. The free version of RecMaster provides basic screen recording functionality and allows users to capture their screen activities. However, it may have certain limitations, such as a maximum recording time or watermarks on the recorded videos. For users who require more advanced features and want to remove any restrictions, RecMaster offers a paid version. The paid version of RecMaster provides access to additional features, such as advanced editing capabilities, unlimited recording time, and the ability to remove watermarks from recorded videos.
What is RecMaster?
RecMaster is a screen recording software that allows you to capture your computer screen activities. It is designed to help users create high-quality video recordings of their screen for various purposes, such as creating tutorials, recording gameplay, capturing online meetings, and more. RecMaster offers features like full-screen recording, custom area recording, audio recording, webcam overlay, scheduled recording, and annotation tools. It supports multiple output formats and provides options for adjusting video quality and frame rates. RecMaster is compatible with both Windows and Mac operating systems.
Does Windows 10 have a screen recorder?
Yes, Windows 10 does have a built-in screen recorder called the "Game Bar." The Game Bar is primarily designed for capturing gameplay footage, but it can also be used to record other applications or activities on your screen.
Conclusion
In summary, RecMaster provides a reliable and accessible option for users looking to record their screens effectively. By upgrading to the paid version, users can enjoy additional benefits and unlock advanced features, making it a worthwhile investment for those requiring more comprehensive screen recording capabilities.
What do you think of this post? Click to rate this post.
Excellent
Rating: 4.9 / 5 (based on 623 votes)