Let's Assess EaseUs RecExperts Screen Recorder: Features, Limitations & More
In the post-COVID era, online conferences, presentations and tutorials are becoming more and more common for people. We are used to communicating and learning things with no need to get out of home. Thus, an easy-to-use screen recorder is in great demand. EaseUs RecExperts is a practical and safe one for you. Here is our detailed review on EaseUs RecExperts. At the end of this article, we also offer the best alternative to it.

GUIDE LIST
Part 1. What can EaseUs RecExperts do: Features, Appliable Scene & More
EaseUs RecExperts is a great screen recorder for capturing PC with high-quality output video. From its official website, you can get the safe EaseUs RecExperts for Windows and Mac.
High-Quality Screen Recorder
With EaseUs RecExperts, you can select the range of your recording freely. Just use the dashed box to confirm your recording region and press REC, then everything will go well.
It allows you to record screen with system audio and microphone audio and to film yourself during recording. Recording resolution is up to 8K 60 FPS and the output video framerate is up to 60 FPS.
You can choose any popular output format, for it supports 13 common file formats, such as MP4, MOV, AVI, FLV, MKV, etc.
Auto-Stop and Auto-Split

Sometimes your recording has a time limit and the best way to control time is to set an ending time. Then the schedule function will help. When you choose a specified time or period for a recording to begin or terminate, EaseUS RecExperts will do it for you.
Moreover, if the recording continues too long, the original output video will be a big file, which is not convenient to edit or save. EaseUS RecExperts supports auto-split, helping you split your recordings automictically.
Extract Audio from Recording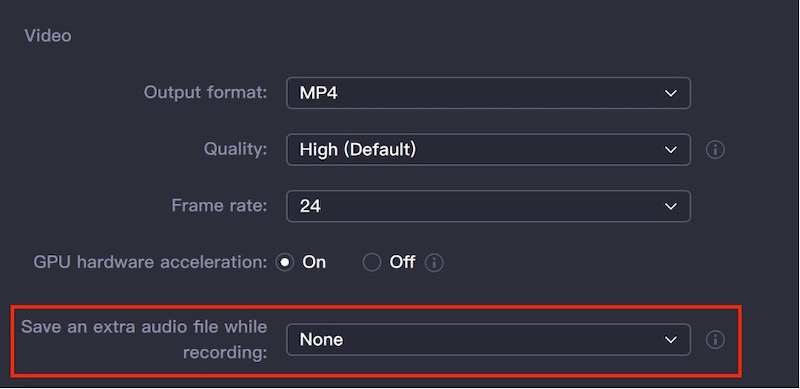 While recording, an additional audio file can be saved. Alternately, you may take the audio out of a video clip that has been captured. The background music of a video may easily be extracted with this screen recorder.
AI Noise Remover
Sometimes you cannot make sure that your recording place has no noise, or your microphone can remove your breathy noise while you are recording. Then this software can help. It has an automatic noise remover inside, which means that there is no need for you to set anything, the output audio will be in its best quality.
Video editor
When you finish recording, you can trim the length of the video or make adjustments to the volume. The simple video editor inside the software can assist you doing all the basic editing. In addition, you may customize the intro and outro for it, and add your own watermark if you like.
Supports Windows & Mac
You can download EaseUS RecExperts for Mac M1/M2 and Windows 11/10/8.1/8/7.
Price of EaseUs RecExperts
Original Version (One PC)
-$19.95 per month
-$49.95 per year
-$79.95 lifetime
Business Version (Two PCs)
-$119.95 lifetime
Limitations
The free EaseUs RecExperts only for one-minute recording
No preview section: Once you stop recording, it will generate the output video directly. You do not have time to check it before outputting.
Unable to compress the output video: EaseUs RecExperts does not provide the compressor inside it. So you have to compress it by another professional video compressor.
Part 2. The Best Alternative to EaseUs RecExperts: ArkThinker Screen Recorder

ArkThinker Screen Recorder is a universal screen recorder. You can record your screen, online meetings, gaming process and so on.
ArkThinker Screen Recorder
Record screen or video without damage
Record the computer system audio or microphone sound only
Capture webcam and record with your webcam on
Take snapshot on any window
High-quality output up to 60FPS
Moreover, it has some special functions:
Capture iPhone and Android screens on computer
When you need to record something on your smartphone, but you are not able to do it, ArkThinker is here to help. You can click the phone icon to start record your phone screen. It can also serve as a display. Phone screen may be too small for the wonderful experience of watching a film. You can display it on your computer screen via ArkThinker.
Provide preview
When you finish recording, the video will not be output directly. You can have time to check it and make sure everything is correct. If there is something wrong with your video, you can use the trimmer to edit it. When you are fully satisfied with your video, it is time for you to press Save button. The preview section can save your time of outputting the improper video.
Draw directly on the screen

The drawing function is important for recording a presentation or tutorial. Unlike the other software, the drawing tool is in the toolbar, which is easy to find and use.
Thus, try ArkThinker Screen Recorder! It will definitely be a fantastic choice for you.
Part 3. FAQs about EaseUs RecExperts
Where can I get EaseUs RecExperts for Android?
At present, EaseUs RecExperts only has PC versions. You can download it to your Windows computer or MacBook.
Can I use EaseUs RecExperts to record films on encrypted streaming platforms?
Of course. EaseUs RecExperts can record encrypted online videos, movies, or TV shows from various popular streaming media.
Where can I get a cracked version?
We cannot crack EaseUs RecExperts for you concerning the copyright and we strongly discourage this. Please download it via official website.
Conclusion
From the review on EaseUs RecExperts above, it is easy to find that EaseUs RecExperts is a powerful screen recorder for both business and entertainment. As for business use, you can record online meetings and presentations and make video tutorials conveniently; as for entertainment, recording gaming process can provide you with enough materials to make your game highlight. You can download it for free and use the one-minute trial. If you are unsatisfied with it and feel like trying another one, do not hesitate to download its best alternative - ArkThinker Screen Recorder.
What do you think of this post? Click to rate this post.
Excellent
Rating: 4.9 / 5 (based on 386 votes)