Learn 4 Easy Ways to Crop GIFs
When you want to remove unwanted areas or objects from a GIF, you may want to crop it. Also, cropping animated GIFs can help to focus on specific parts and reduce file sizes. However, most commonly-used image editors don't allow you to edit GIFs. This post will share four helpful methods to crop GIFs without losing quality.

GUIDE LIST
Part 1. Best Way to Crop a GIF
Cropping a GIF can be useful in various scenarios. To crop a GIF, you will need to use an image editor or a specialized GIF cropper that can handle GIF files. Here we strongly recommend the all-featured ArkThinker Video Converter Ultimate for you to easily crop and edit GIFs. Moreover, it lets to crop any animated GIFs with ease.
Step 1
Free download this GIF editor on your computer and open it. Under the Converter feature, click + to browse and import your GIF file. You can crop several GIFs at a time. Also, it allows you to crop a video to a GIF file.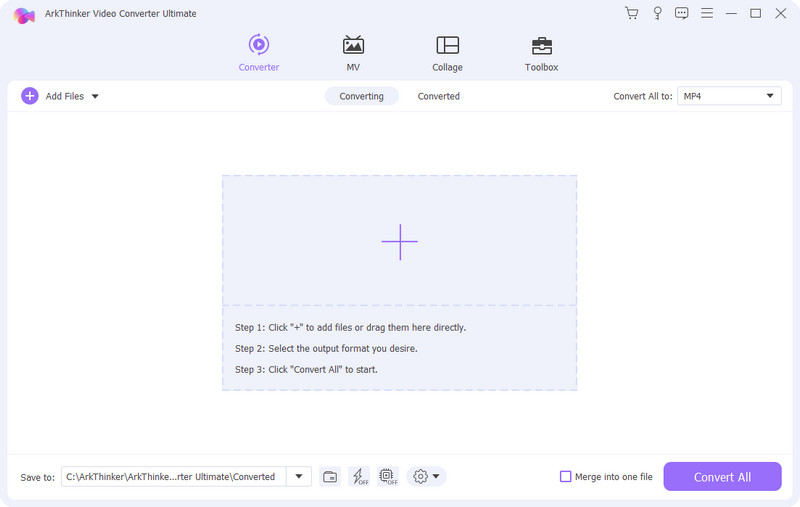 Step 2
When loaded, you can see some basic information about your GIF, such as the file size, resolution, duration, and more. Click the Edit button to access its inbuilt GIF editor.
Step 3
Ensure you are using the Rotate & Crop function, then drag the cropping points to freely crop a GIF. You can freely adjust the aspect ratio to focus on specific parts of the animation and make it more visually appealing. It lets you directly preview the cropped GIF result. When you are satisfied with it, click the OK button to save your changes.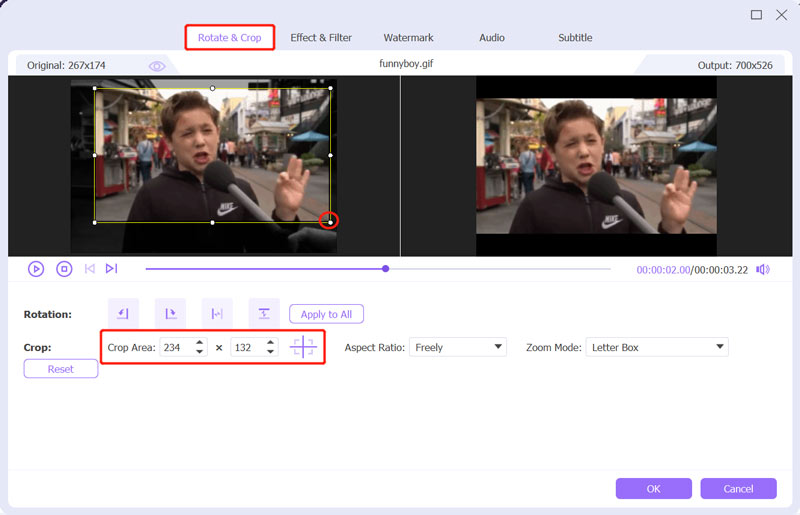 You can use other editing options to optimize the output GIF quality during this step. For instance, you can apply a new filter, customize its image effects, and add a watermark.
Step 4
Select GIF as the output format from Convert All to. You can set the output GIF encoder, resolution, frame rate, and color settings based on your need. Also, you can enable Loop Animation as you like.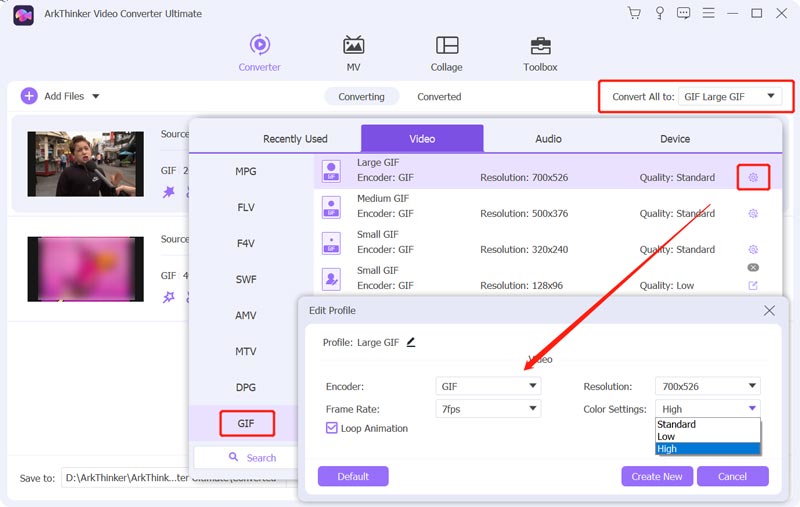 The recommended GIF cropper has an individual GIF Maker to create animated GIFs from videos and images. You can go to Toolbox to use it.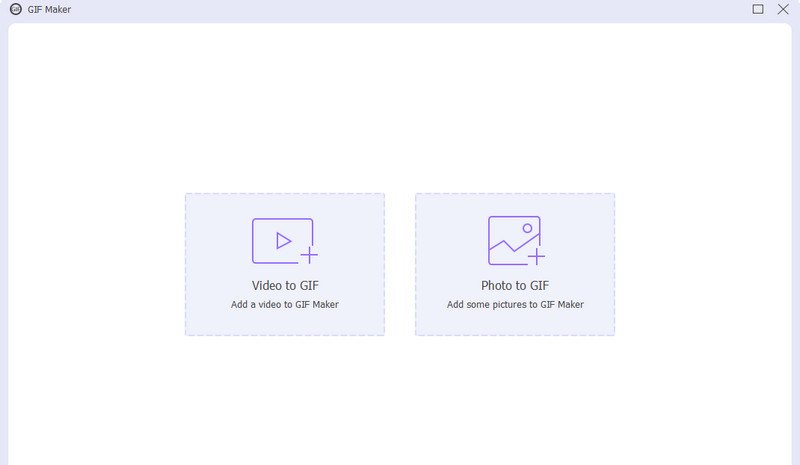 Part 2. How to Crop a GIF Using Adobe Photoshop
Adobe Photoshop is a famous and powerful image editor that carries various commonly-used editing features. It can edit nearly all image formats, including PSD, JPG, PNG, SVG, and GIF. Cropping a GIF in Photoshop can be a quick and easy process. You can download Photoshop on your computer and take the step-by-step guide below to crop a GIF file.
Step 1
The first step of cropping a GIF in Photoshop is to open the animated GIF in the program. Open Photoshop, click the File menu in the upper-left corner and choose the Open option to load your GIF.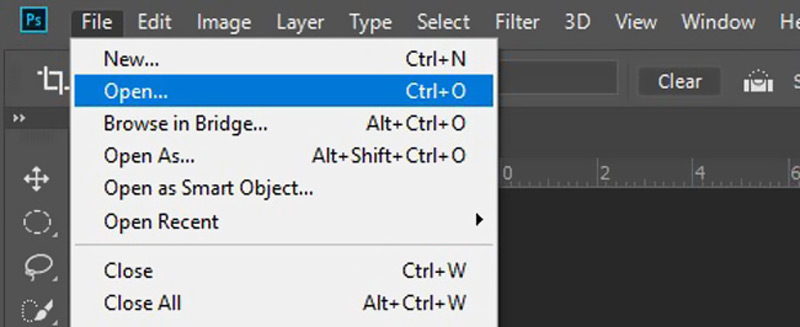 Step 2
To crop a GIF using Photoshop, you need to enable 3D mode. That will allow you to edit your animated GIF frame by frame.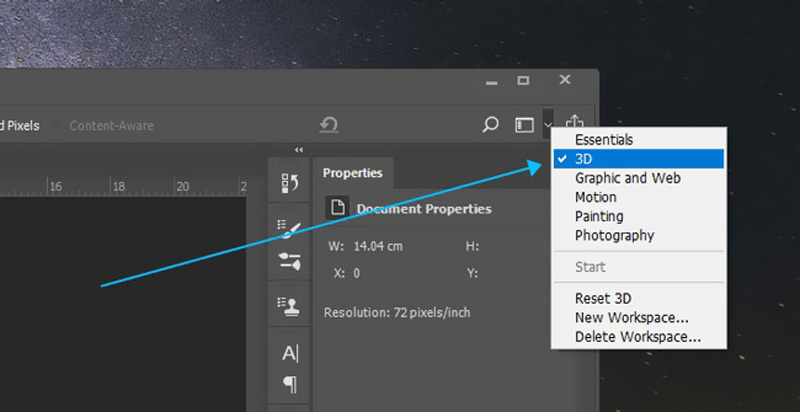 Step 3
Choose the Crop tool from the left panel and use it to crop your GIF according to your need. The Crop tool is represented by a square with a diagonal line. After cropping the GIF file, click File, go to Export, then select Export As to export your cropped GIF.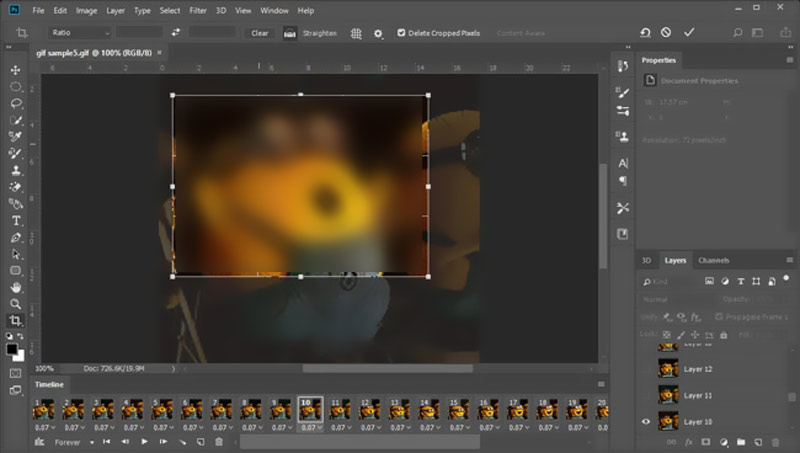 Part 3. How to Crop Animated GIFs Online
Many free GIF editors online offered on the market can help you crop animated GIFs easily. Here we take the popular Ezgif as an example of how to crop a GIF online for free. It is a web-based GIF cropper that allows you to resize your GIFs directly on a web browser.
Step 1
Open your browser, search for Ezgif, and navigate its official website. When you reach Ezgif, click the Crop tab to enter a specific Crop animated GIF image page. Click Select File to choose the GIF file you want to crop, then click the Upload button. You can also drag and drop the animated GIF into the area provided.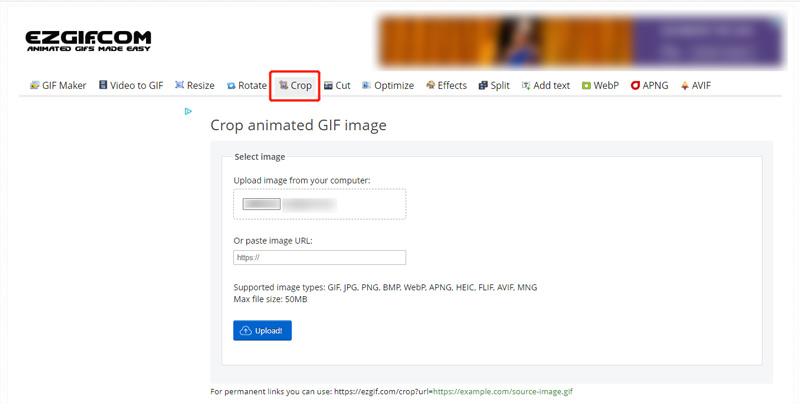 Step 2
You can view your GIF file, check its file information, then use the sliders to adjust the crop to your liking. You can choose to crop by pixels or percentage. Click the Crop image button to confirm your operation.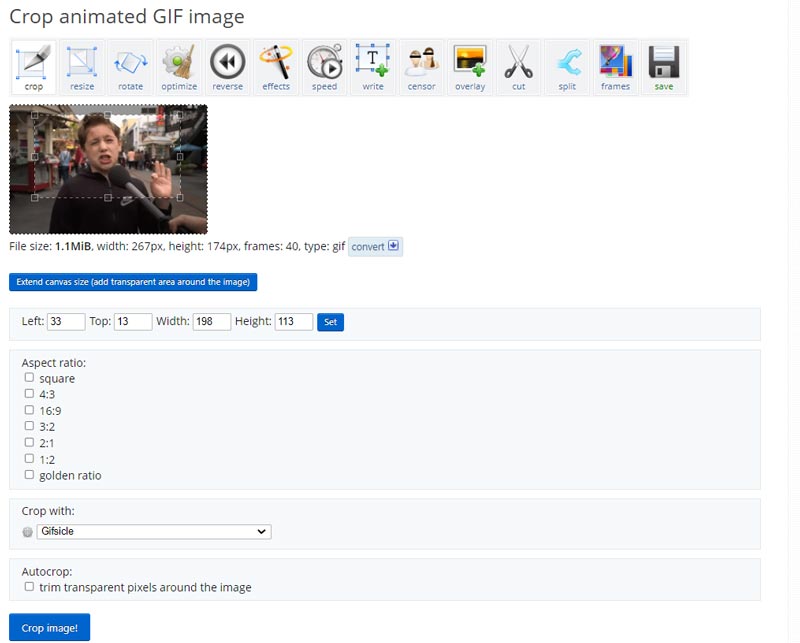 Step 3
Preview the cropped GIF to ensure it looks how you want it to. You can use other options to edit and optimize the GIF file output. Then click Save to download this cropped GIF on your device.

Part 4. How to Free Crop a GIF on Your iPhone
iOS comes with a built-in image editor to easily edit and crop your images. You can easily access it in the Photos app and crop your GIFs on an iPhone or iPad. To free crop a GIF on an iPhone, follow the steps below.
Step 1
Open the Photos app and open the GIF you want to crop. Tap Edit in the upper-right corner to use its image editor.
Step 2
Tap the Crop button and use the cropping tool to select the portion of the GIF you want to keep. Then tap Done in the bottom right to crop the GIF. The cropped GIF will replace the source file and be stored in the Photos app.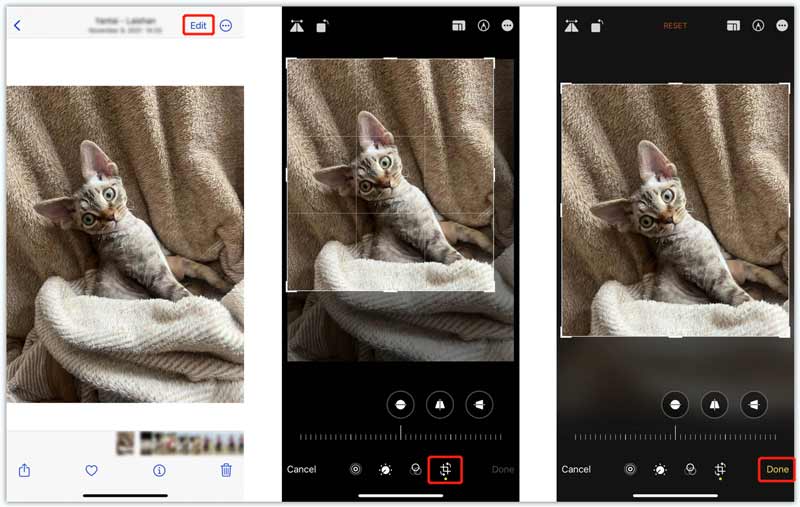 Part 5. FAQs of How to Crop a GIF
Can I crop GIF into a circle?
Yes. You can easily crop a GIF into a circle in Photoshop. Use the method above to crop your GIF. Select the circle cropping tool to do that. Also, some online GIF croppers let you crop GIFs into circles, such as Kapwing, Flixier, and VEED.
Can GIPHY crop animated GIF files?
No. GIPHY carries millions of GIFs for you to browse and download. It gives a convenient way to convert images and video clips to animated GIFs. But it does not have a cropping tool to crop your GIF file. It only allows you to add captions, texts, and stickers to GIFs.
How do you turn a GIF into an editable text?
You can turn a GIF file into a document file when you want to convert it to editable text. Many GIF converters like Convertio and FreeConvert allow you to easily convert GIFs to editable texts.
Conclusion
This post has mainly talked about how to crop a GIF. You can learn four different methods to crop part of a GIF file. They should work for most GIFs regardless of their length or size. You can select your preferred GIF cropper to edit animated GIFs with no loss of detail or clarity.
What do you think of this post? Click to rate this post.
Excellent
Rating: 4.9 / 5 (based on 472 votes)