3 Easy Ways to Record Discord Audio
Recording calls from Discord can be done in a few different ways based on your preferences and the recording software you have available. This post will share three simple methods to help you record Discord audio with high sound quality.

GUIDE LIST
Part 1. Why You Need to Record Discord Audio/Calls
Recording Discord audio can be useful for a variety of reasons. You can record Discord calls to preserve important conversations for future reference. These Discord audio recordings can help keep track of conversations related to projects, gaming strategies, or even important announcements in a community.
If you use Discord for business purposes, recording Discord audio can be beneficial for reviewing meetings or interviews. It lets you go back and analyze important discussions, take notes, or verify details that may have been missed during the initial conversation.
Many content creators use Discord to communicate with their audience or collaborate with other creators. By recording Discord calls, you can capture these interactions and use them in your content, whether for highlights, tutorials, or discussion videos.
It is valuable for language learners or individuals seeking coaching to record Discord audio. Captured Discord calls enable them to review their conversations, identify areas of improvement, and get feedback on their pronunciation or language usage.
Part 2. Best Way to Record Videos and Calls on Discord
To record Discord audio, you can use third-party applications specifically designed for the purpose. Some popular options include ArkThinker Screen Recorder, OBS Studio, Audacity, or even certain Discord bots that offer recording capabilities. Ensure to familiarize yourself with the legal implications and obtain the necessary permissions before recording any audio conversation. This part will guide you to record Discord audio using the ArkThinker recorder.
Step 1
Download and launch this recommended Discord audio recorder. When you reach the home window, select the Audio Recorder tool. If you want to record videos on Discord, here you can use Video Recorder.

Step 2
Set the audio source to record Discord calls. It lets you capture your voice and computer's system sound. You can enable/disable the Microphone and System Sound according to your need.

Step 3
When you want to record Discord audio, click the REC button. You can see the captured file size, recording time, and other associated information during the Discord recording.

Step 4
After recording audio on Discord, you can directly view and edit the recording. You can trim the captured Discord audio and remove unwanted parts. Then click the Done button to store it on your computer. The discord audio will be recorded in MP3 by default. You can change the output format from Preferences.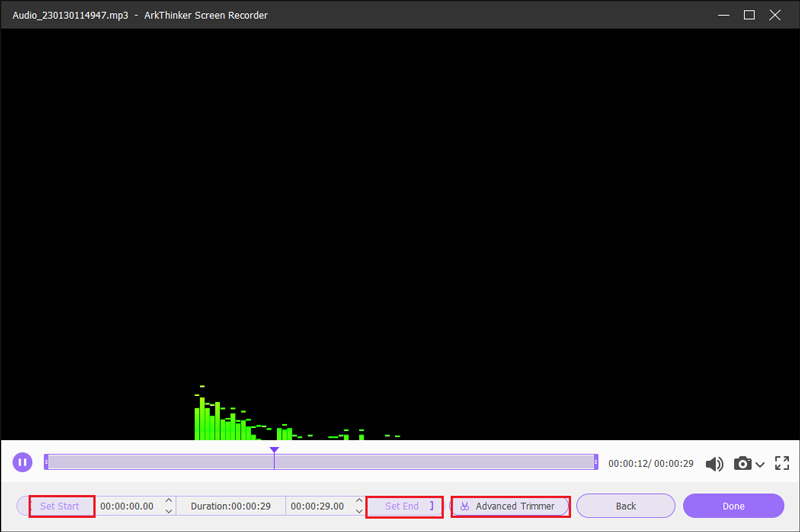 Part 3. How to Record Discord Audio and Calls with OBS
When you want to record Discord calls, you can also rely on the popular video and audio recording tool OSB Studio. You can follow the tutorial for recording Discord audio with OBS below.
Step 1
Download and open the screen recording software and select the area you want to record. You should ensure to include the Discord window. Select Desktop Audio by clicking + under Sources.
Step 2
Go to the top File menu, click Settings, and choose the Output option to set the output mode. To capture Discord audio, you can select the audio source from Audio and Desktop Audio.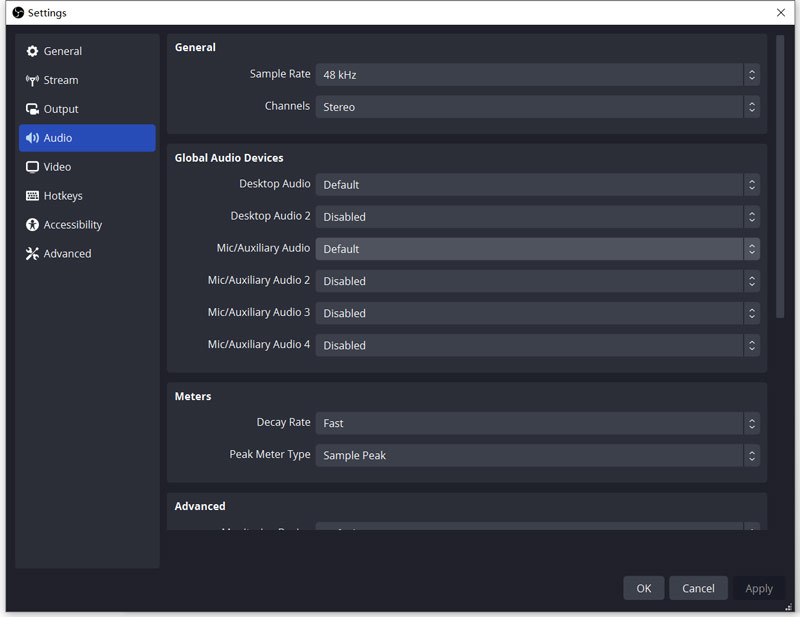 Step 3
Start recording before you join the Discord call. Click the Start Recording button to begin the Discord audio recording. When the call ends, stop the recording and save the file.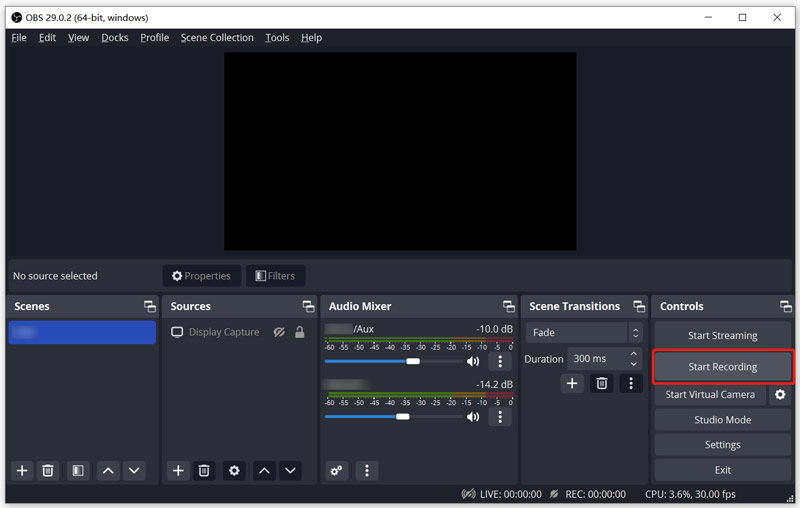 Part 4. How to Record Discord Calls on Your iPhone
You can use the Screen Recording feature built into iOS to record Discord audio on an iPhone. You should use an iPhone with iOS 11 or later.
Step 1
Swipe down from the top-right corner of your iPhone to display the Control Center. Locate the Screen Recording button. If you don't see it, you may need to add it to your Control Center. Go to Settings, tap Control Center, choose Customize Controls, then tap the + button next to Screen Recording.
Step 2
Open the Discord app and join the voice or video call you want to record. When you want to record on Discord, tap the Screen Recording button. You will see a countdown of 3 seconds before it starts. You can now freely navigate Discord and participate in the conversation. The screen recording will capture all the audio and visuals on your device, including the Discord audio.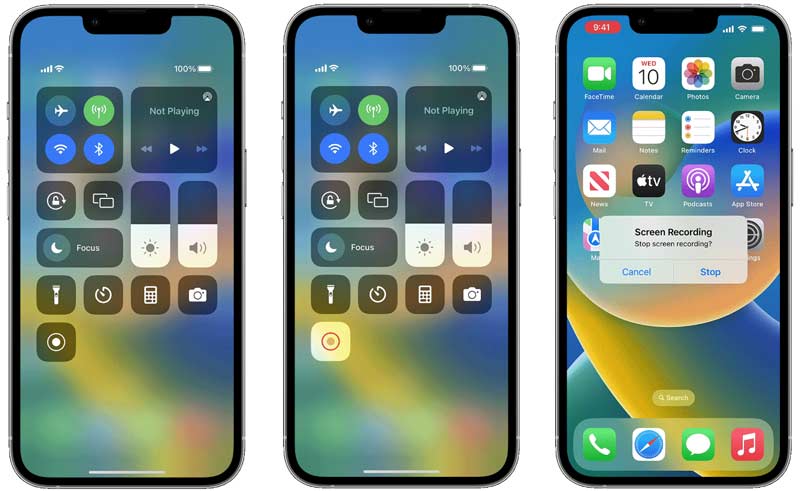 Step 3
To stop the recording, open the Control Center again and tap the red blinking recording button at the top. Alternatively, you can tap Stop on the status bar at the top of your screen. The Discord recording will be saved to the Photos app.
Part 5. FAQs of How to Record Discord Audio
Can I share my screen on Discord?
Discord offers a convenient way to share screens with others. Before sharing your screen, you should enable the feature first. You can go to your Friend List, start a Video Call, then locate the Screen Share button next to Video Call. Click it to easily enable the screen-sharing feature.
Will Discord store my calls?
No, Discord does not record and save audio. When you want to capture your Discord calls, you can use the three methods above.
How do you record Discord calls with Audacity?
Audacity is a popular audio recording software that can help you record Discord calls. But Audacity only lets you capture one audio source. You can't use it to capture your voice or other people's at the same time.
Conclusion
By following these three methods, you should be able to record Discord audio with ease. Please note that respecting the privacy and consent of all individuals involved in the call is important. Always obtain permission before recording any conversation.
What do you think of this post? Click to rate this post.
Excellent
Rating: 4.9 / 5 (based on 466 votes)