Is Icecream Screen Recorder Review worth using?
Are you seeking a reliable solution to capture and share your screen moments effortlessly? Look no further than Icecream Screen Recorder. Have you ever found yourself in situations where you needed to record your screen, whether it be for creating engaging video tutorials, capturing memorable gaming sessions, or presenting important information to clients or colleagues? With Icecream Screen Recorder, you can easily bring your ideas to life and effectively communicate your message. Designed with user-friendliness in mind, Icecream Screen Recorder allows you to capture your screen effortlessly, accompanied by audio, making it an ideal tool for a multitude of scenarios. Whether you're a professional navigating through complex software interfaces or a student creating captivating presentations, Icecream Screen Recorder caters to your needs.

GUIDE LIST
Part 1. Main Functions of Icecream Screen Recorder
Icecream Screen Recorder is a user-friendly software that allows users to easily capture their screen, along with audio. It is available on a variety of platforms including Windows, Mac, and Android.
Icecream Screen Recorder offers many convenient features, such as capturing screen, taking screenshots, recording audio, adding watermarks, and more. Users can effortlessly capture their screen by selecting either the entire screen or a specific area, and can capture any connected monitor on their PC. During the recording process, users can annotate their videos with drawings, text, arrows, and bullet points, using easy-to-use tools. In addition, Icecream Screen Recorder provides powerful editing capabilities, including video trimming, speed adjustment, and muting. Sharing recordings is made simple with the one-click upload feature that instantly shares the recorded video with colleagues or clients, without the need for registration. The app also allows you to track the number of views your recordings receive. Although the free version has a 5-minute screen recording time limit, users can upload and share all their recorded videos.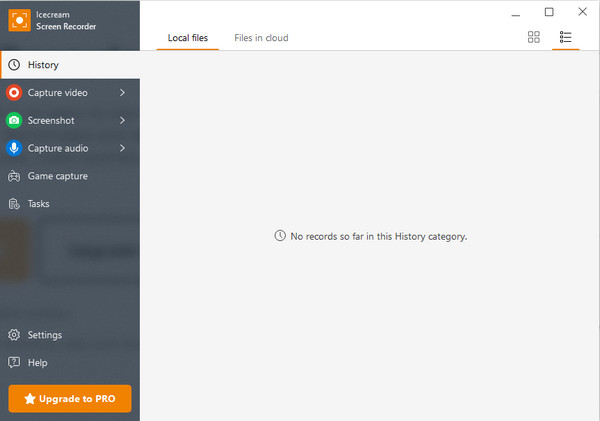 Part 2. Advantages and Disadvantages of Icecream Screen Recorder
Advantages
1. Record Webcam
This feature has a wide range of uses. For example, if an anchor wants to add personal commentary and comments to the screen recording and let the audience see his or her reactions, it's necessary to have a feature that can display the video recorded by the camera on the recording screen. By using icecream screen recorder, users are able to add a webcamera window to the screen recording, and they can also set the webcam window shape and size.
2. Clear Interface
The interface of Icecream Screen Recorder is really clear, which enables beginners to master the usage of various functions efficiently and easily. For those who is pressed for time it is definitely friendly. In a word, the function of the interface is truly intuitive and professional.
3. Track of Mouse Position function
Icecream Screen Recorder has the function of recording mouse movements and highlighting the position of the mouse, which allows viewers to clearly see the position of the mouse.
4. Audio Quality Selection
The users will have 3 audio quality selections when using the Icecream Screen Recorder. It is flexible for users to choose the proper audio bit rates according to the style of the video.
Disadvantages
1. Poor Stability
The stability of the Icecream Screen Recorder is not that good, and occasionally there will be black or white screen problems. Sometimes there are problems that the audio and video can't be synchronized or can't be loaded. Therefore, the hardware level should be strengthened.
2. Single Format Conversion Function
The recorded video can only be converted to GIF. There is no other option so if the user want to transfer the video into other format, maybe another software with more options is needed.
3. Poor Edit Function
The edit function can only change the file name, format, size, sound, and playback speed. It doesn't equip the trimming function in the free version, making it not fully functional and inconvenient for users.
4. Limited Video Output Format
There are only 5 common video output formats, which is not enough for users. If the user want to convert the recording screen to other formats, he or she may take other format conversion software into consideration.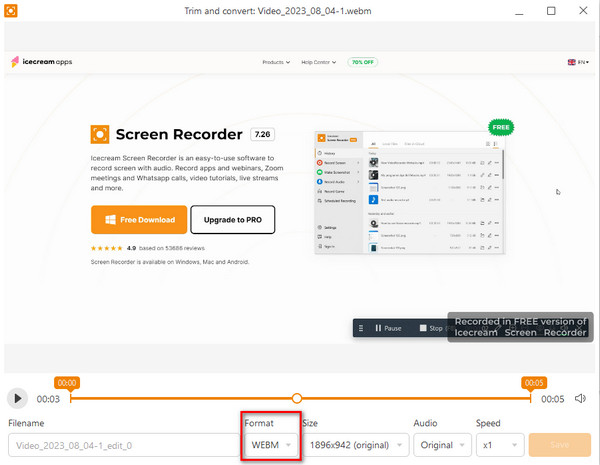 Part 3. Best Alternative
Although Icecream Screen Recorder is a good software, it still has some shortcomings. Next, I will introduce a better alternative for you, it's named Arkthinker Screen Recorder. ArkThinker Screen Recorder is a versatile software for capturing videos on Windows and Mac computers. It effortlessly records videos while they play and captures screen activities for instructional videos. You can record system sound, microphone sound, and webcam simultaneously, making it perfect for presentations. It also supports audio-only recordings with system sound and microphone input, ideal for dubbing and enhancing audio quality. The Game Recorder function allows you to select specific gameplay windows without distractions and record gameplay with sound and webcam. It offers a lag-free experience. Additionally, you can record the screens of iOS and Android devices on your computer, which is useful for capturing mobile app demonstrations and gameplay.

| Functions | Icecream Screen Recorder | Arkthinker Screen Recorder |
| --- | --- | --- |
| Recording Window | ✖ | ✔ |
| Video Recording | ✔ | ✔ |
| Game Recording | ✔ | ✔ |
| Camera Recording | ✔ | ✔ |
| Mobile Phone Recording | ✖ | ✔ |
| Video Storage Format | MP4 WEBM MOV AVI | MP4 WEBM MOV F4V MPEG-TS |
| Video Quality Selection | 3 levels | 6 levels |
| Codec | H264, MPEG4, VP8 | H.264+ AAC, H.265/HEVC + AAC |
| Scrolling Capture | ✖ | ✔ |
| Popup Menu Capture | ✖ | ✔ |
| Image Storage Format | PNG JPG/td> | PNG JPG BMP GIF TIFF |
| Edit | basic | abundant |
| Compress | ✖ | ✔ |
| Merge | ✖ | ✔ |
| Hardware Acceleration | ✖ | Graphics Card accelaration, Hardware acceleration |
| File Size | 26.7MB | 2.29MB |
| Platform | Windows Mac Android | Windows Mac Online |
Through this form, we can see that the Arkthinker Screen Recorder has more functions than the Icecream Screen Recorder. In the respects of video storage format, audio storage format and video quality selection, Arkthinker Screen Recorder obviously has more types to choose from. What's more, Arkthinker Screen Recorder is also equipped with some unique advantages such as compress and merge, and it's typical hardware acceleration highly improved the operating efficiency. If you are looking for the best alternative screen recorder, the Arkthinker Screen Recorder must be the first choice.
Part 4. FAQs
Is Icecream Screen Recorder safe?
The download, installation and use of Icecream Screen Recorder are safe, and users can use it with confidence.
What is Icecream Screen Recorder used for?
Icecream Screen Recorder is a user-friendly and feature-rich software that allows you to effortlessly capture and record your screen. In addition to its ease of use, it offers a wide range of functionality, including screen capture, screenshot capture, audio recording, watermarks, and more.
Is Ice Cream Recorder free?
You can use it for free, but the function of the free version is limited, such as only being able to record videos within 5 minutes, and the editing function of free version is also limited.
What free screen recorder should I use?
Icecream Screen Recorder, Arkthinker Screen Recorder, TinyTake, ShareX
How do I remove Icecream Screen Recorder?
You can find Icecream Screen Recorder on the list of installed programs and delete it.
Conclusion
In summary, Icecream Screen Recorder has lots of user-friendly features to meet the needs of users. It allows users to record and edit videos conveniently and efficiently. However, if you want to choose a more powerful software, Arkthinker Screen Recorder is a good choice because it can provide more comprehensive and high-quality services.
What do you think of this post? Click to rate this post.
Excellent
Rating: 4.5 / 5 (based on 450 votes)