A Comprehensive Review of Screencastify
In today's digital age, screen recording software has become increasingly essential, whether you're an educator, content creator, or a professional in need of providing technical support. One highly popular tool in this category is Screencastify.
In this article, we'll introduce you to Screencastify and its basic features, discuss its pros and cons, and answer questions you might have. Whether you need it right now, or just curious about this tool, we'll help you understand if Screencastify can be a helpful addition to your digital toolkit.

GUIDE LIST
Part 1. Screencastify at A Glance
1. What Is Screencastify
Screencastify is a software tool that allows you to capture the activities taking place on your computer screen. It's an excellent screen recording extension installed directly into Google Chrome. With Screencastify, you can capture your screen for tasks like creating tutorials, presentations, speeches, or anything else where you want to show what's on your screen. This tool also lets you add notes, drawings, and even your voice to better explain and present your screen content. People commonly use Screencastify for education, training, tech support, content creation, and any situation where sharing what's on your screen is important.
2. Pricing
There are four versions, including Free, Starter, Pro, and Teams edition. You can choose the free version if you don't require unlimited video creation, unlimited video length or advanced features. Payment options include annual and monthly subscriptions. Here are the prices:
| | Details | Annual (Per User, Per Month) | Monthly (Per User, Per Month) |
| --- | --- | --- | --- |
| Free | Basic features and tools | $0 | $0 |
| Starter | Various tools with more features | $7 | $15 |
| Pro | Access to nearly all its features | $10 | $20 |
| Teams | Enterprise-level and professional services | Contact them | — |
3. Pros & Cons of Screencastify
Pros :
It's easy to download, operate, and share.
It provides basic video editing features.
It offers a free version.
Cons :
It can only be used on Google Chrome browsers.
It can only be used when you are connected to the internet.
Output files are limited to MP3, MP4 and GIF formats.
The free one only allows for recordings of up to 5 minutes.
Your videos can only be saved locally instead of to your Drive while offline.
Part 2. How to Use Screencastify
This section provides instructions on using Screencastify, including how to install it, use its screen recording and video editing features, and how to share your recordings.
Step 1
The first step is to install Screencastify from the official website. Go to the Screencastify homepage, click on the 'Start creating free' button and then select the 'Add to Chrome' button. Remember, using Screencastify requires the Google Chrome browser.
Step 2
Click the "Screencastify" icon in your browser's extensions toolbar and then log in with your Google account.
Step 3
Choose what you want to record. You have the option to capture either your browser tab, your desktop, or just your webcam video. If you want to capture sound, turn on the "Microphone" option. For more advanced settings, click "Show More Options," where you can make additional adjustments.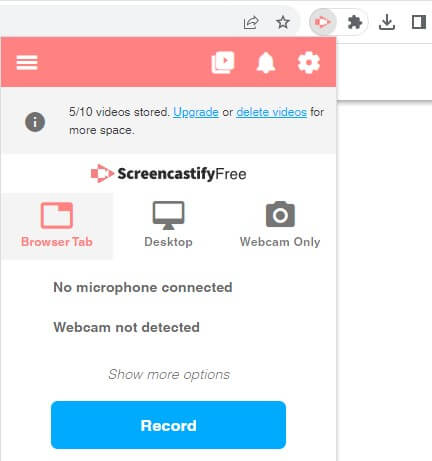 Step 4
Click the blue "Record" button. While recording, you can add stickers, rectangles and use the pen tool to annotate your screen.

Step 5
Once you're done recording, click on the "Screencastify" icon once more, and then press the "Stop" button to finish. After that, you can preview what you've recorded. If you like it, you can decide to keep it, download it, or share it with others with one click. By clicking "Open in Editor", you can edit your recording, like cutting the start or finish, or adding text to it.
Part 3. Alternative to Screencastify - ArkThinker Screen Recorder
Sometimes, you might not have access to a Google Chrome device or browser, or you simply need a more flexible and professional screen recorder that works anytime, we suggest installing a desktop software. It's convenient and not restricted by network or browser limitations. One great alternative we can recommend is ArkThinker Screen Recorder.

ArkThinker Screen Recorder excels in the professional field. It supports a range of video and image formats like MP4, WMV, MOV, F4V, MPEG-TS, WebM, GIF, and various audio formats, including MP3, M4A, WMA, FLAC, WAV and so on. Apart from that, it offers several codecs, like MPEG2 + AC3, H.264 + AAC, and HEVC/H.265 + AAC with higher efficiency and better quality. Furthermore, it enables you to choose different video or audio qualities based on your needs, namely lowest, low, middle, high, highest, and lossless.
As a professional screen recording software, it serves as a versatile tool for your computer. It records system sound, microphone, and webcam simultaneously, making it ideal for presentations. Gamers will like it since it records gameplay smoothly for sharing reactions. Besides, it can capture iPhone and Android screens on your PC, giving you a bigger display and adjustable screen quality for better viewing. Moreover, it offers several additional useful features, like screenshot, media metadata editor, file compressor, file converter, file merger, etc.
Part 4. FAQs of Screencastify
Is Screencastify safe?
According to the privacy policy of Screencastify, they collect information only for providing services, managing accounts, responding to inquiries with no purpose of sharing with or selling to anyone. They use standard security measures to keep your data safe. However, they cannot guarantee absolute security. If there's unauthorized data disclosure, you will be notified as required by law or contract.
Can you use Screencastify on a phone?
No. Screencastify is not compatible with mobile devices.
How to remove Screencastify from chrome?
First, click the extension icon in your browser. Next, select 'remove from Chrome', and then click 'Remove'.
Conclusion
Screencastify is a widely used screen recording software. This article covers its basic features, pros and cons, as well as its alternative, ArkThinker Screen Recorder. You can pick the product that matches what you need, and we hope this article is helpful.
What do you think of this post? Click to rate this post.
Excellent
Rating: 4.9 / 5 (based on 335 votes)