Honest Review of ActivePresenter – Is It the Best Screen Recorder?
Are you looking for a versatile software solution that empowers you to create interactive eLearning courses, record captivating screen videos, and polish your audio and video content with advanced editing features? Look no further than ActivePresenter. This all-in-one tool is specifically designed to meet the demands of eLearning professionals, offering a wide array of functions and capabilities to bring your ideas to life. In this article, we will discuss the features and pros & cons of ActivePresenter. Read on if you're interested.

GUIDE LIST
Part 1. The Core Functions of ActivePresenter
The main functions of ActivePresenter include interactive eLearning, screen recording, advanced editing for audio or video and multiple output formats. The eLearning section has more functions, so it is not difficult to see that ActivePresenter is mainly for audio and video recording and editing of eLearning. In terms of making eLearning videos, this software has rich functions. For example, the spell checker plays an important role in ensure the quality of content. Users are able to control and animate objects in the way they want by clicking sequence timeline control. Users can also convert available words or phrases in a sentence or paragraph into the blank text boxes, and require learners to fill in, this function is truly useful because it can let users make clozes.
In term of screen recording, ActivePresenter has some comprehensive functions. It can let users record screen as video, record interactive simulation, record webcam, record microphone and speakers and annotate the video. There are rich functions in the operation bar, such as adding text and graphics, etc., which can help users edit videos well. When the users finish recording, they can use these functions to make videos better. Last but not the least, there are multiple output formats to choose. If needed, the users can also export to Office documents such as Word, Excel, and PowerPoint.
Part 2. The Advantages and Disadvantages of ActivePresenter
Advantages
1. Rich in functions
There are different kinds of templates and samples for users to choose. If you don't want to make your PowerPoint in ActivePresenter, it is available to import your own PowerPoint and make a video.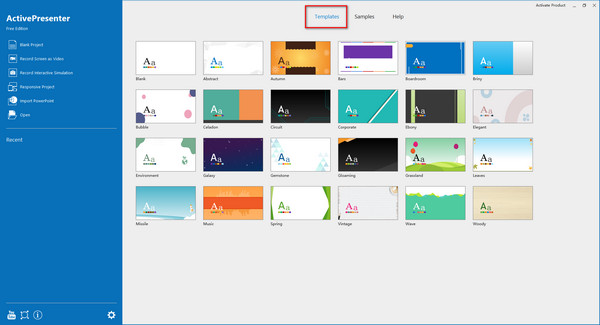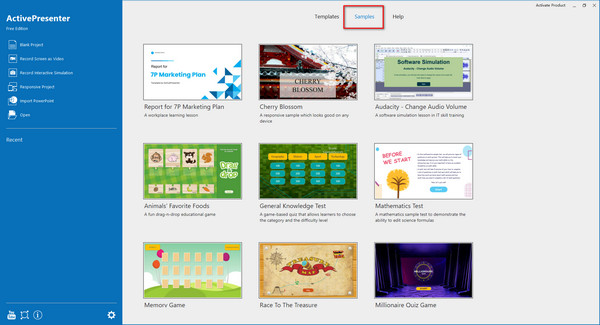 2. Detailed teaching videos and instructions
There are detailed introductions about all commonly used functions in the tutorial interface, and almost all functions are equipped with teaching videos in YouTube, which is convenient for users.
Disadvantages
1. Software Downloads Take up Too Much Computer Storage Space
The software downloads take up 72.6MB computer storage space. If the user only wants to use one of the functions of ActivePresenter, there is no need to download such a large software. So it might be better if ActivePresenter could spread out the functionality into separate small pieces of software.
2. Difficult to Manage the Timeline
When combining multiple videos, some users report that timeline management is difficult. ActivePresenter may not respond after the editing lags. This makes it a bit hard to operate and the corresponding slowness of the software also wastes time.
3. Lack of Languages
This software is available in only 8 languages. The range of choices is so small which means it's not usable for users who don't even know one of the 8 languages.
Part 3. The Price of ActivePresenter
ActivePresenter Free: Free
ActivePresenter Standard: $199/license
ActivePresenter Pro: $399/license
There are 3 types of ActivePresenter: ActivePresenter Standard, ActivePresenter Pro and ActivePresenter Free. The free version charges no fee but only for personal or non-commercial use. The ActivePresenter Standard costs $199 and the ActivePresenter Pro cost $399. Compared with the pro version, the functional disadvantage of the basic version is that it doesn't have eLearning editing features and it can't export to HTML5, export to SCORM 1.2, SCORM 2004, and xAPI. It also has volume discounts and educational discounts. The upgrade of volume discounts is 40%. The educational discount is available for students, teachers and staffs, educational Institutions and non-profit institutions and the pro edition at educational discounted price costs $199.
Part 4. Best Alternative to ActivePresenter
To make up for what ActivePresenter lacks, ArkThinker Screen Recorder is a great alternative. ArkThinker Screen Recorder covers almost all the functions of screen recording and it has the edit function which is really convenient for the users.
1. Versatile Video Recording
ArkThinker Screen Recorder is versatile software that offers several advantages for users. Firstly, it serves as an excellent video recorder, allowing users to record videos while playing them on their Windows or Mac computers. This feature is useful for capturing online videos, webinars, or any video content that users may want to save for later.
2. Screen Recording with User Operation
Moreover, ArkThinker Screen Recorder can capture the computer screen along with user operations, mouse moving, automatically generating a video of the process. This functionality is beneficial for creating tutorials, demonstrations, or step-by-step guides, as users can visually showcase their actions.
3. Simultaneous Sound and Webcam Recording
Another standout feature of ArkThinker Screen Recorder is the ability to record system and microphone sound, as well as the webcam simultaneously. This is particularly useful for presentations, where users can record their speaking sound alongside the screen activity. It enhances the overall video quality and helps deliver a comprehensive presentation.
4. Audio-Only Recording
Additionally, the software enables users to record audio-only files. If users come across a song or audio clip they like on their computer, they can utilize ArkThinker Screen Recorder to capture the audio, allowing them to listen to it offline or share it with others.
5. Game Recording for Gamers
Beyond screen and audio recording, ArkThinker Screen Recorder also caters to gamers. The Game Recorder function allows users to select and record specific gameplay windows, eliminating distractions from other computer windows. Users can effortlessly capture their gaming sessions with sound and webcam, making it easy to share their reactions and experiences with others. Importantly, the tool ensures there is no delay during gameplay recording, resulting in a smooth and uninterrupted experience.

6. Mobile Screen Recording for iOS and Android Devices
Furthermore, ArkThinker Screen Recorder extends its capabilities to the realm of mobile devices. Users can utilize the software to record their iOS and Android screens directly on their computers. This functionality is helpful for creating app demos, recording mobile gameplays, or capturing any activity on mobile devices that users may want to share or save.
7. Versatile Features for Various Users
Overall, ArkThinker Screen Recorder offers a wide range of features and benefits, making it a powerful tool for recording videos, capturing screen activities, recording audio-only clips, and documenting mobile device screens. Its versatility and intuitive interface make it a valuable asset for various users, including professionals, educators, gamers, and content creators.
8. Compact Storage and Cost-Effective Pricing
ArkThinker Screen Recorder only needs 2.28MB computer storage space and it's very cost-effective. The best seller 1-Month License costs only $19.96 now (original price is $24.95). The original price of lifetime license is $74.95 but the current price is $59.96. If you want to buy the business plan, there is also a special discount for buying now— $109.00 for 5 PCs (original price is $374.75). If you are interested in ArkThinker Screen Recorder, welcome to download.
Part 5. FAQs
Is ActivePresenter free?
The free version is for personal and non-commercial use only. If your use is not one of the above, you need to pay the fee.
What is ActivePresenter used for?
ActivePresenter is a versatile software designed for Microsoft Windows and macOS that combines eLearning authoring, screencasting, and video editing functionalities. By utilizing this application, users have the capability to create engaging courses with interactive elements as well as develop software simulations that encourage user participation.
How long can you record on ActivePresenter?
There is no time limit on recordings.
How to watch the teaching videos of ActivePresenter?
On the main interface of ActivePresenter, click YouTube in the lower left corner to enter Youtube and watch teaching videos.
Does ActivePresenter have a watermark??
Watermark will be added to the outputs of non-free features until the license is activated
Conclusion:
All in all, ActivePresenter offers features like a spell checker, object animation control, and converting text into fill-in-the-blank exercises for creating different kinds of videos. It allows comprehensive screen recording options and provides various editing tools. Multiple output formats are also available. However, if you want to find a more complete and powerful software, then ArkThinker Screen Recorder will be your better choice.
What do you think of this post? Click to rate this post.
Excellent
Rating: 4.9 / 5 (based on 163 votes)